This lechon makes your beer taste better
Moonshine has a new branch and it's already a nightly favorite.
Moonshine P.U.B. x Public Urban Bar
Sapphire Bloc, Sapphire Road, Ortigas Center, Pasig City
Contact: 0927-800-0920
Open from 11:30 a.m. to 2 a.m. (Sunday to Thursday) and 4 p.m. to 4 a.m. (Friday to Saturday)
Also read: New Bar Alert: Moonshine Bar at Jupiter Street, Makati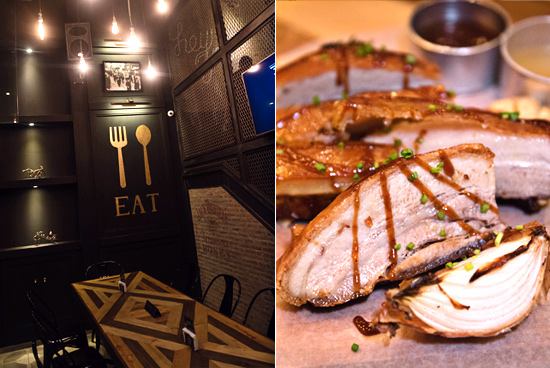 (SPOT.ph) Moonshine never really tried to be the speakeasy its name let on. Back in 2013 when they opened on Jupiter, the bar took on the Prohibition era as inspiration for its look, but it was neither hard to find nor was it hidden. Passwords weren't required to enter; cocktails were served in mason jars instead of teacups; moonshine, its namesake brew, wasn't even on the menu. Dim lights and brick walls were as far as it went.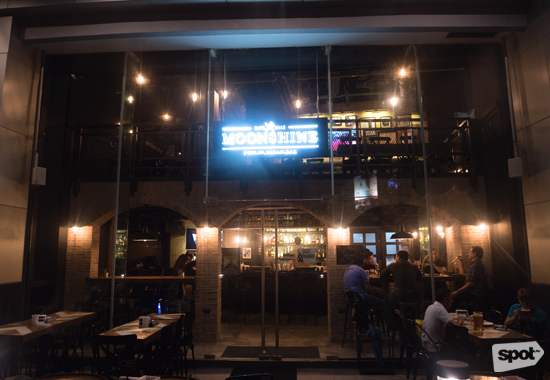 ADVERTISEMENT - CONTINUE READING BELOW
At the Sapphire Bloc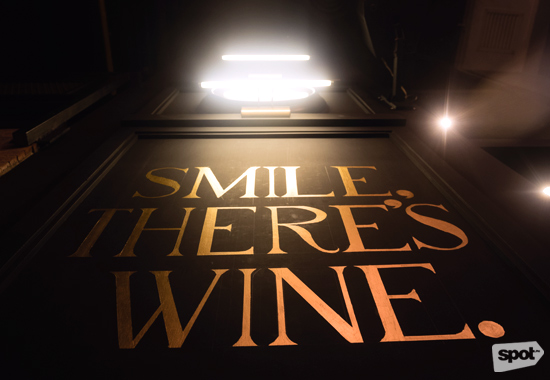 CONTINUE READING BELOW
Recommended Videos
The best reason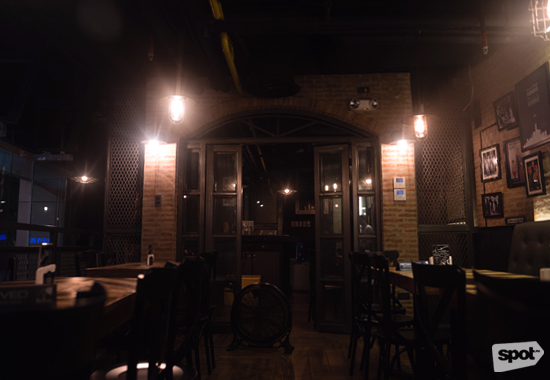 The upper floor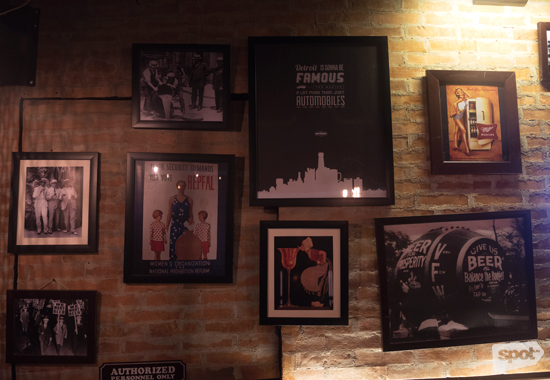 ADVERTISEMENT - CONTINUE READING BELOW
Throwbacks
The new Moonshine in Ortigas drives home this paradox further. It's smack in the middle of construction-lined Sapphire Road, which looks tame now. In a few years though, this development will be busy and Moonshine, right there with Starbucks, will be at the center of this area's nightlife (hey, it's bound to happen). We visit one Saturday, close to midnight, and already it's full; yuppies nursing large mugs of Caramel Beer (P110 to P280) and throwing back shots as Calvin Harris and Lost Frequencies blast through the speakers.
The newly christened Moonshine P.U.B x Public Urban Bar maintains most of the drinks that have earned them a loyal following: the perplexing sage-kissed Grape Hooch (P250), the crowd-pleasing Beer Mojito (P250), the breezy Jungle Juice (P190)—all sneaky little refreshments—and, of course, their signature Hand Grenade (P250). It's a shot each of tequila and Jaeger inside a pocket-sized fish bowl of Red Bull. Enjoy.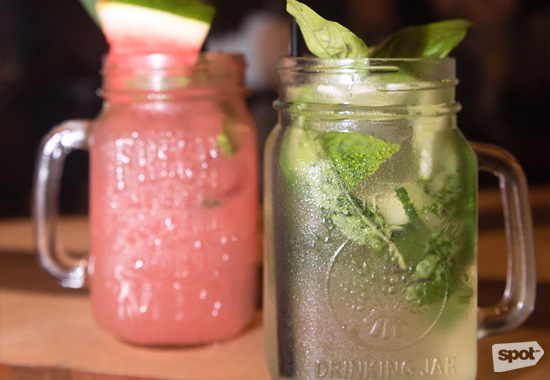 ADVERTISEMENT - CONTINUE READING BELOW
Old favorites
The solution to escape being a casualty of the Hand Grenade, or any of Moonshine's deadly concoctions is quite simply food. Co-owner and chef Jehrad Dolino says he keeps only about 20% of the original menu—"Just the bestsellers"—and refreshes the rest with bigger, heartier fare. There's emphasis on Filipino food, familiar but bent into something quite special.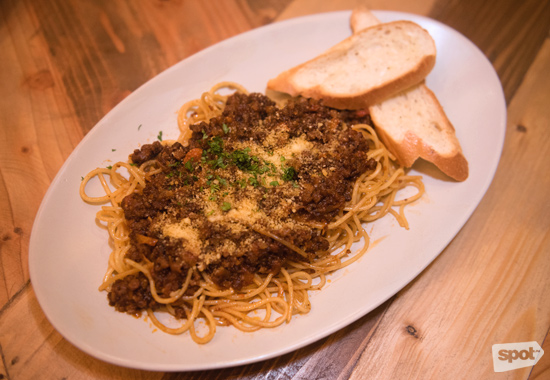 Bolognese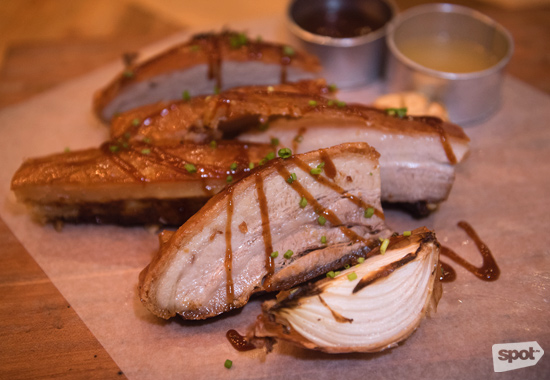 ADVERTISEMENT - CONTINUE READING BELOW
500 Gram Crispy Pork Belly
Moonshine suffers the same problem as perhaps every other bar: The grub takes a backseat to the booze. This assessment is quite unfair, especially once you meet the 500 Gram Crispy Pork Belly (P650), tender slabs of pork blanketed by glistening brown skin. We're not ones to judge books by their covers, but you can tell right away that these are crunchy, juicy marvels. Roast pork by any other name is still lechon, and Chef Jehrad's twice-cooked slabs of delicious peril earn extra points for the tubs of bright vinegar and barbecue sauces. The skin makes the introduction, a very loud, almost obscene conversation that dulls the club sounds to a whisper. It's nice to meet you, too.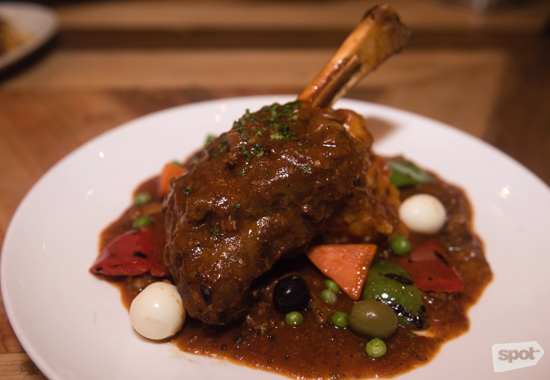 Lamb Shank Caldereta
Yet another intense number is the Lamb Shank Caldereta (P690). The lamb sits in a shallow pool of sauce with peas, olives, quail eggs, and carrots artfully arranged like it's some sort of French thing. The flavors are unmistakably and proudly Pinoy though. Effortless to portion and even more effortless to eat, Chef Jehrad cooks this sous-vide for 12 hours to reach that level of tenderness. Remind yourself that this is a classy place to keep yourself from just grabbing that bone and taking a big Fred Flintstone-like bite.
ADVERTISEMENT - CONTINUE READING BELOW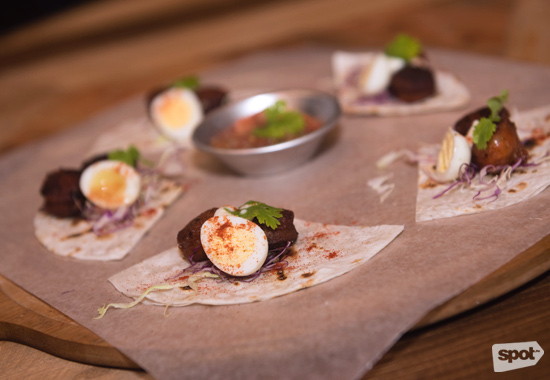 Chicano Tacos
The bar bites don't require alcohol at all to enjoy (though a Brew Kettle would be good). The Tokwa't Bagnet Belly (P370) shines in a sauce loaded with garlic while the Angus Beef Sisig (P400) only improves what we've come to love from the party favorite. The Chicano Tacos (P320) deviates from the Pinoy tradition: it's a half-moon tortilla with a ball of homemade Spanish chorizo, quail eggs, and garlic sauce.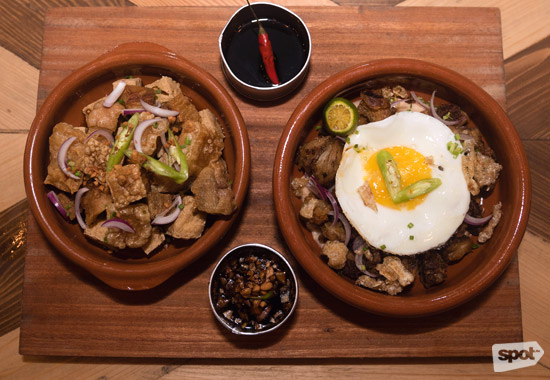 ADVERTISEMENT - CONTINUE READING BELOW
Tokwa't Bagnet Belly and Angus Beef Sisig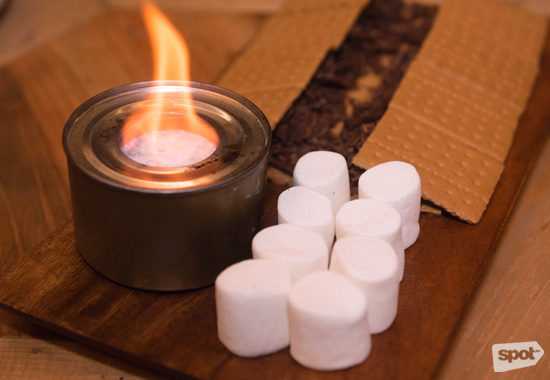 We have no idea how these s'mores would look like after a couple of Hand Grenades.
Chef Jehrad keeps the s'mores (P190) as is: There's no twist except that you're not in the woods, surrounding a campfire. Instead, there's a can with a little flame, a round of fluffy marshmallows, and graham cracker sandwiches filled with milk chocolate shavings. The trick, says the chef, is to move the marshmallow around over the fire to melt the insides but not burn the exterior. Be patient because the reward is gooey sweet fluff over chocolate. Classic stuff. We might as well be singing "Kumbaya."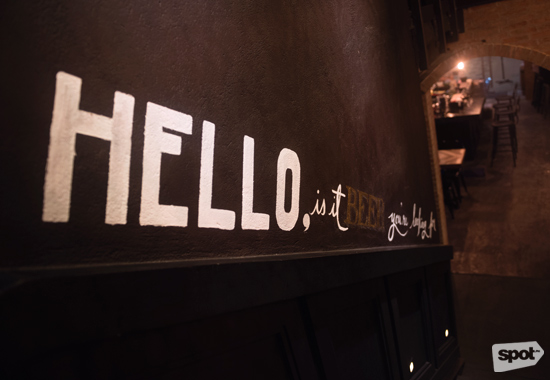 ADVERTISEMENT - CONTINUE READING BELOW
Or something harder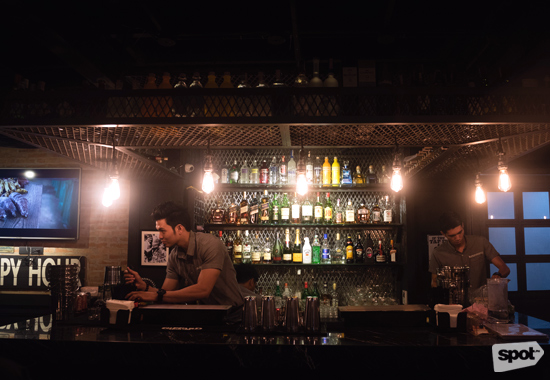 Preppin'
Barely a month old, Moonshine Ortigas is already on the night crowd's radar, but you might want to drop by earlier. You have to appreciate the food, too.
Also read: New Bar Alert: Moonshine Bar at Jupiter Street, Makati
Photos by Jason Mariposa
Share this story with your friends!
---
Help us make Spot.ph better!
Take the short survey
Load More Stories