10 Luxurious Upgrades on Your Everyday Favorite Meals
How about some foie gras in your Eggs Benedict? Or lobster in your mac and cheese?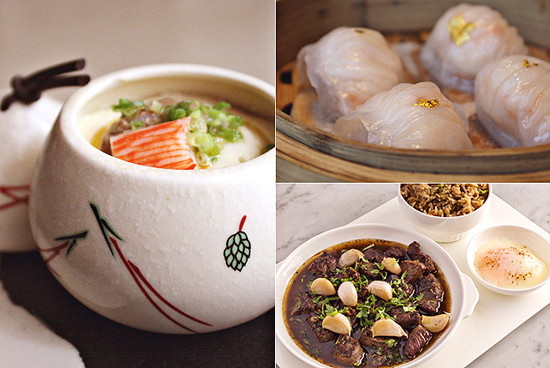 (SPOT.ph) Comfort food is comfort food for a reason. It's safe in its reliability, and consequently dependable in its standardness. But there are times when you need an extra pick-me-up. When it takes you five hours to drive from Mandaluyong to San Juan, that plain old grilled cheese just isn't enough. You need something a bit rich, if only in food.
The dishes we listed below aren't for everyday enjoyment. These are just for emergency dining situations.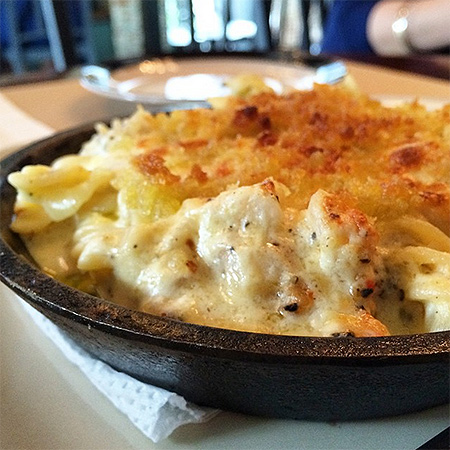 ADVERTISEMENT - CONTINUE READING BELOW
Lobster Shrimp Truffle Mac and Cheese (P1,300) from The Bowery
Origin: Macaroni and cheese
Chef Cuit Kaufman's spruced-up take on an old comfort has nearly every culinary luxury in the book. This dish is for those who put a premium on experience. For P1,200, you'd expect a bilao, but this steaming skillet is about an inch wider than your average salad plate. The fusili is golden, fragrant with truffle oil and bolstered by cracked black pepper. The sauce is a heady affair of crème fraîche, cream cheese, and mozzarella—light but the impact is profound. You'll eat it slowly, intimately, relishing every gilded forkful and tasting each slice of lobster or shrimp. Lavish, but just right.
CONTINUE READING BELOW
Recommended Videos
The Bowery has an Eggs Benedict dish that's just as luxe.
The Bowery is at Forbeswood Heights, Rizal Drive corner Burgos Circle, Bonifacio Global City. Read more about The Bowery.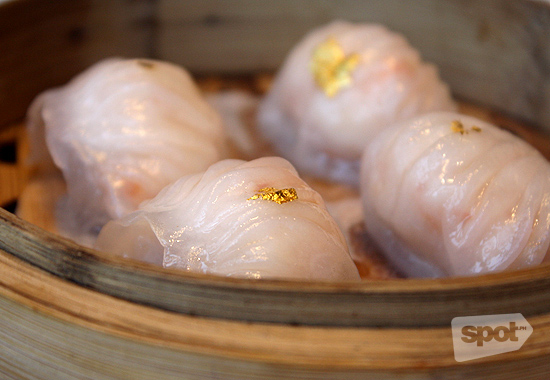 ADVERTISEMENT - CONTINUE READING BELOW
Gold Leaf Hakao (P220) at Lung Hin
Origin: Hakao
The price tag is actually not too bad, considering gold-less shrimp dumplings could fetch almost P200. Lung Hin's hakao boasts fresh plump shrimp carefully tucked inside a downy pouch. It's just as unfailingly good as the next shrimp-filled dim sum, but what makes this special is the crown on top. No, seriously. Each little bun is crowned with a morsel of gold leaf. True dumpling royalty.
Lung Hin also has sauteed beef flourished with foie gras.
Lung Hin is at 44/F Marco Polo Manila, Meralco Avenue, Ortigas Center, Pasig City. Read more about Lung Hin.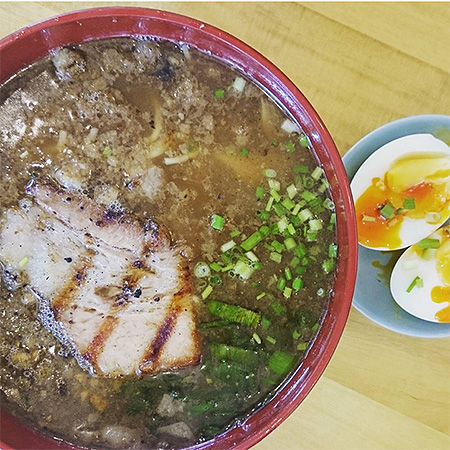 ADVERTISEMENT - CONTINUE READING BELOW
Madrid Fusion Super Batchoy (P450) from Kafe Batwan
Origin: Batchoy
Chef JP Anglo is already top-of-mind with his brand of Pinoy cooking in his three Sarsa branches. One of the dishes that has left its mark on people's bellies is his Super Batchoy, a straight-up Negrense classic. The good chef takes this a step further at his upscale Pinoy hub, Kafe Batwan. This noodle soup, which he unveiled during Madrid Fusion Manila 2015, is a cross between Filipino and Japanese tradition. The stock develops for 12 hours, and instead of the usual stuff, Chef JP tosses in kurobuta pork (the Wagyu of pigs), a soft-cooked ajitama egg, and crisp tuna skin. The result is this complex sweetish reward that you'll appreciate even when the weather's hot.
Kafe Batwan is at 122 Joya Lofts and Towers, Amorsolo Drive, Rockwell, Makati City. Read more about Kafe Batwan.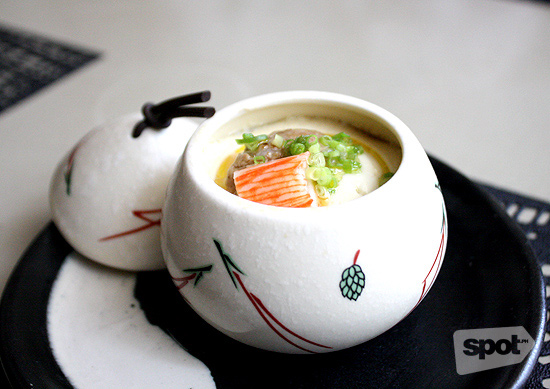 ADVERTISEMENT - CONTINUE READING BELOW
Foie Gras Chawanmushi (P348) from Akira
Origin: Chawanmushi
After The Bowery, everything might seem cheap. Chawan is "teacup" in Japanese, and what you get in the chawanmushi is egg custard steamed in a tiny vessel. This underrated Japanese dish—sometimes eaten as a meal, sometimes as a side—traditionally has a very delicate flavor. Foie gras steps in to enrich it only slightly. Akira throws some punches with a shrimp-tinged custard and a briny miso undertone.
Click here for a list of Akira branches. Read more about Akira.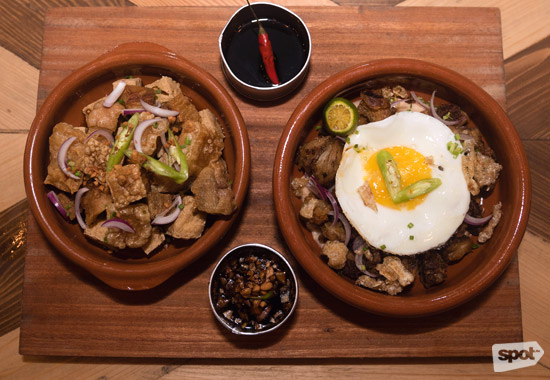 ADVERTISEMENT - CONTINUE READING BELOW
Angus Beef Sisig (P400) from Moonshine
Origin: Sisig
On a superficial level, Moonshine's interpretation of a sisig looks like your everyday bar chow. There's the pork chicharon, garlic mayonnaise, and that requisite fried egg with a gooey soft yolk. The bite offers the difference though. This number is embellished with Angus beef: the deep brawn of the beef flavor juxtaposed by that incredibly tender texture. People overlook bar food for the beer, but this tastes great even without the effects of alcohol. Sisig doesn't ask for—nor need—a luxe lift, but this is the answer if ever we needed one.
Moonshine P.U.B. x Public Urban Bar is at Robinsons Sapphire Block, Sapphire Road, Ortigas, Pasig City. Read more about Moonshine.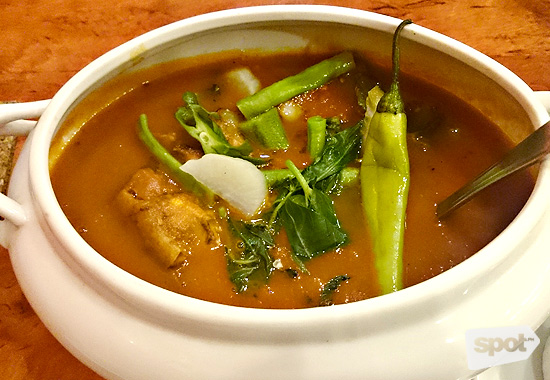 ADVERTISEMENT - CONTINUE READING BELOW
Kurobuta Sinigang (P475) from Mamou
Origin: Pork sinigang
This revered sour broth is at the dinner table more often than some family members. There's no reason not to love it: It's tangy and lipsmacking with a comprehensive diet of meat—shrimp, fish, pork, or chicken—and vegetables. You can sip it solo or enjoy it with rice, too. What's great about this dish? Depending on how it's presented, you can find it at your reliable neighborhood carinderia and in high-end dining establishments. Mamou, for example, makes do with a Japanese black pig (kurobuta, instead of the usual farm hog) to sass up their thicker-than-usual take.
Mamou has branches at Serendra, Bonifacio Global City; and Power Plant Mall, Rockwell, Makati City. Read more about Mamou.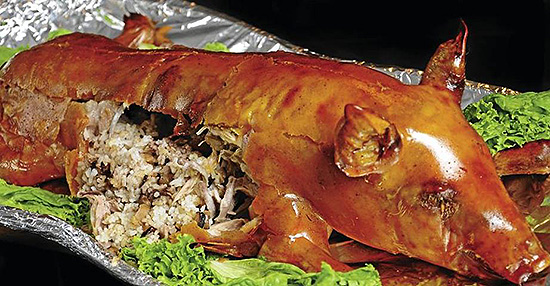 ADVERTISEMENT - CONTINUE READING BELOW
Truffle Rice Lechon (price upon request*) from Pepita's Kitchen
Origin: Lechon
Dedet dela Fuente takes the classic roast pork and brings it around the world with her stuffing stylings, which range from binagoongan rice and Bicol express rice to crab noodles and paella. The French-themed suckling pig packed with truffle rice, however, is her most iconic creation yet. It's pure decadence, fragrant in a way only truffle can make appealing and reinforced by spices and mushrooms. The flavors work so well with the richness of the lechon. Trust Pepita's Kitchen to make a celebratory standard worth celebrating even more.
For orders, contact Pepita's Kitchen at 425-4605, 0917-866-0662. *Prices are north of P8,000.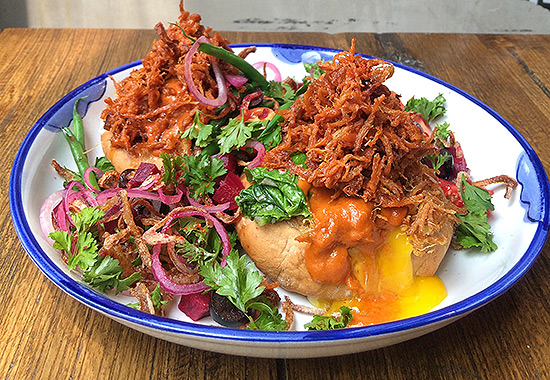 ADVERTISEMENT - CONTINUE READING BELOW
Oriental Benedict (P685) from Crisp on 28th
Origin: Eggs Benedict
Crisp on 28th's interpretation is so intense that it's been promoted to the Mains part of the menu (the more classical setup is kept under Breakfast). Replacing the bacon and poached egg is a sexy medley of a 63-degree egg cooked sous-vide, sesame kale (because spinach is sooo three years ago), crispy duck flakes (just like ham, but better), seared foie gras (because this is the ingredient brunch has been looking for), and coconut red curry sauce. Only a crusty multigrain is a fitting stage for this kind of performance.
Crisp on 28th is at Alveo Building, 28th Street, Bonifacio Global City. Read more about Crisp on 28th.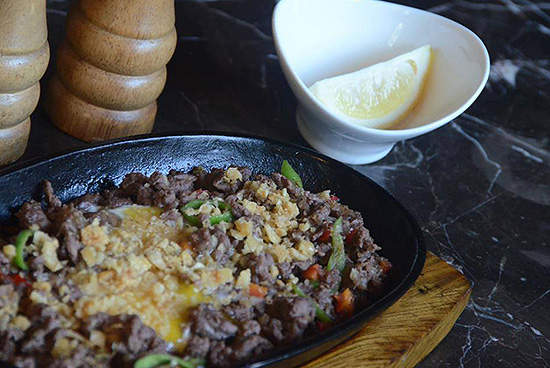 ADVERTISEMENT - CONTINUE READING BELOW
Malcolm's Wagyu Sisig (P350)
Origin: Sisig
This underrated steakhouse doesn't shy away from dabbing a touch of luxe to their meals. Their weapon of choice? Wagyu. They source theirs from Kitayama, which offers premium beef at a much friendlier price. Malcolm's has a habit of Wagyu-fying their dishes, from the burgers to the salpicao to the tapa to the corned beef. The sisig, of course, isn't exempted from this conversion. That tender Japanese-prepped beef receives a crunchy complement from chicken skin. Go on, pop that fried egg and make everything lusciously creamy. Extra rice!
Malcolm's is at G/F Fairway Tower, 5th Avenue, Bonifacio Global City.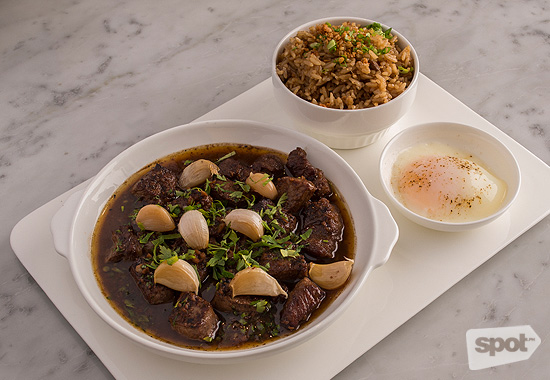 ADVERTISEMENT - CONTINUE READING BELOW
FAT's Salpicao (P940)
Origin: Salpicao
Chef Mikel Zaguirre has got to have one of the fanciest beef-olive-oil sets around! A few pesos shy of a thousand, this salpicao is in a shallow but wide pan that puts those dazzling shiny brown cubes fully on display. It's like artwork, and we could look at it all day long if the smell weren't so tempting. Chef Kel uses Angus ribeye—the top kind that has just the right amount of fat to preen melt-in-your-mouth goodness. It's admittedly steep, but for completely eliminating the need to chew, we're paying!
Do yourself a favor and enjoy it with the garlic, too. FAT puts a sous-vide egg on the side, which you should really put atop the garlic steak rice. Trust us.
FAT is at Forbes Town Center, 29th Street corner Rizal Drive, Bonifacio Global City. Read more about FAT.
Photos courtesy of Denise Magtoto (Crisp on 28th) and from the Facebook pages of Malcolm's and Pepita's Kitchen
ADVERTISEMENT - CONTINUE READING BELOW
Share this story with your friends!
---
Help us make Spot.ph better!
Take the short survey
Load More Stories