10 Subtle Aligue Dishes You Won't Be Scared to Try
Crab fat that won't make you cringe!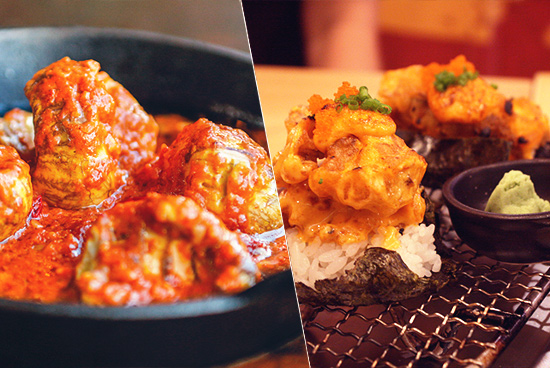 (SPOT.ph) In one of his column entries for the Philippine Daily Inquirer in August, Professor Ambeth Ocampo clarified what taba ng talangka is. He writes, "Most people literally translate taba ng talangka to mean 'crab fat' when it is actually 'crab roe' or 'aligue,' which comes from the female crablet."
The confusion, however, may stem from the fact that jars parading themselves as taba ng talangka or aligue aren't exactly pure crab roe. There's fat in there, too, and either is wholly delicious and either is loaded with more than a helpful dosage of cholesterol. We're using these terms interchangeably today. But don't worry. In the interest of good food and better health, we've rounded up some aligue dishes that offer that gastronomic satisfaction but won't kill—except in flavor.
If you're looking for hard-hitting aligue iterations, read our Top 10 Aligue Dishes (2012 Edition).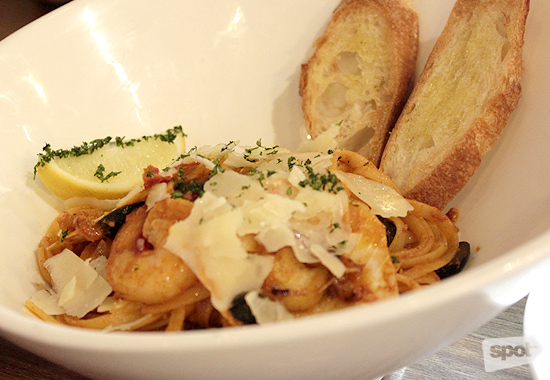 ADVERTISEMENT - CONTINUE READING BELOW
Single Origin's Crab Fat Pasta (P360)
Like nearly everything else on this list, Single Origin's Crab Fat Pasta is delicately dangerous. That sauce could've overwhelmed, but it's laid on there thin—still significant enough, though. The sharp notes from the fresh seafood and cheese hide the heft of that aligue, giving it interesting textures as well. You have to add the lemon to cut through everything.
Single Origin is at C3, Bonifacio High Street Central, Bonifacio Global City. Read more about Single Origin.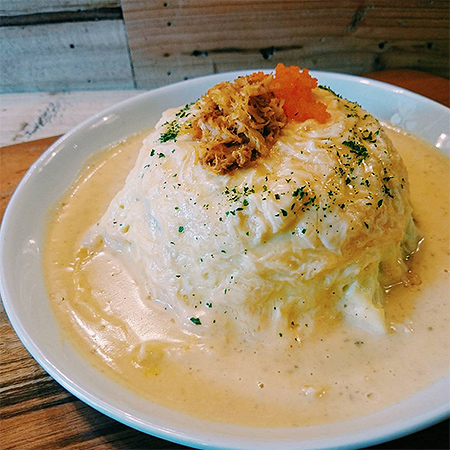 CONTINUE READING BELOW
Recommended Videos
ADVERTISEMENT - CONTINUE READING BELOW
UCC Clockwork's Crabby Fatty Omurice (P350)
Lord help us. This is tomato-tinted rice hiding inside the fluffiest omelet which, in turn, lays on a pool of aligue cream. Aligue and those smooth eggs just jive together so well. It comes with shredded crab meat, garlic, crabsticks, parsley, and onions. Mix them all together and you have a sort of risotto that's so unbelievably good.
UCC Clockwork has branches at Estancia Mall, Capitol Commons, Pasig City; and Blue Bay Walk, Pasay City.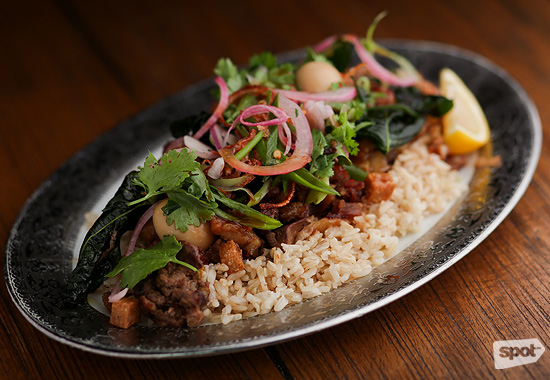 ADVERTISEMENT - CONTINUE READING BELOW
Crisp on 28th's Sisig Rice (P410)
You'd think that a health hub like Crisp would be a little more conscientious about putting two deadly things—sisig and aligue—together, but this is a surprisingly easygoing and light dish. It's a lesson in control, really. The aligue is in the rice and countered by the fresh zing of coconut. On top, a mix of pig's mask, pork belly, crispy tofu, and crispy kangkong. Now doesn't everything just offset each other in a gorgeous balance?
Crisp on 28th is at Alveo Building, 28th Street, Bonifacio Global City. Read more about Crisp on 28th.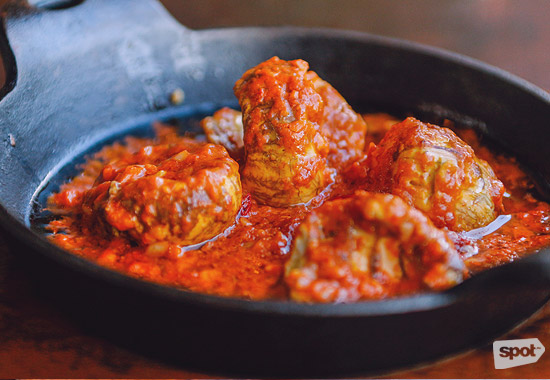 ADVERTISEMENT - CONTINUE READING BELOW
Mati's Balut Aligue (P195)
Sometimes, putting together two great things explode into a huge mess, but other times, it's a crazy but wonderful spectacle. It was co-owner Paul Macasaet's insistence on merging two things he loved that gave birth to such a startling starter. You have to eat the chick fresh to fully appreciate the textures of this salty-savory dish. It's very thick, almost like cream cheese, but it's rather chunky, too. Don't skirt around the balut. They work together best!
Mati's is at Unit B2, River Park, Festival Mall Expansion, Filinvest Corporate City, Alabang, Muntinlupa City. Read more about Mati's.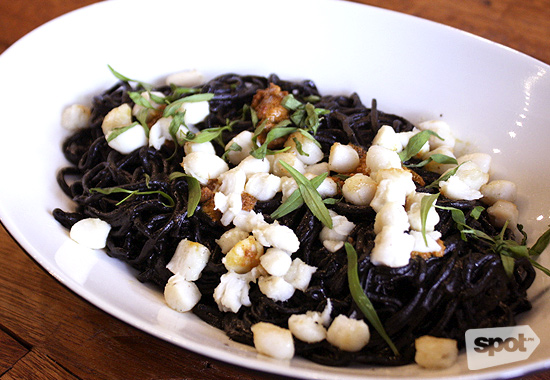 ADVERTISEMENT - CONTINUE READING BELOW
Earth Kitchen's Scallops and Aligue Pasta (P460)
The flavors of the sea are noticeably one-sided in this striking dish. The dark-hued pasta tinted with anise liqueur makes you think that the squid notes dominate and you're right. The scallops are mild and the rich crab flavor appears in squirts every few bites. They're not being stingy. They're just reminding you that too much of a good thing can turn out to be not-too-good.
Earth Kitchen has branches at White Plains Avenue, Katipunan, Quezon City; and Bonifacio High Street Central, Bonifacio Global City. Read more about Earth Kitchen.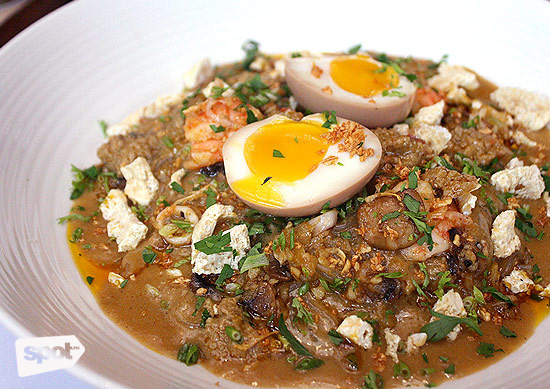 ADVERTISEMENT - CONTINUE READING BELOW
Locavore's Pancit Luglog (P340)
Of the many exemplary ways Chef Mikel Zaguirre utilizes crab fat, this pancit is the most heart-stopping (interpret as you may). Korean glass noodles set the stage for a bisque thickened to sauce-like levels with aligue! This dish is so rich but light-footed at the same time that it will make you want to keep digging in. Soft-boiled eggs, chicharon, atsuete, a bit of seafood, and a sprinkle of garlic and parsley even out the profile.
Locavore is at 10 Brixton Street, Kapitolyo, Pasig City. Read more about Locavore.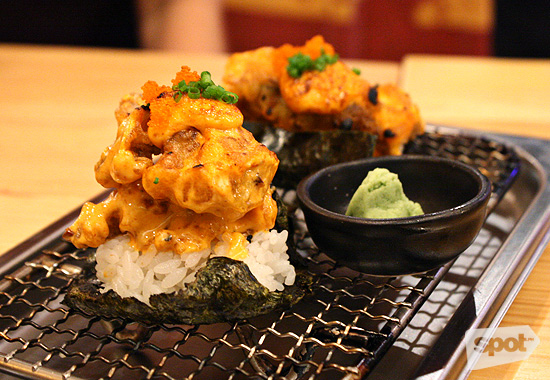 ADVERTISEMENT - CONTINUE READING BELOW
Ooma's Soft Shell Crab Taco-Maki (P199)
Even the smallest efforts can make a bracing impact. The crab fat isn't the star of Chef Bruce Rickett's pimped-up temaki. You'll barely think about it, that streak of orange hugging the arrangement of roe, crab, and rice. It's a homemade aligue mayo that punches a depth of flavor. The tanginess from the mayonnaise gives it lightness. Each piece is a one-bite activity to begin with, but you won't feel bogged down by the weight of aligue no matter how many you eat.
Ooma is at 3/F SM Mega Fashion Hall, Mandaluyong City. Read more about Ooma.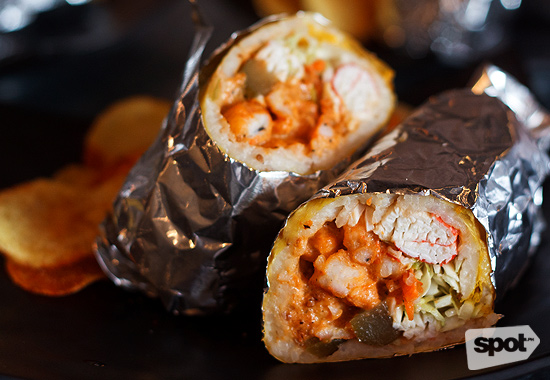 ADVERTISEMENT - CONTINUE READING BELOW
Nori's Shrimp Crab Aligue (P189)
Nori is a marriage of Mexican and Japanese traditions, but somehow Filipino flavors wind up in the mix, too! The crab fat is definitely distinct, but the fresh vegetables and shrimps somehow help with the bulk. If you're unconvinced, try sharing.
Nori is at 1 Unit A, 1st Street, Kapitolyo, Pasig City. Read more about Nori.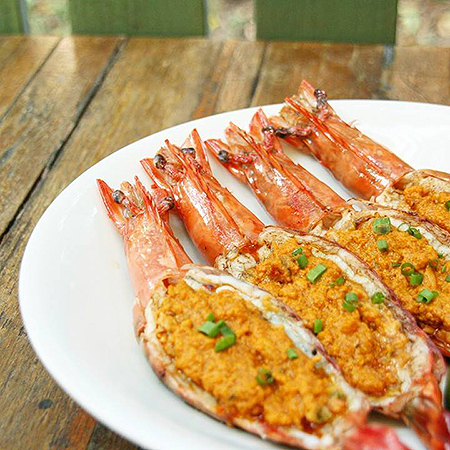 ADVERTISEMENT - CONTINUE READING BELOW
Manam's Grilled Tiger Prawns with House-made Aligue Butter (P245 to P775)
Is it really subtle when you put crab fat with butter? Regardless, the flavor is divine. The butter does its usual seafood magic and the aligue amplifies the large prawns' natural notes. Manam's kitchen makes sure to put a good dose on every giant piece of shrimp because it's just too good to make you care.
Manam has branches at Greenbelt 2, Makati City; SM Mall of Asia, Pasay City; Fairview Terraces, Quezon City. Read more about Manam.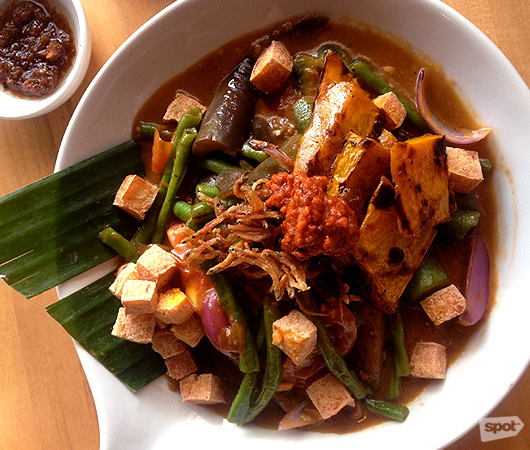 ADVERTISEMENT - CONTINUE READING BELOW
Sarsa's Pinakbet (P210)
This is something you have to know before you order this seemingly innocent vegetable dish at Sarsa. The menu says it comes with talangka—and it does, but it comes with other things, too. To reinforce that flavor in the smorgasboard of squash, okra, eggplant, and bittermelon, Chef JP Anglo scoops in a spoonful of crab fat, instantly locking in the deliciousness of the sea.
Sarsa has branches at Forum South Global, Bonifacio Global City; SM Mall of Asia, Pasay City; and Rada Street, Legazpi Village, Makati City. Read more about Sarsa.
Share this story with your friends!
---
Help us make Spot.ph better!
Take the short survey
Load More Stories