The bingsu is just the tip of the iceberg
Apart from the Korean shaved ice, Cafe Seol Hwa has a lot in store for dessert lovers.
Café Seol Hwa
2/F Forum South Global, 7th Avenue corner Federacion Drive, Bonifacio Global City
Contact: 425-9193
Open daily from 10 a.m. to 10 p.m.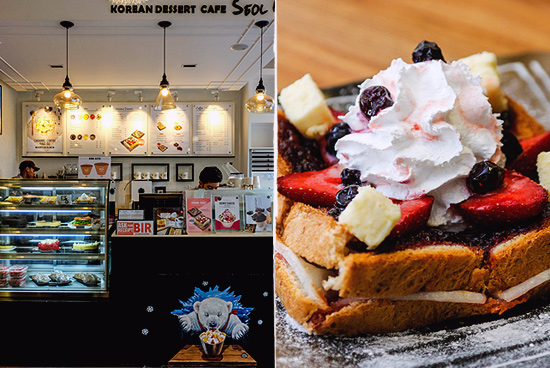 (SPOT.ph) Bingsu, essentially shaved ice infused with sweet milk and topped with fruit slices or pastries, is Korea's version of our very own halo-halo. With the bingsu, however, you need not mix the ingredients pre-mouthful. The elements are evenly dispersed throughout the tin vessel so you can immediately dive into the frozen treat and still enjoy a burst of flavor in each bite.
ADVERTISEMENT - CONTINUE READING BELOW
We found a place that's slowly gaining recognition from their top-notch bingsus: Café Seol Hwa, a casual, crisp café in Bonifacio Global City. The Korean dessert stop also has a branch in Century City Mall in Makati and is expected to set up shop soon in Alabang and in Parañaque. Yup, that fast.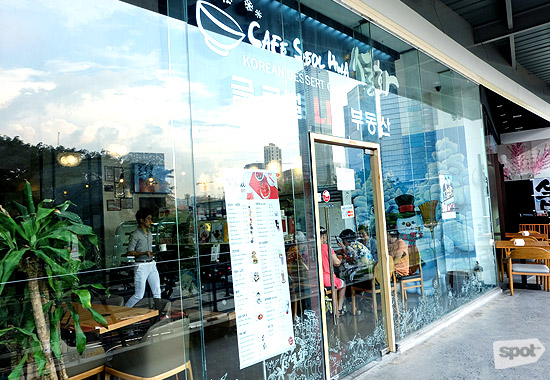 ADVERTISEMENT - CONTINUE READING BELOW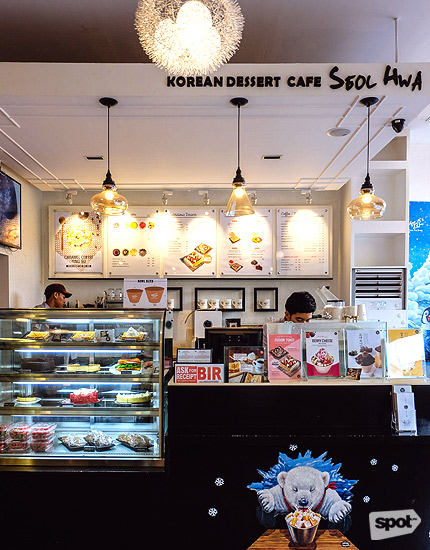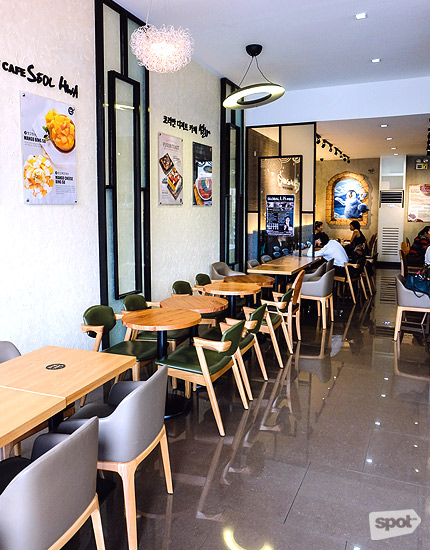 ADVERTISEMENT - CONTINUE READING BELOW
A Korean dessert stop that's not soft-serve ice cream!
It's almost always a full house at Café Seol Hwa and we clearly see why: Filipinos like being in on a new food craze, following the likes of bubble tea, frozen yogurt, and cronuts. Now, the bingsu comes under the spotlight as a fresh alternative to keep cool in Manila's heat. Café Seol Hwa's are prepared fresh daily and are rid of preservatives and synthetic coloring agents.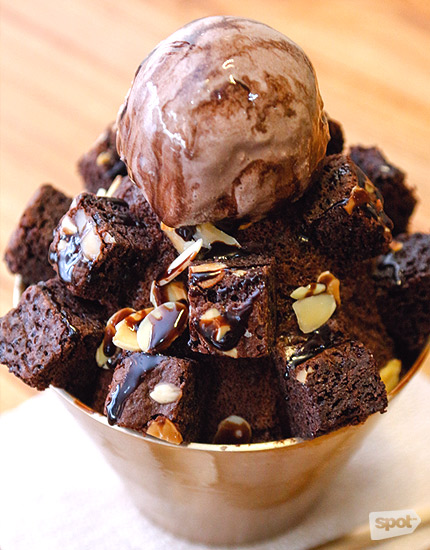 ADVERTISEMENT - CONTINUE READING BELOW
Brownie Choco
Of their selection of bingsus, the Brownie Choco (P250/single, P360/large) is a standout. The jumble is a definite treat for the sweet tooth: an indulgent mix of creamy, chocolate shaved ice, brownie chunks, Koko Krunch bits, almond slices, and chocolate syrup and ice cream.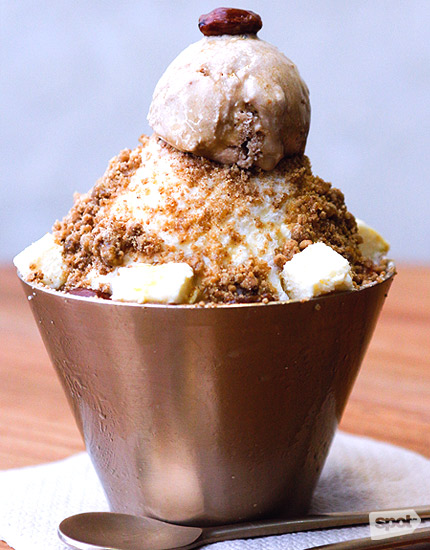 Caramel Coffee Bingsu
ADVERTISEMENT - CONTINUE READING BELOW
Koreans are likely to feel nostalgic with bingsu variants that hit closer to home: the Injeolmi (P190/single and P260/large), a bowl of shaved ice topped with nuts, berries, and soy bean powder, and the Pat (P190/single and P260/large), a healthy option comprised of boiled red beans, rice cake chunks, and sweetened nuts.
The bingsu menu also extends to fruity kinds including the Mango Cheese (P240/single and P340/large) and the Strawberry (P240/single and P360/large).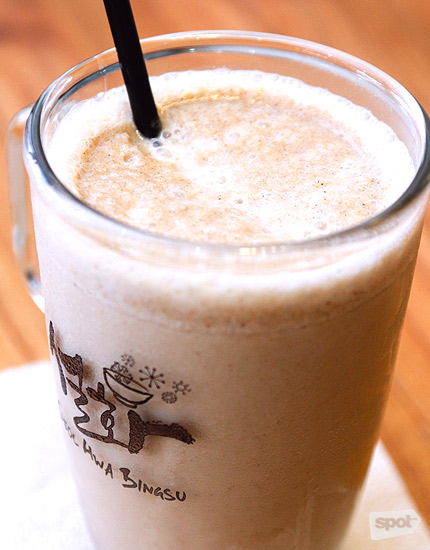 ADVERTISEMENT - CONTINUE READING BELOW
Mi Su Shake
Meanwhile, the caffeine-addicted can get a kick out the latest bingsu to hit the menu: Caramel Coffee (P220/single), which is proof that Café Seol Hwa packs its bingsus very generously. This particular variant is served to you as high as the ingredients can go—candied nuts, cheesecake slices, coffee crunch bits, coffee jellies, and all.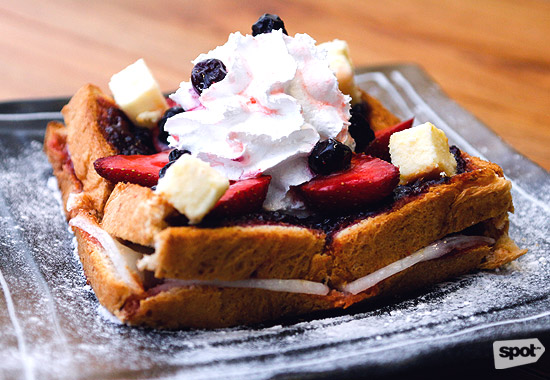 ADVERTISEMENT - CONTINUE READING BELOW
Berry Cheese Toast
Some of these bingsus could also be converted to toast versions. Have your pick from the Injeolmi (P180), Sweet Chocolate (P250), or Honey Butter Toast (P220). The latest addition to the menu is the Berry Cheese Toast (P250), a muted take on their Berry Cheese Bingsu (P220/single). Both executions contain mixed berries, cheesecake slices, nuts, whipped cream, and strawberry syrup.
For the best of both worlds, have a look at their bingsu and toast pairings such as the Injeolmi Bingsu + Toast (P360) and Strawberry Bingsu + Berry Cheese Toast (P440). The bingsus can also be paired with any of their cakes on display: Walnut Pie (P100), White Toblerone (P170), Blueberry Cheesecake (P160), and Belgian Chocolate (P160).
Café Seol Hwa also has savory options for a more filling dining spree. They have croissants in Ham and Cheese (P240), Tuna Salad (P200), and Bulgogi (P240), as well as spicy Korean rice cakes such as the Gochujang (P220) and Yeobgi (P240).
ADVERTISEMENT - CONTINUE READING BELOW
Café Seol Hwa has all these and more up its sleeve. And because foodies are always keeping their eyes peeled for the next best thing to come, the beginning of a post-meal conversation at the Korean dessert café has become a standard: "What are we having next?"
Photos by Jericho San Miguel
Recommended Videos
Load More Stories