Top 10 Eggs Benedict (2015 Edition)
This update has seen a major turnaround.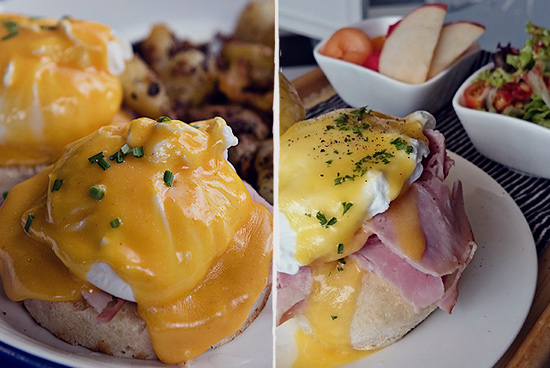 (SPOT.ph) We can't help but feel like we've eaten an entire poultry farm's worth of eggs for this list. Apart from the beautiful pulsating poached eggs, hollandaise, after all, is the velvety product of emulsifying yolks and butter. At this point, we've seen it all, witnessed everything from burned muffins to yolk-less poached eggs (yup, this is true).
It was in 2013 when we first ranked this beloved brunch option, but apparently that was only the advent of a new Filipino favorite. As we mentioned two years ago, the history of this English muffin-ham-and-egg combination is murky at best, but there's no doubt that it has Western roots. Rice-loving Pinoys, however, welcome this dish with open arms. Apart from more and more restaurants serving it on their menus, numerous variations have popped up—from classical salmon and spinach to Pinoy-oriented tapa and adobo.
There's really nothing you can't love. Eggs Benedict work as an ensemble, a little cast of egg, hollandaise, ham (or bacon!), and bread that play individual starring roles to produce one smashing show. We decided the time was right for another round of egg-filled breakfasts. It was a journey laden with cholesterol, but somebody had to do it. You'll be surprised at the new players, the revisions from old ones, and even the wildcards. The Eggs Benedict game in Metro Manila has only gotten better.
For this list, SPOT.ph only included Eggs Benedict that feature ham and/or bacon.
All SPOT.ph Top 10 lists are researched, paid for, tested, and selected by the writers and editors. They are discreetly conducted without any notice made to the restaurants or their owners.
ADVERTISEMENT - CONTINUE READING BELOW
Also read: Top 10 Eggs Benedict (2013 Edition)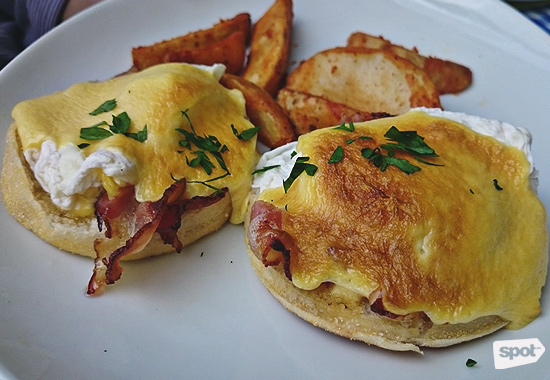 CONTINUE READING BELOW
Recommended Videos
10. Draft's Eggs Benedict (P385)
We have to congratulate Draft for doing the impossible: They served Eggs Benedict…without the yolk. One from our classic pair of muffins, poached eggs, bacon, and hollandaise was surprisingly—and disappointingly—yolk-free, the very essence of this brunch staple. (View the offensive egg. No, Mr. Waiter, that yellow stuff is not the egg yolk we're looking for.)
For that, we only judge the one perfect twin, which wasn't enough to take Draft any higher than No. 10. Too bad, because the thin strips of bacon, with the right ratio of crisp and fat, were excellent. The bread was soft, easy to slice, and sufficiently buttered. Draft puts their Eggs Benedict in the oven after assembly, developing this rather toasted, congealed…blob. It works with mozzarella, but is probably an exhaustive step for hollandaise. Keep it as is, guys, with both yolks, preferably.
ADVERTISEMENT - CONTINUE READING BELOW
Draft has branches at The Fort Strip, Bonifacio Global City; Power Plant Mall, Rockwell, Makati City; Greenbelt 2, Makati City; and Molito Commercial Complex, Alabang, Muntinlupa City. Read more about Draft.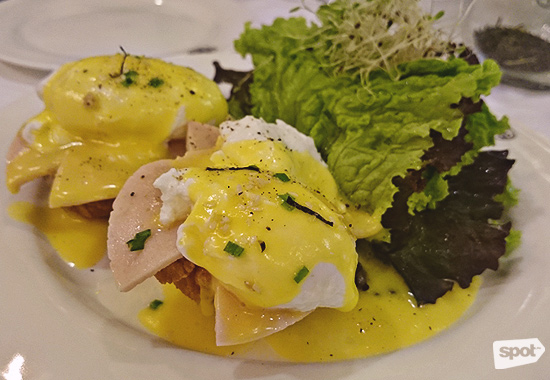 9. TWG's Eggs Benedict (P420)
Over the years, it seems that TWG's spongy cornflake-crusted English muffins have toughened and the eggs have become runnier than ideal. Still, the flavors remain. The turkey ham is light with a whisper of smokiness. The intricacies of the bread component add an interesting bite, but don't interfere with the mild tartness of the hollandaise. This tea emporium replaces their old sesame seeds with a sprinkle of chives, which adds a fresher dimension to the rich sauce.
TWG has branches at Power Plant Mall, Rockwell, Makati City; Central Square, Bonifacio Global City; Shangri-La Plaza East Wing, Mandaluyong City; Greenbelt 5, Makati City; and Newport Mall, Resorts World Manila, Pasay City. Read more about TWG.
ADVERTISEMENT - CONTINUE READING BELOW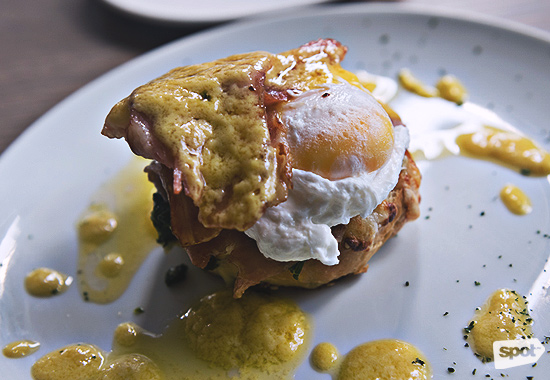 8. Sweet Bella's Eggs Benedict (P399)
We don't care too much for that haphazard hollandaise—it split and looks as though it's been flicked on with a whisk—but we're not complaining about the mouthwatering smell of butter. Sweet Bella establishes its reputation as a meat-toting (they're from the same group as steak stop Melo's) sweet shop, with this dainty yet brawny brunch dish. It's the most savory of the bunch, a pile-up of crusty fluffy bread, sauteed mushrooms, spinach, ham, bacon, and a rather lopsided poached egg. There's a lot going on, but the saying, "the more the merrier" has never been truer.
Sweet Bella is at Forbes Town Center, Burgos Circle, Bonifacio Global City.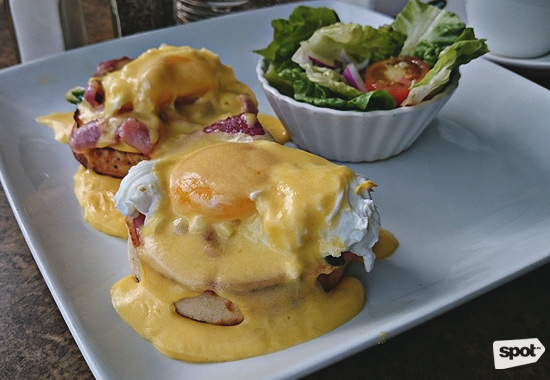 ADVERTISEMENT - CONTINUE READING BELOW
7. Italianni's Classic Eggs Benedict (P325)
You can't get any more straightforward than this. The muffin is soft but not too airy that it becomes mushy when the gooey egg party begins. The ham is thin (which is how it should be), but bold; the smokiness comes through just right. The thrill isn't in the generous smothering of hollandaise over the gorgeous swollen yolks. Someone in the kitchen cleverly thought of gratinating it, giving that thick, luscious cream a crunchy intermission.
Breakfast is available from 7 a.m. to 10:30 a.m. only at the Bonifacio High Street, Bonifacio Global City and Greenbelt 2, Makati City branches.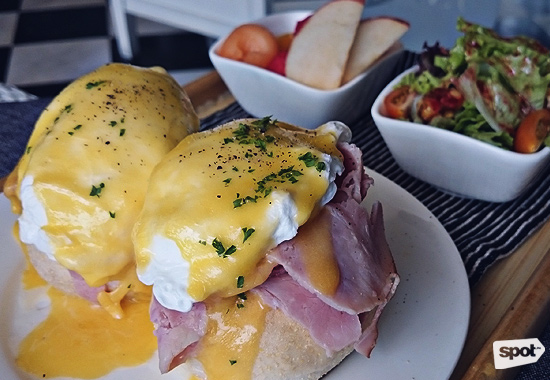 6. Bizu's Eggs Benedict (P375)
Quivering egg yolks are always picturesque, but Bizu's is an absolute head-turner. The sweet shop's Eggs Benedict had a major face-lift since we last saw it in 2013 (refresh your memory!). From the monster pan de sal precariously cupping a pair of eggs and an overload of ham, Bizu's revision is lovelier and more elegant. Their tray is an Instagram dream: colorful fresh fruit and salad, and the star, a stunning pair of Eggs Benedict. Bizu has opted for these adorable globes of cornbread muffins. They're a little too dense (slice them in half, Bizu!), but the sunny hollandaise is delightfully tangy and the yolks a thick golden liquid that really juices up the ham.
ADVERTISEMENT - CONTINUE READING BELOW
Click here for a list of Bizu branches. Read more about Bizu.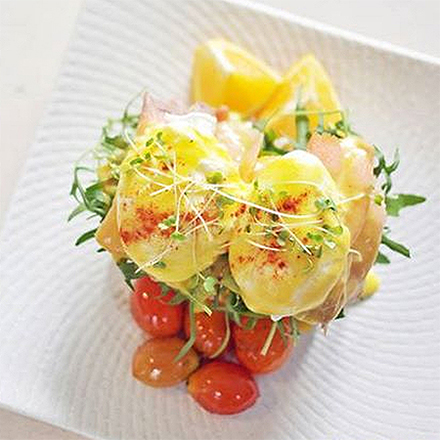 5. Museum Cafe's M Benedict (P395)
M Cafe ditches the English muffin and instead goes for two large rolls. They look overwhelming, but they have a nice crust and a soft, delicate interior that balances the load of toppings. The menu tells us about arugula and Jamon Excellente underneath two plump, cayenne-sprinkled eggs, but the greens turn out to be more lettuce and that promised nutty bitterness is relegated to the background. That ham, however—during the rare times that it's available—is excellent (pun intended), and it helps that they put a lot on. With the hollandaise a bit too thin, the ham's saltiness and characteristic meaty flavor really steals the show.
Museum Cafe is at G/F Greenbelt 4, Makati City. Due to some unforeseen circumstances, this photo was taken from M Cafe's Facebook page. The real thing looks the same but with more lettuce.
ADVERTISEMENT - CONTINUE READING BELOW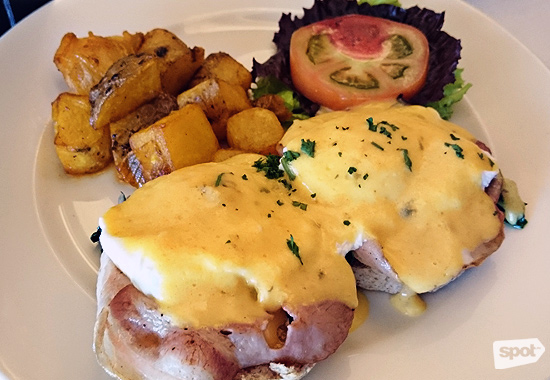 4. Apartment 1B's Eggs Benedict with Canadian Ham and Spinach (P330/one piece, P460/two pieces)
Apartment 1B puts in some Florentine flair with the spinach, but we can't fault it because these greens are so yummy. They're sautéed in garlic and onions for a detour in flavor. Each element in this version comes up loud and proud—from the juiciness of that salty-meaty Canadian ham (it's like bacon, really) to the brightness of the hollandaise to the quasi-healthy wheat muffins. Capers dab in a zestier side to the thick sauce, really giving that creaminess a huge lift. There's also something about those orange-yolked organic eggs!
Apartment 1B has branches at G/F Lafayette Square, 132 L.P. Leviste Street, Salcedo Village, Makati City; and One Rockwell, Makati City. Read more about Apartment 1B.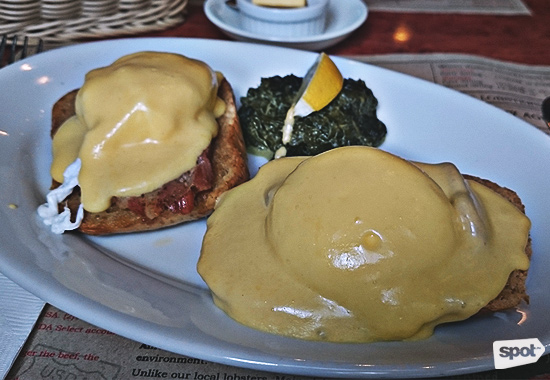 ADVERTISEMENT - CONTINUE READING BELOW
3. Mamou's Eggs Benedict (P395)
The last time we were at Mamou, their Eggs Benedict were lank and a little burned. This time, they're near flawless. Mamou doesn't shy away from smothering their eggs with hollandaise because they know theirs is tops: carefully whipped to become as smooth as George Clooney and with a pronounced tanginess that makes it still so relevant. It's so light, they can get away with putting a lot on. Opt for the wheat English muffin to add some grittiness to this delicious chorus. Mamou butters both slices liberally to really make them stand out, too. The yolks are a few seconds over, but they ooze out delicately nonetheless. It's difficult to keep up with the sinful thick-cut smoked bacon, but Mamou's is an ensemble, with every player performing their roles beautifully.
Mamou has branches at Power Plant Mall, Makati City (stylized as Mamou, Too!); and Serendra, Bonifacio Global City. Read more about Mamou.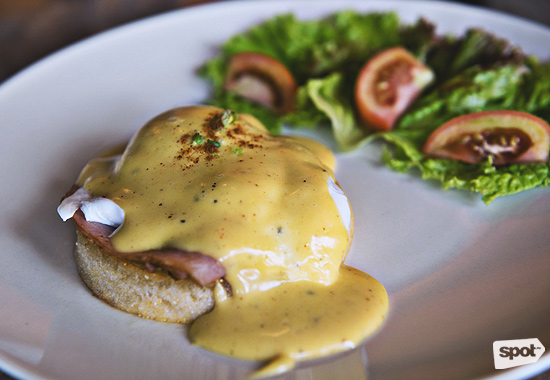 ADVERTISEMENT - CONTINUE READING BELOW
2. Marmalade Kitchen's Classic Canadian Ham Eggs Benedict (P240/one piece, P370/two-piece)
This cozy restaurant in a rather under-the-radar side of Bonifacio Global City has an entire index for Eggs Benedict, from spinach to steak. The classic, of course, pulls together all of its complexities just right. The hollandaise is a snappy cream number reinforced by just the right sprinkle of black and cayenne peppers, while the bread is toasted well enough to slice easily but still keep moist. Marmalade Kitchen is classics to a tee—using a thin sheet of lean Canadian bacon to flourish their textbook poached eggs.
Marmalade Kitchen is at 2/F Forum South Global, 7th Avenue corner Federacion Drive, Bonifacio Global City. Read more about Marmalade Kitchen.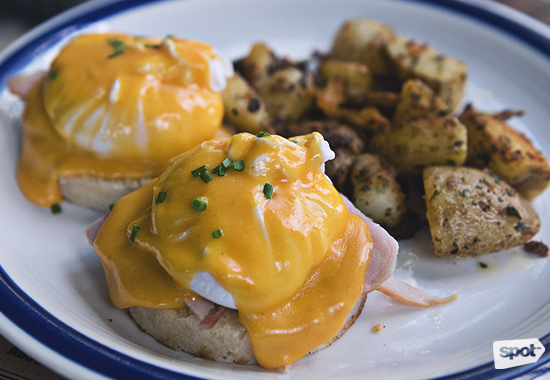 1. The Bowery's Eggs Benedict (P360)
Where do we begin? The silky hollandaise the color of sunset? The chubby eggs bursting to explode? The side of herbed home fries? The yolks gush out without much provocation, engulfing everything in a spectacular coat of orange. The kitchen makes sure to really deliver the lemon in the hollandaise, perking up your taste buds as you take that first fortuitous bite. The ham is smoky in a delicate but distinct way, while the bread, the glorious bread, the most underrated ingredient in this spectacular brunch, is sublime. It's baked in-house, because an ace pastry chef like Cuit Kaufman wouldn't be caught dead serving an English muffin that's less than excellent. He uses it to great effect. It's soft and spongy, with a toasted underside that carries everything with ease and grace of a ballet dancer. Make sure to get every bit in your fork and swish it around the pool of yolky goodness. Eggs Benedict are a dime a dozen now, but The Bowery is a different bread—sorry, breed.
ADVERTISEMENT - CONTINUE READING BELOW
The Bowery is at Forbeswood Heights, Burgos Circle, Bonifacio Global City. Read more about The Bowery.
*As of the writing and researching on this list, former No. 1 Cafe 1771 is currently under renovation.
Photos by Jason Mariposa (The Bowery, Sweet Bella, and Marmalade Kitchen)
Share this story with your friends!
---
Help us make Spot.ph better!
Take the short survey
Load More Stories