New Restaurant Alert: 8 & Company at Socorro Fernandez Street, Mandaluyong
Family favorites shine under the spotlight
8 & Company
8B Socorro Fernandez Street, Barangay Addition Hills, Mandaluyong City
Contact: 724-3595
Open daily from 11 a.m. to 2 p.m. and 6 p.m. to 10 p.m.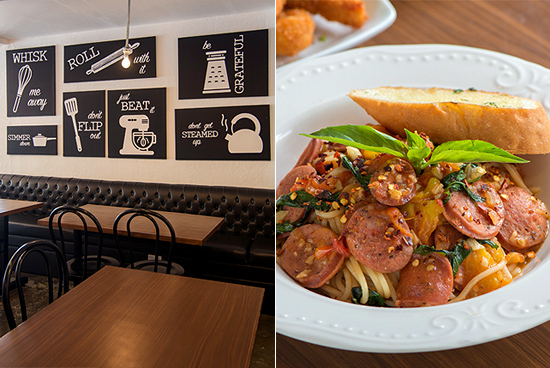 (SPOT.ph) Coming in to dine at 8 & Company (where a branch of Cookbook Kitchen used to be) is uncannily like being welcomed into your own household where everything is done to your liking. There is comfortable plush seating, relaxing background tunes, and customized accent pieces, but it's the crew that truly drives home this feeling of, well, feeling at home.
ADVERTISEMENT - CONTINUE READING BELOW
"We want to replicate the experience of one being in his own home," says co-owner Francis Capati, who heads operations with Dennis Yu. "We want to create a comfortable atmosphere where people can come over to relax, enjoy, and not worry about anything."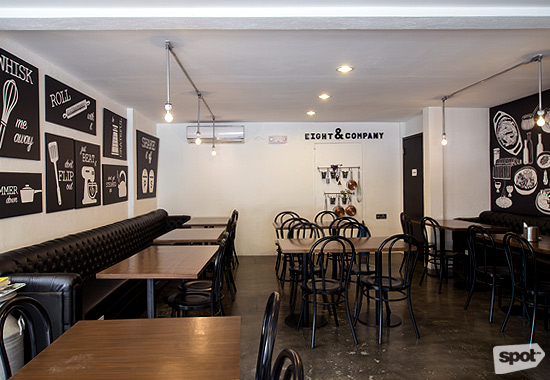 Feel at home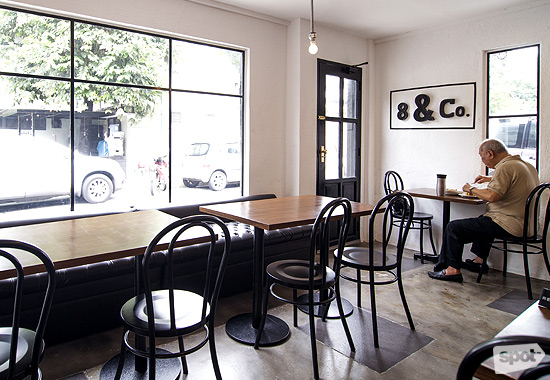 ADVERTISEMENT - CONTINUE READING BELOW
No worries. Just eat.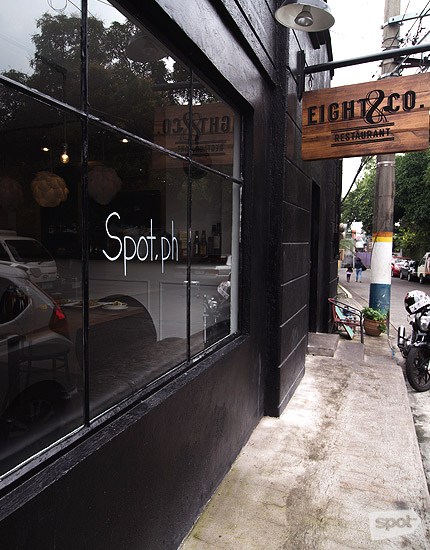 Giddy!
Don't be surprised when servers, or the owners themselves, drop in to check on you once in a while. 8 & Company is built on friendship, family, and camaraderie, and the folks behind it make sure you play a crucial part in the mix.
The owners all share the same vision: to not only offer excellent service, but also delectable dishes they would be proud to serve their personal visitors. Francis says, "When you go the extra mile, when you go out of your way, people will keep coming back to you."
ADVERTISEMENT - CONTINUE READING BELOW
Francis' dad, Chef Gen Capati of Cookbook Kitchen fame, acts as consultant to the gastropub's menu, which Francis describes as dynamic and non-conformist. "Each dish could be tailor-fit to [one's taste]," he says of the lineup. "We have people come in and request for dishes to be done a certain way because they can't have some of the [original] ingredients, for instance."
Additions to the 8 & Company menu are almost always born out of spontaneity, each one a surprising, welcome element to the gastropub's winning combination of comforting food and even more comforting ambiance.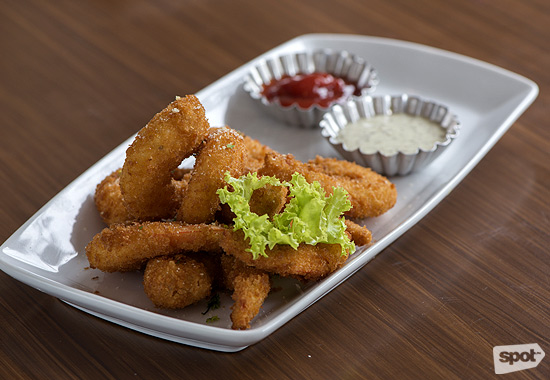 ADVERTISEMENT - CONTINUE READING BELOW
Shrimp Poppers
Their Shrimp Poppers (P290) are a popular choice, which they serve with coriander mint sauce as opposed to the conventional sweet chili. For those coming in for a few beers (they have Asahi and Brew Kettle), you may want to pair them with Fish and Chips (P360) or the Sausage Trio (P400). They also have light snacks available at the bar as you wait for your meals.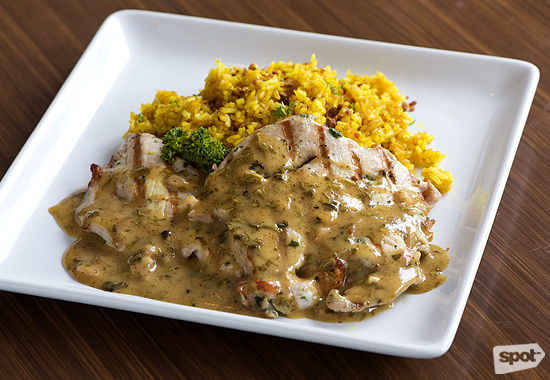 ADVERTISEMENT - CONTINUE READING BELOW
Grilled Chicken in Turmeric Rice with Coriander Sauce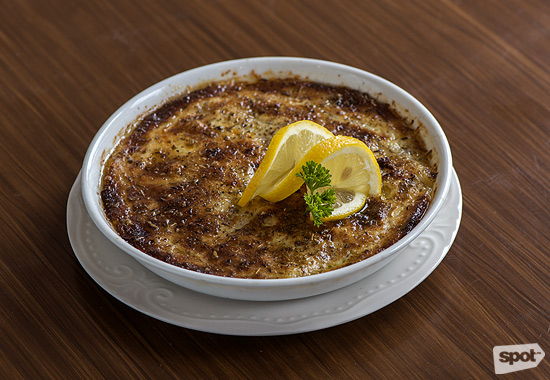 Lemon Baked Fish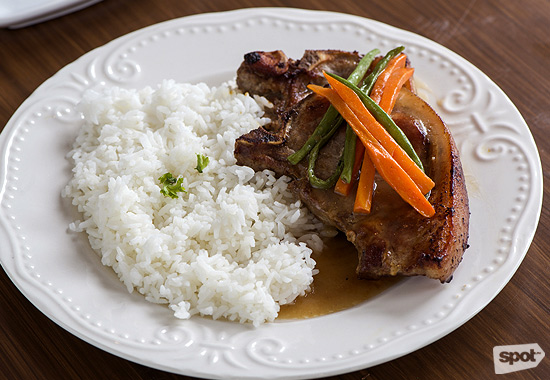 ADVERTISEMENT - CONTINUE READING BELOW
Smothered Pork Chops
Of their entrées, their Smothered Pork Chops (P385) and Grilled Chicken in Turmeric Rice with Coriander Sauce (P330) are immediate favorites. If you seek a more delicate alternative, the Lemon Baked Fish (P350) is your best bet. This immediate standout may come as a nostalgic side trip for fans of Cookbook Kitchen. After all, the fish is the pub's take on the latter's famous bestseller, the Parmesan Crusted White Fish. Other entrées to fill you up include the Country Style Smoked Pork (P290) and Rib Eye Steak (P550). Chef Gen says of these dishes, "You won't find these elsewhere."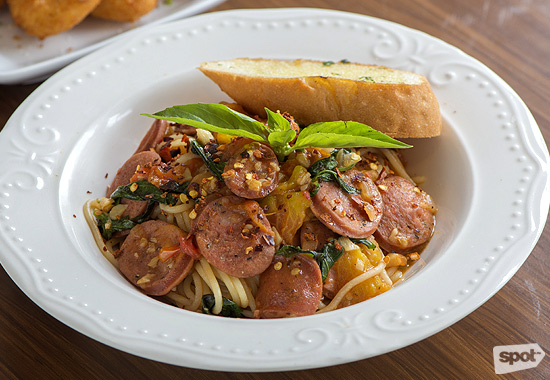 ADVERTISEMENT - CONTINUE READING BELOW
Tomato Basil Spaghetti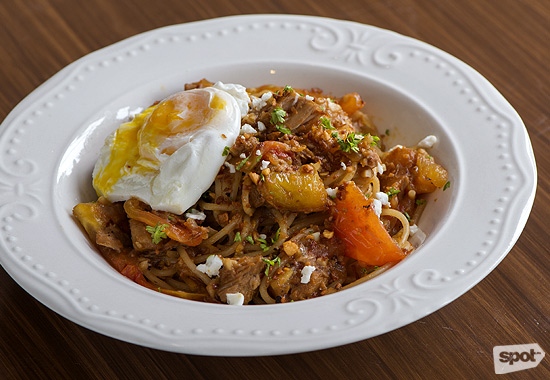 Pasta A La Gen
They also have pasta dishes including the Tomato Basil Spaghetti (P280), a jumble of roasted tomatoes, basil, and sausage slices, and the Pasta A La Gen (P290), a family favorite, which comes with chunky pork adobo slices and a sunny side-up egg. Other notable pasta varieties on the menu are the Shrimp Aligue (P280) and Mushroom Truffle (P290).
ADVERTISEMENT - CONTINUE READING BELOW
Don't forget about their juices, products of the Capati family's specialty brews (hint: they are not powdered), that leave distinct, sharp aftertastes: Red Iced Tea, Sweet Iced Tea, Fruity Iced Tea, and Lemonade (P50/single serve, P90/refillable). Have your pick from sweet and tangy flavors.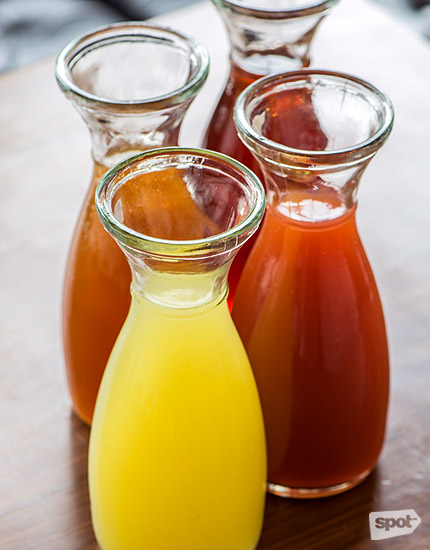 Iced tea index
ADVERTISEMENT - CONTINUE READING BELOW
Here lies the secret to the success of 8 & Company: in their kitchen, there are no shortcuts. "We don't comprise the process and the ingredients, even if it takes hours to prepare a single dish," Francis says. "Everything about [8 & Company] is a specialty. Maybe that's why people keep coming back."
Photos by Hans Fausto
Recommended Videos
Load More Stories