10 Amazing Cakes That You Deserve Right Now
No matter what, cake will always make you happy.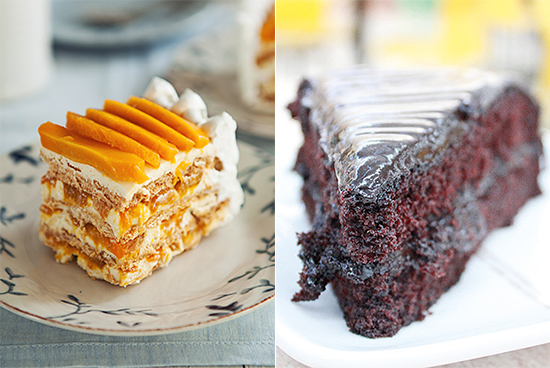 (SPOT.ph) "Let them eat cake" is something you won't hear us say—probably ever. Why? Because we're quite content being the ones eating it. Let them (whoever they are) eat whatever's left. Cake is one of those few things in life that are just...great. It's not just food. It's a moment. Of happiness. Of sweetness. Of peace. Again, at least while you're eating it. If you're sad, you can lift your spirits with a good chocolate slice. If you're happy, you celebrate with a hulking icing-coated perfection. 
Whatever you're feeling, here are 10 cakes to accompany your every mood. 
Also read:
10 Cakes That Will Make You Forget About Chocolate
10 Awesome Cake Artists in Manila to Try for Your Next Party
10 Most Well-Known Cakes in Manila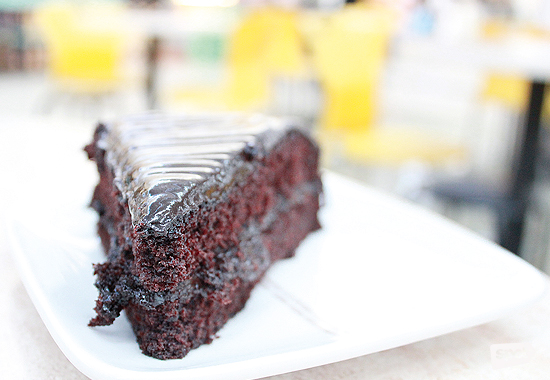 ADVERTISEMENT - CONTINUE READING BELOW
Polly's Classic Chocolate Cake (P390/seven-inch cake)
Who in their right chocolate cake-loving mind could forget Polly's? An icon as far as chocolate cakes go, Ms. Polly's immensely popular dessert remains one of our top recommendations for the same reasons why we declared it our No. 1 two years in a row. It's like the girl-next-door of chocolate cakes—simple, extremely likable, and just honest-to-goodness good. Made without the usual trappings of nuts and caramel (although they do have a version with it), this utterly moist and unfussy slice doesn't bank on any add-ons to make you a lifelong fan.
Ms. Polly's Specialty Cakes and Desserts is at 4/F Robinsons Galleria, Quezon City. Polly's Classic Chocolate Cake ranked No. 1 on SPOT.ph's Top 10 Chocolate Cakes in Manila (2011) and No. 3 on SPOT.ph's Top 10 Chocolate Cakes in Manila (2014 Edition).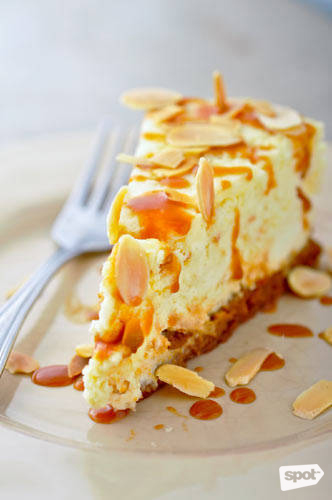 Borough's Brooklyn Cheesecake (P210)
This cheesecake is able to fuse both sweet and sour notes with its clearly tart base and understated caramel flavor, each bite cool and refreshing. The best part about this Brooklyn-styled piece? It will take you by surprise with the occasional chunk of cheese partly concealed by the mouthwatering top layer of almonds (or walnuts at times) and caramel syrup.
ADVERTISEMENT - CONTINUE READING BELOW
Borough is at The Podium, Mandaluyong City. The Brooklyn Cheesecake is ranked No. 6 on SPOT.ph's Top 10 Cheesecakes in Manila (2013 Edition).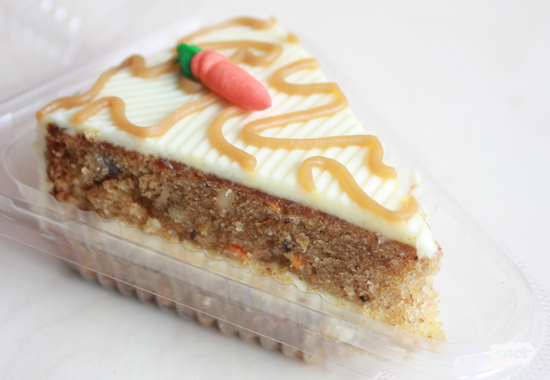 Figaro's Carrot Cake (P108)
Carrot cake is one of those desserts that really is a perfect match with your afternoon cup. It's wonderfully spiced with cinnamon, interspersed with walnut pieces, and has just enough cream cheese frosting to complement its cake with tang and sweetness. As an added bonus, those with an extra-sweet tooth will love the sweet hit from the drizzled caramel sauce. A fully rounded flavor in a slightly dense cake and topped with a buttery, creamy frosting that tastes homemade, hunting for this carrot cake is worth the extra time and effort to find it.
Click here for a list of Figaro branches. This carrot cake is ranked No. 3 on SPOT.ph's Top 10 Carrot Cakes (2013 Edition).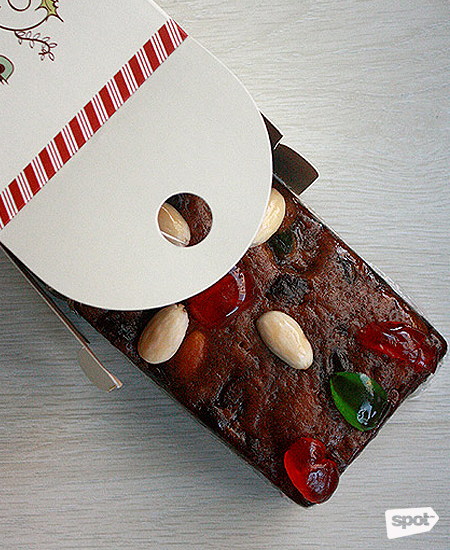 ADVERTISEMENT - CONTINUE READING BELOW
Lola Melba's Fully Loaded Fruitcake (P400) from Casa San Luis
There are claims that this is the fruitcake that will change everything you thought you hated about this Christmas icon. It's true. Our entire fruitcake history is now divided to pre-Casa San Luis and post-Casa San Luis. Carmela and Julien Agosta have crafted a version that merges French techniques with her grandmother's recipe. The beautiful gems of red and green cherries, pili nuts, and raisins on the surface give it a festive feel, but it doesn't end there. Each slice is even more packed with almonds, cashews, walnuts, whole candied fruits, and raisins. The sweetness and textures are even with each bite, and the flavors, as a whole, aren't too overwhelming. Despite the overload of elements, it's not too sweet.
The cake is dense and the smell of spirits intense (they brush it with brandy every week for a month). Casa San Luis recommends that their fruitcake be stored in an airtight container for a month before consuming to allow the flavors to ripen. But for those who don't want the brandy to seep too much into the flavor profile, opening it fresh is good as well.
Casa San Luis wins because they don't hide behind tons of fruits (or the lack of it), they don't hold back on the brandy, and they actually insist on aging the cake. When you have something you know is good, you don't have to be apologetic about it.
ADVERTISEMENT - CONTINUE READING BELOW
For orders, contact 0916-644-8522 or e-mail casasanluispastries@gmail.com. Visit their Facebook page for bazaar updates. Lola Melba's Fully Loaded Fruitcake is ranked No. 1 on SPOT.ph's Top 10 Fruitcakes in Manila (2013 Edition).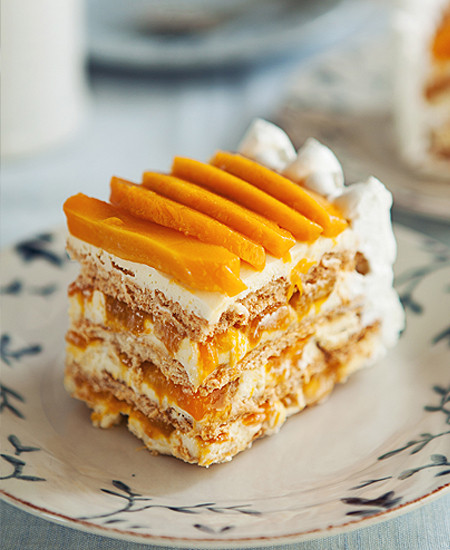 Mango Bene (P198/slice, P1,250/whole cake) from Mary Grace Café
This Mango Bene cake from Mary Grace delivers a comforting kind of goodness that reminds us of homebaked desserts! Not too sweet with an interesting play on crunchy and creamy textures for some desired contrast.
Click here for a list of Mary Grace Café branches. The Mango Bene is ranked No. 7 on SPOT.ph's Top 10 Mango Cakes in Manila (2013 Edition).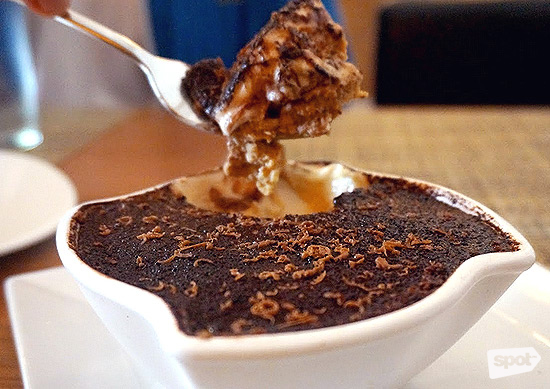 ADVERTISEMENT - CONTINUE READING BELOW
Benassi Alimento E Caffe's Mascarpone Cake (P230)
This 4x2-inch tub is the real deal. Benassi gets its name from Filipino-Italian owner Katia Benassi De Guzman, whose recipes come from her family's kitchen in Massa, Italy. We're talking brick-oven pizza topped with Parma ham and arugula; porcini mushroom-stuffed ravioli, and of course, tiramisu.
Instead of multiple layers, you get one thick layer of cake topped with another thick layer of mascarpone. The whole thing is then topped with coffee and chocolate shavings. The coffee flavor is very subtle here, and the balance is right if you're having it after a savory lunch. Don't believe that label on the menu that says it's good for two. We could finish one all by ourselves.
Benassi Alimento E Caffe is at G/F Exchange Regency, Meralco Avenue corner Exchange Road, Ortigas, Pasig City. The Mascarpone Cake is ranked No. 2 on SPOT.ph's Top 10 Tiramisu (2014 Edition).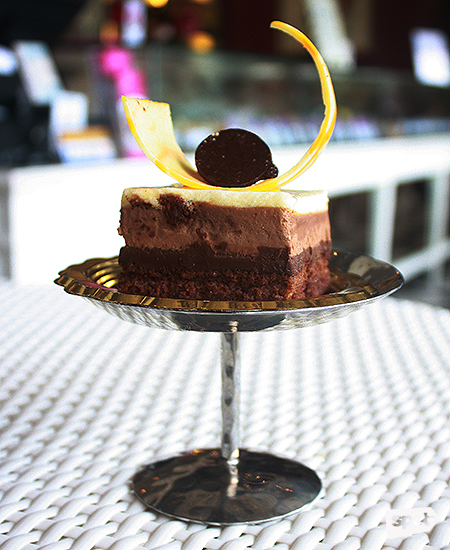 ADVERTISEMENT - CONTINUE READING BELOW
Jolie (P295/personal) from Bizu Patisserie
Bizu's Sugarless Jolie Cake has the all the makings of a perfect dessert. The sugarless and flourless chocolate mousse cake is doused with addicting Kahlua and infused with a special chiboust cream that create an undeniably delicious taste. Hidden within its layers are tiny hazelnuts that add an excitingly crunchy texture to this already enticing dish. Delightfully sweet, suitably moist, and surprisingly nutty all at once, it's no surprise that after years, this cake is still on top of our sugar-free list.
Click here for a list of Bizu branches. The Jolie is ranked No. 1 on SPOT.ph's Top 10 Sugar-Free Desserts in Manila (2013 Edition).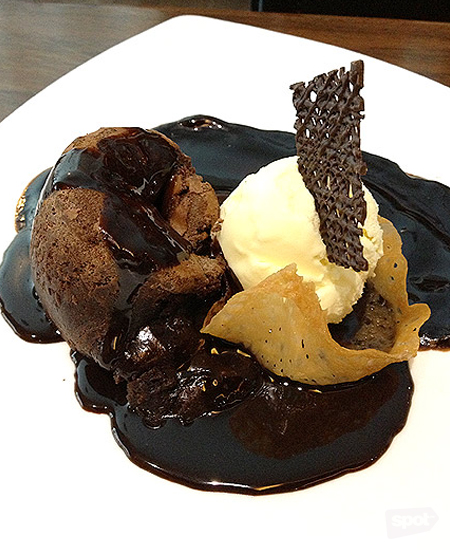 Sweet Revenge (P195) from Maitre Chocolatier Boutique Cafe
If there was such a thing as having too much chocolate, this could be the closest to it. The cake, made with 70% Lindt dark chocolate, is thick, but softer and lighter than a brownie. There's a moat of chocolate sauce around it, making it appear as though the lava had already erupted and we're only waiting for what happens next: fire. The cake is spiced, treating your taste buds to a novel tingling sensation from the heat. When things get too hot, seek refuge in the vanilla ice cream nestled on the side. This stunning display of balance will surely challenge even the biggest chocolate lover.
ADVERTISEMENT - CONTINUE READING BELOW
Maitre Chocolatier Boutique Cafe is at 28 Jupiter Street corner Astra, Bel-Air, Makati City. The Sweet Revenge is ranked No. 5 on SPOT.ph's Top 10 Chocolate Lava Cakes (2013 Edition).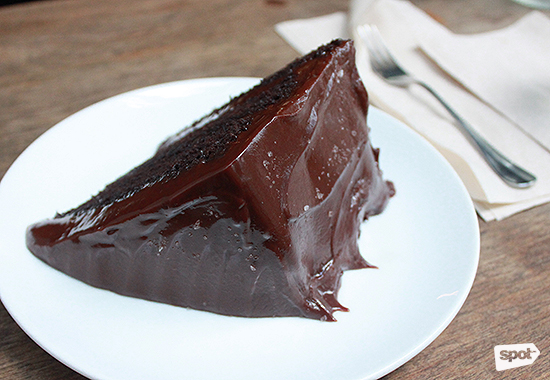 Wildflour's Salted Chocolate Cake (P340)
We baptize this wicked sorcery, The One. Elbowing its way past longtime-loved cakes is Wildflour's Salted Chocolate Cake. By far, our clear winner. Wildflour's dessert geniuses are not at all shy about slathering this towering slice with icing made of 65% Cacao Valrhona Chocolate, and it tastes incredible. You can tell everything was made from scratch and from only the best ingredients; the glorious deep brown icing is a by-product of high-quality European cream (we know because we asked). The cake, dark as night, cascades lightly on the tongue; the salt hidden in between just a sweet afterthought.
As it turns out, Wildflour's Salted Chocolate Cake is a frontrunner outside of Manila too. Wildflour's sister restaurant in L.A., Republique, uses the same recipe for their Salted Caramel Chocolate Cake, and it bagged the No.2 spot in laweekly.com's 10 Best Chocolate Cakes in L.A. If that's not enough reason to come knocking fork in hand, well, we don't know what is.
ADVERTISEMENT - CONTINUE READING BELOW
Wildflour Cafe + Bakery has branches at 4th Avenue corner 26th Street, Bonifacio Global City; The Podium, Mandaluyong City; 125 LP Leviste Street, Salcedo Village, Makati City; and Rada Street, Legazpi Village, Makati City. The Salted Chocolate Cake is ranked No. 1 on SPOT.ph's Top 10 Chocolate Cakes (2014 Edition).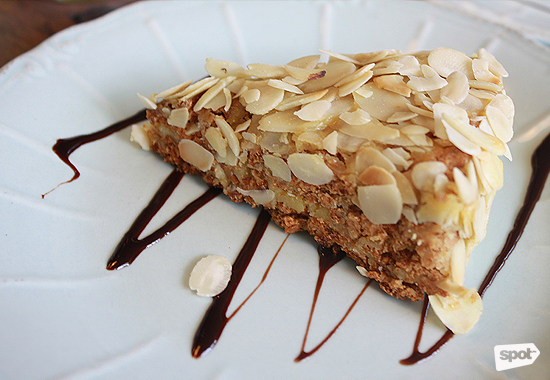 Almond Royale at The Clubhouse (P175/slice)
The Clubhouse's rendition of the sansrival is a celebration of almond slices, a whisper of meringue layers and a thick, custard-colored filling to hold everything together. When you want a break from buttercream or a crunchy meringue base but still hanker for sansrival, this café-style update may just be your cake of choice. The meringue is moist, tender and compact that the fork glides into it. The blanched almonds lend a subtle flavor and crunch.  It gets snapped up fast so call ahead to ensure a slice.
The Clubhouse is at UG/L Robinsons Magnolia Town Center, Hemady Street corner Aurora Boulevard, Quezon City (442-5571). The Almond Sans Rival is ranked No. 9 on SPOT.ph's Top 10 Sansrival (2013 Edition).
ADVERTISEMENT - CONTINUE READING BELOW
*Updated prices as of January 24, 2017
Load More Stories