New Restaurant Alert: Kantori Yakitori at Aguirre Avenue, Paranaque
Go the extra mile for this great drinks and sticks place.
Kantori Yakitori
51D Aguirre Avenue, BF Homes, Parañaque City
Contact: 358-9079
Open from 5 p.m. to 12 a.m. (Sunday, Tuesday to Thursday), 5 p.m. to 2 a.m. (Friday to Saturday)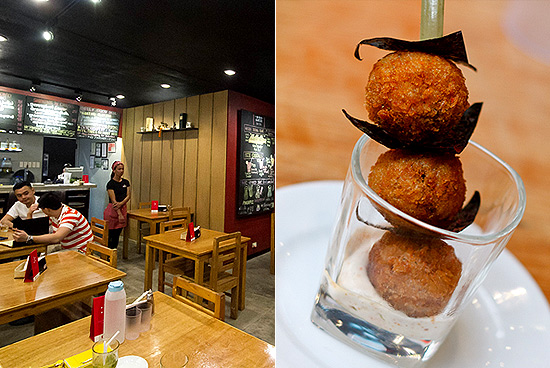 (SPOT.ph) When an inuman at home isn't quite an option, every barkada has their go-to place for good food and drinks. In the heart of busy food strip Aguirre Avenue is a smoky little restaurant that's a bit of both—a new cozy place for great grub and booze, with a friendly staff, and in an atmosphere that makes you feel like you never left home.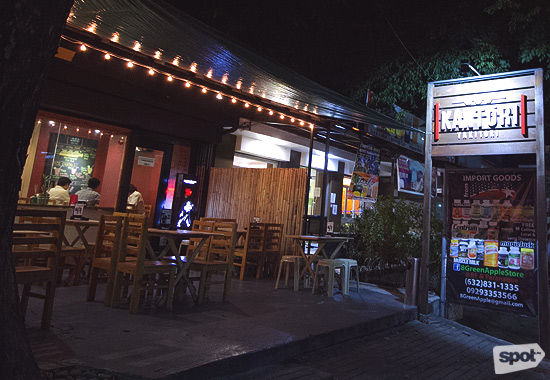 ADVERTISEMENT - CONTINUE READING BELOW
Yakitori + kanto = Kantori
Kantori is a play on the words kanto and yakitori. Kanto—literally translated to "corner"—is a reference to the restaurant's aim of adding the Filipino touch to certain dishes, as well as the familiarity of just heading "around the corner" to grab comfort food. Yakitori or tori speaks of their cooking and service style: bites of meat or veggies served on a stick.
Owned by friends Kelly Parreño, Joseph Reyes, and Keitaro Chida, Kantori's tambayan-ng-barkada vibe clearly comes from their experience as friends. All three are remarkably hands-on in running the restaurant. Kelly, the head chef, is in charge of designing the menu and managing Kantori's daily operations. Joe and Keitaro take care of the interiors and had a hand in the alcohol selection for the restaurant. As for the unique dishes they serve—most of them are random ideas they threw at each other during gatherings at home. Some are even named in jest after each other or are inside jokes.
CONTINUE READING BELOW
Recommended Videos
On the Sunday evening we visited Kantori, all three were present, welcoming guests, asking them what they enjoyed the most or thought could be changed. Despite it having been a quiet rainy weekend where you don't expect too many patrons, the restaurant remained full the entire time we were there, with guests ranging from families with little kids and couples on dates to barkadas out to mourn or celebrate the Ateneo-La Salle game. The number of regulars dropping by and the first-timers leaving with a reassuring smile is a hint at what you're going to get.
ADVERTISEMENT - CONTINUE READING BELOW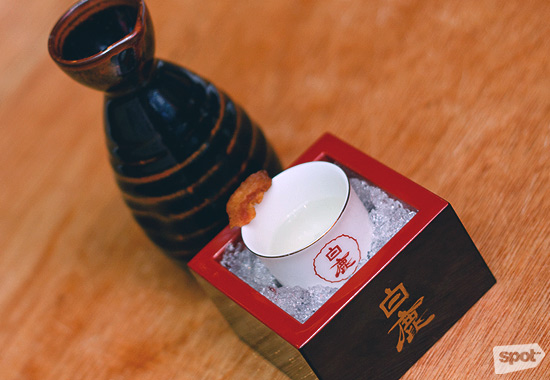 Maple-Bacon-infused Sake
Our meal at Kantori begins with the Maple-Bacon-infused Sake (P78/30-ml single serving, P308/240-ml to share). Served either cold or warm, the idea of something savory and sweet infused into alcohol sounds bizarre at first, but a single sip later will convince you. You distinctly taste both sides of the spirit. The sweetness of the maple is a perfect contrast to the sharp sake taste, and everything is brought together by the subtle salty bacon flavor. The sake supposedly prepares your taste buds for the meaty meal ahead.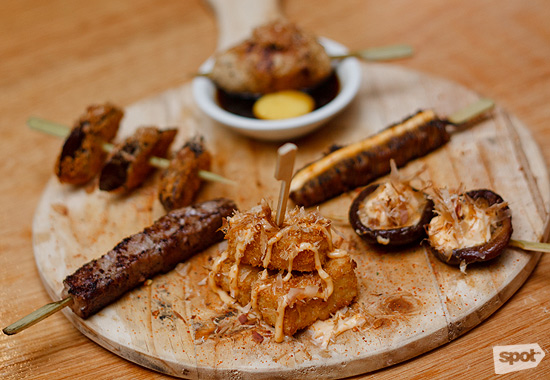 ADVERTISEMENT - CONTINUE READING BELOW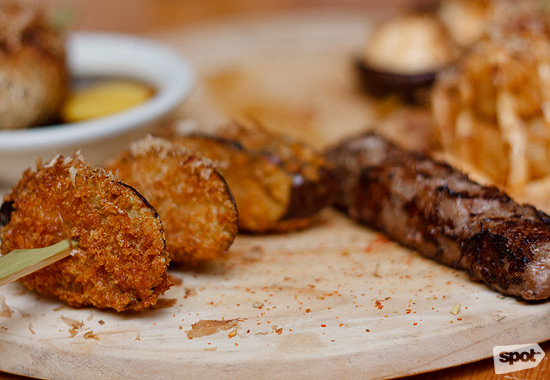 Assorted! The eggplant is a scene-stealer!
The best way to enjoy the yakitori at Kantori is to order a selection of all of their bestsellers. The Tsukene (P58/stick), a meatball covered with bonito flakes, sits in a tare sauce with an egg yolk. Part of the fun comes with mixing the tare with the yolk and plopping the juicy meatball into it before taking a hefty bite. The meatball is obviously carefully marinated; the yolk and tare sauce a perfect partnership. Taken together, they'll make you never want to eat meatballs with gravy again.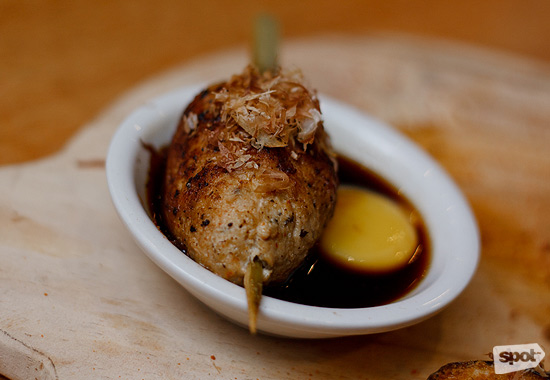 ADVERTISEMENT - CONTINUE READING BELOW
Tsukene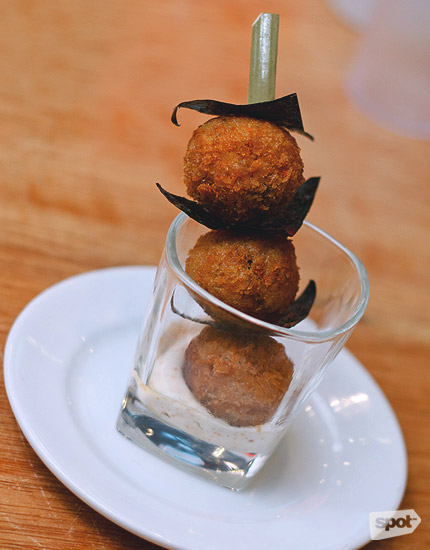 Balls on a stick
A favorite on the menu is the Shiro (P48/stick), a fresh take on your traditional isaw. It's prepared meticulously: blanched, cleaned, grilled, then torched. This gives the intestines a clean but unique smoky flavor that you won't find in your usual isaw. It's served crispy and covered in kewpie and tobiko, an excellent savory twist to an old favorite. The crunch and meaty isaw taste contrasted with the little pops of creamy tobiko in the kewpie is so good, it'll make you salivate just thinking of it.
A simple but equally amazing offering is their Saikoro Beef Yakitori (P158/stick). The Saikoro beef is flown straight from a source in Japan and brought straight to the Kantori kitchens to be prepared in a shio marinade. This means the beef on your stick is fresh and carefully flavored, then grilled to the point where it becomes melt-in-your-mouth goodness. It's something you'll want to come back for despite the price.
ADVERTISEMENT - CONTINUE READING BELOW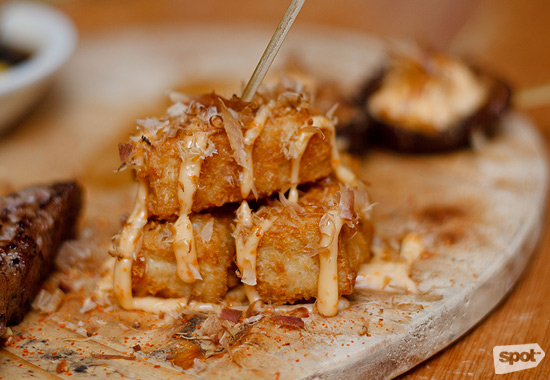 Atsuage
Veggie lovers have two great options: the Shiitake (P48/stick) and the Nasu or eggplant (P38/stick). Mushrooms are one of those things we love no matter where you throw them in—cooked in butter and garlic, tossed in a pasta sauce with cream, in soup form, or thrown in a stew. A grilled mushroom covered in Kewpie and tobiko with garlic confit? It's another one of those stranger combinations. "Make sure to crunch down on the garlic confit when you bit the mushroom," the owners tells us, and once we did, the motley crew makes perfect sense.
The Nasu or eggplant on the other hand, is an eye-opener. Filipinos are moving beyond the usual tortang talong or ensalada dishes like charred eggplant. This humble vegetable is popping up in modern Japanese restaurants and this Nasu—fried in bonito flakes and panko—really brings out its subtle flavor. Not only will this crispy transformation make eggplant haters tolerate the stuff, but also incredibly addicted.
ADVERTISEMENT - CONTINUE READING BELOW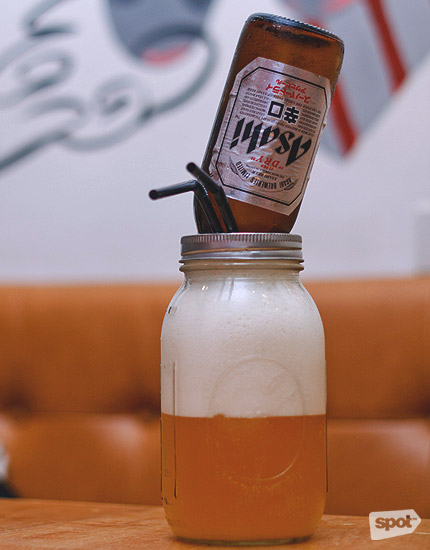 Beergarita
We recommend you pair your meal with something from Kantori's great alcohol selection. For the connoisseurs, there is the Whiskey Tasting Flight (P555/three 20-ml servings). It's a chance to try Hibiki 17, Nikka Miyagiko 15, and Suntory Kakubin Whiskey in one round. For the cocktail lovers you must have the Barkada Beergarita (P188, ideally for sharing but who are we kidding) made of a whole bottle of Asahi, tequila, lime, and agave syrup.
Without a doubt, the yakitori at Kantori is innovative, inspired, and lip-smackingly delicious. The drinks are well-curated, and the mixes and infusions are things you won't find anywhere else in the Metro. Chef Kelly's experience working for hotels and fine-dining restaurants abroad shines through the carefully thought-out dishes and the attention to detail when it comes to flavors, textures, and even the interactive experience when the food hits your table.
You could easily describe Kantori as a little hole-in-the-wall with fine-dining ideals, but the team asserts that Kantori is in a category of its own: "fun dining," something they hope will cater to everyone. What with the great food, the knowledgeable and friendly staff, and the laid back atmosphere, we have to admit fun is a good word to describe the Kantori experience.
ADVERTISEMENT - CONTINUE READING BELOW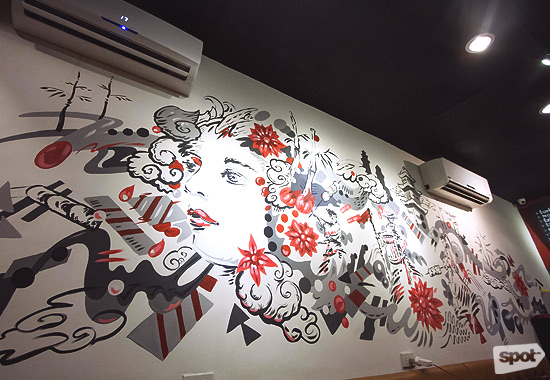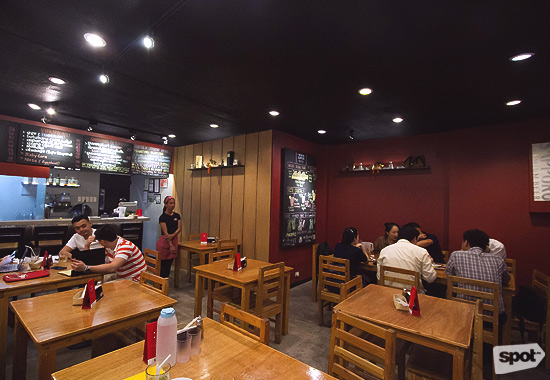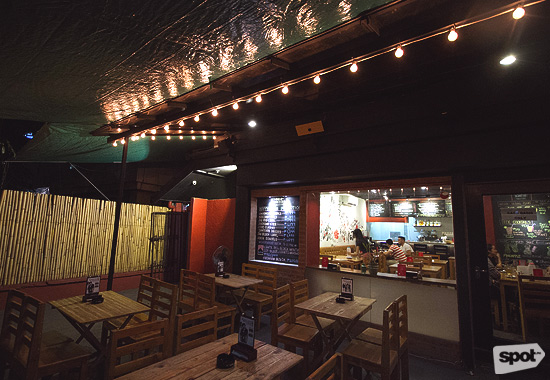 ADVERTISEMENT - CONTINUE READING BELOW
Perfect for cool evenings
Nothing you'll have in Kantori will be like things you've tried in the past. While some of their combinations can be a little unorthodox, the interplay of great food and better experiences is the only combination you should think about.
Photos by Pia Babao Guballa and Mawi Dagdag
Share this story with your friends!
---
Help us make Spot.ph better!
Take the short survey
Load More Stories