New Restaurant Alert: Mati's Meat and Bread at Festival Supermall, Muntinlupa
It's second-generation Melo's Steakhouse.
Mati's Meat and Bread
Unit B2, River Park, Festival Supermall Expansion, Filinvest Corporate City, Alabang, Muntinlupa City
Contact Number: 847-2273
Open daily from 11 a.m. to 10 p.m.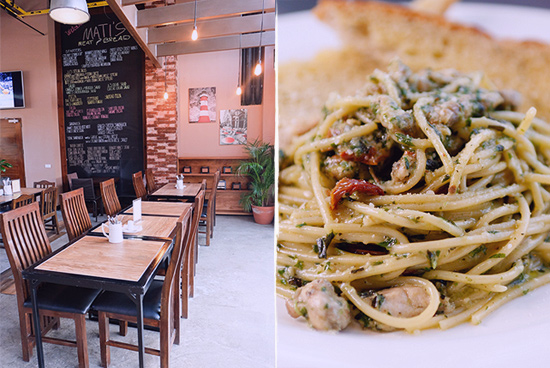 (SPOT.ph) "I'm not a chef!" Paul Macasaet, co-owner of Mati's Meat and Bread, clarifies. "I just like to eat and throw everything into the pan." Paul, who married into the Santiago clan of Melo's fame, is a certified foodie. His epicurean love and vivid imagination has helped the family business through the years (Paul and his wife, Caron, manage the Melo's Westgate Alabang branch). These qualities also helped pave the way for the creation of their nearly one-year old baby, Mati's.
Nestled in the underrated Festival Supermall River Park, Mati's Meat and Bread was named after Paul's youngest son Mateo. Like Melo's, Mati's is very much family-oriented. On one side of the room, a huge blackboard is filled with the resto's delicious offerings, most of which are named after family members—children, nieces and nephews.
ADVERTISEMENT - CONTINUE READING BELOW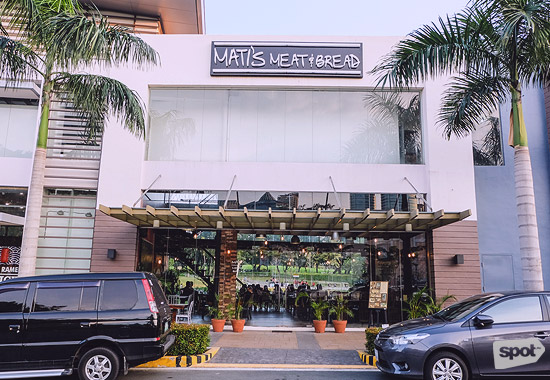 CONTINUE READING BELOW
Recommended Videos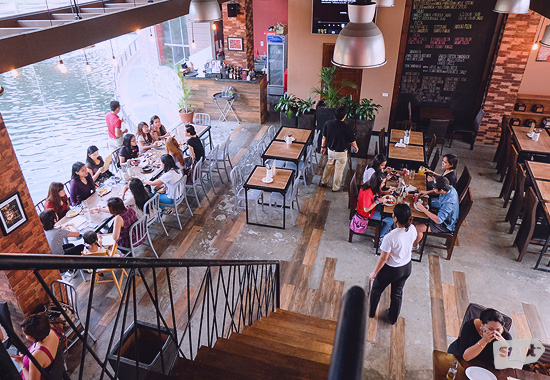 Family-friendly dining
This sun-lit, homey space surrounded by brick, wood, and warm red tones, is perfect for family lunches and dinners. A view of the park's man-made river can be seen from the floor-to-ceiling windows on one end of the room, making you feel like you're having a meal in a luxurious seaside restaurant.
ADVERTISEMENT - CONTINUE READING BELOW
Mati's fare is often touted as "budget-friendly Melo's," referring to the restaurant's more affordable steaks, as compared to its parent company. Mati's is also younger and more experimental. "It's something that I can put all my imagination into play," Paul explains. Such is the case of his creation Balut Aligue (P195), a sinfully satisfying appetizer that is exactly as it sounds. The fertilized duck egg is smothered in chunky aligue fat and served in a tiny skillet. "I like balut, and I like aligue," Paul says. "So I put them together."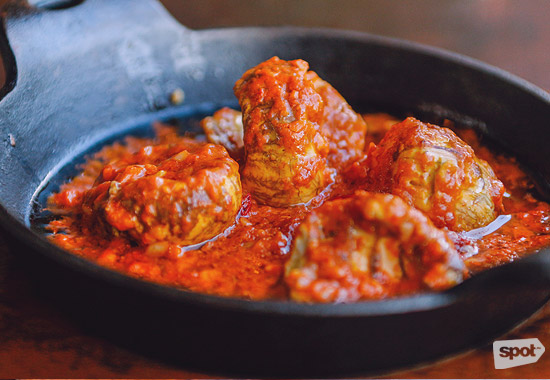 Balut Aligue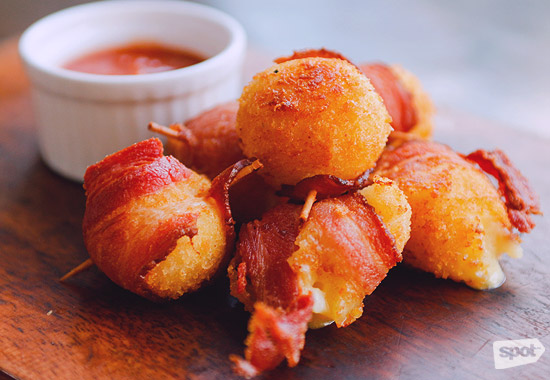 ADVERTISEMENT - CONTINUE READING BELOW
Bacon Cheese Bombs that Paul made on a whim
The difficulty wasn't in creating the dish, but in getting it on the menu. As Mati's is a family business, Melo's founder Carmelo "Melo" Santiago has final approval of every single dish that comes out of the kitchen. The traditionalist in Melo, according to Paul, was horrified at the idea. "Why are you ruining it (balut)?" Paul recalls his father-in-law saying. But the taste won him over, and Balut Aligue made it onto the menu.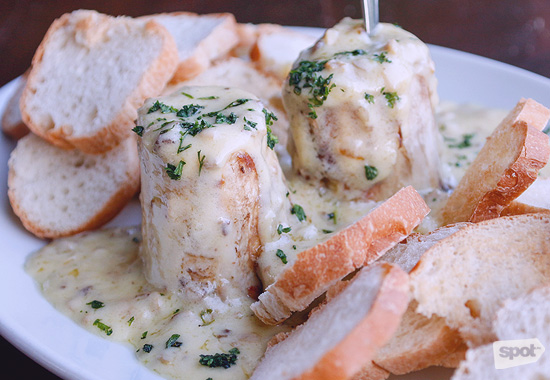 Truffled Bone Marrow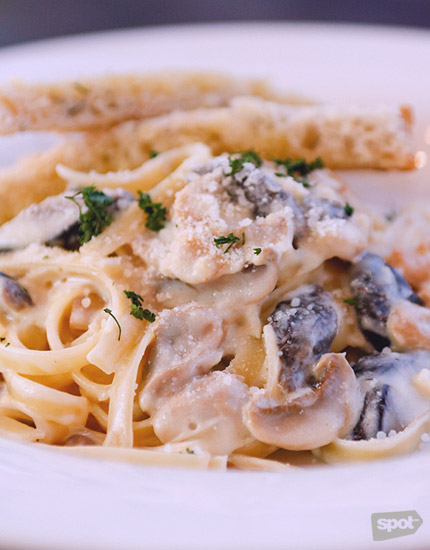 ADVERTISEMENT - CONTINUE READING BELOW
Truffle Pasta (P398)
Creamy Chicken Pesto Pasta (P290)
Another dish that came out of Paul's imagination is the Truffled Bone Marrow (P385). This dish, consisting of bone marrow stir-fried with truffle sauce, mushroom, and cream, was inspired by one of the family's travels. Paul noticed that restaurants abroad rarely serve foie gras anymore, and instead offer bone marrow. "Bulalo?" Paul exclaims. "Ang daming ganyan sa Pilipinas!"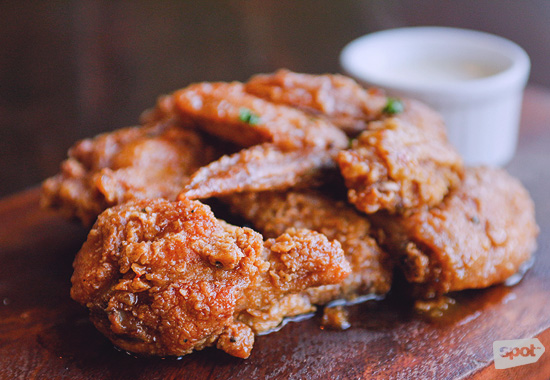 ADVERTISEMENT - CONTINUE READING BELOW
Mama's Buffalo Wings
Like the Balut Aligue and the Truffled Bone Marrow, most of the dishes on the Mati's menu have a story to tell. The Mama's Buffalo Wings (P245), one of the resto's bestsellers, is named after the family matriarch, Purita. The crispy sweet chicken served with blue cheese dip is a direct contradiction to the Papa's Spicy Crispy Wings (P200), which is made just the way Melo's likes it—marinated with salt and pepper and slathered with labuyo paste.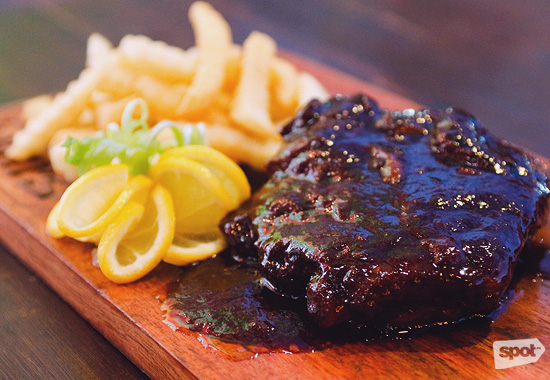 Sofia's BBQ Pork Ribs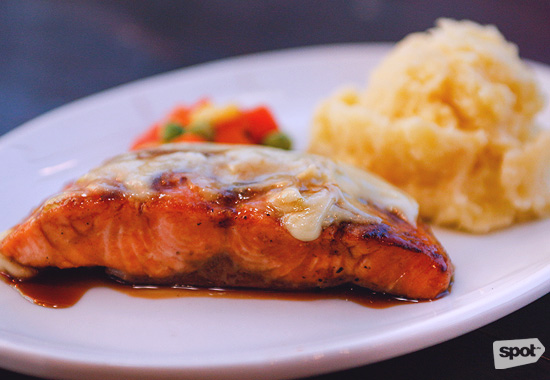 ADVERTISEMENT - CONTINUE READING BELOW
Grilled Norwegian Salmon with Teriyaki and Wasabi Mayo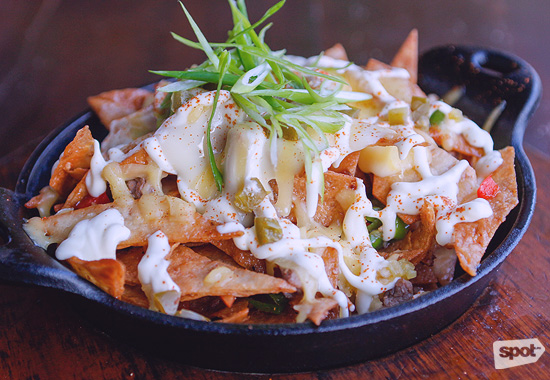 Baked Tortilla
The menu wouldn't be complete without the family specialty—steak. They know how to cook meat, and it shows. The USDA Salpicao Rice (P425) is a definite favorite, as each bite oozes with the meat's savory juices and essential garlic taste. This salpicao goodness is replicated in the resto's new offering, the Salpicao Pizza (P385). Everything you love in salpicao is highlighted in the pizza's super thin and crunchy crust, joined by thick cheese, mushrooms, and green peppers.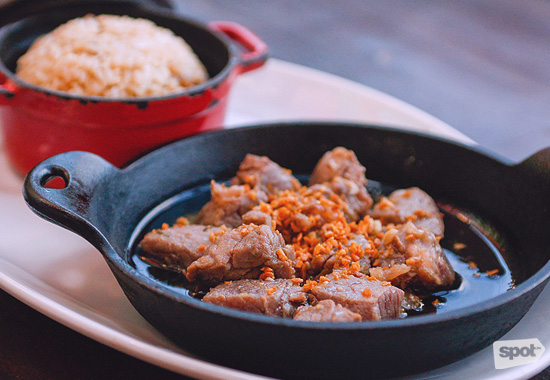 ADVERTISEMENT - CONTINUE READING BELOW
Salpicao Rice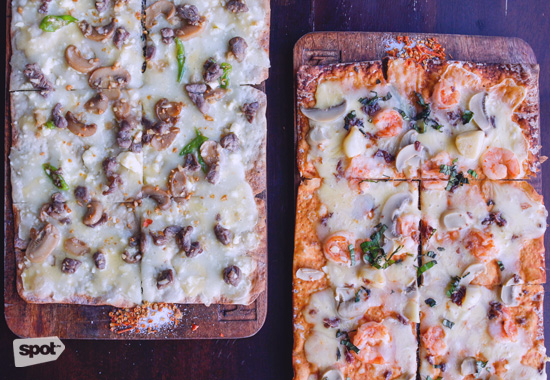 Salpicao Pizza and Tali's Gamberetti
Unsurprisingly, Mati's crown jewel is its steak. According to Paul, the way the 300-gram certified Angus Ribeye (P1,400) is cooked makes this restaurant unique. He wanted to cook the steak table side to let guests see and approve the doneness for themselves.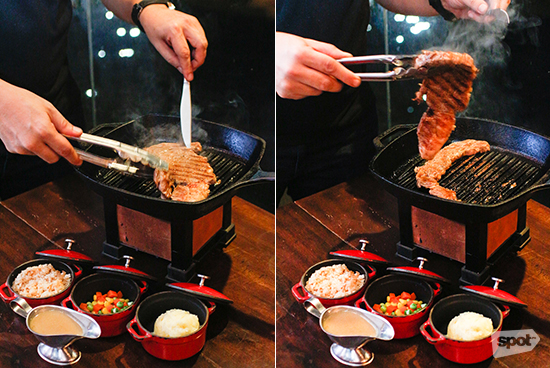 ADVERTISEMENT - CONTINUE READING BELOW
Steak cooked tableside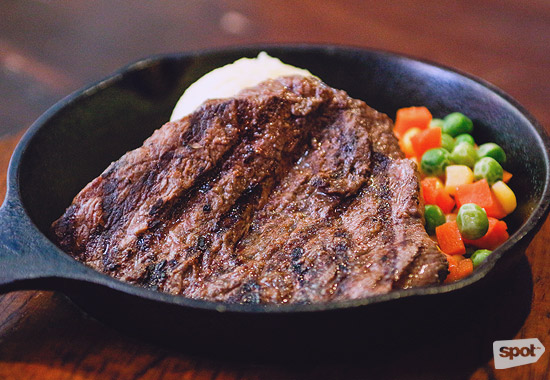 USDA Steak with mashed potato and vegetables
A trip to his brick-oven supplier led Paul to the discovery of a special kalan that can help heat a skillet of steak right beside the guests. The result is a succulent, flavorful masterpiece that is cooked to perfection—no steak sauce required. Served with gravy and sides of mashed potatoes and mixed vegetables, customers can also ask for steak rice, which is flavored with steak fat.
The Santiago-Macasaet family may not be professional chefs, but they definitely know their way around the kitchen. Mati's is not only a testament to their vast experience in the industry, but also a refreshing concept that is willing to make experimental dishes that excite the palate. We can't wait to see what else they have in store.
Photos by Jericho San Miguel
Share this story with your friends!
---
Help us make Spot.ph better!
Take the short survey
Load More Stories