Chef Mark Tan's inspired four-course menu is pure wow
Allium could be your new favorite celebratory restaurant.
Allium
G/F Grand Midori, Bolanos Street, Legazpi Village, Makati City
Contact: 519-1088
Open from 6 p.m. to 10 p.m. (Monday to Saturday)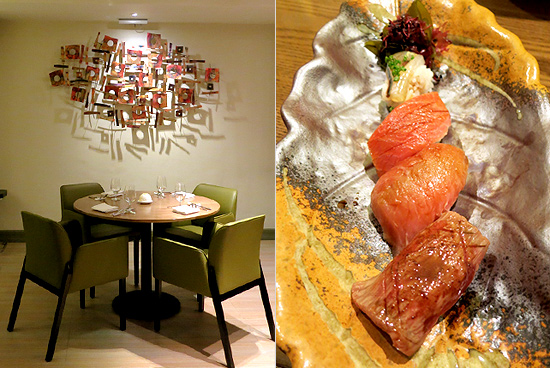 (SPOT.ph) Anyone who's been to Allium has almost always left with good things to say. One would rave on and on about the Blackmore sirloin while another would dream about the Laiskonis Egg for days and nights. It's a peaceful little place in Legazpi Village—unassuming, you could say, but always mind-blowing to foodies and food professionals who've followed Chef Mark Tan, first at Alabang's Studio Kitchen and now here.
The 30-something chef has had an illustrious career so far. He trained in Michelin-starred restaurants Providence, The Bazaar, and Eleven Madison before settling back home. You can't detect this colorful history when you see him. Allium is as discreet as the mastermind behind it is shy (until you start talking about food, that is). While other chefs have become celebrities or, at the very least, celebrated, Chef Mark still keeps all revelries on the plate.
ADVERTISEMENT - CONTINUE READING BELOW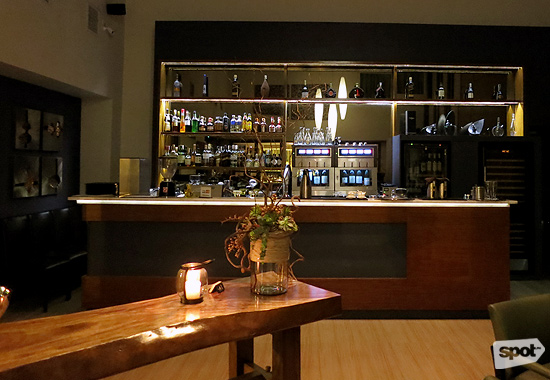 CONTINUE READING BELOW
Recommended Videos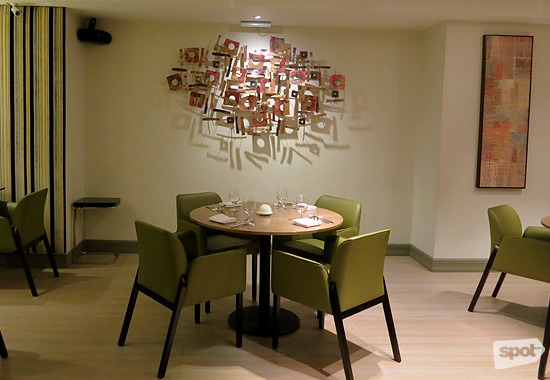 Date night?
He tours us around his laboratory of a kitchen, which is decked out in gadgets and gizmos aplenty: There's a machine that allows him to make all kinds of reductions and a blender that creates infusions. There's also a large grill that allows for maximum smoking potential—one of six or seven in the Philippines. This all seems impressively molecular, but the chef shakes his head. "No, nothing like that," he says. Chef Mark uses everything not for shocking special effects, but purely to augment flavor generation for dishes that aren't too unusual.
ADVERTISEMENT - CONTINUE READING BELOW
His flavors are loud and clear—Chef Mark's personally designated spokespeople. Allium recently took out all of their a la carte options to focus on three sub-selections: Steak, a 10- to 13-course tasting option that's still undergoing revision, and a four-course market menu (P1,950+) that we had a chance to try—all powerhouse studies of innovation and balance.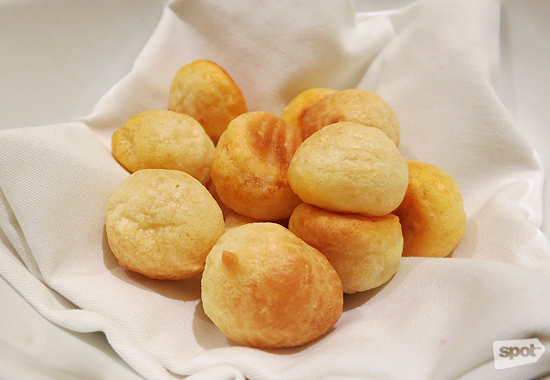 The magical bread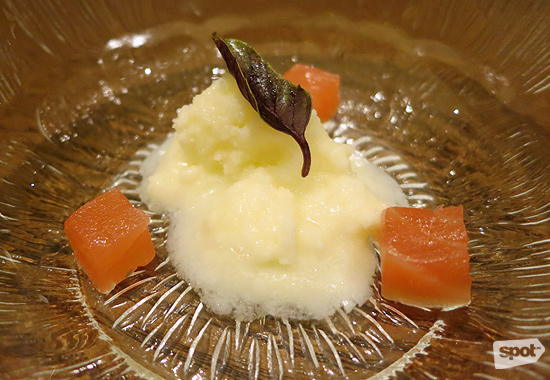 ADVERTISEMENT - CONTINUE READING BELOW
Amuse Bouche: Scallops with Creme Fraiche
It's admittedly hard to commit to menus like this. Chef Mark, of course, prefers only what's fresh. There might be scallops one week but oysters the next. He tells us about these wild boars he's getting from Europe, which he hopes to present soon. It sounds very exciting, partly because it's temporary. The constant is that Chef Mark will pull out all the stops every time.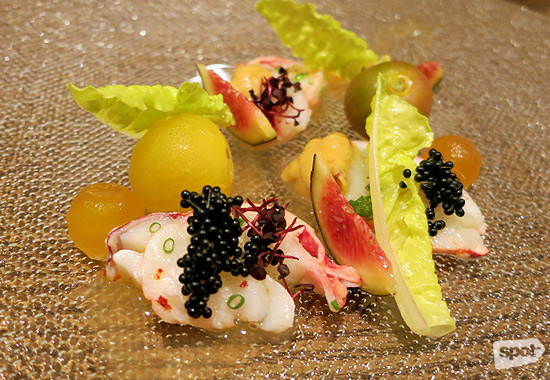 Brittany Lobster Salad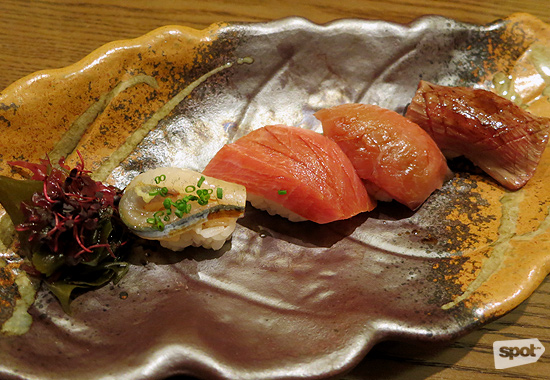 ADVERTISEMENT - CONTINUE READING BELOW
Nigiri
The day we dropped by, he offered four choices for the Chilled Starters. The Brittany Lobster Salad is a painting on a plate, a dainty artwork of lobster nuggets wearing caviar crowns. Uni makes a loud creamy crash, only to be soothed by brighter elements: sweet figs and persimmons (both pickled and emulsified). There's a Nigiri sampler, too (add P600): Atlantic Bluefin Tuna Otoro, Shimofuri Toro, Miyazaki Wagyu Tataki, and Sayori, arranged like an assembly line ready to be eaten.
Chef Mark's sabayon sauce in the Hokkaido Scallop Hot Starter will work up your appetite. It's hefty but peppy, as if analogous to the successful merging of contrasts in such a dish. Even when the perfectly cooked scallops are gone, you'll be mopping up every bit of that European sauce with the complemintary pre-meal bread (tiny balls made of cassava flour and laced with parmesan).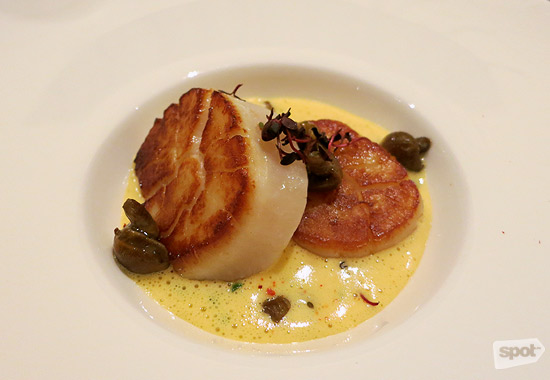 Hokkaido Scallops
ADVERTISEMENT - CONTINUE READING BELOW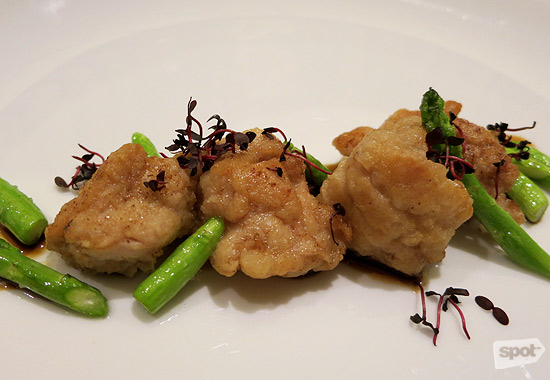 French Veal Sweetbreads
Another dazzling number is the French Veal Sweetbreads. We eat Allium's version of the thymus, which somehow puts off Pinoys despite local favorites like dinuguan and isaw, with no need for encouragement. It makes a disappearing act inside your mouth and sweet Pedro Ximenez makes a pretty nifty assistant.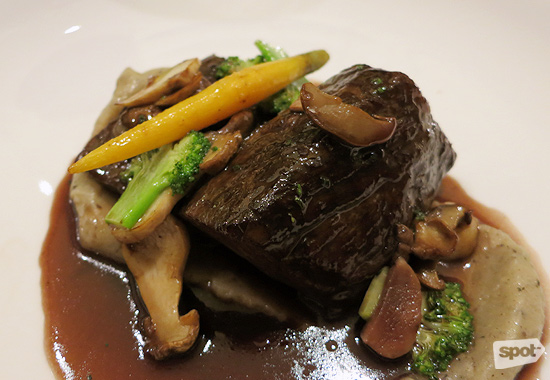 ADVERTISEMENT - CONTINUE READING BELOW
Blackmore Wagyu Sirloin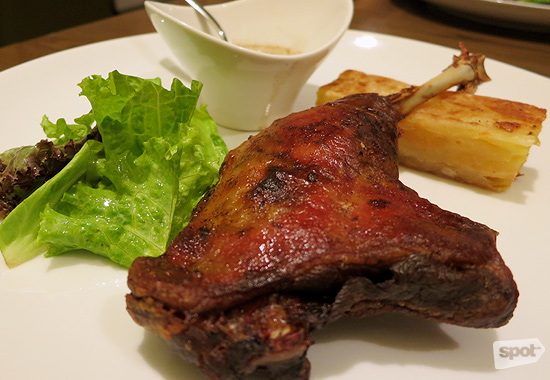 There are, however, dishes that will never leave the menu. The Duck Confit, for example, with that sweetish Pedro Ximenez jus, is a mainstay. So is the Roasted Mayura Signature Wagyu Sirloin (add P800). The latter is a specialty. It's a lean cut of meat, but designed to dissolve as you eat it. The flavor is nuanced but distinct. Chef Mark's truffled pommes reigns over the mashed potato kingdom.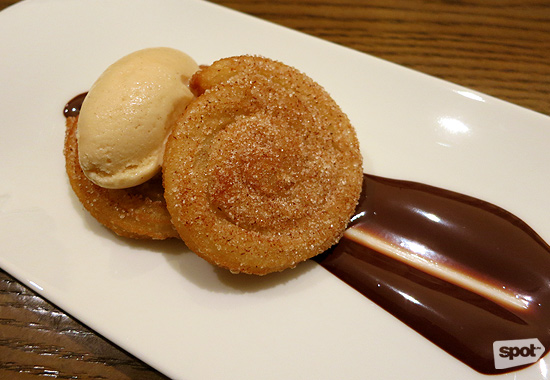 ADVERTISEMENT - CONTINUE READING BELOW
Homemade Churros with Cinnamon Ice Cream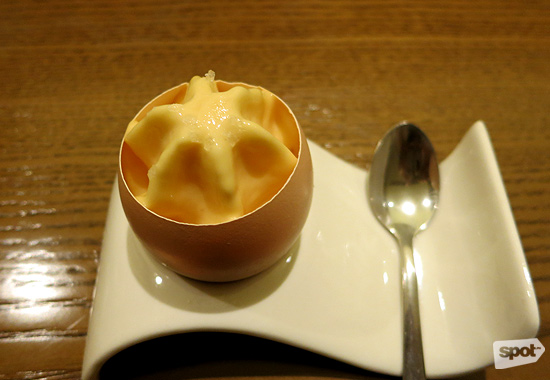 Laiskonis Egg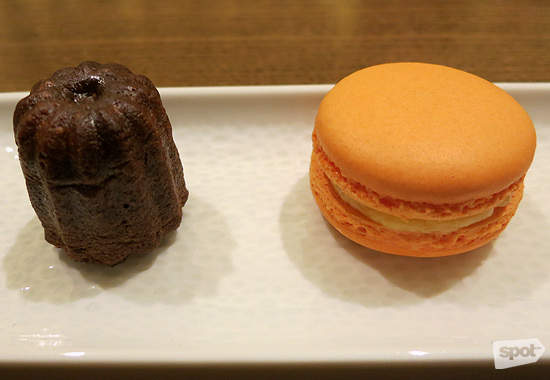 Canele and Orange Macaron
We doubt Chef Mark would ever get rid of the Laiskonis Egg. We know a few people who would picket his restaurant if they don't get their fix of milk chocolate, caramel, creamy foam, and Maldon salt—his take on Michael Laiskonis' signature life-changing dessert. For a change of pace, he serves this fragrant cinnamon ice cream over homemade churros. The spice is subtle, but it lingers on your taste buds, like you're waking up from a good dream.
ADVERTISEMENT - CONTINUE READING BELOW
There are many, many plans for Allium's future, including getting the chefs out on the floor to interact with guests. It's an interesting concept, but this restaurant's flavors speak well enough.
Photos by Regine Rafael
Share this story with your friends!
---
Help us make Spot.ph better!
Take the short survey
Load More Stories