Kitchen 1B's vegetarian menu just might convert you
Chef Marivic Diaz Lim shows you veggies can be just as flavorful as meat.
Kitchen 1B
G/F KL Tower, 117 Gamboa Street, Legazpi Village, Makati City
Contact: 843-2392
Open daily from 6:30 a.m. to 11 p.m.
Also read: New Restaurant Alert: Kitchen 1B at Legazpi Village, Makati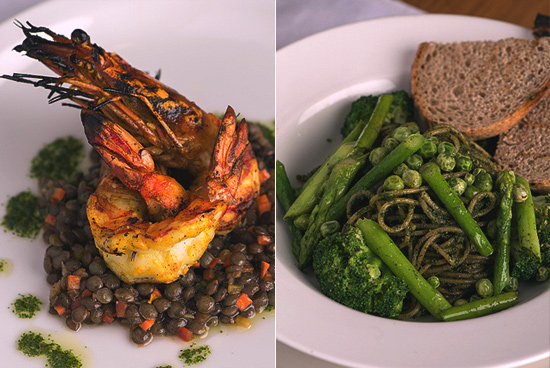 (SPOT.ph) Located across Legazpi Park, Kitchen 1B is not to be mistaken for Apartment 1B, its older, more decadent cousin. The year-old restaurant came about when Apartment 1B chef Marivic Diaz-Lim was diagnosed with breast cancer in 2012. "I was offered this space and I said I wanted to do something that will educate my guests," she says, adding that the menu is a reflection of "how I want to eat."
"I'm a chef and I know that I cannot be a vegetarian or a vegan," she says. "This is my life, this is my career, so this is a more realistic path for me to eat cleaner food—hormone-free grass-fed beef, organic."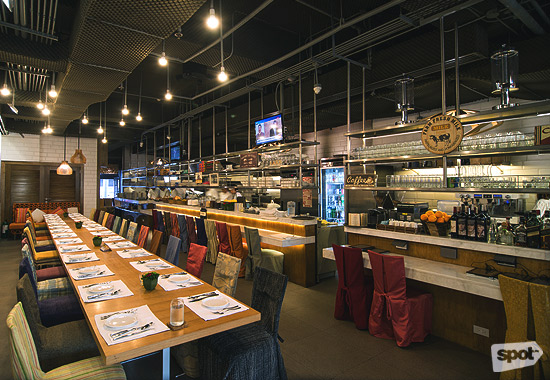 ADVERTISEMENT - CONTINUE READING BELOW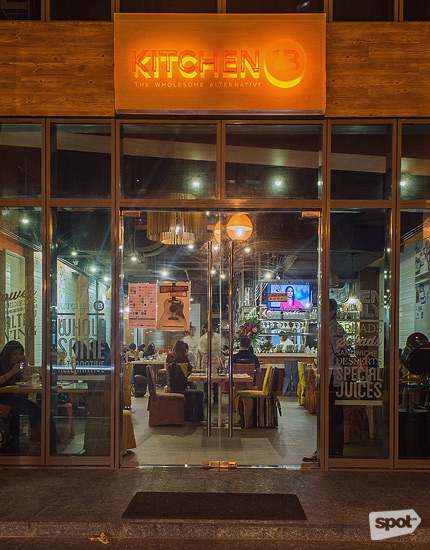 CONTINUE READING BELOW
Recommended Videos
It looks like a kitchen-turned-restaurant.
Kitchen 1B, it must be said, is nothing like Apartment 1B, known for its heavy, stick-to-your-ribs comfort food, so it would be unfair to both establishments if they were compared with each other. "A lot of people are looking for dishes from Apartment 1B here, but I want this to be really different."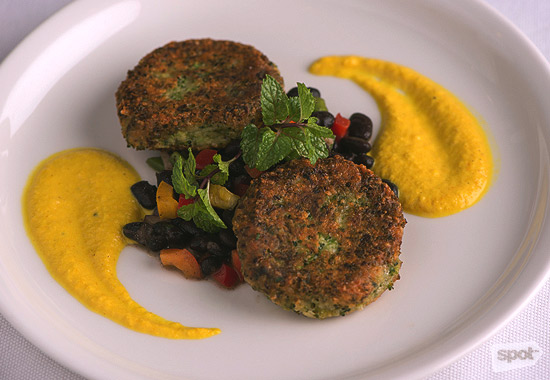 ADVERTISEMENT - CONTINUE READING BELOW
Broccoli Gruyere Fritters
This year, Kitchen 1B introduces its vegetarian menu, which, though they don't contain meat, are still delicious. The Broccoli Gruyere Fritters (P390) for instance, are crunchy outside and creamy and umami-rich within. Not something most people would associate with the word "vegetarian."
"You know how a lot of people are turned off when you say vegetarian—the challenge there is to make the dishes—doesn't mean that because it's vegetarian or healthy, doesn't mean it doesn't taste good. It's hard. We need to educate people to do that," Chef Marivic says.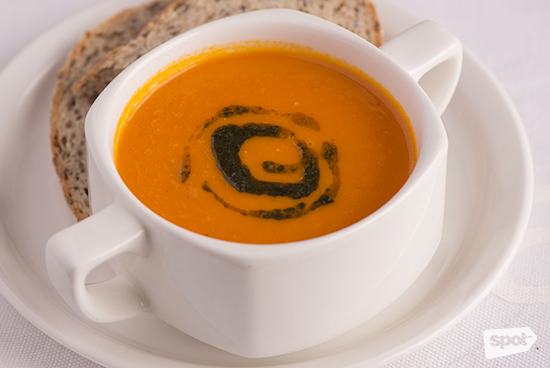 Tomato Soup
Kitchen 1B still offers dishes—all of them healthy—that regulars cannot live without (sometimes almost literally, judging by the complaints the chef gets when she attempts to take a beloved item off the menu). Like the Shot of Heirloom Tomato Soup (P230), for example. Topped with almond herb pesto drizzle, the soup is thick, tangy, and comforting. "During my travels, when I tried heirloom tomatoes, it's just different and I really liked it. When I found out that they grow heirloom tomatoes in Bukidnon and I know the guy that farms it, I was just so happy to serve it. It's just very different," she says.
ADVERTISEMENT - CONTINUE READING BELOW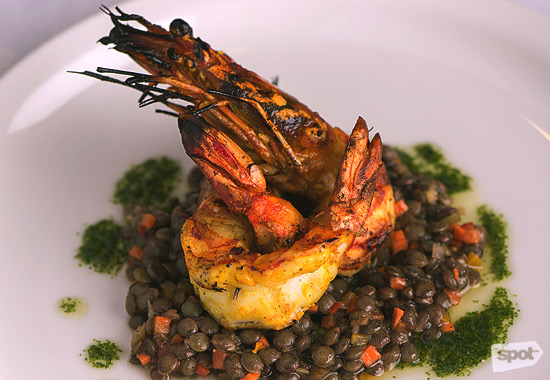 Grilled Prawns & Lentil Salad
The Grilled Prawns & Lentil Salad (P510), finished with balsamic vinaigrette and cilantro oil, is light yet filling, the lentils complementing the smoky grilled prawn. "I learned to cook this dish when I was working in New York. And because I know lentils are good for us, I said, 'Why don't I do that dish I used to do in New York?'" Chef Marivic shares.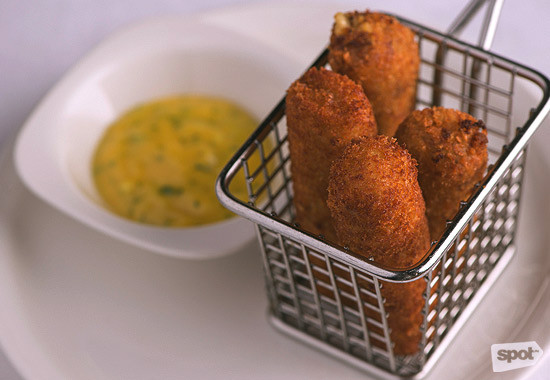 ADVERTISEMENT - CONTINUE READING BELOW
Eggplant Croquettes
"I wanted a vegetable croquette," she explains. "We put feta cheese. The cheese that we get is from Malagos, Davao, and of course, croquettes go well with aioli, so I (paired it with) turmeric aioli." The Eggplant Croquettes (P450), stuffed with feta cheese and served with tarragon-turmeric aioli, are neither oily nor dense. People who have a problem with eggplant will be glad to know that these babies don't taste like the veg at all.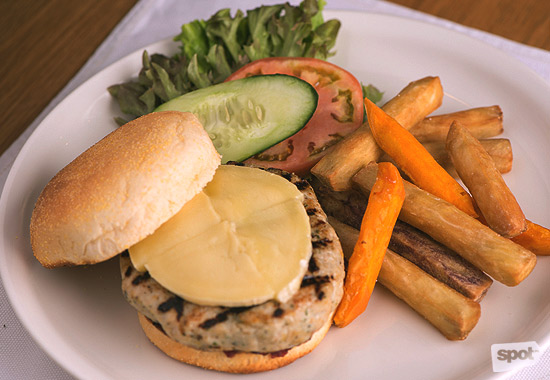 Turkey Burger
The Turkey Burger (P740), served with brie and cranberry compote in between a cornbread bun, plus a side of sweet potato fries, is a nice, light alternative to the regular beef burger. She narrates that back when Apartment 1B in Salcedo was just a village restaurant, she would heed requests. "One lady told me, 'You know, I miss my turkey burger in San Francisco,' and I said, 'I'll make you a turkey burger.'" She put it on the specials menu and the dish never left. The treatment is different at Kitchen 1B: with brie, cranberry, and sweet potato fries. Both the patty and bread are homemade.
ADVERTISEMENT - CONTINUE READING BELOW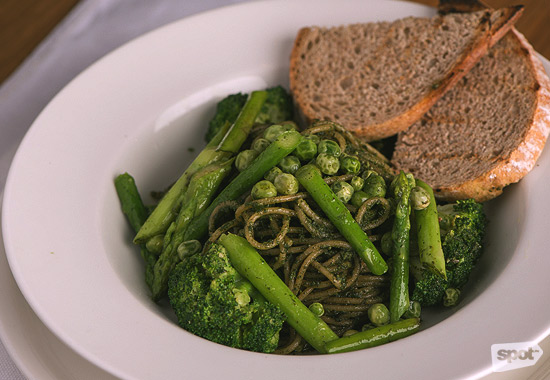 Whole Wheat Spaghetti & Vegetables
The Whole Wheat Spaghetti & Vegetables (P560)—pasta with herb (parsley, tarragon, mint) almond pesto served with broccoli, asparagus, and green peas, should delight the vegetarian pasta lover. "I call it pesto but I wanted it different, because I've tried something like this in my travels as well. We use parsley, tarragon, and mint, and instead of pine nuts, we use almonds," she explains.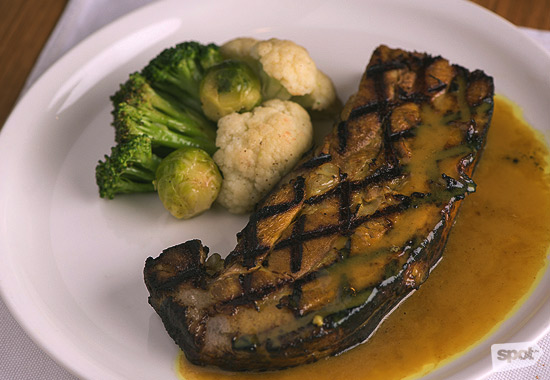 ADVERTISEMENT - CONTINUE READING BELOW
Grilled Coco-Ginger Pork Rib
The Grilled Coco-Ginger Pork Rib (P780)—probiotic hormone-free pork, yellow ginger, turmeric, lemongrass, cruciferous vegetables—is an original recipe from Tribeca, Chef Marivic's first restaurant, which she opened in 1996. "I remembered it and I wanted to revive it. The difference is the sauce. There it was just ginger and coconut, but I added the turmeric [this time]," she says. Some of the dishes have a siding of cruciferous vegetables. Broccoli, cauliflower, brussels sprouts are good anti-cancer vegetables.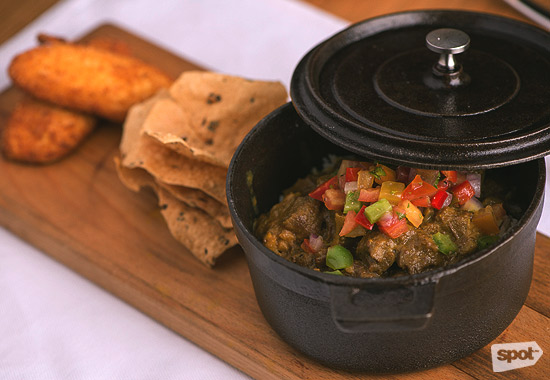 Lamb Curry
The Lamb Curry (P950), Australian lamb, basmati rice, tomato salsa, fried sweet plantain, papadam, is delicious, the beautifully spiced lamb curry resting on fluffy rice worth the hefty price tag. Lamb curry is an Apartment 1B specialty, but since she uses pasture-fed, healthy lambs, it was fitting to integrate it into Kitchen 1B as well.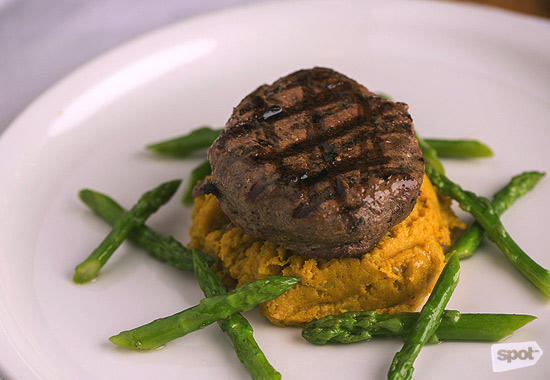 ADVERTISEMENT - CONTINUE READING BELOW
Grilled Tenderloin
The Grilled Tenderloin (P1,320), grilled Australian grass-fed beef served with mashed cauliflower and asparagus, is a staple. "I guess I did this because you can eat steak without the heavy sauce," Chef Marivic says, before adding, "But I also have steak with the heavy sauce."
Coming this November are new dishes that customers will probably add to their list of favorites, all of them tasty, all of them meat-free.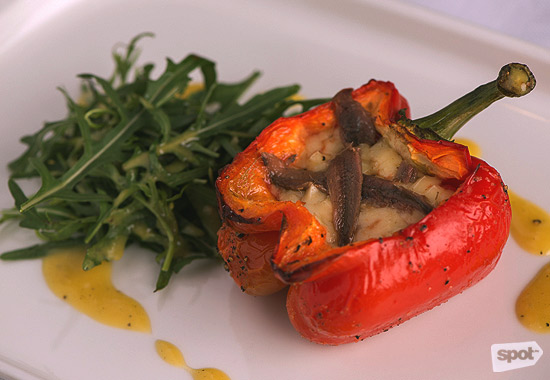 Baked Stuffed Capsicum
There is the Baked Stuffed Capsicum (P530) stuffed with heirloom cherry tomatoes, bocconcini, basil, and anchovies, with the bell peppers cute edible packages for a delicious medley of flavor.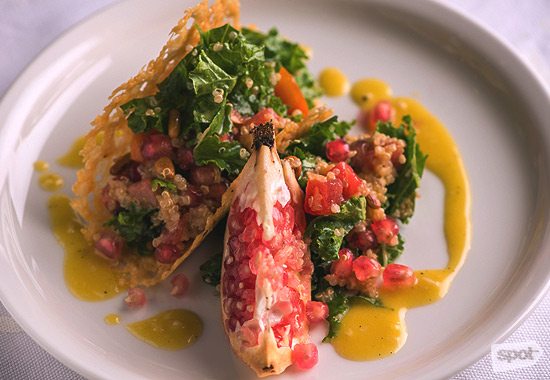 ADVERTISEMENT - CONTINUE READING BELOW
Kale and Quinoa Salad
The Kale and Quinoa Salad (P380) tossed with pomegranate, heirloom cherry tomatoes, watermelon, honey-mustard lemon vinaigrette and served in a crispy parmesan taco-shaped shell, is fun to eat. The fruits offer different layers of sweetness, while the cheese makes the dish feel decadent, but in a fun way.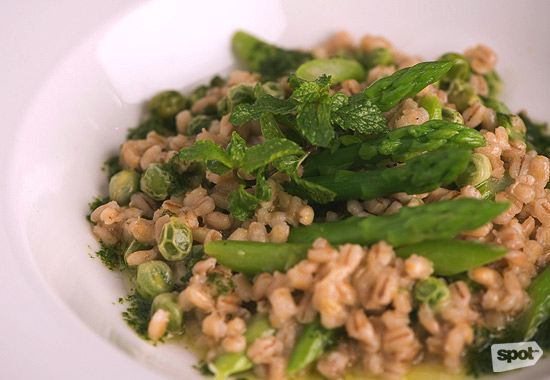 Spring Barley Risotto
The Spring Barley Risotto (P350), flavored with parmesan, white wine, green peas, and asparagus, is a comforting dish.
Chef Marivic is enthusiastic about the current trend for organic ingredients. "I think it's a good thing because the organic farmers are supported. If there are more restaurants like us that serve organic vegetables, meats and all, you support the farmers, then the industry can grow, and if it grows, the prices will go down. It's a good thing," she says.
Right now, the plan is to develop more dishes. "This is a new restaurant, so I think I'm more flexible in adding and changing things to and in the menu," Chef Marivic details. "I'm not claiming to be a vegetarian restaurant or a vegan restaurant—there are way better restaurants out there that specialize in it really," she says. "My only goal is hormone-free, pesticide-free. I still have my burgers, I still have my pork rib, I still have my steak, I still fry stuff. It's organic, clean, and trying to use as much superfoods that I can in my ingredients."
ADVERTISEMENT - CONTINUE READING BELOW
Photos by Hans Fausto
Share this story with your friends!
---
Help us make Spot.ph better!
Take the short survey
Load More Stories