10 Great Pasta Dishes for Your Carb Cravings
Carbs are the best!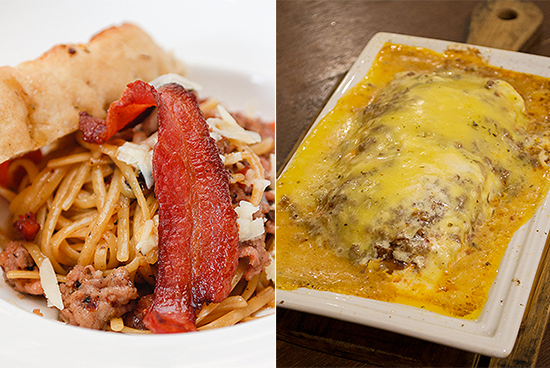 (SPOT.ph) You always hear people talk about how bad carbs are, but we should really proclaim their many, many goood—nay, great aspects. For one, there are plenty of options: potatoes, rice, bread, and, pasta. They're very basic in terms of flavor, which means they serve as great canvases for whatever your taste buds want them to become. They give you energy, they make you smile, they're just so darn delicious.
Today, we're putting the spotlight on pasta because we cannoli write about so many things at once.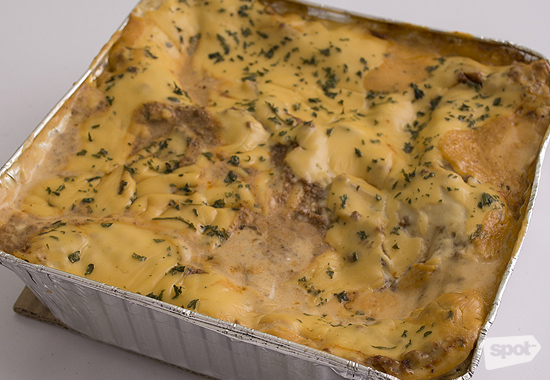 Bhe'st's Beef Lasagna (P350/good for two to P2,000/serves 24)
It's hard not to be skeptical of a brand that claims they are the Bhe'st, but try their Beef Lasagna and you'll understand that Bhe'st, which is a play on the owner's name, is truly the best. The flavor is intense, but the kind you can't get enough of. Everything about it is so spot-on, from the firm pasta, to the tasty beef, to the rich cheese sauce, to the garlic bread that you can order on the side (you should!). It is like the comfort food lasagna that we grew up eating, but a much better version. Equal parts rustic and sophisticated, it makes you want to take bite after bite, diet be damned. We guarantee that guests will be talking about this dish when you bring it to a potluck party, although sharing might be difficult once the first bite has been taken. For your sake, order several trays.
ADVERTISEMENT - CONTINUE READING BELOW
For orders, contact Bhe'st Beef Lasagna at 0917-836-0160. Order two days in advance. Delivery costs extra. Bhe'st's Beef Lasagna ranked No. 1 on SPOT.ph's Top 10 Beef Lasagnas (2015 Edition).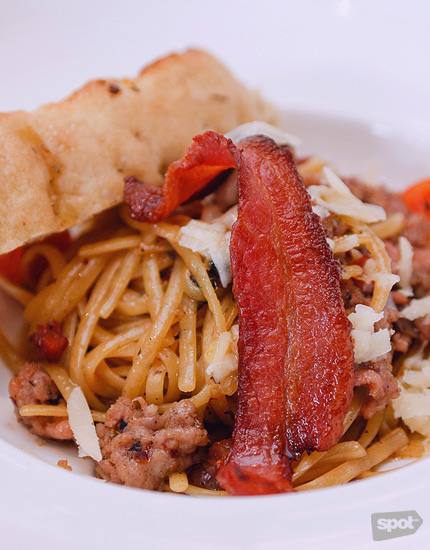 Refinery's Angry Pasta (P198)
The way the spices are so generously applied, you'd think the chef was angry at when he was cooking. Otherwise, Refinery's Angry Pasta is all good feelings, with the seasoning flavoring each al dente linguine so lovingly. Succulent maple sausage chunks, crispy bacon pieces, fresh mushrooms, plump cherry tomatoes, generous glugs of fine olive oil-they all come together to comfort any anguishing soul. You're even rewarded with a lingering taste of fried pork rinds after finishing your plate.
Refinery is at G/F Joya Building, Joya Drive, Rockwell, Makati City. The Angry Pasta is included in SPOT.ph's Your Spicy Food Bucket List: 10 Hot Dishes You Should Eat in Manila.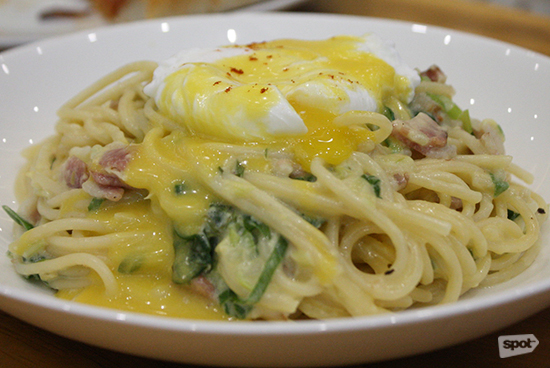 Chelsea Kitchen's Yellow Carbonara (P320)
Chelsea's latest incarnation may be new to the game, but its take on a classic carbonara is more than formidable. If it weren't for the surrounding Zara and H&M stores, you'd feel as though you're happily digging into pasta lovingly made in your own kitchen. The dish finds new meaning with hollandaise sauce that, when mixed with runny poached egg, is all the more gratifying. The sauce, however, is on the heavier side compared to others, which will have you wanting bread to finish it off. Their serving is big enough for sharing, but then again, you might not want to.
ADVERTISEMENT - CONTINUE READING BELOW
Chelsea Kitchen is at G/F SM Mega Fashion Hall, Mandaluyong City. Chelsea Kitchen's Yellow Carbonara ranked No. 2 on SPOT.ph's Top 10 Carbonara Dishes in Manila.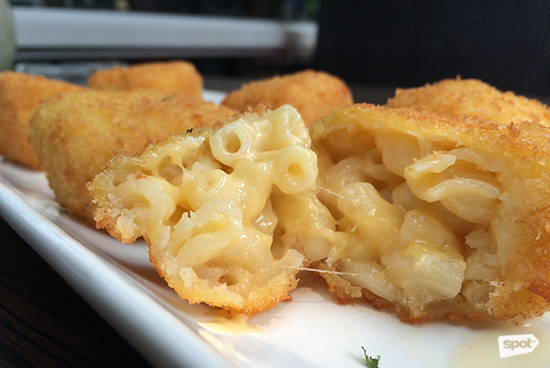 T.G.I. Fridays' Fried Mac & Cheese (P295)
Fridays goes creative with the good old mac and cheese by taking a small portion of macaroni and cheese, covering it in breadcrumbs, deep-frying that to a golden beauty, and then serving it with marinara sauce. The result is a nice layering to different flavors: there's the kick of saltiness from the breadcrumbs, which goes up against the sweet marinara sauce, which then balances the heavy mozza cheese. Unfortunately, the mac and cheese per se didn't contribute.
Click here for a list of T.G.I. Friday's branches. T.G.I. Friday's Fried Mac & Cheese ranked No. 10 on SPOT.ph's Top 10 Mac and Cheese (2013 Edition).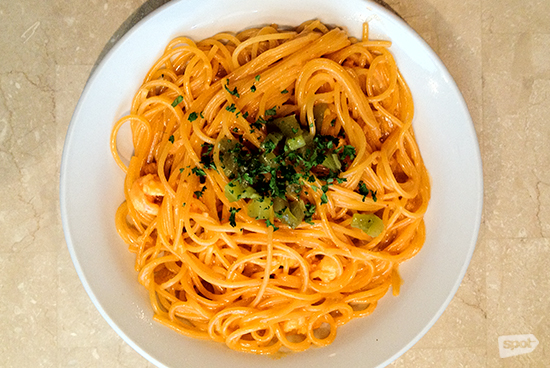 Pagliacci's Pasta Tavolara (P370)
Who would have thought that a quaint Italian ristorante at the Podium would serve something with aligue? Pagliacci's Pasta Tavolara is a marriage of Italian cooking and Filipino flavors. It's al dente pasta on a rich and creamy tomato-crab sauce topped with roasted bell peppers, shrimps, and parsley. The aligue'sflavor works perfectly well with the plethora of Italian flavors—it is neither too strong nor fishy. It tastes familiar and yet it feels like you are discovering something new. The Pasta Tavolara is the perfect starter for those who are uninitiated to the wonders of aligue. It's worth the visit, the wait, and every single peso for its hefty price.
ADVERTISEMENT - CONTINUE READING BELOW
Pagliacci is at The Podium, Ortigas Center, Mandaluyong City. Pagliacci's Pasta Tavalora ranked No. 1 on SPOT.ph's Top 10 Aligue Dishes (2012 Edition).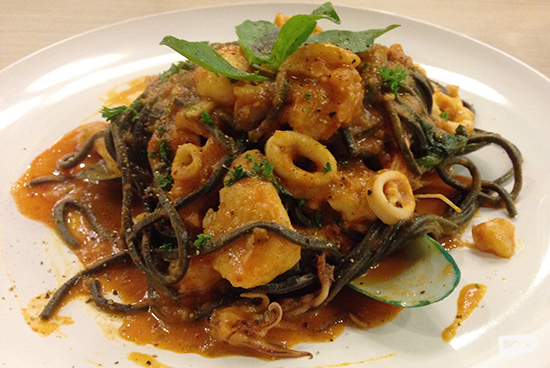 Va Bene's Black Ink Tagliolini (P440)
Va Bene's Chef Massimo Veronesi knows Italian food to a tee, and he's not one to rely on gimmicks to make his food stand out. Take the Black Ink Tagliolini: a gracious pasta dish loaded with shrimp, mussels, and squid, tossed in a lovely marriage of marinara and light cream sauces. The black pasta isn't for mere aesthetic purposes—it helps in highlighting the fresh flavors of the seafood and lends a hint of saltiness in each bite.
Va Bene has branches at 3/F Central Square Building, Bonifacio High Street, 5th Avenue corner 30th Street, Bonifacio Global City; and Petron Gas Station, EDSA corner Arnaiz Avenue, Makati City. The Black Ink Tagliolini is ranked No. 5 on SPOT.ph's Top 10 Black-As-Night Dishes You Should Try in Manila.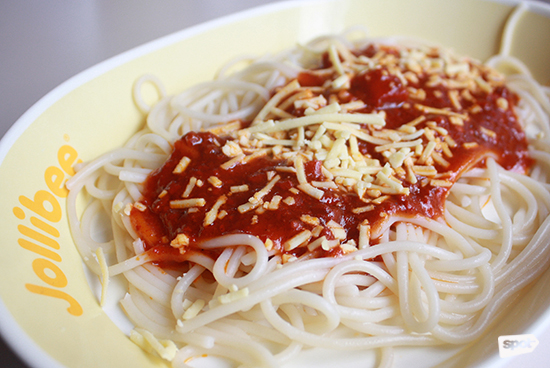 Jollibee Spaghetti (P46) from Jollibee
It's the epitome of Pinoy spaghetti these days. Sweet? Check! Hotdogs? Check! Ham? Check! Unusual redness? Check! And a definite plus: You can find it everywhere. The best thing about the Jolly Spaghetti is that its taste has remained the same for as long as we can remember, and we can be sure that its chopped-up hotdogs and ham slices will never, ever go away.
Click here for a list of Jollibee branches. The Jolly Spaghetti is ranked No. 2 on SPOT.ph's Top 10 Pinoy-style Spaghetti (2013 Edition).
ADVERTISEMENT - CONTINUE READING BELOW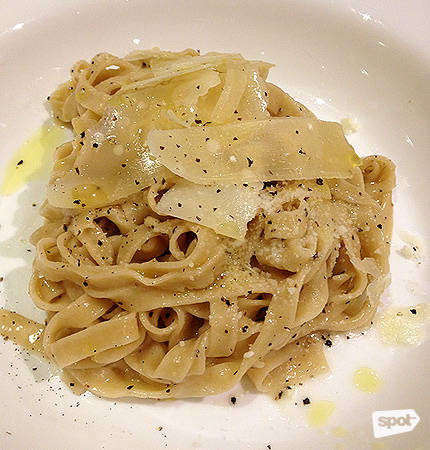 Cacio Y Pepe (P355) from Green Pastures
Notice how Victoria Beckham carries herself? Her crisp and understated style that lands covers and puts her on practically every best-dressed list known to fashion. The Cacio Y Pepe is kind of like that: a mesh of pale yellow that, at first glance, looks disappointingly plain. Extra virgin olive oil glosses over the monotone pasta, Parmesan, and Pecorino, but the only flashes of color come from the dots of black pepper. Twirl the linguine and take a bite, because the combination of peppery heat and salty cheese confirms that less is much more delicious. It's amazing what attitude—and a sprinkle of good pepper—can do.
Click here for a list of Green Pastures branches. This Cacio Y Pepe is included on SPOT.ph's 10 Must-Try Pasta Dishes in Manila (2013 Edition).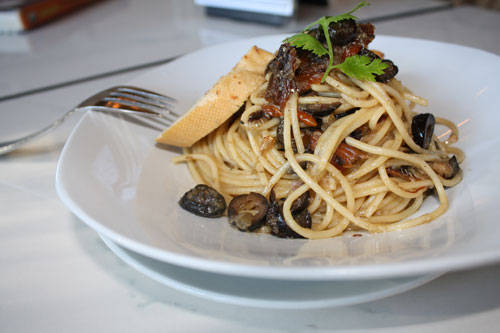 Restaurante Pia Y Damaso's Cerveza Negra, Tuyo, and Black Olive Pasta (P300)
From the name alone, you know this is going to be good. It's one of those "Hey, how come I didn't think of that?" food combinations that just absolutely make sense. Biting into the tuyo and black olives gives a surprising, welcome tang, while baby chilies amp up the heat. Mixing the noodles up to spread everything around is a must. The addition of Cerveza Negra makes for a heavier, more flavorful oil, which we mopped up with the toasted bread.
Restaurante Pia Y Damaso is at 2/F Greenbelt 5, Makati City. The Cerveza Negra, Tuyo, and Black Olive Pasta is included on SPOT.ph's 10 Must-Try Beer-Spiked Dishes in Manila (2012 Edition).
ADVERTISEMENT - CONTINUE READING BELOW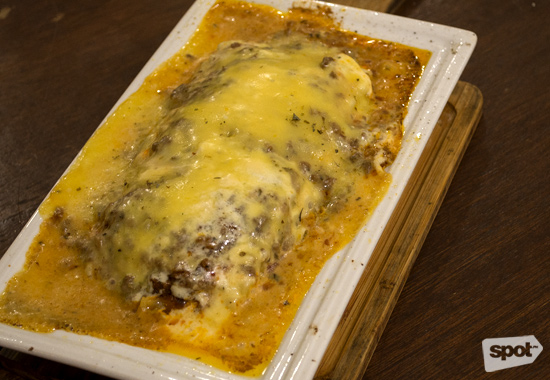 House of Lasagna's Beef Lasagna (P280)
This is the chain that lasagna built. From a small restaurant in San Juan to several branches at malls, House of Lasagna has something for everyone who loves the famous pasta dish. They have seven variants available, with the Beef Lasagna being the top favorite (because everything is a favorite here). It is served straight out of the oven, and the smell alone will make you want to dig into its cheesy, saucy, bubbling hot goodness. The servings are generous, and even though a portion may seem hard to tackle, the whole thing goes down easy because the ratio of meat to noodle to sauce is just right and the flavors go so well together. If you have enough space and are a fan of white sauce, we recommend that you also try the Carbonara Lasagna (yes, it exists!).
Click here for a list of House of Lasagna branches. House of Lasagna's Beef Lasagna ranked No. 1 on SPOT.ph's Top 10 Beef Lasagnas (2012 Edition) and No. 2 on on SPOT.ph's Top 10 Beef Lasagnas (2015 Edition).
Load More Stories