New Restaurant Alert: Adaam and Yves at Icon Plaza, Bonifacio Global City
Exquisite breakfast in an industrial setting
Adaäm & Yves
Icon Plaza, 25th Street corner 6th Avenue, Bonifacio Global City
Contact: 801-6084
Open daily from 11 a.m. to 3 p.m. and 6 p.m. to 10 p.m.*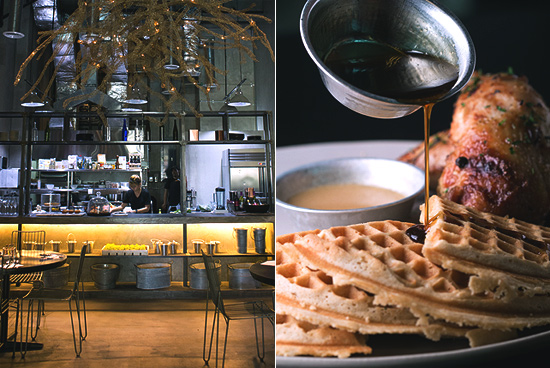 (SPOT.ph) This new restaurant at Bonifacio Global City dispels all your ideas about organic food and, to some extent, breakfast places as well. It's called Adaäm & Yves, and the references to Adam and Eve aren't lost on us: Organic, pure, beginnings (even though currently, the place opens at 11 a.m.).
When Adaäm & Yves owner, 25-year-old Sean Go, studied in London, he wound up traveling in surrounding regions like Germany, Switzerland, and more. He noticed how into organic food Scandinavian countries were and used that as inspiration. "My thesis was about an organic restaurant," he tells us.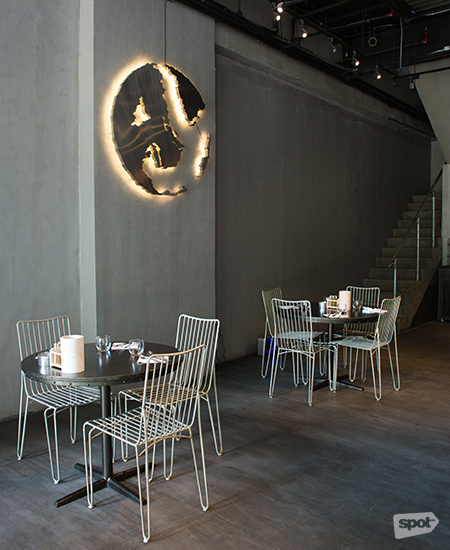 ADVERTISEMENT - CONTINUE READING BELOW
Organic and industrial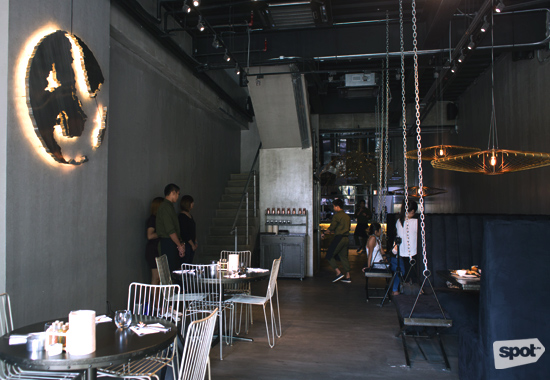 CONTINUE READING BELOW
Recommended Videos
Sean had the details custom made.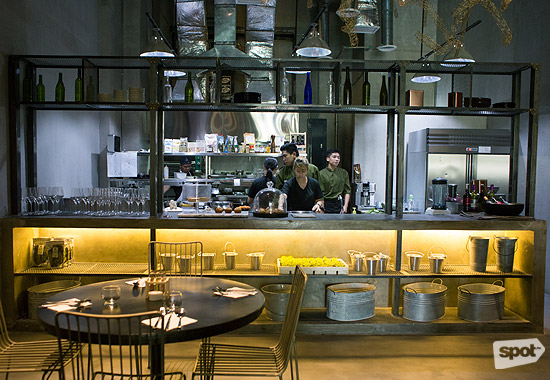 Those micro-greens are given to them from their supplier in a pot so they're always fresh.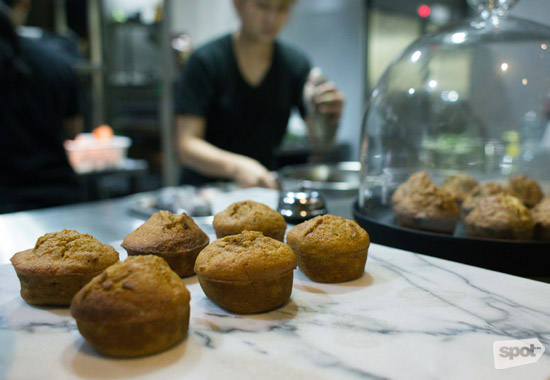 ADVERTISEMENT - CONTINUE READING BELOW
Nearly everything is made in-house.
He returned to the Philippines with a big ambition and, in a period when Metro Manila is having a health moment, his timing is impeccable. Adaäm & Yves sources only from small-scale organic farms and even their outsourced ingredients like bread and jam are designed to fit their metrics.
The menu throws around the usual keywords like free-range, whole grain, homemade, kale, but we love how Sean doesn't beat around the bush with notions of clean eating. "I wouldn't exactly say it's all healthy, but it's definitely healthier."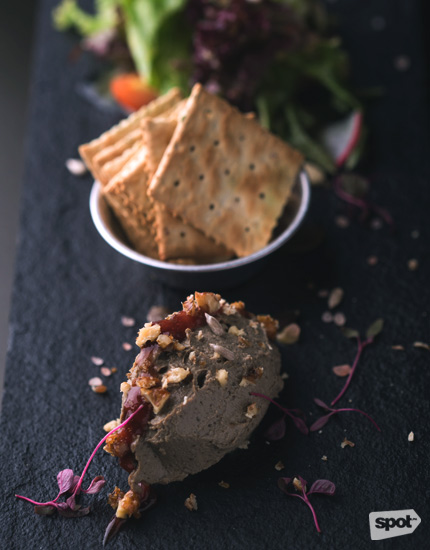 Faux Gras
Something called Faux Gras (P250) definitely catches attention. Scratch that. Everything on Sean's back-to-back menu (plus a separate sheet for his selection of organic wines) tries to compete for your interest. The dishes all refer to pop culture icons like the Tuna Turner (tuna loin with chips, P285), Cornelius Vanderbeef (Wagyu corned beef with sweet potato mash, P510), and Yoko Oh No! (Wagyu steak and eggs, P1,100), and today, Sean is racking his brain to come up with a clever moniker for their newly created, freshly baked carrot and ginger muffins.
ADVERTISEMENT - CONTINUE READING BELOW
The Faux Gras is no tofu masquerading itself as goose liver. It's a paté made from the liver of free-range chickens: not as gritty as your grocery-store variety, but with a rich flavor that matches that smooth, luscious texture. Herbed homemade crackers with just the right sprinkle of salt adds pert to the livery spread.
Sean chooses to highlight breakfast because he wanted to keep everything easy and heartening. "There's really no better comfort food than breakfast," he says.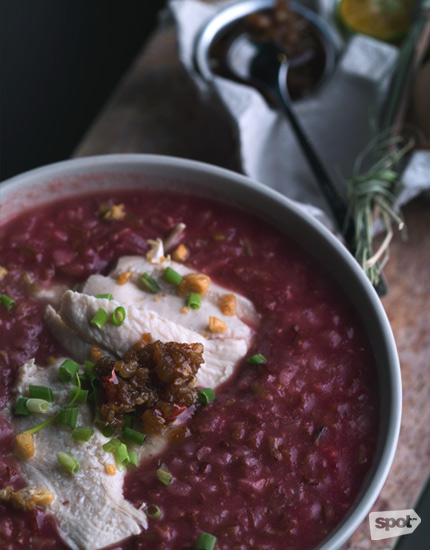 Pink Floyd
He starts building up our anticipation for the star dish, the Pink Floyd (P230). It's their version of an arroz caldo made with organic pink rice, chicken, chili garlic paste, and a side of hard-boiled egg. "It's what everybody loves! You really have to try it!" he shares excitedly.
The first bite is the climax and it's definitely worth the suspense. Adaäm & Yves really knows how to draw out the refined points of this humble porridge. Beets contribute to that startling pink hue and the chicken pieces are actual thick cuts and not the sad little shreds we see so often. It's spicy but pops of garlic still manage to emerge in every spoonful. If you're one who likes tartness in their arroz caldo, you have to squeeze in that calamansi. The Pink Floyd is immensely flavorful, but there's lightness to it, a great consideration for a hearty dish like this.
ADVERTISEMENT - CONTINUE READING BELOW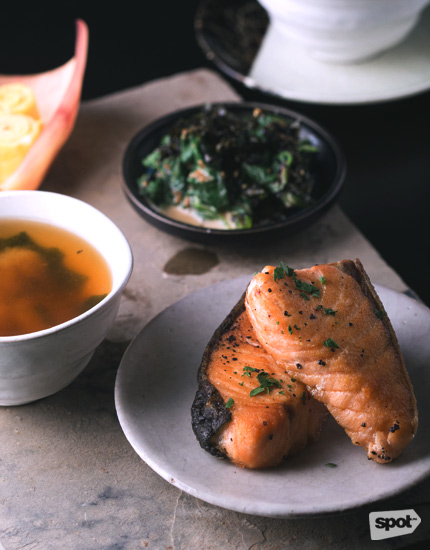 Domo Arigato, Mr. Roboto
The menu may be well-curated, but Sean manages to take his customers around the world. He has a Japanese breakfast, the Domo Arigato, Mr. Roboto (P450), consisting of this lightly salty salmon, homemade miso (so tasty with a trace of umami and tartness), light egg custard, a fiery spinach salad (impressive how flavorful this veggie side is), and black garlic fried rice.
ADVERTISEMENT - CONTINUE READING BELOW
Brooklyn Borough
The Brooklyn Borough (P450) is a classic: chicken and waffles, with the poultry roasted instead of fried. The white gravy is homemade, but rather needless because the chicken legs are flavorful enough (note how Adaäm & Yves uses red meat for this dish) and the skin is incredibly juicy.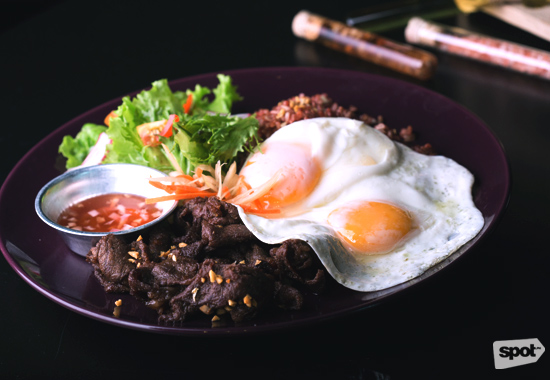 Noli Me Tangere
Seans walks back up to ask how everything is. Great, we tell him. "Wait till you try our tapa," he says, building things up again. The tapa is Kitayama Wagyu and it's soft, steak-like even. It's called the Noli Me Tangere (P495) and it flaunts a slightly sweet note. The fried organic eggs are cooked to gooey perfection. Put it on top of the rice because...happiness.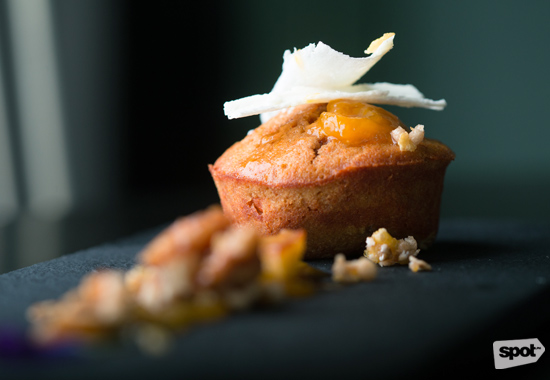 ADVERTISEMENT - CONTINUE READING BELOW
Cara Delevingne
It's the Cara Delevingne (that's the name Sean came up with) that surprises us the most. Unlike most vegan cakes, this one is so moist and fluffy, the hint of ginger coming up well enough. So thoughtfully laid out, it comes with a smattering of caramelized nuts that do wonders in adding sweet crunch. The best part is the shaved Pecorino on top, giving this rich saltiness in the muffin. We could eat organic food forever if it came in packages like this.
Sean's past as a fashion stylist shows in Adaäm & Yves. He goes for minimalist industrialism, with a primarily gray color scheme that's unusual from the bright and airy breakfast places in Manila. The space is stark, but the few elements fill it with such an impact. Square-shaped booths make for perfect group dining and he had swing sets (screwed to the ground) installed for this whimsical effect. Farther in, there's a copper tree installation hanging from the ceiling.
Sean had everything made specifically for the restaurant. To keep with the theme, he even had the air-conditioning covered with metal grates.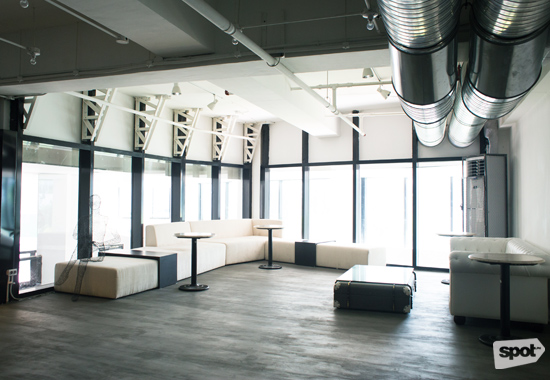 ADVERTISEMENT - CONTINUE READING BELOW
The second floor bar goes for a more Scandinavian look.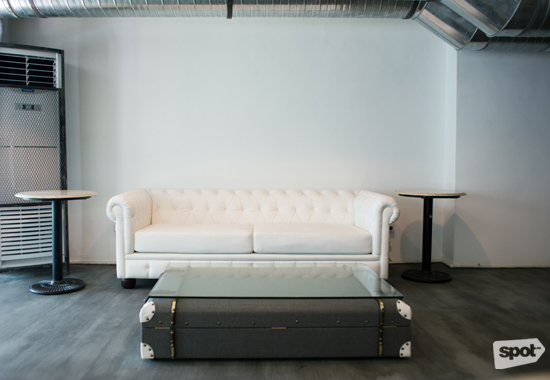 Look at that gorgeous steamer trunk table.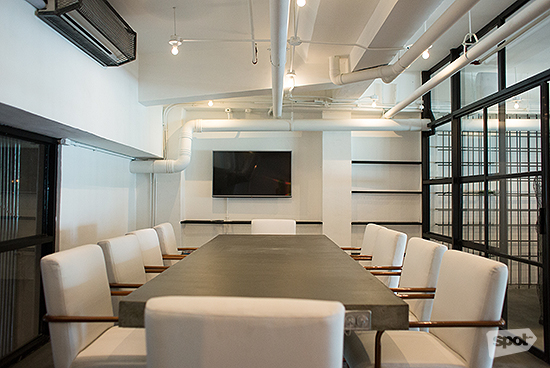 A private dining/meeting area that can seat 10.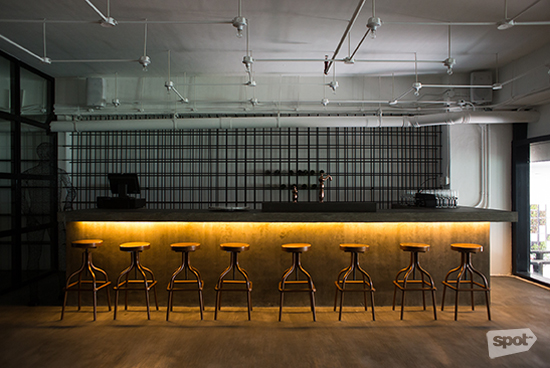 ADVERTISEMENT - CONTINUE READING BELOW
Cross-orders from the downstairs are allowed—but not the other way around.
Upstairs is a bar that goes for an even barer Scandinavian style: a steamer trunk table, white couches, and wiry sculptures of a man and a woman—all illuminated by the sun streaming through the floor-to-ceiling windows. There's a 10-seater private room on the side. The large concrete table is equipped with plugs on the side. "Perfect for meetings," he tells us. Gosh, he thinks of everything.
*Adaäm & Yves will soon open by 7 a.m.
Photos by Majoy Siason
Share this story with your friends!
---
Help us make Spot.ph better!
Take the short survey
Load More Stories