Taho and Kesong Puti Cheesecake, Lumpiang Palabok are new spins on your Filipino favorites
Dekada's revamped menu pays a playful homage to decades-old Filipino favorites
Dekada, Historic Filipino Cuisine
2/F Glorietta 3, Ayala Center, Makati City
Contact: 841-0131
Open daily from 10 a.m. to 9 p.m. (Monday to Thursday) and 10 a.m. to 10 p.m. (Friday to Sunday)
Also read: New Restaurant Alert: Dekada at Glorietta 3, Makati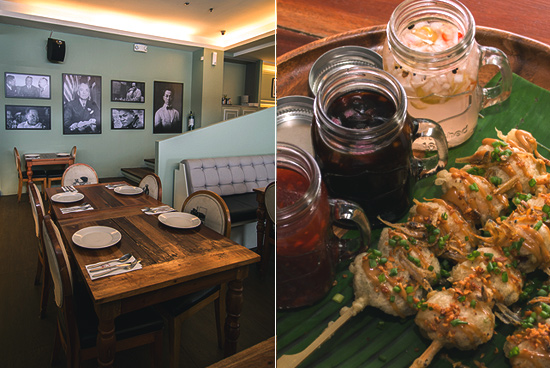 (SPOT.ph) Filipino restaurant Dekada has added a vital secret ingredient to their new menu, one that works so well with Filipino food. Stories.
ADVERTISEMENT - CONTINUE READING BELOW
"Each dish introduces a story, showcasing uniquely Filipino flavors across the islands and across different periods," explains Chef Niño Laus, who developed the revamp. "[These allow guests] to celebrate the traditions of family and friendship, and take pride in being Filipino."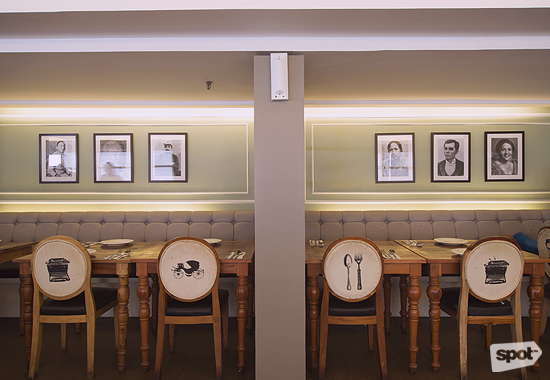 History on those walls
Chef Niño tells us that the new appetizers take inspiration from food outlined in Antonio Pigafetta's account on Magellan's voyage. He says, "When Magellan landed, they were offered three things: fruits, fish, and pork."
ADVERTISEMENT - CONTINUE READING BELOW
Start off with the Tinapang Tahong Rebusado (P238), Dekada's take on the tempura, but cooked using a distinct technique (popular in Samar) that leaves a fresh, smoky aftertaste. This dish is done in true tusok-tusok fashion, with the pan-smoked mussels skewered and ready to be dipped in any of three classic sauces that neighborhood food carts are likely to offer, too: sweet and sour sauce, oyster mayonnaise ("manong fish ball" sauce), and sinamak vinegar. If you are up for a more adventurous taste, dip your mussels in all three!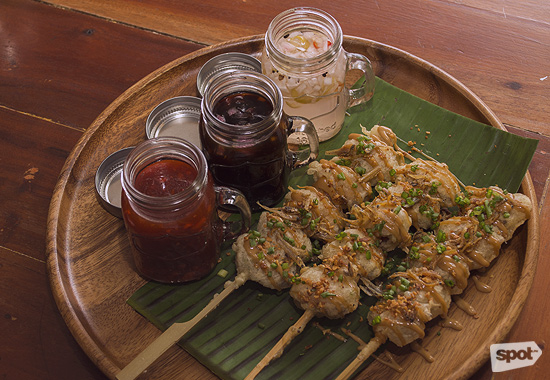 ADVERTISEMENT - CONTINUE READING BELOW
Tinapang Tahong Rebusado
Then, there's the Lumpiang Palabok (P228), Vietnamese spring roll-inspired wads of mahi-mahi and pansit palabok that you can season with some patis-mansi. For best results, drizzle just a tad of the patis-mansi.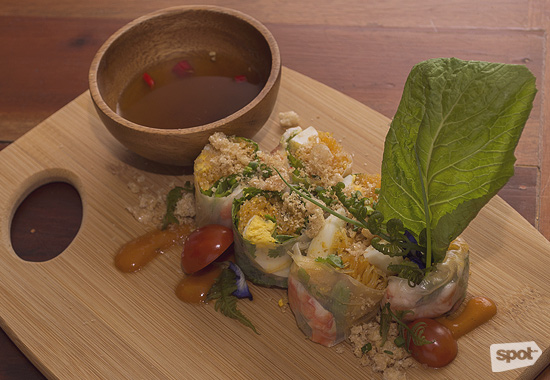 Lumpiang Palabok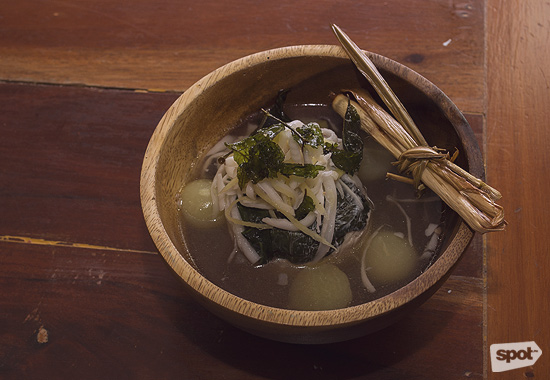 ADVERTISEMENT - CONTINUE READING BELOW
Binakol
The Binakol (P138) is your best bet if you are the type to jumpstart each meal with some warm soup. Creamy chicken terrine replaces the traditional boiled chicken in this tinola spin-off, complemented with strips of young coconut, papaya balls, fried chili leaves, and fish sauce. Every sip-and-nibble of this will take you back to cool, rainy days when a bowl of good soup is a clear must-have.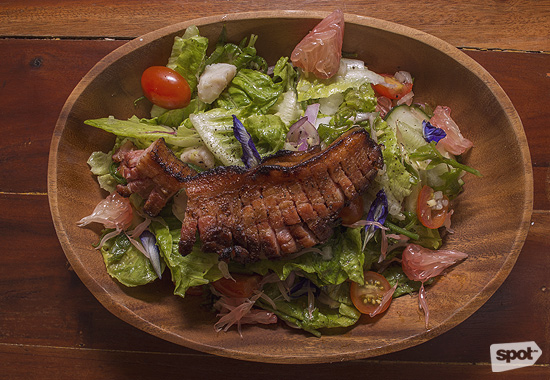 ADVERTISEMENT - CONTINUE READING BELOW
Sinuglaw Salad
The Sinuglaw Salad (P298), meanwhile, is one of the featured dishes on the menu that pay tribute to regional diversity. The dish incorporates the crisp balance and harmony of different flavors from all over the Philippines, from smoked bacon humba liempo to tanigue to Davao's sweet pomelos. Each bite is comparable to an engine warming up: It starts with a dose of light, citrusy greens before sounding off with the powerful kick of sweet, cured meat.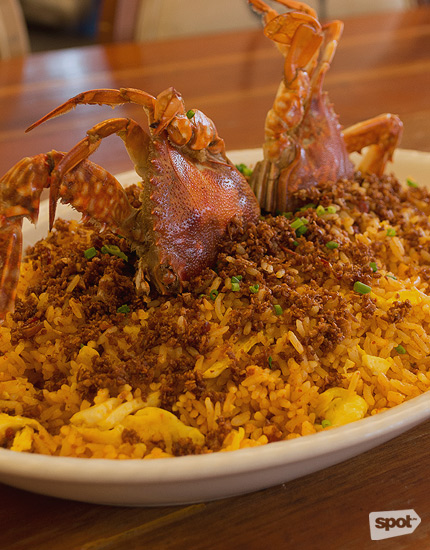 ADVERTISEMENT - CONTINUE READING BELOW
Aligue at Alimasag Fried Rice
For the mains, Dekada has several options that you can pair with the Aligue at Alimasag Fried Rice (P328), or fried jasmine rice flavored with crab omelet, meat, and fat, green onions, and garlic.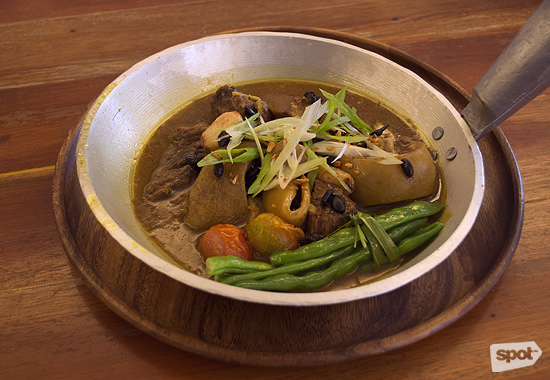 Balbacua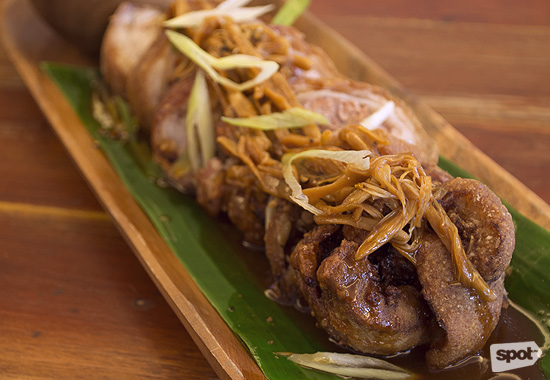 ADVERTISEMENT - CONTINUE READING BELOW
Boneless Crispy Pata Paksiw
The Boneless Crispy Pata Paksiw (P738) marries the marked flavors of homegrown favorites, crispy pata and paksiw. The bourbon sauce adds oomph to the meat, which contrasts perfectly against the bahay kubo atchara served on the side. The Balbacua (P438), meanwhile, is a fresh take on the hearty Visayan soup comprising beef tripe and tail (cooked for eight hours until tender!), peanuts, red onions, cherry tomatoes, garden peas, and a hint of turmeric. For a lighter alternative, give in to the Tortang Talimasag (P299), a combination of tortang talong and alimango, which is served drizzled with aligue kewpie mayo and topped off with chili garlic and crispy dilis.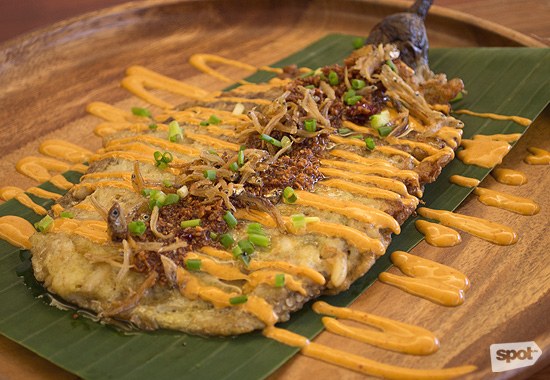 ADVERTISEMENT - CONTINUE READING BELOW
Tortang Talimasag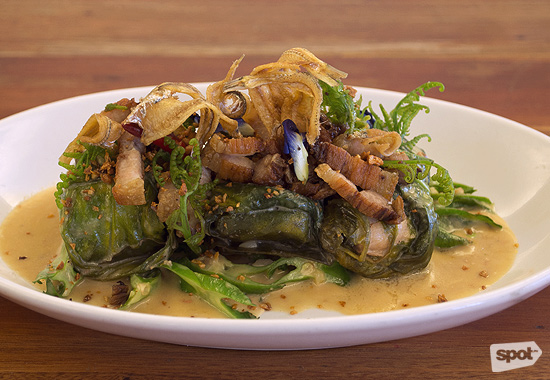 Tinapang Mahi-Mahi na Binalot sa Gabi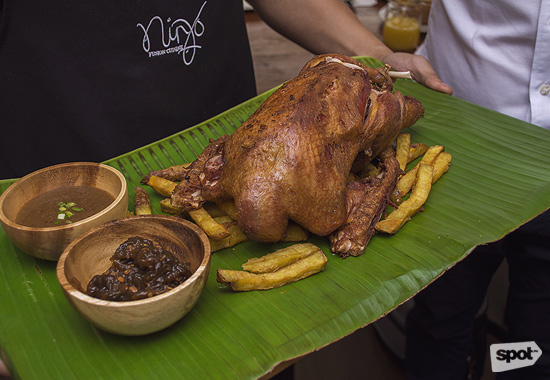 ADVERTISEMENT - CONTINUE READING BELOW
Kinulob na Itik
For the best of what Dekada has to offer, we recommend the Tinapang Mahi-Mahi na Binalot sa Gabi (P398), a surf and turf opus that features what we've come to love about Filipino cuisine: Bicol express, bagnet, dilis, and bagoong. The Kinulob na Itik (P899) is the main star of this spread. It's everything you'd want duck to be—crispy on the outside, incredibly succulent on the inside. The dish is served with two sauces: lechon sauce and kamias jam. The latter is a revelation.
In keeping with typical Pinoy-style dining, you can't possibly end a meal without some panghimagas. Dekada's latest offerings are immediate references to Chef Niño's strong suit: creative cookery. He says, "These desserts [follow the] vintage nostalgia theme."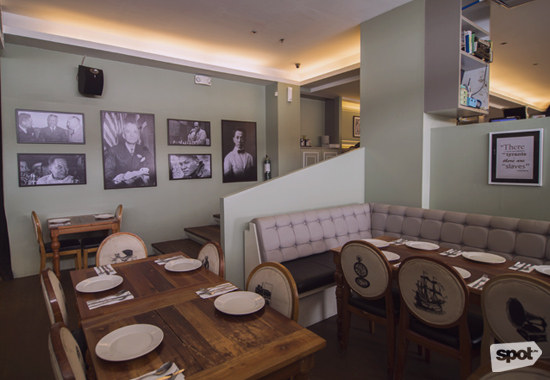 ADVERTISEMENT - CONTINUE READING BELOW
Space for all kinds of groups
By this, he must have been referring to Filipino snacks we've enjoyed through the years, starting off with taho and kesong puti. It may be tricky (perplexing, even) to highlight these two ingredients in a single dish, but Dekada's take is so effortless, almost natural that it makes us wonder why we haven't tried anything of this kind sooner. The Taho and Kesong Puti Cheesecake (P238) keeps things light, making use of tofu pudding and fresh kesong puti as its base. For added sweetness, take each forkful with some syrup, sago, and fruit.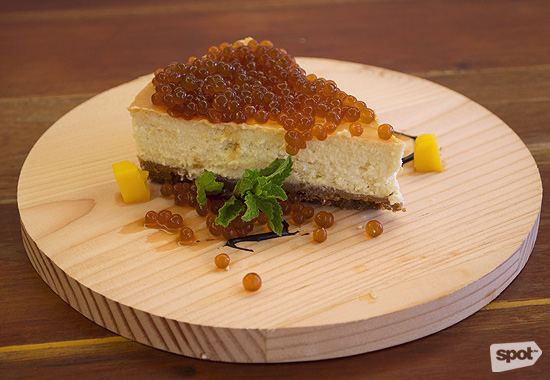 ADVERTISEMENT - CONTINUE READING BELOW
Taho and Kesong Puti Cheesecake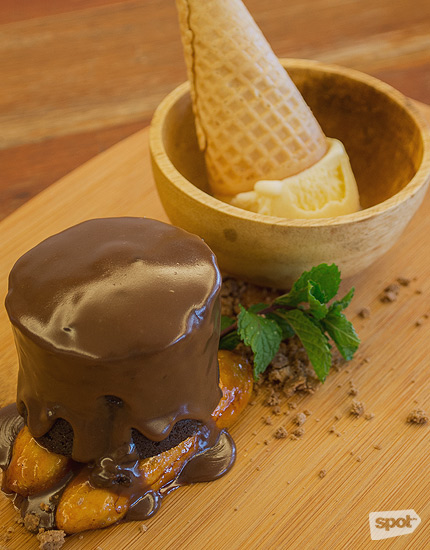 Flat Top Chocolate Cake
Another alternative is the Flat Top Chocolate Cake (P238), which, when served, turns out to be much more than a warm, sumptuous cake that takes inspiration from a favorite childhood treat. You'll be delighted to see that the cake sits atop a slice of caramelized banana, beside a bowl of vanilla sorbetes. The dish is have-it-your-way, but we recommend that you take the cake together with some ice cream, and follow up with a slice of banana, for a rich, subtly sweet finish.
ADVERTISEMENT - CONTINUE READING BELOW
We can only hope that these imaginative takes on familiar dishes are more than enough to support the vision of Dekada—to promote a wide range of flavors in Filipino cuisine. Chef Niño says, "It's been challenging for the entire team, with all the kitchen tests we've had to undergo through the development of the new menu, but I think we've managed to accomplish what we set out to do."
Photos by Hans Fausto
Recommended Videos
Load More Stories