New Restaurant Alert: Stephen's Brick-Oven Pizza at P. Guevarra Street, San Juan
This secret pizza place may be your next favorite.
Stephen's Brick-Oven Pizza
89 P. Guevarra Street, Barangay Sta. Lucia, San Juan City
Contact: 0917-688-0609, 959-2442 (temporary numbers)
Open daily from 11 a.m. to 11 p.m.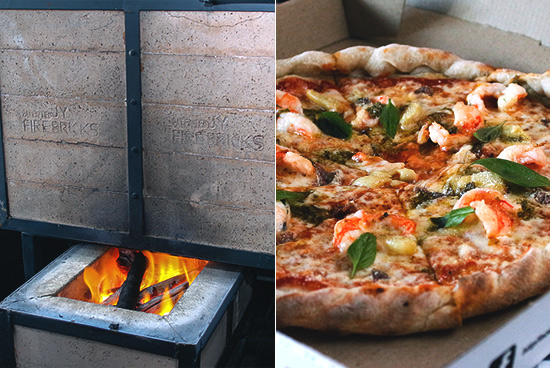 (SPOT.ph) That perfect, thin, chewy crust is a product of months of research and development, chef and owner Stephen Chanco admits. "Well, I had all the time in the world," he confesses with a hearty laugh.
Stephen's Brick Oven Pizza was a project borne out of all the extra time he had on his hands when his wife told him she wanted to go back to work. Giving in to his wife's request, the devoted family man gave up his nine-to-five job at a bank and became a stay-at-home dad to their two children. He loves to cook, and, more than anything else, he loves pizza. Before even resigning from his job, Stephen and a friend put up stalls in strip malls offering affordable "pizzas" that catered to more, shall we say, pedestrian tastes.
ADVERTISEMENT - CONTINUE READING BELOW
There's nothing wrong with that, Stephen says, but it's not the kind of pizza he prefers. The concept didn't fly and the stalls eventually shut down. When he quit his job, however, Stephen was able to give his dreams of opening his own pizza place all the loving attention it needed.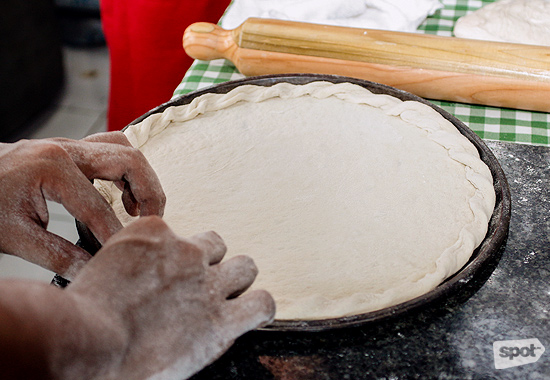 CONTINUE READING BELOW
Recommended Videos
This is really a pizza pie.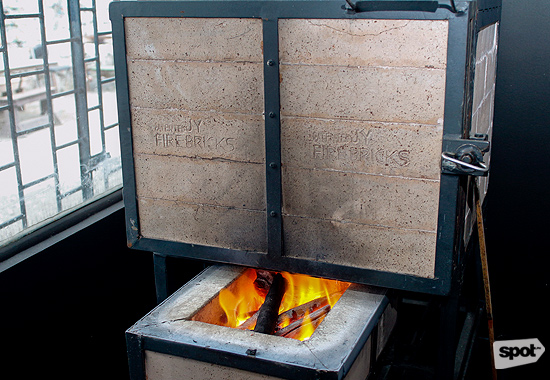 ADVERTISEMENT - CONTINUE READING BELOW
The special oven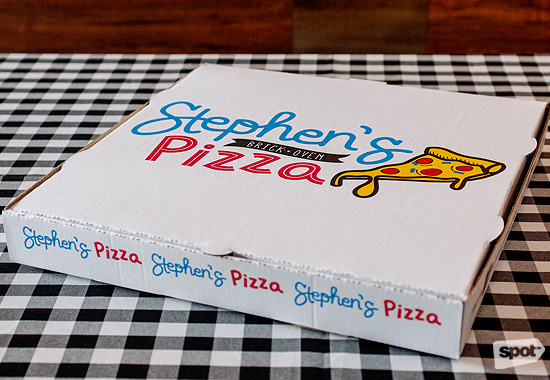 Now you can enjoy pizza the way it's meant to be—fresh!
After a little over a year of catering parties, delivering from his home, and servicing a couple of carwashes, his first dine-in pizza joint has opened in a quieter section of P. Guevarra Street, San Juan. Now, Stephen's is attached to a vintage European car shop, with three tables inside and a couple more out front. The facade is fringed with a few potted plants to offer privacy and a little protection from the elements.
The menu is currently straight-up pizza (just one size—12 inches wide), topped with the stuff Stephen likes. He has no label for the kind of pizza he makes. "Basta, kung ano okay sa akin, that's what I put (on the pizza)," he describes.
Take, for example, the pizza he put together for a CrossFit event. "I was thinking of how to make our pizzas appealing to these athletes, so I piled on the protein and mushrooms and called it 'Muscle Up' (P380) after a move they do in CrossFit." The winning combination of bacon, homemade sausage, mushrooms, onions, and three cheeses is still one of their all-time bestsellers.
ADVERTISEMENT - CONTINUE READING BELOW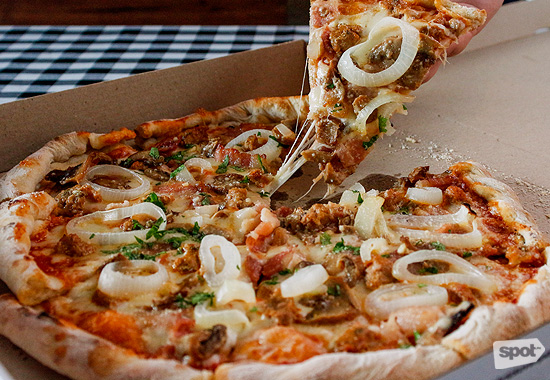 Muscle Up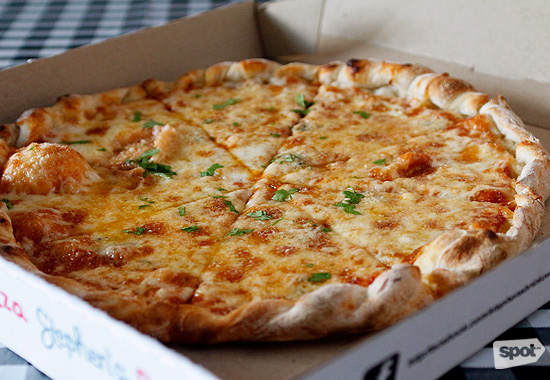 Four Cheese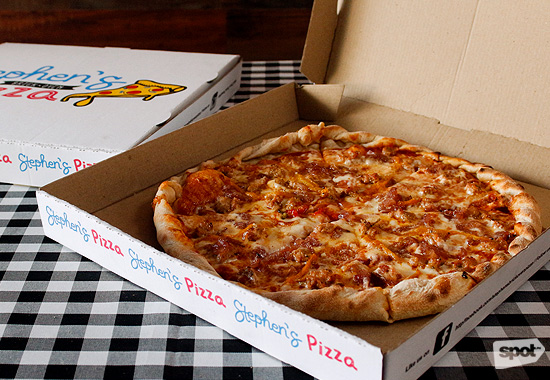 ADVERTISEMENT - CONTINUE READING BELOW
Italian Job
His most basic composition is a three-cheese pizza (P280) topped with his secret tomato sauce, mozzarella, Parmesan, and fontina. Add some Gorgonzola and it becomes the popular Four Cheese (P320), gooey and pungent, the blue cheese giving it the complexity it needs.
Stephen caters to the Filipino penchant for Hawaiian pizzas, but if you're looking for an old standard we recommend his Classic Pepperoni (P320)—just generous servings of the extra-thin deli meat over the signature three-cheese combo.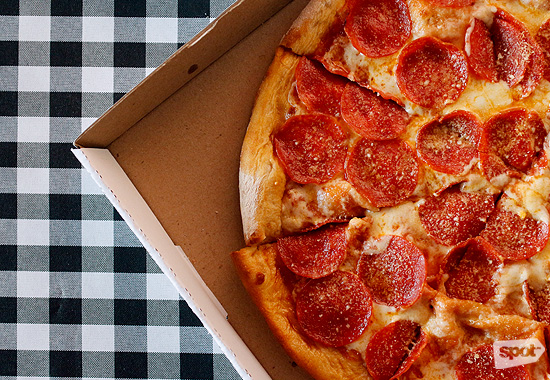 Classic Pepperoni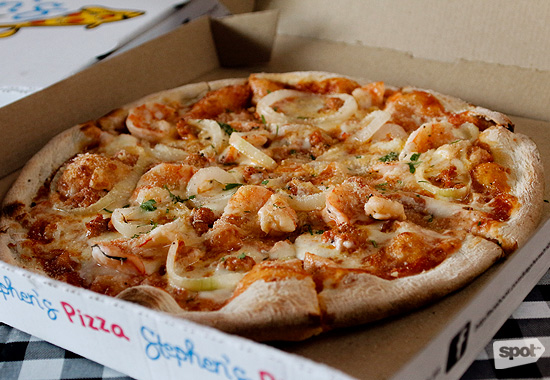 ADVERTISEMENT - CONTINUE READING BELOW
Surf n Turf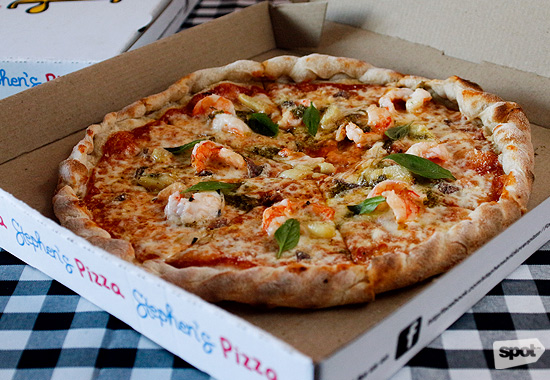 Crusty Crustacean
Seafood lovers have a couple of flavors to choose from. For those who like things salty, perhaps the Something Fishy (P380) would hit the spot with its anchovies, capers, and olives, among other things. A more subtle approach—yet just as flavorful—is the Crusty Crustacean (P380), topped with shrimps, anchovies, pesto, roasted garlic, basil. The soft, tempered garlic flavor is the perfect complement to the seafood.
The crafty home cook makes his own sausages, so he gives it the starring role in the Italian Job (P360)—a pie topped with hot Italian sausage, caramelized onions, and bell peppers.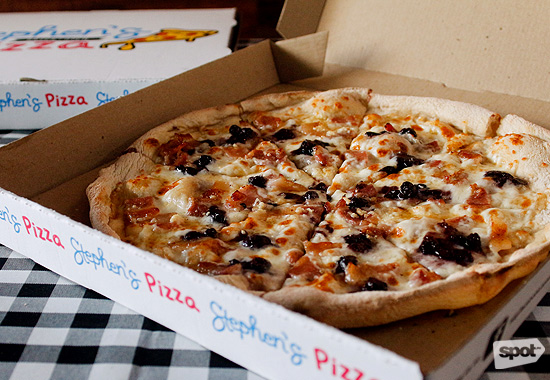 ADVERTISEMENT - CONTINUE READING BELOW
BRB
Stephen gets a little hipster on us with the BRB (P420)—a whimsical yet oddly comforting combination of bacon, ricotta, blueberries, three cheeses, and maple syrup. He asks: "Perfect for breakfast, right?" We concur.
During our visit, he had some issues with the exhaust, but nothing can dampen this new restauranteur's spirits. Stephen happily gives a couple of curious passers-by a free taste of his pies, and they were quick to promise their recommendations to neighbors and co-parents in the nearby schools. This is exactly the kind of neighborhood-joint vibe that Stephen was going for, and it looks to us that the communities around the restaurant will be very happy to have him around.
Photos by Jericho San Miguel
Share this story with your friends!
---
Help us make Spot.ph better!
Take the short survey
Load More Stories