10 Chocolate Treats That Will Sweeten Your Day
Chocolate is forever!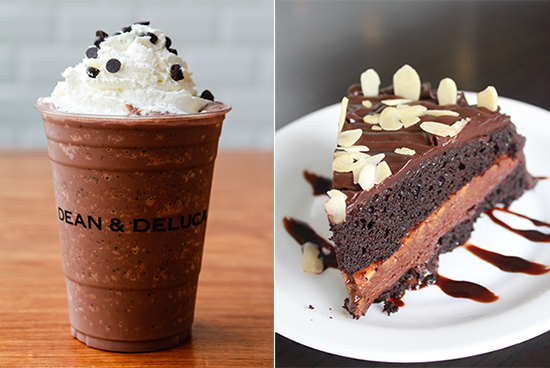 (SPOT.ph) We don't know how to begin. Chocolate, after all, needs no introduction. It slams the door open; makes you happy with its deep and dark deliciousness; finishes the job; and just leaves. All you're left with is this big, goofy smile on your face.
If you're going on a chocolate adventure, here's a list to get you started.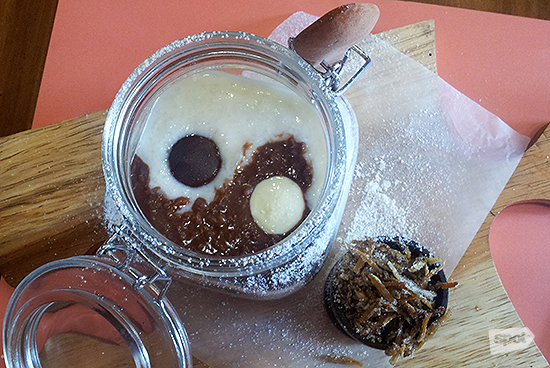 Yin Yang Champorado at Early Bird Breakfast Club (P275)
Champorado, though delicious and comforting, is not the most photogenic of dishes. Trust Early Bird Breakfast Club to debunk tradition with their Yin Yang Champorado, with its beautifully plated dark and white Belgian chocolate concoction. The name refers to both the carefully crafted Yin and Yang design on the champorado itself, and the mildly contrasting flavors in the dish. With a side of dilis-in-a-cup and a dusting of confectioner's sugar, Early Bird's take on the breakfast staple is a delicious mix of bitter sweetness from the dark chocolate and the candy-sweet flavor of the white chocolate. Perfect in both presentation and taste, this dish is a runaway winner.
ADVERTISEMENT - CONTINUE READING BELOW
Early Bird Breakfast Club has branches at The Fort Complex, 28th Street, Bonifacio Global City; Eastwood, Quezon City; and Century City Mall, Makati City. The Yin Yang Champorado is ranked No. 1 on SPOT.ph's Top 10 Champorado (2013 Edition).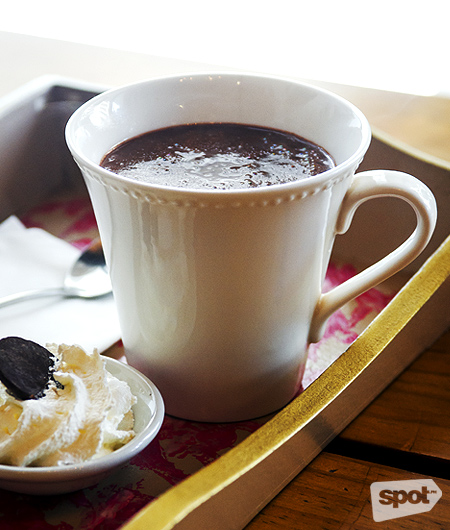 CONTINUE READING BELOW
Recommended Videos
La Creperie's Angelina (P210)
La Creperie has a big selection of hot chocolate, covering everything from Spanish bittersweet to French with native tablea. Angelina's is its premium creation—rich hot chocolate with dark chocolate couvertures plus a side of whipped cream make this drink both a sweet treat and a gastronomic experience. Popping the small pieces of chocolate into the drink and stirring the fresh whipped cream allows you control over the thickness. The serving is incredibly hefty, providing you with a rich flavor that does not overwhelm the senses.
Click here for a list of La Creperie branches. The Angelina is ranked No. 4 on SPOT.ph's Top 10 Hot Chocolate (2015 Edition).
ADVERTISEMENT - CONTINUE READING BELOW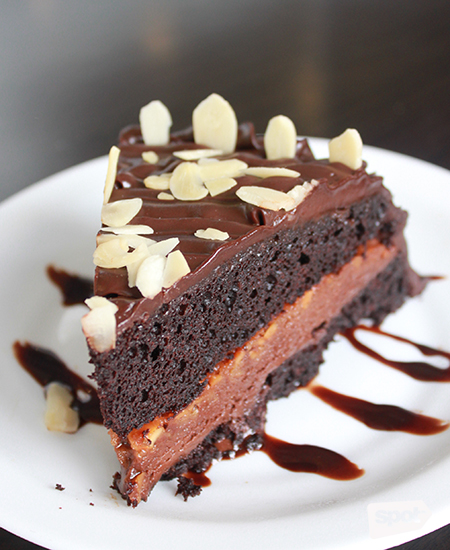 Dulcelin's Callebaut Chocolate Cake (P165/slice)
You've probably tried their Mango Torte before and loved it, but have you met their Callebaut Chocolate Cake? Often served as a fat slice at this dessert haven, this sugared stunner has a chocolate mousse center thinly lined with caramel. Sliced almonds, chocolate syrup, and smooth Belgian chocolate ganache icing make it even more mouthwatering than it already is. The cake itself is pretty topnotch, but with all the extra luxe trimmings, you'll be headed for chocolate nirvana in just a few forkfuls.
Dulcelin Gourmet has branches at Glorietta 4, Makati City; and 2/F UP Town Center, Katipunan Avenue, Quezon City. The Callebaut Chocolate Cake is ranked No. 8 on SPOT.ph's Top 10 Chocolate Cakes (2014 Edition).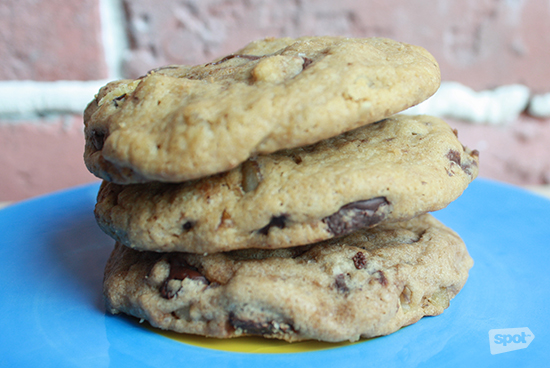 ADVERTISEMENT - CONTINUE READING BELOW
Homemade by Roshan's Ghirardelli Chocolate Chip Cookies (P900/dozen)
There is a reason why Roshan's famous baked goods wins in life. With just one bite, these chocolate chip cookies take you to cookie heaven with their symphony of premium Ghirardelli chocolate chunks, cashew nuts, and chewiness. This sinfully good cookie has the right amount of crunchy texture and sweetness; it's no wonder we're already grabbing our second piece!
For orders, contact Homemade by Roshan at 631-7786, 0917-833-6286; homemadebyroshan.com. These Ghirardelli Chocolate Chip Cookies are ranked No. 1 on SPOT.ph's Top 10 Chewy Chocolate Chip Cookies (2013 Edition).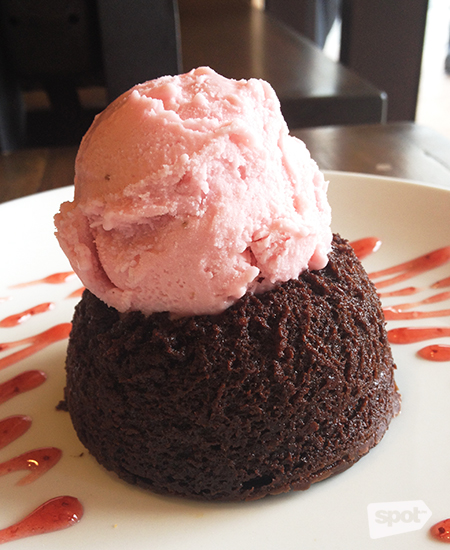 Matt's Chocolate Cake (P190) from Kuppa Roastery and Café
Kuppa takes their time preparing the cake, but every minute spent on waiting is erased with one bite. This version is cakier than the rest, served with strawberry coulis and crowned with a scoop of gelato that threatens to overpower the cake in terms of size. The molten cake is served fresh off the oven, which is how it should be, and the chill from the ice cream is just the perfect foil to emphasize those warm, deep, bittersweet notes of chocolate. Then there's the natural tartness of the strawberry that gives it a tickle of freshness.
ADVERTISEMENT - CONTINUE READING BELOW
Kuppa Roastery and Cafe is at Commercenter Building, 31stStreet corner 4th Avenue, Bonifacio Global City (552-1057). Matt's Chocolate Cake is ranked No. 3 on SPOT.ph's Top 10 Chocolate Lava Cakes (2014 Edition).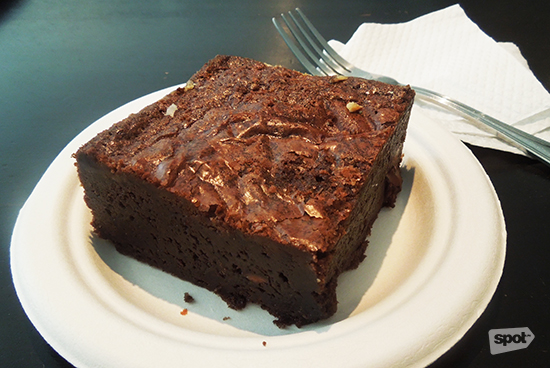 L.E.S. Bagels' Brownie (P140)
Just like their bagels, their standard fudgy brownie (P140) is best served warm. It's a good three-inch square of rich chocolate with a crusty top that visually cracks once bitten, only to reveal chocolate chunks sporadically embedded throughout the bar. If you like your brownie fancy with various nuts and flavors, take a bite of one of its sisters: the White Choco Fudge Brownie (P140), the Espresso Hazelnut (P180), or perhaps the Gluten-free Almond Fudge Brownie (P210). All are good-sized blocks, enough to share with a friend or three and still satisfying enough for anyone's brownie craving.
L.E.S. Bagels is at The Tuscany, Upper McKinley Road, McKinley Hill, Taguig City. This brownie is ranked No. 2 on SPOT.ph's Top 10 Brownies (2014 Edition).
ADVERTISEMENT - CONTINUE READING BELOW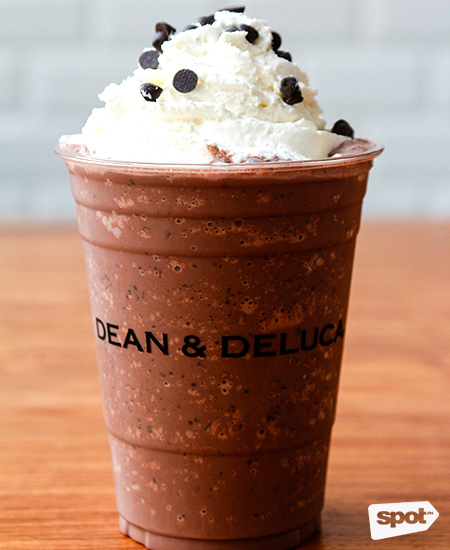 Dean & DeLuca's Dark Chocolate Chip Milkshake (P185)
The popular deli hailing from New York may be known primarily for its selection of specialty goods, but word is slowly spreading on their A+ milkshakes. Dean & DeLuca's dark chocolate chip variant, in particular, is a fresh addition to Manila's chocolate milkshake craze—one anchored primarily on sweet chocolate bases that appeals to the Pinoy palate. Dean & DeLuca's milkshake contains dark chocolate bits tossed in a velvety and pronounced chocolate blend, gritty sips of which prove that both rich and refreshing make a good combo.
Dean & DeLuca is at Rockwell Edades, Makati City. This Dark Chocolate Chip Milkshake is ranked No. 9 on SPOT.ph's Top 10 Milkshakes (2015 Edition).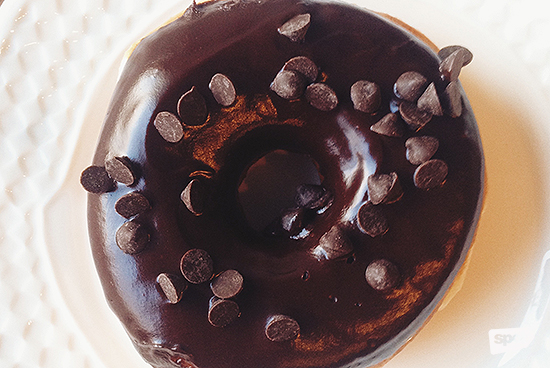 ADVERTISEMENT - CONTINUE READING BELOW
Scarsdale Artisanal Delights' Best Chocolate Donut in Town (P55)
Mikhail Baryshnikov once said that "fundamentals are the building blocks of fun"—this should be a lesson on creativity. The highlight of Scarsdale's menu is their croissant donuts, but that's probably because the chef does the classics exceptionally well. This chocolatey number uses a luxurious chocolate ganache instead of the traditional glaze, making a deep-fried heavyweight appear elegant. The dough is crisp but airy; a final kiss of chocolate chips creates a sensorial love affair. It tastes good chilled, but it's better warm, just like love.
Scarsdale is at 514 Shaw Boulevard, Mandaluyong City. The Best Chocolate Donut in Town is ranked No. 1 on SPOT.ph's Top 10 Chocolate Donuts (2014 Edition).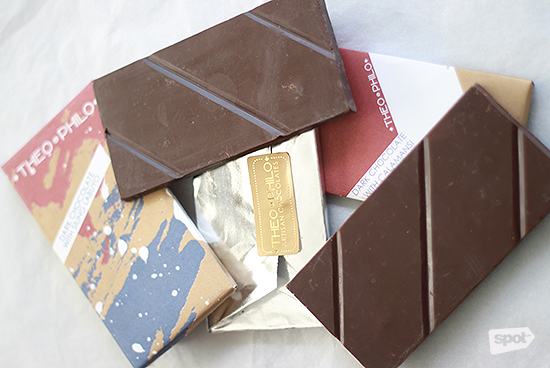 Theo & Philo (P95/each)
Typically, the world's most expensive chocolates are made from beans from one region. Using cacao from Davao, Theo & Philo founder Philo Chua set out to create chocolate bars at par with the best of Europe. And so he did.
ADVERTISEMENT - CONTINUE READING BELOW
Counting flavors like Dark Chocolate with Siling Labuyo and Dark Chocolate with Calamansi as top sellers, Theo & Philo goes above and beyond typical flavors. Everything about their chocolates has been masterfully created, from the sleek and artfully designed packaging, to the sheer ingenuity each bar brings to the table. Case in point, the Calamansi variety is a refreshing delight. Hints of local lemon are a nice surprise in every bite, like a welcome tang providing a nice contrast to beloved dark chocolate. Oh, and if you're the type to measure chocolate by how well it snaps, this one gets a 10.
Find out where to get Theo & Philo. Theo & Philo is ranked No. 4 on SPOT.ph's Top 10 Gourmet Local Chocolate (2013 Edition).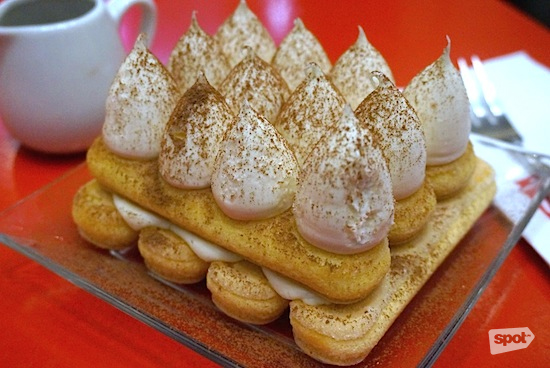 Espressamente Tiramisu Cake (P295)
Nine ladyfinger cookies are layered and topped with dollops of cheese and cocoa powder. You're given a cup of espresso to pour over it, soaking the crunchy cookies in strong coffee flavor. The play of textures is great: The ladyfingers become soft without turning soggy, while the cheese is like soft pudding.
ADVERTISEMENT - CONTINUE READING BELOW
Unique presentation, rich taste, and good value for money-Espressamente's Tiramisu Cake is worth every peso. It's also big enough to share, and you'll definitely want other people to know about this amazingly delicious dessert.
Espressamente has branches at SM Mall of Asia, Pasay City; and Power Plant Mall, Makati City. This Tiramisu Cake is ranked No. 1 on SPOT.ph's Top 10 Tiramisu.
Share this story with your friends!
---
Help us make Spot.ph better!
Take the short survey
Load More Stories