New Restaurant Alert: Buta + Wagyu at SM Aura Premier, Bonifacio Global City
A restaurant and bar concept from the people behind Wagyu Japanese Beef
Buta + Wagyu
5/F SM Aura Premier, Bonifacio Global City
Contact: 946-7262
Open daily from 11 a.m. to 2 a.m.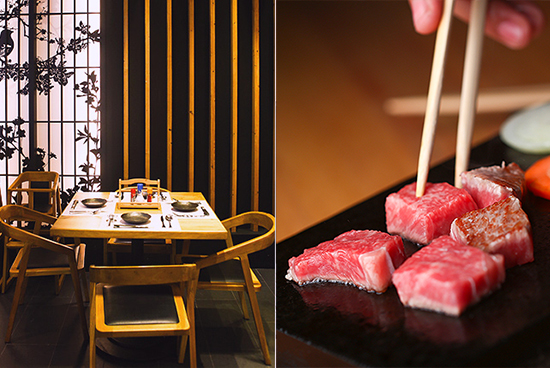 (SPOT.ph) The prices will shock first-time diners at Buta + Wagyu.
Pleasantly surprised, though, and not the usual whiplash people get upon seeing the exorbitant prices attached to the products of this premium Japanese cattle. Co-owner Wesley Villarica has a simple explanation: "We bring in the beef ourselves."
Before you contact Customs, know that the Villaricas are the people behind sleeper hit Wagyu Japanese Beef in Sunvar Plaza at old-school Makati strip mall, Milelong. When the Japanese government allowed exportation of the revered protein a few years ago, Wesley's brother-in-law, already an exporter of premium okra to Japan, started bringing in the beef to our market.
"The Sunvar store is really more a meat shop than a restaurant. We have the meats there on display, then just a few tables where customers can enjoy our products prepared in different ways," says Wesley. Reasonable prices paired with excellent quality—they only serve A5 grade nine to 12—Wagyu, which has the highest fatty marbling, made Wagyu Japanese Beef a hit with customers gamely putting ambience aside for great value for money.
ADVERTISEMENT - CONTINUE READING BELOW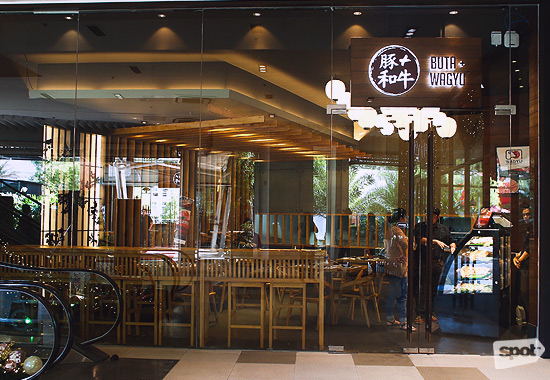 CONTINUE READING BELOW
Recommended Videos
This looks different from Sunvar.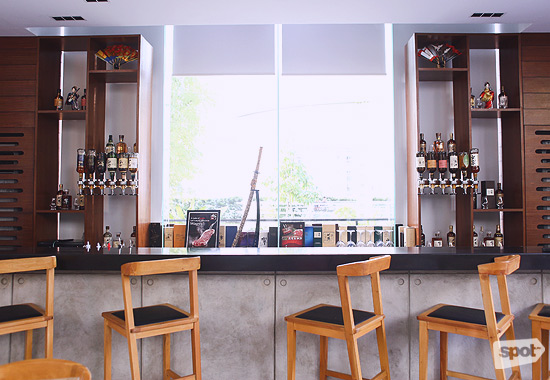 Comfier seating space, which includes a bar area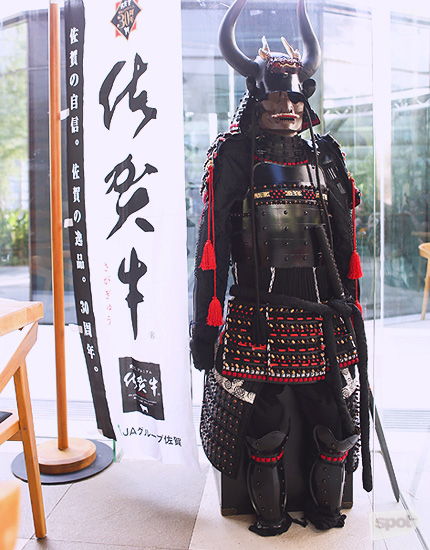 ADVERTISEMENT - CONTINUE READING BELOW
Guardians of steak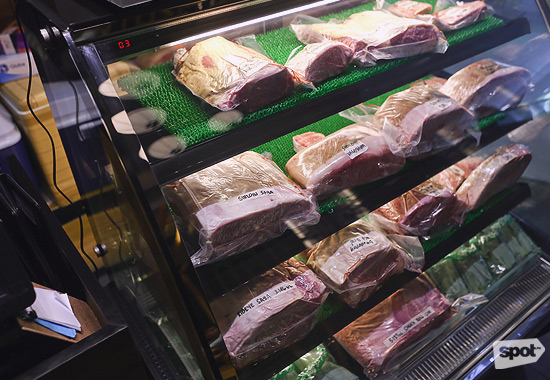 Chilled, not frozen
Buta + Wagyu (buta is Japanese for "pork," since they also serve organic pork), however, is an actual restaurant and bar that offers Wagyu fans a more comfortable dining environment, while continuing to enjoy the same reasonable prices and high-quality Wagyu. Unlike many local restaurants serving "Wagyu," Wesley swears that their imported beef is chilled, never frozen. "We tried another supplier one time and they sent us a frozen carcass," he scowls, recalling that bitter memory. "We sent it straight back."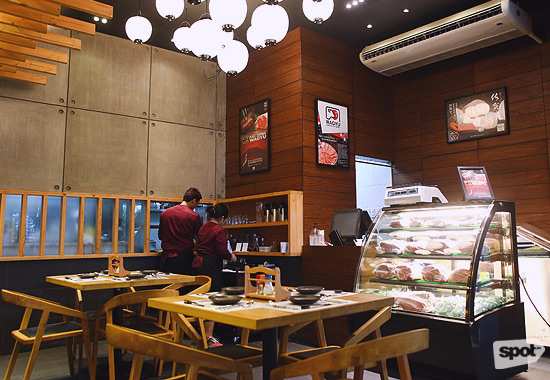 ADVERTISEMENT - CONTINUE READING BELOW
Those same signs are at Sunvar.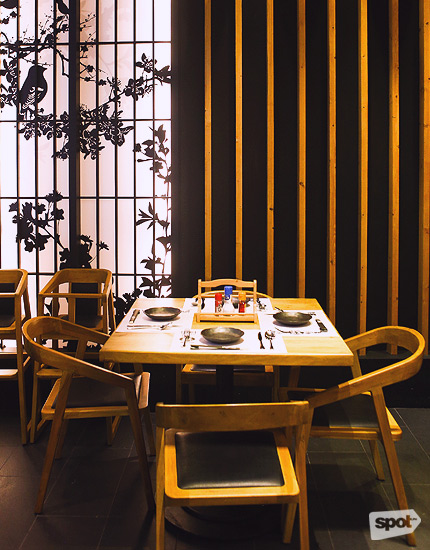 The minimalist interiors complement their steaks.
Their regular supplier, with the full support of the Japanese Agriculture Department ("not 'hand-carried,'" Wesley cheekily interjects), sends them the A5 grade Wagyu, boneless and ready to be carved by their in-house Japanese butcher at Sunvar. There, he expertly breaks down the cow, the premium cuts packed and ready for consumption—the chateaubriand (center part of the tenderloin), sirloin, and rib eye reserved for grilling, steaming, or sukiyaki.
In the diminutive yet sleek dining area of Buta + Wagyu, another trained butcher prepares these cuts of Wagyu for either steaming or grilling.
Their Steamed Wagyu (P12.10 to P14.50/gram) is cooked in a pine wood steamer, over a bed of carrots, zucchini, mushroom, squash, and cabbage. The sirloin and rib eye are the best cuts, but whichever cut you choose, none of them will be seasoned; only the subtle flavors from the wooden cooking vessel and vegetables enhance the already flavorful meat. If preferred, the rich, melt-in-your-mouth beef can be dipped in their secret spice mix, ponzu, or sesame sauce.
ADVERTISEMENT - CONTINUE READING BELOW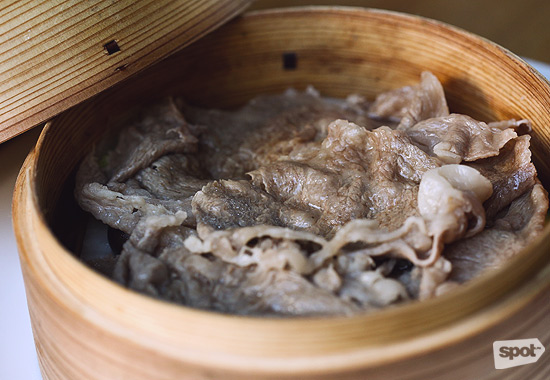 Sirloin for sukiyaki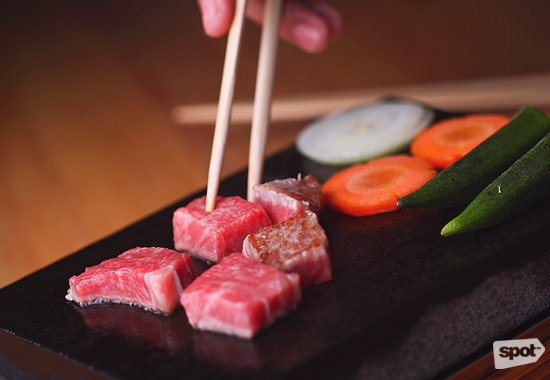 Rib eye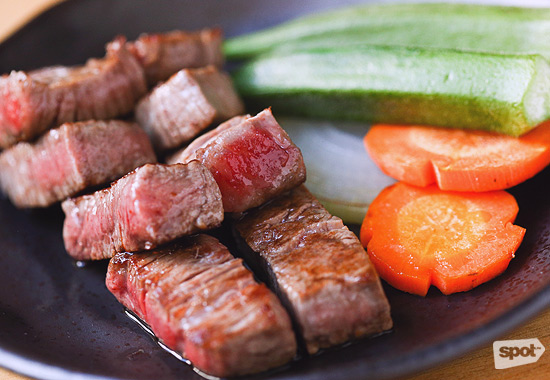 ADVERTISEMENT - CONTINUE READING BELOW
Gorgeous steak! Don't neglect the okra on the side.
But, what can convert even the hardiest prime Angus fan is their chateaubriand (P14.80 to P17.20/gram), quickly seared over a stone grill. "This cut," Wesley explains," has less marbling, but is the most tender part of the cow. So, you get a lot of beefiness because it's melt-in-your-mouth without too much fat." He does not lie—the cubes of beef, cooked until medium-rare, has that deep beef flavor usually overpowered by fat but clearly evident in this cut. The mouthfeel is soft with practically zero resistance, just tender, buttery, goodness. This, we daresay, is the steak of our most decadent fantasies.
Unlike the Sunvar store, Buta + Wagyu also serves other Korean and Japanese options. Partners Grace Lee and Jerome Lim made their contributions to the menu—some from radio personality Grace's Korean heritage, while Japanese items are mostly of Jerome's design. Jerome owns popular Alabang ramen house Butamaru, which is why he is confident in the inclusion of both Ramens Tonkotsu (P415) and Kimchi (P530). Each ramen features the traditional pork bone broth, but the former is more subtle with the addition of bonito flakes, while the latter has the explosive character spice addicts will be drawn to.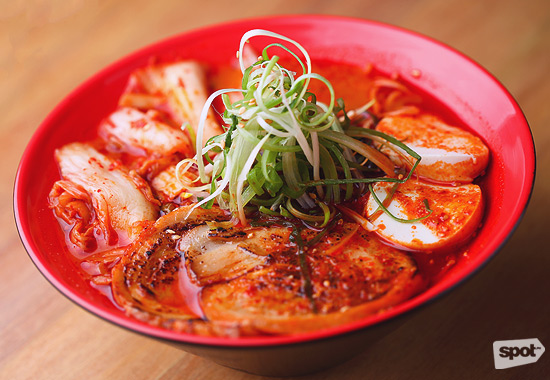 ADVERTISEMENT - CONTINUE READING BELOW
Ramen Kimchi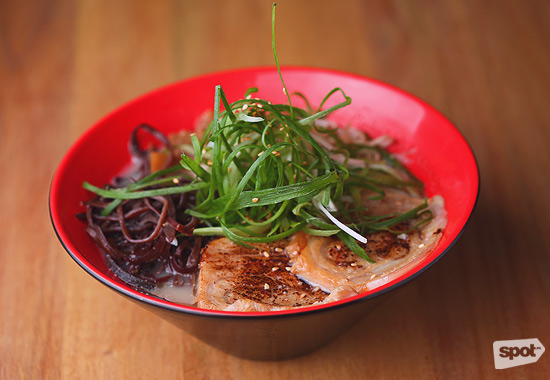 Ramen Tonkotsu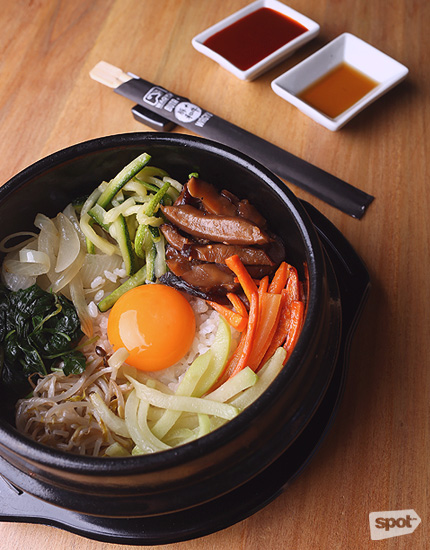 Bibimbap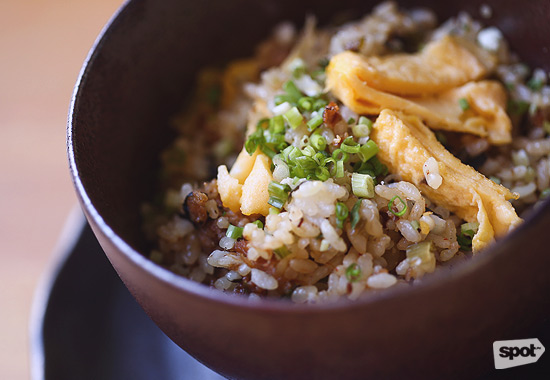 ADVERTISEMENT - CONTINUE READING BELOW
Chahan
Wesley and Jerome swear by their Chahan (P255), which they encourage diners to dunk into leftover ramen broth. The Bibimbap (P380) is ideal for those who prefer something richer and packed with umami—the richness derived not from butter but from the Wagyu trimmings used to cook the rice, vegetable toppings, and egg. Try not to fight over the heavenly "tutong."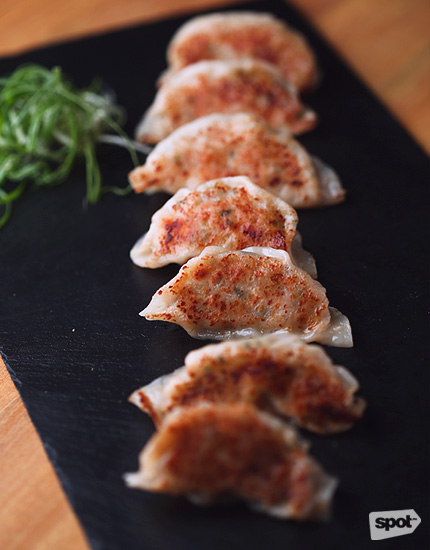 Gyoza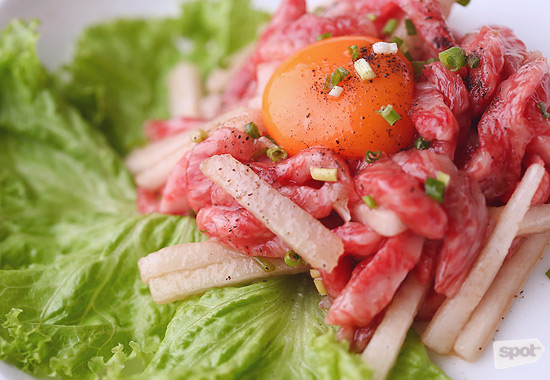 ADVERTISEMENT - CONTINUE READING BELOW
Yukhwe
Starters are not an afterthought here—the Gyoza (P280) is a combination of ground organic pork and Wagyu, the wrapper made in-house. These, too, are never frozen and made fresh every day. What is life-changing, though, is the Korean beef tartare (read: raw beef) called Yukhwe (P950). Buta + Wagyu's is simply done using thin strips of raw Wagyu and pear, tossed in a bit of honey, and topped with raw egg yolk. The textures and flavors are insanely decadent, from the marbled beef uplifted by the sweetish, unctuous sauce. These are best enjoyed in their detached bar area, where they serve Japanese whisky, sake, soju, and cocktails like the refreshing Okinawa (P310) and pleasantly tart Suntory Sour (P290).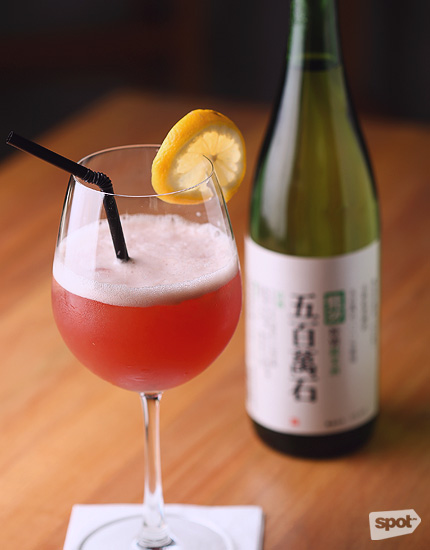 Okinawa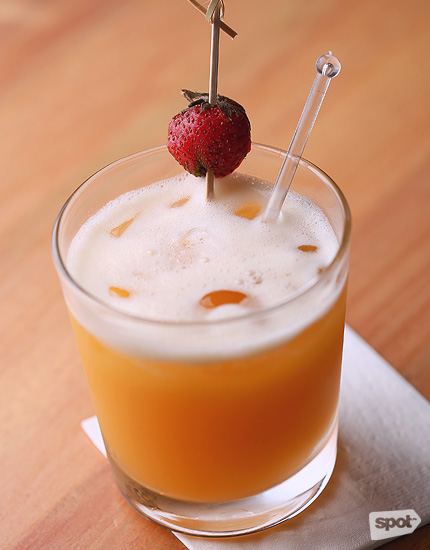 ADVERTISEMENT - CONTINUE READING BELOW
Suntory Sour
Despite the sleekness of the interiors—not to mention Wesley's smooth-talking—Buta + Wagyu still evokes the hominess of the Sunvar store. Wesley's sister, Willyn, drops by to deliver a surprise gift for the family's unico hijo, and admits to taking charge of the restaurant's daily operations even if initially she just committed to purchasing duties. There seems to be a lot of love within those glass walls, and we're not just talking about the expensive loot inside those chillers.
Photos by Majoy Siason
Share this story with your friends!
---
Help us make Spot.ph better!
Take the short survey
Load More Stories