10 Delicious Potluck Ideas for Christmas 2015
Bring something nice to the Christmas table.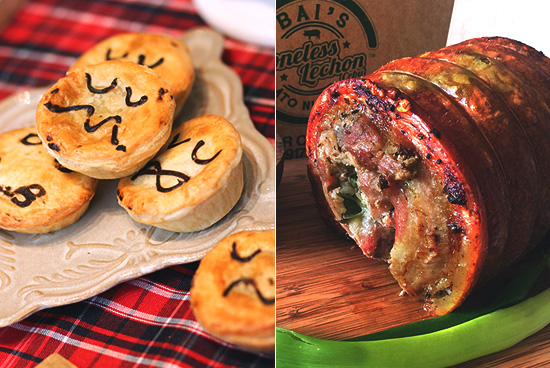 (SPOT.ph) We would like to begin by saying that the line for baked salmon will be long this Christmas. We have nothing against it. That gorgeous pink fish topped with onions and cheese has become nearly as ubiquitous at every Pinoy celebration as lechon, and eating it, no matter how often, is still a satisfying experience. But when the lines are a little too intolerable, when you're craving something new, when you just want to expand your menu, or when you're aiming to amp up your potluck game, we have some delicious solutions for you.
Also read: 10 Delicious Food Gifts Everyone Will Love This Christmas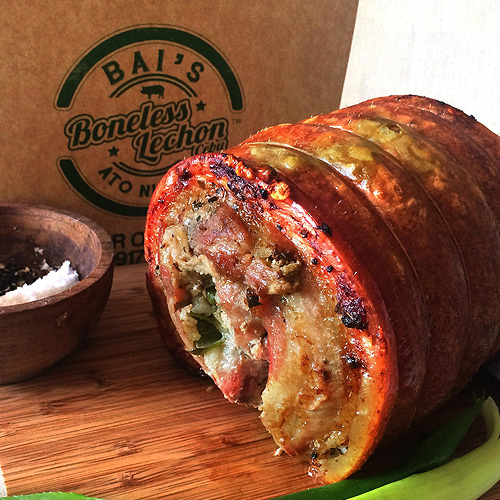 Bai's Boneless Lechon Cebu
Is it lechon that looks like porchetta or is porchetta that looks like lechon? This lovely rolled-up piece of roast pork is so generously seasoned that sauces are unnecessary—that's Cebu style for you. The pig is imported from Canada so you're assured of quality meat and a very clean, rich taste. You can get it spicy, too!
ADVERTISEMENT - CONTINUE READING BELOW
Price: P675/Family, P1,100/Barkada, P2,100/Party
For orders, contact Bai's Boneless Lechon Cebu at 0917-582-5333. Off-peak season orders must be made a day in advance; peak season (December 24 to 25 and December 30 to January 1) three days in advance.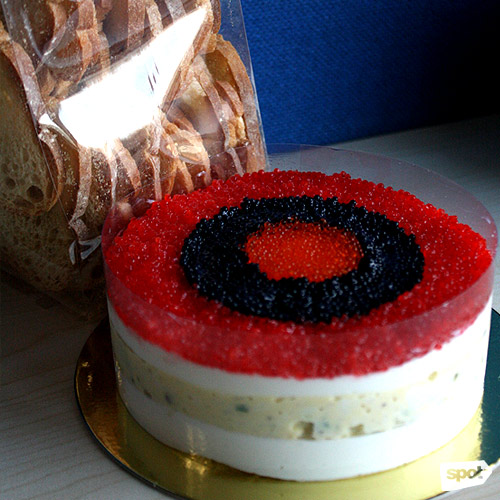 CONTINUE READING BELOW
Recommended Videos
Cheesecakes by Guy's Caviar Pie
How about something to go with your wine dinner? Gregory Leung Guy's luxurious caviar pie is briny, rich, sweet, spiced, and creamy in every explosive bite. It comes with free melba toast, but even the chef tells us it tastes just as good with supermarket crackers.
Price: P500/three-inch, P1,000/five-inch
For orders, contact Cheesecakes by Guy at 584-3372. A one-day advance notice is required. Pick-up is at Bel-Air, Makati City; Greenmeadows, Quezon City; or Cheesecakes by Guy, Eastwood Mall, Quezon City. Read more about Cheesecakes by Guy.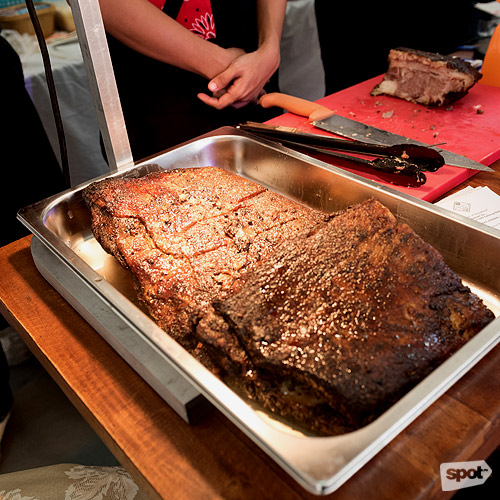 ADVERTISEMENT - CONTINUE READING BELOW
Olympia's Gourmet Roast Beef
The dinner table needs something nice and shiny at the center. How about a beautiful hunk of roast beef? Olympia's Gourmet Roast Beef boasts incredibly tender meat. It's cooked in red wine, which accounts for that wonderfully rich flavor and melt-in-your-mouth texture. Make sure you get some gravy to pump up those elements!
Price: P250/150 grams, P375/250 grams, P750/500 grams, P1,500/one kilogram
For orders, contact Olympia's at 0916-414-0826, 0917-279-2689, 442-0974.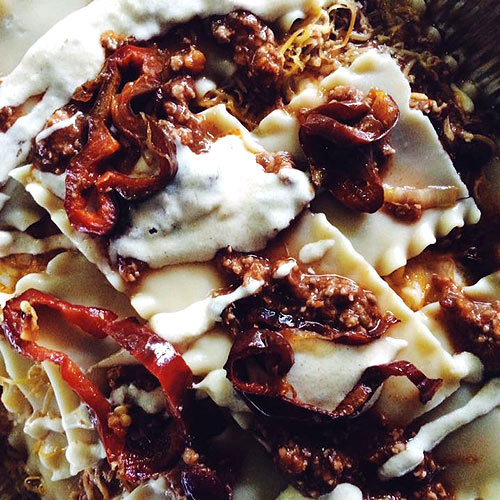 Chili Asylum's Veggie Chili Lasagna
If we could throw a Chili Asylum potluck party, we would. Chef Isi Laureano's chilis and salsas would be a hit at any party, but today, we're highlighting her Veggie Chili Lasagna. It's a packed number: between those pasta sheets are spicy stir-fried artichokes, red bell peppers, red onions, eggplant, and spicy moringa pesto. This definitely doesn't slouch when it comes to flavor.
Hey, Chili Asylum has a meat version, too!
ADVERTISEMENT - CONTINUE READING BELOW
Price: P500
For orders, contact Chili Asylum at 0919-818-1220. A one-day advance notice is required since Isi makes her products fresh every day. Read more about Chili Asylum.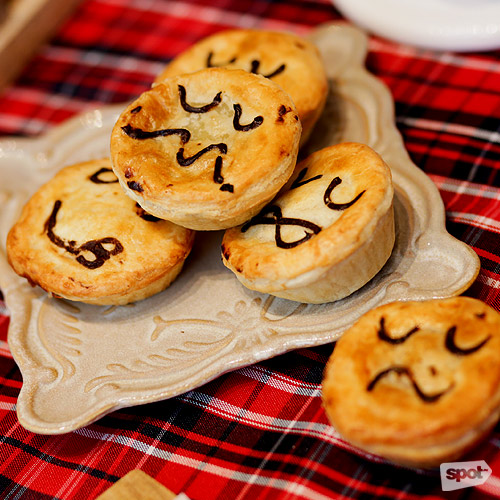 Lamb pot pies from Pie Face
If you don't want anything too complicated, why not try a semi-rustic approach? We suggest lamb pies from Pie Face. They're toothsome treats—flaky pastry encasing a mouthwatering chunky blend of home-style stew, lamb, rosemary, and carrots. Make sure not to let any of that gravy slip away. Eat it over a plate, that way you can mop up the goodness with your pie!
Price: P49/solo, P130/large
Pie Face has branches at Techno Plaza 2, Eastwood, Quezon City; and SM Mall of Asia, Pasay City. Read more about Pie Face.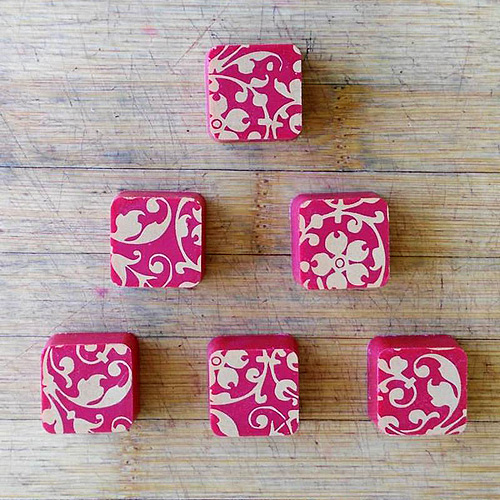 ADVERTISEMENT - CONTINUE READING BELOW
Risa's Quezo de Bola Pralines
There's always that person who comes to the party with the classic ball of Edam. Level up your gift of quezo de bola (not that we wouldn't accept this Christmas classic). Chocolate artisan Pam Lim Cinco has created these bite-sized nibbles, filling her signature chocolates with that sharp familiar flavor. It's the perfect little dessert after a hefty meal. You could give them away as party favors, too!
Price: P230/half dozen, P450/dozen
For orders, contact Risa Chocolates at 0918-942-4573, 0917-565-7185; chocolates@risa.ph.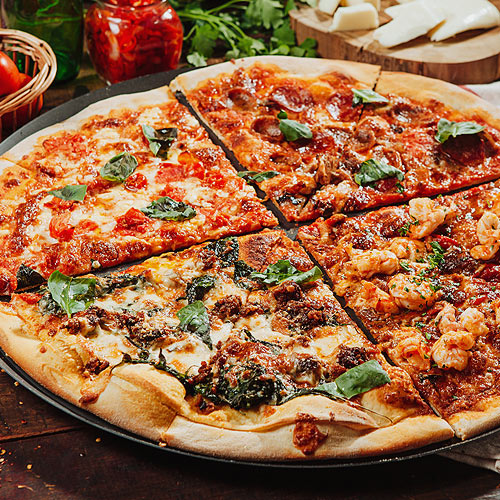 Linguini Fini's King Pin
Pizza is always welcome at any party. After the novelty of giant pizzas wore off, people dismissed a lot of them as being more about size than flavor. Not at Linguini Fini, though. It's not massive—a "puny" 18-inch disc that's fashionably New York and can hold up to four bold flavors. The soft crust is meant to be enjoyed folded lengthwise, but you can ask them to cut it into squares so there's more to go around.
ADVERTISEMENT - CONTINUE READING BELOW
Price: P995 (Try mixing The Bronx, Caprese, Longganisa and Scamorza, and Gamberetti and Peperoncino for a comprehensive setup.)
Linguini Fini is at 3/F SM Mega Fashion Hall, Mandaluyong City (531-3302). Read more about Linguini Fini.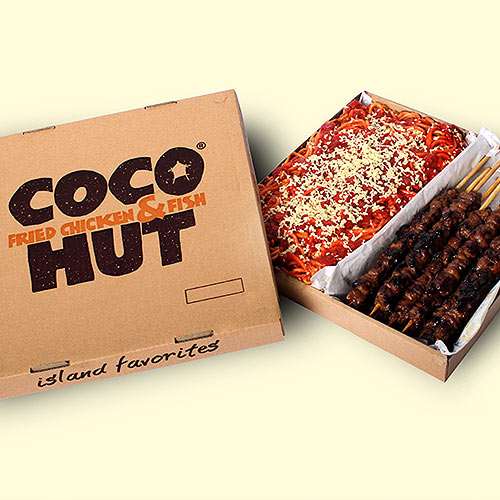 Coco Hut's HutBox
Here's something special for a simple get-together: Coco Hut's fuss-free but delicious box of celebration. They've conveniently packed up some Filipino favorites for your table, including palabok, spaghetti, Garlic Chicken Sotanghon, and Pinoy-style barbecue—all ready to enjoy for noche buena.
Price: P545 (HutBox Medium: Palabok, Spaghetti, Garlic Chicken Sotanghon), P895 (HutBox Large: Palabok, Spaghetti, Garlic Chicken Sotanghon); P995 (HutBox Half & Half: Palabok or Spaghetti or Garlic Chicken Sotanghon + 10 pieces BBQ)
Click here for a list of Coco Hut branches.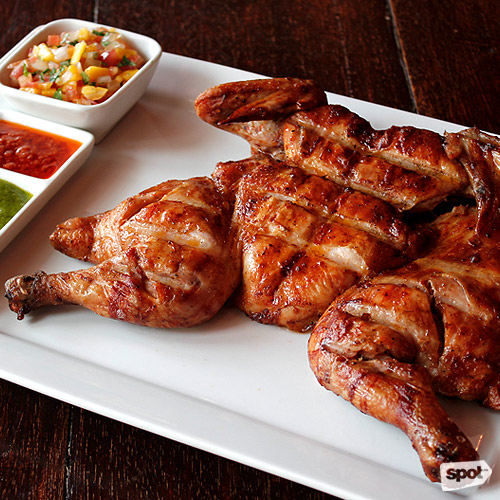 ADVERTISEMENT - CONTINUE READING BELOW
Frangos' Portuguese-style Chicken
You can't beat a chicken laden with 14 secret herbs and spices. This beautifully butterflied masterpiece is inspired by the Portuguese tradition—but improves on it. When the Portuguese learned about piri-piri in Africa, they took the ingredient back home to create a delicious and now world-famous seven-spice grilled chicken dish. In a tasty turn of events, when the Portuguese introduced their recipe in Africa, the Africans took it and reinforced those flavors further with more seasoning. Thus, Frangos' mouthwatering chicken. Have this gilded number at the heart of your table. It's like a Christmas ornament on its own.
Price: P480/whole
For orders, contact Frangos at 0917-800-7777. At least a few hours' notice is encouraged. Pick-up may take place in the store at Buma Building, 9595 Kamagong Street, Makati City. Read more Frangos.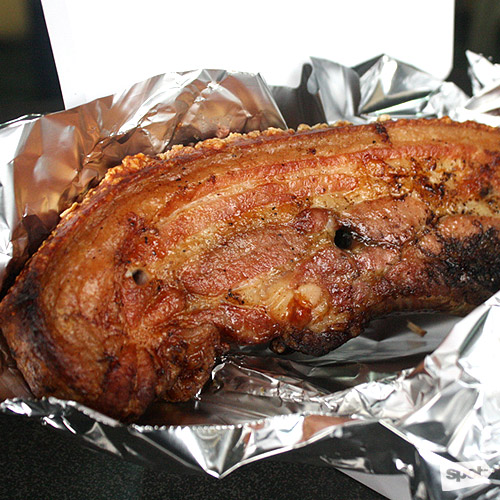 Liempo from King's Roast
If Captain Manok in the depths of Mandaluyong is too far of a stretch for you, you can get the same goodness at King's Roast, which is located in Glorietta's food court. Chef Raj Daswani has taken his spices to Makati and they remain as bold as ever. His liempo, which is currently ranked No. 1 on SPOT.ph's Top 10 Liempo (2015 Edition), is a hard-hitting slab of smoky, juicy goodness.
ADVERTISEMENT - CONTINUE READING BELOW
Price: P199/whole (We advise buying at least two orders.)
King's Roast is at 3/F Food Choices, Glorietta 4, Makati City. Read more about King's Roast.
---
Help us make Spot.ph better!
Take the short survey
Load More Stories