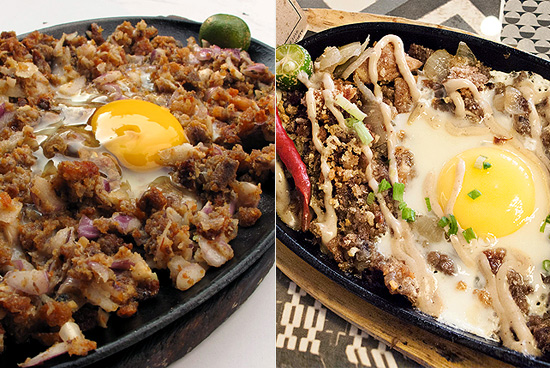 (SPOT.ph) This may come off as a bold statement, but we're confident that most of you would agree that for the Filipino foodie, it's probably not bacon we thank the pig gods for. There's the chicharon (all kinds!). There's the crispy pata. Then, there's the sisig. It's difficult to pick a favorite, but when you're confronted by a hot, sizzling, shining (bring on the fat!) plate of this glorious creation, the answer seems so obvious. What we're saying might be an overstatement, but really, how else do you describe this godsend of a gastronomic creation?
Sisig purists may argue over what truly makes an authentic platter. However, over the past five years of scouring the Metro for the best sisig there is, we're united on one thing: taste. What makes a platter of sinful, yet so undeniably hard-to-resist chopped, marinated, and sizzling pork a true champion in our bellies? The rich, bold taste of smoky and perfectly seasoned sisig which, despite its full-bodied flavor, manages to avoid being cloying—that's what spells perfection for us.
ADVERTISEMENT - CONTINUE READING BELOW
This list focuses on sisig made of pork and pig's face. Other variations today, like chicken, bangus, or tofu (huh?!), were not considered for this list. Read on to find out which of these porky sisig contenders tops the rest.
All SPOT.ph Top 10 lists are researched, paid for, tested, and selected by the writers and editors. They are discreetly conducted without any notice made to the restaurants or their owners. Hotel restaurants were not included in the review.
Also read:
10 Best Sisig in The City (2010 Edition)
Top 10 Sisig in Manila (2013 Edition)
Top 10 Bangus Sisig in Manila (2011 Edition)
10 Sisig Reinventions to Refresh This Classic Bar Chow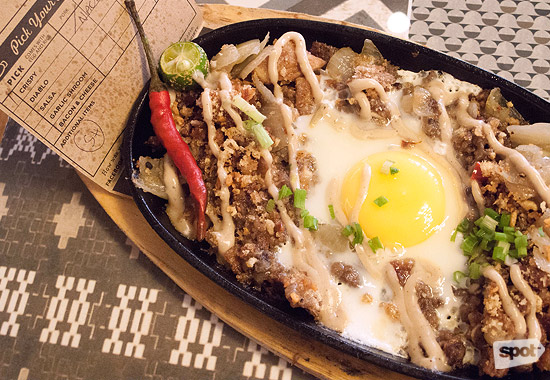 ADVERTISEMENT - CONTINUE READING BELOW
Recommended Videos
10. Sisig Society (P249)
If your party is the type to argue whether or not they want their favorite pulutan crunchy, wet, sweet, or spicy, then Sisig Society should probably be on your go-to list. Their basic crunchy sisig is loaded with chicharon, lots of onions, and a special "sarsa" that balances out the dish with its smoky flavor. We later on found out that the sauce is made of chicken liver. Whether you enjoy it over rice or nachos (our recommendation), their sisig makes you feel good to be part of society—Sisig Society, that is. Other creations include: Garlic Shroom, Bacon and Cheese, and Diablo (very spicy).
Sisig Society is at Eastwood Citywalk, Eastwood City, Quezon City (0917-571-1040).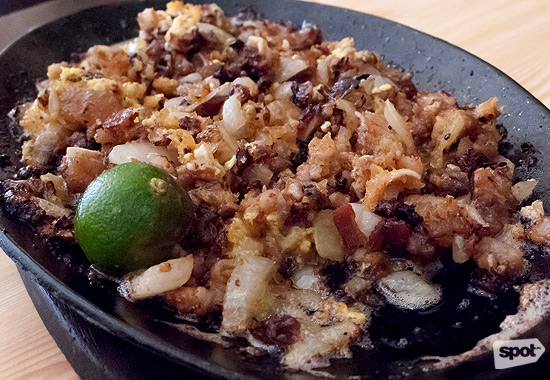 ADVERTISEMENT - CONTINUE READING BELOW
9. Icebergs (P198)
Everyone knows about their halo-halo, but Icebergs' sisig deserves recognition, too. It's served on a sizzling plate with just the right balance of crunch and succulence. The raw egg helps give it creaminess and the whole thing is best paired with a steaming cup of rice. What sets this apart from other sisig variations is that it's so distinctly Pinoy because of the touch of margarine that you can taste in every bite. Fear not though. It brings out a certain flair to the dish that makes you crave more of this inuman staple.
Click here for a list of Icebergs branches.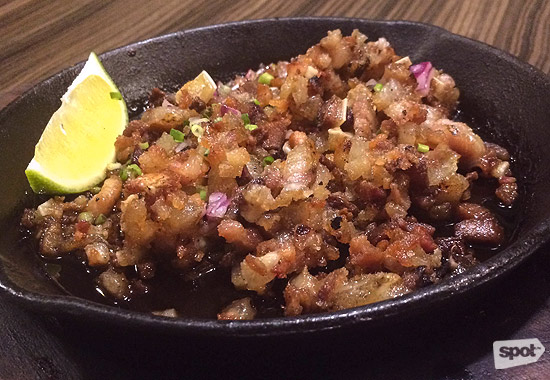 ADVERTISEMENT - CONTINUE READING BELOW
8. Sentro 1771 (P180)
Sisig will never be wholly healthy, but we love Sentro 1771's attempt. The organic sisig is made of grass-fed pig, drenched in tokwa't baboy sauce, and served with lime instead of the usual calamansi. The tanginess of the lime blends well with the soy sauce, vinegar, and onion base of the dish, making the sisig very easy on the palate despite the rich, chewy consistency you get with the pork. Another five-star addition to Sentro's menu!
Sentro 1771 has branches at Greenbelt 3, Makati City; Serendra, Bonifacio Global City; and Capitol Commons, Pasig City.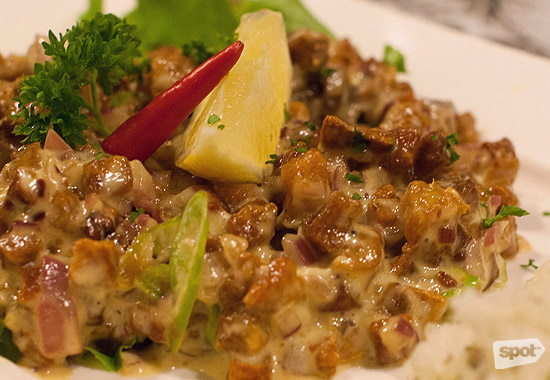 ADVERTISEMENT - CONTINUE READING BELOW
7. Relish at Ponte (P275)
Relish's take on sisig is for diners with a preference for the sweeter side of things. Each creamy serving includes a handful of onions and chunks of crispy chicharon-like morsels that cut through the richness of the recipe. Its lack of spiciness may be a dud for some, but it allows all foodies, especially the young ones, to enjoy this sisig treat. For an added kick, we recommend an extra lemon wedge and some freshly chopped chili to seal the deal.
Relish at Ponte, Ponte Salcedo, Valero Street, Makati City (519-3543).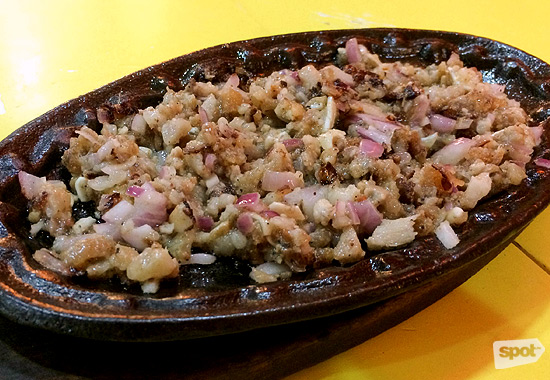 ADVERTISEMENT - CONTINUE READING BELOW
6. Aling Lucing's (P79)
Originating from Pampanga, Aling Lucing's famous sisig is now an easy feat thanks to this branch tucked within the Ortigas CBD. With just the right kunat in every bite, you know you're getting authentic sisig—that is, no fillers or extenders, just pork that's chopped, marinated, and cooked to perfection while being served on a sizzling platter. Aling Lucing's sisig flavor is on point and goes well with their soy sauce and chili concoction, both of which add zing to every bite.
Aling Lucing's is at Amberland Plaza, Julia Vargas Avenue, Ortigas Center, Pasig City.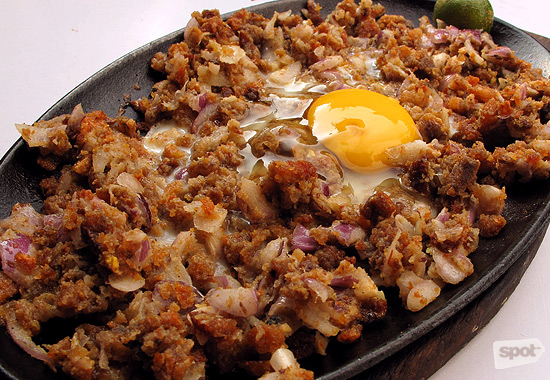 ADVERTISEMENT - CONTINUE READING BELOW
5. Aysee's (P120)
A neighborhood favorite in the Pasig area and home to athletes looking for a recovery meal, Aysee's is, without a doubt, an easy favorite among go-to sisig spots. Going for servings as huge as a bilao, you know they're doing something right. Aysee's sisig leans toward the dry side, providing you with just the right crunch and consistency. The flavor isn't too overpowering, allowing the customers to make it their own by adding a bit more chili or seasoning depending on their preference. Don't be discouraged by the wait you'll have to endure before getting seated. Trust us, it's worth every minute.
Aysee's is at St. Martin Street, Pasig City (634-0443).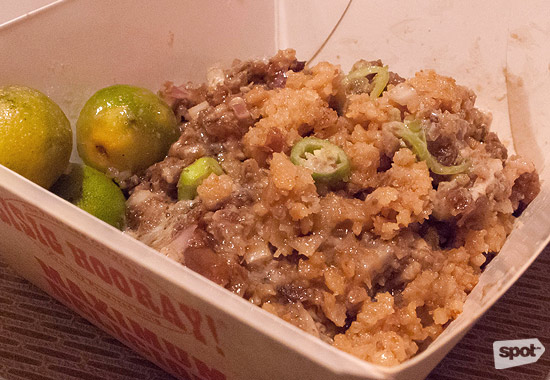 ADVERTISEMENT - CONTINUE READING BELOW
4. Sisig Hooray (P150/barkada size)
Sisig Hooray claims to be the first restaurant to prep your sisig prepared fresh before your eyes. The anticipation of watching your order being skillfully chopped away is an art form in itself, building up to five minutes of sweet torture before getting your hands on this masterpiece. Whatever their secret is, Sisig Hooray nails the flavor down to the very last morsel and leaves you wanting more of this guilty pleasure. It's equal parts spicy, sweet, juicy, and crunchy all at the same time that you just don't want your meal to end.
Click here for a list of Sisig Hooray branches.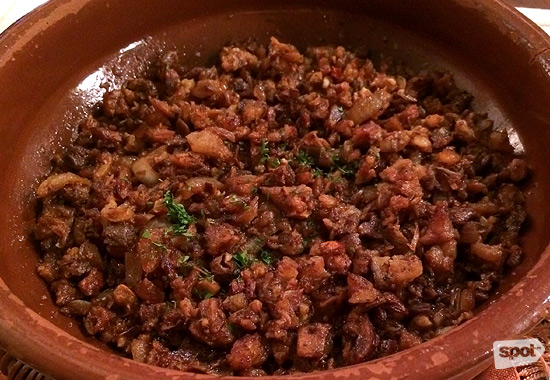 ADVERTISEMENT - CONTINUE READING BELOW
3. Cirkulo (P495)
It may come as a surprise that Cirkulo, known for its impeccable Spanish fare, would serve one of the best sisig interpretations we've ever tried. What makes this Cabeza de Cervo so special is that they only use parts of suckling pigs. It's perfectly seasoned, leaning towards a tangy side that makes the side of lemon absolutely unnecessary. The dish already flaunts outstanding balance. Grilled perfectly and not at all oily, this is probably the lightest sisig we've had—ever. Perfect with Cirkulo's wide array of fine wines, you don't even need rice to enjoy it...probably just a second order!
Cirkulo is at Milkyway Building, Arnaiz Avenue corner Paseo De Roxas Street, San Lorenzo Village, Makati City (810-2763).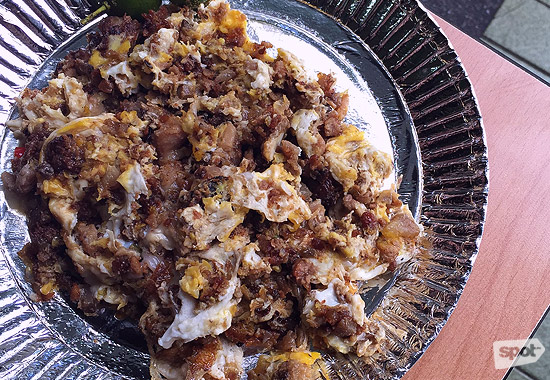 ADVERTISEMENT - CONTINUE READING BELOW
2. Sisig sa Rada (P40)
Be sure to flag your boss for an earlier lunch break when you plan to head over to this famous Jolli Jeep stall in Makati City. Called "Sisig sa Rada" by loyal patrons, it's hard to miss especially since people flock and line up for their sisig as early as 10:30 a.m. Sisig sa Rada is an institution for the office crowd, serving up a spicier version of sisig as we know it. It's crunchy, chewy, and meaty all at once, fried with a scrambled egg mixed into the dish. Every bite requires a second spoonful of rice, and every meal demands a second (or third!) visit during the same week. Rumor has it that this stall earns around P50,000 a day—how's that for a testimonial?
Sisig sa Rada is at Metrochef Stall #002, Rada Street (across 7-Eleven), Makati City.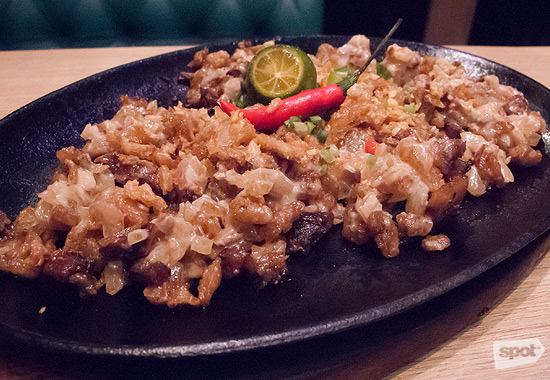 ADVERTISEMENT - CONTINUE READING BELOW
1. Manam (P130/small)
Life-changing in quite the literal sense, Manam's is habit-forming, dangerous, and heavenly. This sisig is the gateway sisig, the sisig even non-sisig eaters can become obsessed with. (We should know, we came here twice in a span of four days just because we couldn't get enough.) Watch the hot plate sizzle as wonderful chunks of crispy pork and chicharon combine the bold, smoky flavors while being balanced out by the richness and spiciness of the sauce. On top of the chicharon, the sisig itself boasts crispiness, which makes it that much more enjoyable and ultimately more addictive.
Manam has branches at Greenbelt 2, Makati City; Ayala Fairview Terraces, Quezon City; and SM Mall of Asia, Pasay City.
Photos by Mawi Dagdag and Inna Raymundo (Sisig sa Rada)
Share this story with your friends!
---
Help us make Spot.ph better!
Take the short survey
Load More Stories