Ludo Boardgame Bar & Cafe's new branch just might make your workdays better
Get ready for some food and games, Makati!
Ludo Boardgame Bar & Cafe
38 Jupiter Street corner Planet Street, Makati City
Contact: 791-8634
Open from 4 p.m. to 12 a.m. (Monday to Thursday), 4 p.m. to 2 a.m. (Friday), 12 p.m. to 2 a.m. (Saturday), and 12 p.m. to 12 a.m. (Sunday)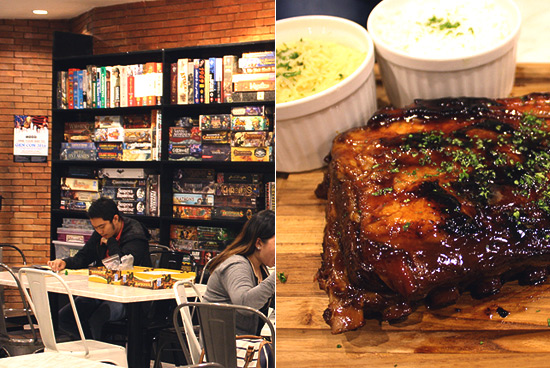 (SPOT.ph) Boardgame enthusiasts won't have any trouble spotting the familiar black-and-white sign along the bustling food strip of Jupiter Street in Makati City. Since its opening in 2014, gamers far and wide have trooped to Ludo Boardgame Bar & Cafe in Quezon City to gather around a table, share a meal, and enjoy some friendly competition.
ADVERTISEMENT - CONTINUE READING BELOW
The restaurant has recently branched out—a move co-owner Chrissy Palma says they've been planning for some time now. "We set up a Facebook poll with the options of Fort, Makati, and Katipunan, and Makati eventually won," she explains. It's a gamble that paid off for the team of five at the helm of Ludo—the restaurant just opened last October 28 and the place has been jampacked every day since. In fact, they're even considering opening for lunch because of the high demand.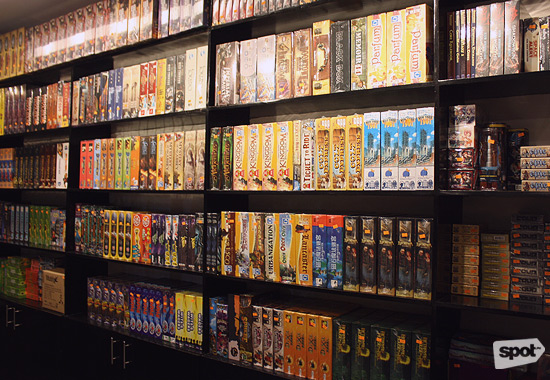 ADVERTISEMENT - CONTINUE READING BELOW
Games as far as the eye can see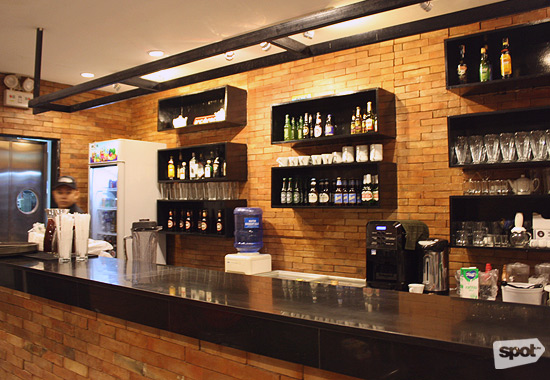 The bar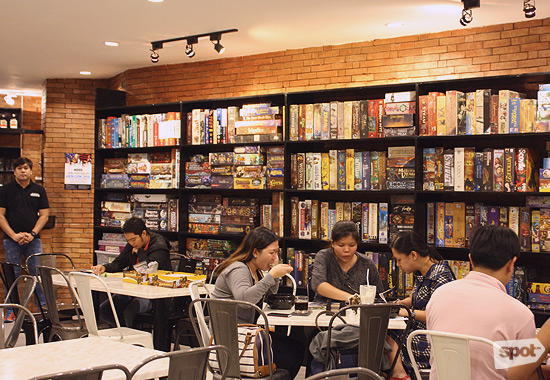 ADVERTISEMENT - CONTINUE READING BELOW
The regular gaming hall
The Jupiter branch is noticeably bigger than its predecessor, with enough space for a regular gaming hall, two private rooms, a kitchen, a bar, and floor-to-ceiling shelves of board games. The brick walls are adorned with colorful paintings that reference Dixit, a board game that is also available in Ludo. Quiet moments are rare in this space, and it's not unusual to hear yelling and the occasional expletive from ultra-competitive groups. Contemplative gamers or those averse to noise can rent a private room good for four or more people, provided they book at least a week in advance.
A bigger space means more games; in fact, the Jupiter branch houses over 800 titles and the collection steadily grows every month. "We really encourage our guests to try something new," says Chrissy. "If someone asks for Monopoly, for example, we suggest other games that are similar but at the same time, different." Still, Chrissy says many people return to their favorites, like the adult-friendly Cards Against Humanity, and the addictive card game, Splendor. To start playing, you only need one minimum food order and one specialty drink per person.
ADVERTISEMENT - CONTINUE READING BELOW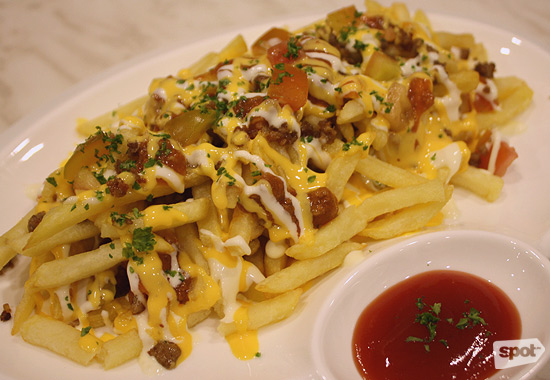 Sloppy Fries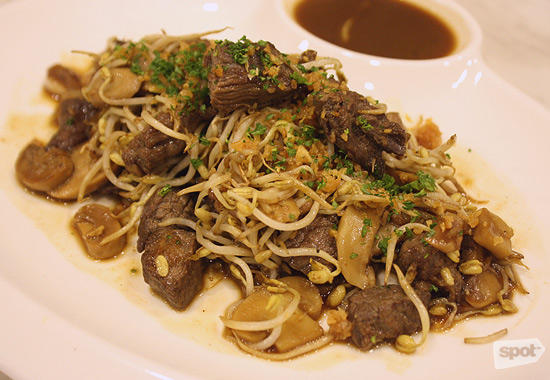 ADVERTISEMENT - CONTINUE READING BELOW
Beef Teppan
From appetizers to desserts, Ludo's menu is diverse. Dishes are designed to be conveniently devoured while engrossed in a game. For instance, the addictive Sloppy Fries (P200), a pile of crispy fries topped with cheese sauce, crispy bacon, and salsa, is hefty enough for sharing, but don't be surprised if you'll wipe it clean all by yourself. The bestseller is the Beef Teppan (P250), tender chunks of garlicky beef sauteed with earthy mushrooms—reminiscent of salpicao.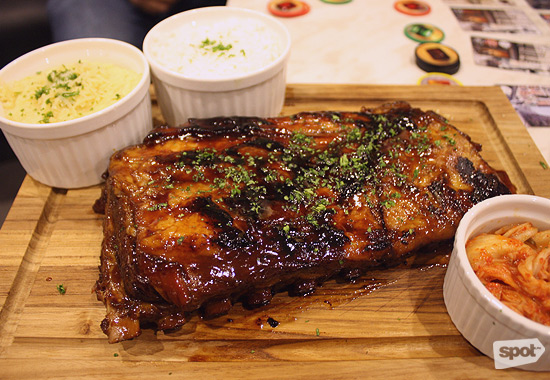 ADVERTISEMENT - CONTINUE READING BELOW
Honey-Cured Baby Back Ribs
Thanks to a larger kitchen, Ludo's also has new offerings that diners won't find in their Quezon City branch. The Honey-Cured Baby Back Ribs (P695/half slab, P1,250/full slab) is perfect for large groups. The rack is cooked at least four hours in the oven, giving you fall-off-the-bone tenderness and sweet-smoky flavor. Homemade Korean kimchi on the side provides acidic contrast. You can add P30 for rice, but we recommend splurging P100 for their mashed potato—smooth, fluffy, and amplified with creamy cheese.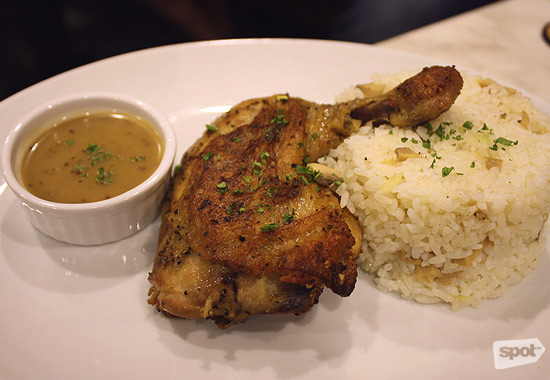 ADVERTISEMENT - CONTINUE READING BELOW
Lemon Pepper Chicken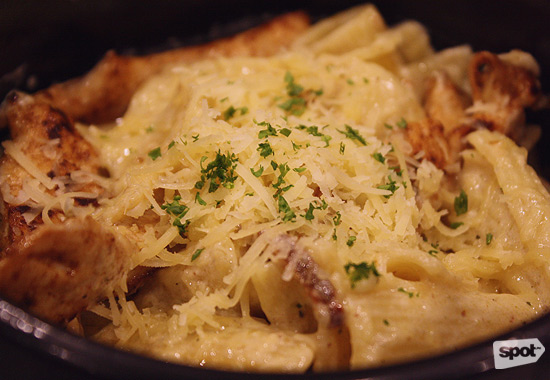 Pesto Chicken Alfredo
In the case of the Lemon Pepper Chicken (P250), make sure to douse every flavorful piece with their special herb sauce and pair it with a cup of mushroom rice for a filling meal. Meanwhile, pasta lovers should make a beeline for the Pesto Chicken Alfredo (P250), a bowl filled with of chicken chunks and rigatoni pasta generously enveloped in sundried tomato pesto, and cream sauce. You'll be glad they don't scrimp on the latter.
ADVERTISEMENT - CONTINUE READING BELOW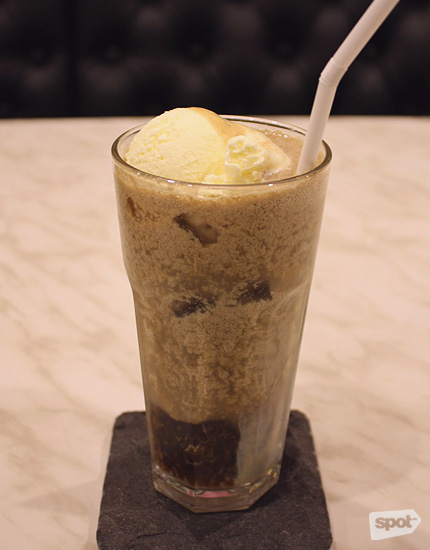 King's Landing Float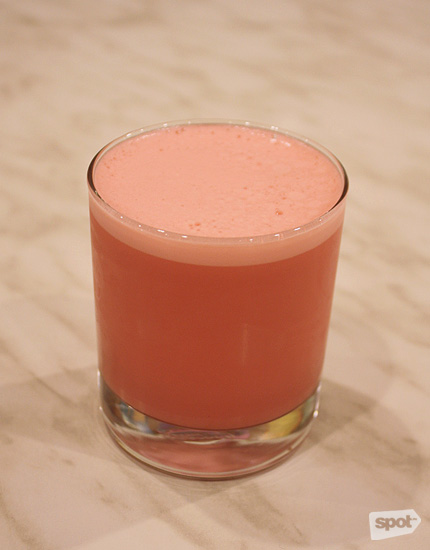 ADVERTISEMENT - CONTINUE READING BELOW
Queen's Gambit
Geeky fans will also love the creatively titled specialty drinks that reference your favorite movies and TV shows, from the King's Landing Float (P250) to the Millenium Falcon (250) and the Kevin Bacon (P200).
It's easy to see why the gaming community still flock to Ludo, despite the increased number of similar establishments around the Metro. They're so passionate that you'll find yourself joining in on all the excitement in no time; bring home the fun with your own board game (Ludo sells them at a lower price!) or sit back and stay awhile. They won't mind.
Recommended Videos
Load More Stories