Best of Manila: 100 Great Restaurants of 2015
From international chains to home-grown holes-in-the-wall, we list the must-tries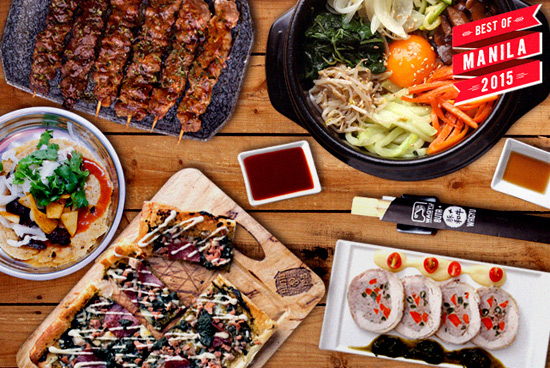 (SPOT.ph) As more restaurants continue to open in Metro Manila, we find that Filipinos are getting hungrier and hungrier. It's not for food exactly, goodness knows we have a lot of that. They're hungry for good—nay, great food; they're hungrier for diversity, for creativity, for new habits and not just one-time "let's try this" things.
This year, we not only welcomed a lot of global franchises, but we witnessed the rise of a different style: small, intimate neighborhood destinations that are happily settled in their unassuming locations, whether it's in an upscale village in Makati or the homey districts of Marikina. Mind you, they may be tiny, but they're bursting at the seams with customers. We haven't even considered the long line outside.
From holes-in-the-wall to grand eateries, we listed this year's best and buzziest. 
Only restaurants that opened between the last quarter of 2014 and 2015 were included on this list.
PAGE 1 (scroll down):
GETAWAY CAFES
COFFEE OR TEA
FAMILY FIRST
SUPER PINOY
MEAT STREET
MAKE NO MIS-STEAK
TOO FAST, TOO GOOD
PINKIES IN THE AIR
HE-MAN CLUB (WOMEN WELCOME)
HEALTHY HAVENS
COOL ASIANS
SKEW YOU
INTERNATIONAL DINING SENSATIONS
HISPANIC
HOLES-IN-THE-WALL
GNARLY CONCEPTS
TURNING JAPANESE
DESSERT TO THE NINES
LITTLE SWEET STOPS
ICE AND CREAM
GETAWAY CAFES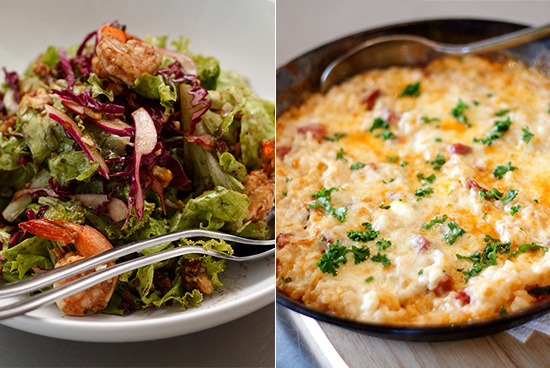 Café Sanso
32 V. Cruz Street, San Juan City
Café Sanso is where food and art find a happy rendezvous. It's named after Juvenal Sanso, a great Filipino modern artist. The cuisine is Spanish and it follows its namesake's style. The food features refreshed takes on classics, with the flavors bold and deep, and the colors bright.
ADVERTISEMENT - CONTINUE READING BELOW
Must-tries: Francesinha (P350), Chorizo y Quezo Paella (P450)
Read more about Café Sanso.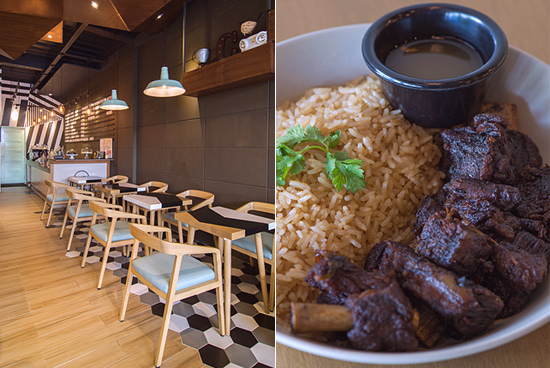 Catabolic Café
22 Malingap Street, Teachers Village Quezon City
Contact: 366-8822
This third-wave café is designed by Nix Alanon and it's probably the chicest place in the area. We love the clever mix of modern and vintage details—the juxtaposition of black against white walls, the navy stripes at the far end that remind us of awnings, and the elegant brightness of mustard-y chairs. Catabolic Café refers to "catabolism" or the breaking down of molecules to release energy. Co-owner Dylan Avila says that their goal is to help people recharge. 
Must-tries: Iced Mocha (P140), Chicken and Waffles (P330)
Read more about Catabolic Café.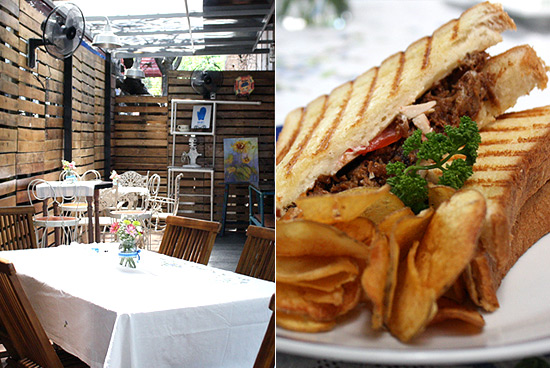 Nikko's Baking Studio
59A Paseo de Roxas Street, Makati City
Contact: 887-1711
This gorgeous wood-lined space is kind of how we picture our future (or imaginary) country home. Well, at least the patio of it. Nikko's Baking Studio is al fresco, just a large porch because the indoor space dedicated to Chef Nikko Buendia's bakery and classroom. It's such a gorgeous pocket of space in the middle of Makati. According to Nikko's brother, Nino, the chef pulled out furniture from their family's home (to their mother's disdain) to create this picturesque, rustic look. The recipes are delicious and home-style—Nino's favorite or a special request from her daughter. This simple restaurant is truly a family affair.
Must-tries: Ultimate Grilled Cheese Sandwich (P290), Martie's Flaky Tapa (P280), Adobo White Sandwich with Kesong Puti (P260)
ADVERTISEMENT - CONTINUE READING BELOW
Read more about Nikko's Baking Studio.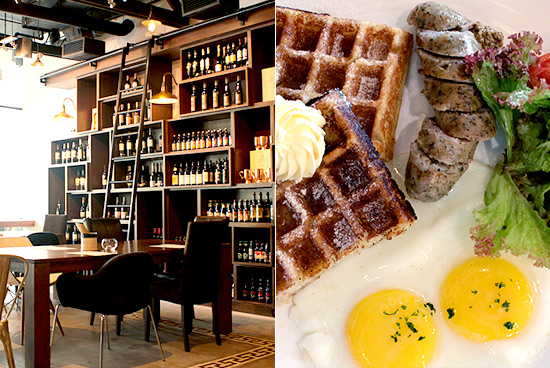 Single Origin
2/F Bonifacio High Street Central, Bonifacio Global City
Contact: 894-4042
Carlo Lorenzana (Shi Lin, La Cabrera) and Dodjie Violago (Ba Noi's) first teamed up for Japanese-Peruvian haunt Nikkei. A week later, they opened Single Origin, a bid-for-your-entire-day restaurant that starts with eggs and ends with cocktails. It's a cozy, honey-hued place, like someone's study but with a wall of wine and other spirits. We're partial to the breakfast options, but the dinner menu is no slouch. Everything on the menu is pure comfort. Single Origin has a great coffee and tea selection, too (Carlo distributes the Lamill brand in the Philippines).
Must-tries: Waffles (P220 to P320), Homemade Corned Beef Benedict (P240), Crab Fat Pasta (P260)
Read more about Single Origin.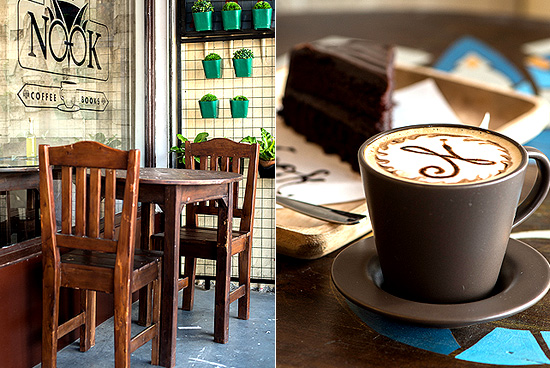 The Nook
Maginhawa Street, Sikatuna Village, Quezon City
Contact: 0915-974-3660
It is near impossible to get a seat at The Nook these days. The playful café veers towards a Harry Potter theme and everyone is excited to witness a little magic in their ordinary Muggle lives. When you look at the ground floor from the loft, you'll see that the tables form the shape of owl eyes.
The cuisine is simple and thoughtfully designed. Owner Nicole Guanio puts out small plates, perfect little bites that will tide you over as you while the afternoons away. They also serve the best Butterbeer in Metro Manila.
Must-tries: Goyazilla Saur (P75), Butterbeer, Matcha Hazelnut (P100)
Read more about The Nook.
COFFEE OR TEA
ADVERTISEMENT - CONTINUE READING BELOW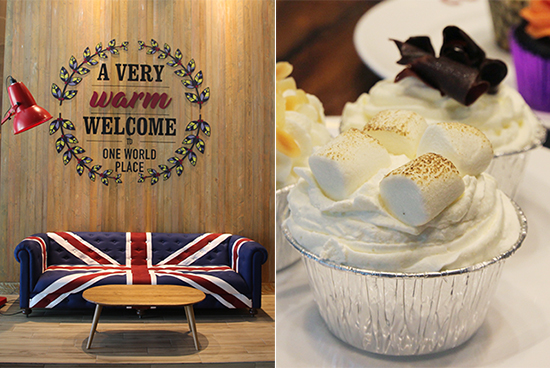 Costa Coffee
Click here for a list of Costa Coffee branches.
This London-themed coffee chain not only boasts great coffee, the food is delicious, too! Costa is the number-one coffee shop in the United Kingdom and, over 40 years since it was founded in 1971, the company still sources their beans (a meticulous blend of Arabica and Robusta) from their original roasting location on Old Paradise Street, London. The beans are roasted low and slow for about 18 to 20 minutes to get just the right sweetish note, and they taste so good, adding sugar feels superfluous. Costa wants their caffeine to be the highlight of the experience and they put around two shots of espresso in their Flat White!
General manager Corinne Milagan is particular with their coffee-side treats, picking each herself.
Here's a fun fact: To cater to sweet-loving Pinoys, Costa Coffee created a frozen coffee blend called Frostino. It was first launched in Manila and is now slowly being introduced to other Costa branches in the world.
Must-tries: Caffe Caramella (P145 to P170), Flat White (P150), Frostino (P160 to P185)
Read more about Costa Coffee.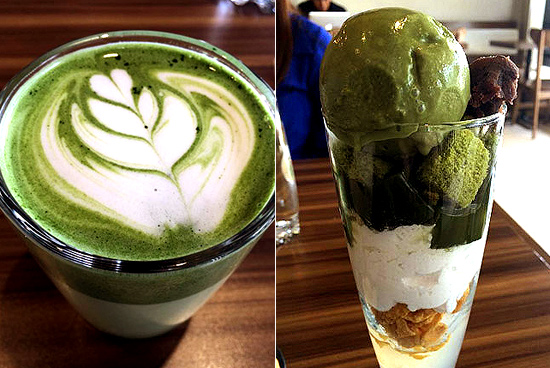 Kissako Uji Matcha Café
Pioneer Center, Pioneer Street corner Brixton Street, United Avenue, Pasig City
Contact: 730-3356
You'll find your perfect matcha in Kissako. This tiny café is green tea powder central, impressing matcha lovers with their earthy, green concoctions. Apart from drinks and ice cream, they also have ramen. What makes them different from others serving the same stuff? Well, apart from the fact that matcha is their entire premise, Kissako banks only on the freshest green tea products. Anything older than two months is chucked. That's how the Japanese do it.
ADVERTISEMENT - CONTINUE READING BELOW
Hey, did you know you can cross-order Kissako from the neighboring Takashi restaurant?
Must-tries: Matcha Latte (P150), Matcha Parfait (P195)
Read more about Kissako Uji Matcha Café.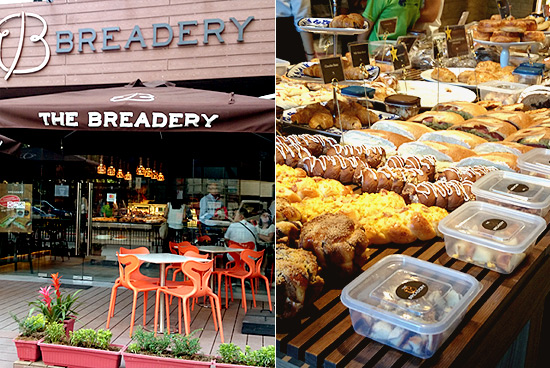 The Breadery
Emerald Mansion, Emerald Avenue, Ortigas, Pasig City; UP Town Center, Quezon City
We don't know why this two-store bread shop falls under the radar. The breads are baked fresh and they are so darn delicious, they might as well hide the samples whenever we visit. The Breadery lays out the day's bakes on a wooden table, shiny carbs displayed in all their glory. It's a difficult decision every time. Apple Pie or Taro Swirl? Almond Croissant or Milkshake Bread?
Because pastries work so well with coffee, The Breadery has a wonderful selection. They're especially savvy with their cold concoctions. The Breadery definitely has the best cold brew coffee in Manila.
Must-tries: Almond Croissant (P60), Canele (P75), Spinach Bacon (P110), Dolce Fine Shooter (P180), Cold Brew San Pellegrino (P190)
Read more about The Breadery.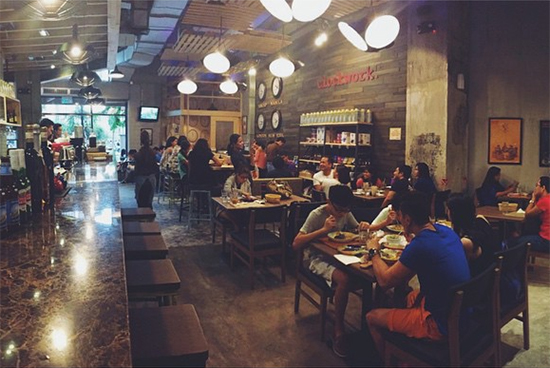 UCC Clockwork
Blue Bay Walk, Macapagal Avenue corner EDSA, Pasay City; Estancia, Capitol Commons, Pasig City
Hubert Young had a vision. When he saw third-wave coffee shops making it big in the Philippines, he sought to bring that style to UCC as well. He was confident that the Japan-based coffee company not only had the products but also the know-how to pull it off. His Japanese principals weren't convinced, but Mr. Young, who also owns Yamato Bakery, Mitsuyado Sei Men, and CoCo Ichibanya, persevered and explained his concept. UCC's hip third-wave in the Philippines is the first in the world.
ADVERTISEMENT - CONTINUE READING BELOW
Must-tries: Crabby Fatty Omurice (P350), Indian Curry (P270), Adobo Floss Pasta Plate #OMG (P320)
FAMILY FIRST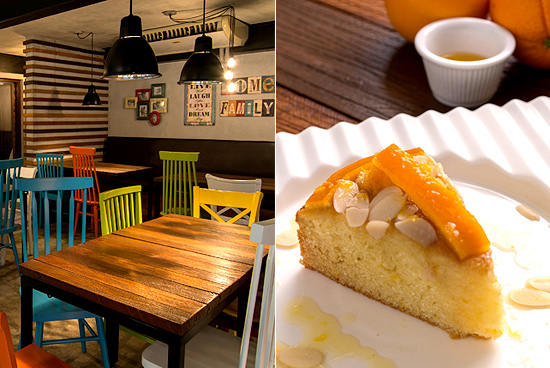 5 Loaves & 2 Fish
G/F The Rock Lifestyle Hub, Holy Spirit Drive, Don Antonio Heights Subdivision, Quezon City
Contact: 0920-917-0167
Husband-and-wife team Dinah and Anthony Miro ultimately let their faith guide them to opening a restaurant. 5 Loaves & 2 Fish is anchored on this unlikely theme, and the name is a reference to a Bible verse that speaks of faithfulness, generosity, and love. Bright and welcoming, the Miros designed their two-storey venue for celebration and their food is a reliable set of hearty crowd-pleasers. Dinah is a dessert whiz so don't dare leave without trying a cake or three.
Must-tries: Salmon with Four Cheese (P350), Spaghetti with Chicken Parmesan (P225), Lasagna (P230), Hazelnut-Cocoa Banana Crepe Cake (P125)
Read more about 5 Loaves & 2 Fish.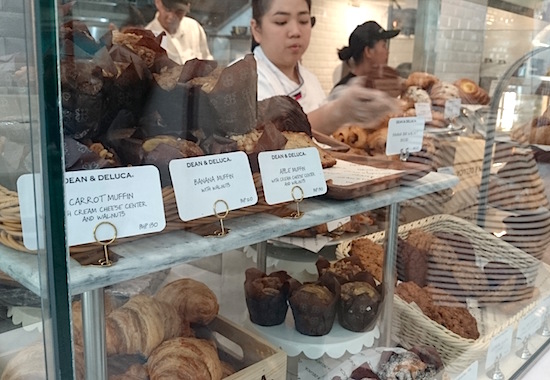 Dean & DeLuca
Rockwell Edades, Makati City
We're the first to point out that there's still a lot of improvement to be had, especially when it comes to service, but we're focusing on the flavors here. The Philippine franchise is more restaurant than grocery store and the menu gathers a good array of bakes and café-type dishes. Pizzas are baked fresh from a wood-fire oven near the door—no doubt for ventilation purposes, but we love how the smoky pizza smells wave us in.
Must-tries: Almond Croissant (P120), Housemade Sausage Pizza (P520), New York Cheesecake (P180)
Read more about Dean & DeLuca.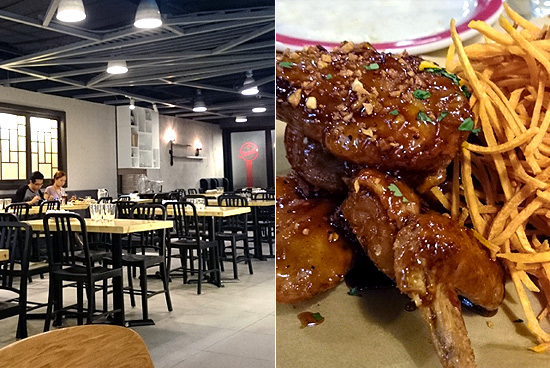 Fireside by Kettle
3/F SM Mega Fashion Hall, Mandaluyong City
Contact: 532-1807
ADVERTISEMENT - CONTINUE READING BELOW
Dare we say that Fireside by Kettle is actually better than Kettle? That is still debatable. Each restaurant flaunts its own brand of charm. Fireside, we believe, is much more rustic; the flavors noticeably lean towards an Asian influence; and the dishes take more time on the grill.
Must-tries: Grilled Chop House Salad (P189 to P389), Buttermilk Fried Chicken Fingers (P489), Smoked Mac and Cheese (P209)
Read more about Fireside by Kettle.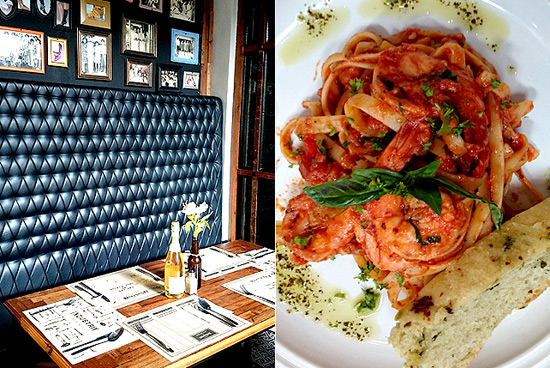 Industriya Marikina
23 MA Roxas Street, Calumpang, Marikina City
Contact: 632-9225
You don't need to be familiar with the building's history to know that it used to be a shoe factory. From the recycled leather upholstery to the shoe lasts on the gate to the doodles on the placemat to the décor (old shoe-making mechanisms given renewed life). Industriya Marikina is one of those be-all restaurants. The space is huge, with a main dining area, several private function rooms, as well as a ballroom complete with bedrooms for preps. The menu matches the venue's versatility: It's an entire atlas of cuisine from around the world—and they have off-menu stuff, too. It can get a tad overwhelming, but we're impressed by how everything, despite the volume, manages to taste good.
Must-tries: Pizza Bianca (P285), Kare-Kare (P495), Truffle Cream Pasta (P220)
Read more about Industriya Marikina.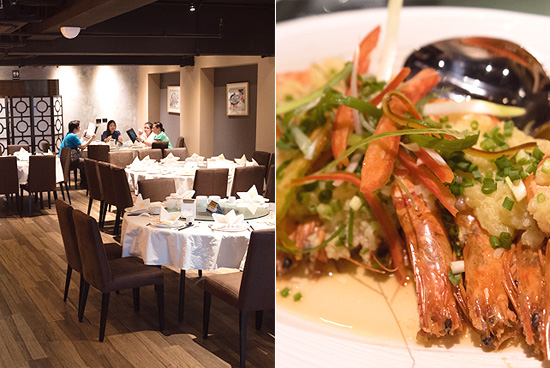 Ming Kee
7852 Makati Avenue, Makati City
Contact: 893-4533
Live seafood has never tasted better. This Singaporean franchise allows customers to pick their choice of seafood and have it cooked from a catalogue of preparations—Singaporean chili style, plain steamed, with garlic, and more. Ming Kee is essentially Chinese in cuisine, but this elegant space in the middle of Makati's hurly-burly is more than your average noodles. It gives something commonplace renewed relevance. Try the Yang Chow rice and you'll understand.
ADVERTISEMENT - CONTINUE READING BELOW
Must-tries: Yang Chow (P300 to P600), Crab Beehon (approximately P2,500), Crispy Fried Chicken (P480 to P960)
Read more about Ming Kee.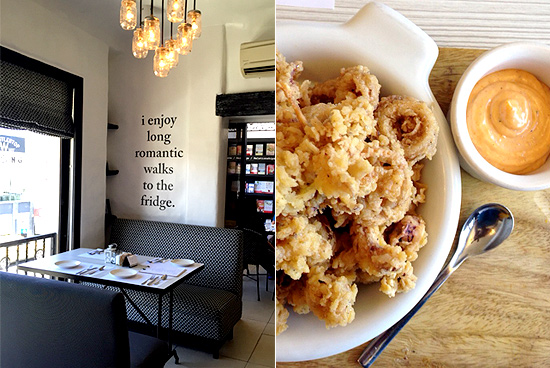 Neil's Kitchen
L701 Westgate, Filinvest Corporate City, Alabang, Muntinlupa City
Contact: 772-1334, 710-8962, 524-7403, 0917-841-7401
Neil's Kitchen is a large stucco-type Mediterranean building. From the outside, it looks like an art gallery; inside, it's an organized jumble that includes a wall with birdcage, a unicycle, a chair, and even a bunny. Self-taught chef and owner Neil Ramos wants to remind people that food should always be fun, hence the dose of whimsy. The place is full of witty one-liners like "I enjoy long romantic walks to the fridge" and "Count the memories, not the calories." The affable chef opened the perennially booked restaurant so that people could have a taste of what his catering company could do, but the menu took on a life of its own. Detouring from his intercontinental specialties, Neil's Kitchen offers Pinoy food with an "Instagram-worthy" twist. Thank goodness that translates to flavor, too!
Must-tries: Sinigang Paella with Grilled Pork Belly (P350), Fried Suman, Mangga & Chocnut (P250)
Read more about Neil's Kitchen.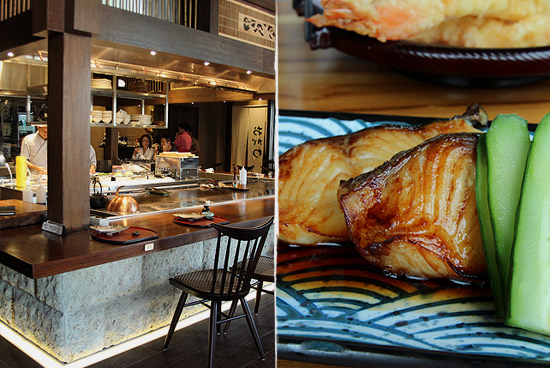 Ogawa
2/F The Fort Entertainment Complex, Fort Strip, 5th Avenue corner 28th Street, Bonifacio Global City
Contact: 886-4994, 886-4996
Owner George Pua and Chef Kiyoshi Ogawa guarantee a well-rounded experience, and it's one that doesn't end with the stellar menu of all-around Japanese favorites—from sushi to bento to tempura to ramen. The entire restaurant is absolutely stunning. You even have to walk over a little river (ogawa means "little river") on a picturesque bridge to enter the hundred-year-old door. It's your portal straight to Japan.
ADVERTISEMENT - CONTINUE READING BELOW
Must-tries: Ryo Goku Gozen (P550), Tempura (P290 to P580), Gindara (P750)
Read more about Ogawa.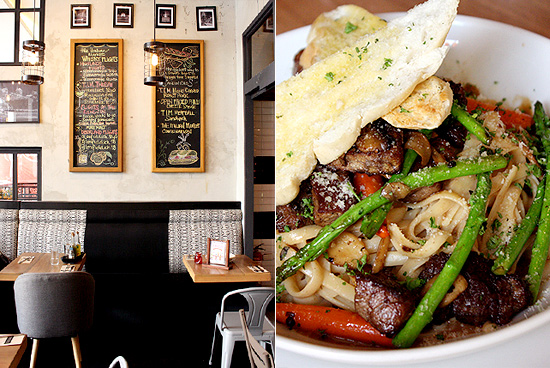 The Italian Market
G/F Newport Mall, Newport Boulevard, Resorts World Manila, Pasay City
Contact: 403-8926, 0917-589-2342
There is a big and scary oven at the far end of The Italian Market. It's hot—the heat radiates throughout the restaurant—with the flames dancing wildly inside. The oven was imported for P1.3 million. "I got this over, so I'm going to cook everything in it," says Chef Peter Ayson. The chef works it hard. The temperature can reach over a thousand degrees and it would take around three days to totally cool. Prep time at The Italian Market is incredibly calculated: it would be switched off by 10 p.m. and by the next morning, it would be 400 degrees—the perfect time to bake their breads and pizzas. As the day moves along, it gets hot enough for their meats. The concept is Philadelphia-Italian, stressing on rustic and casual. Everything in this restaurant is home-grown and homemade.
Must-tries: Buttered Lobster Pizza (P580), Green Pie (P360), The Perfect Combination (P750), Rib Eye Stroganoff (P680)
Read more about The Italian Market.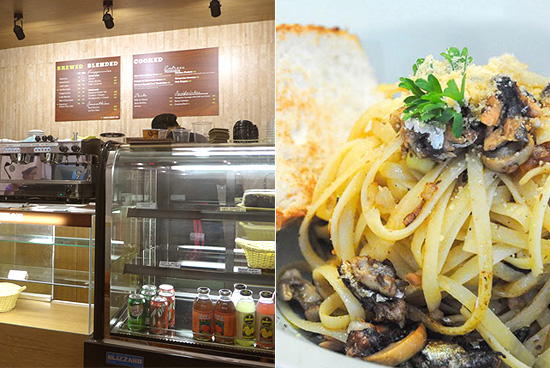 Theo's Baked + Brewed
106C Maginhawa Street, Teachers Village, Quezon City
Contact: 434-1451, 0922-808-8314
This friendly venue smells amazing—a scrumptious mix of coffee and cake. Theo's Baked + Brewed tries to recreate the feeling of home but with the whimsy of a treehouse. Owned by husband-and-wife team Alfred and Crystal Retuya, the restaurant tries for a diverse clientele, from students to families. The mismatched furniture are arranged to cater to all kinds of groups: There's a hammock for those looking to relax, banquet tables for big family affairs, wooden stools for barkadas, laptop nooks for students.
ADVERTISEMENT - CONTINUE READING BELOW
Must-tries: Mama's Special Beef Steak (P180), Chicken Pockets (P155), Slow Braised Osso Buco (P220)
Read more about Theo's Baked + Brewed.
SUPER PINOY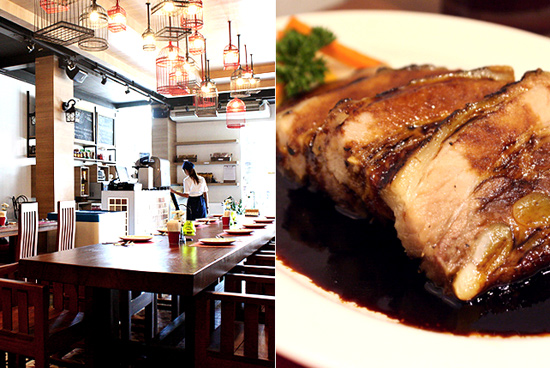 Alab
67 Scout Rallos Street corner Tomas Morato Avenue, Quezon City
Contact: 364-9631
Chef Tatung Sarthou is back in Quezon City and is once again acquainting Manila with regional Filipino food and offering new twists on familiar fare. Long-time fans of his work would be happy to know that he carries over many of his specialties from his previous endeavors. Like any other Filipino restaurant, this bright and cozy space is loud with the flavors. Maybe even louder than most.
Must-tries: Pianggang (P270), Tinumok (P150), Bibingka Cheesecake (P140)
Read more about Alab.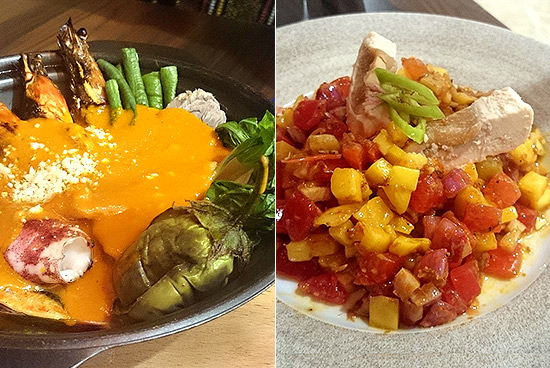 Apu
UG/F Aseana Avenue corner Roxas Boulevard, Entertainment City, Parañaque City
Contact: 887-1651
Apu is run by the same people behind posh destination restaurant, Caviar, at Westgate Center. While the restaurant can almost be described as fine-dining compared to the casual, family-oriented style of other Filipino restaurants, the menu is chock-full of traditional dishes and classic flavors.
Must-tries: Sinigang (P680), Seafood Kare-Kare (P750), Chicken Inasal (P450)
Read more about Apu.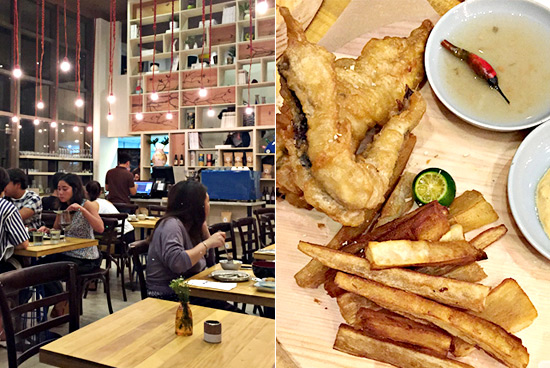 Kafe Batwan
122 Joya Lofts and Towers, Amorsolo Drive, Rockwell, Makati City
Kafe Batwan is more than a high-end version of JP Anglo's earlier project, Sarsa. It's also Filipino food, yes, but it's familiar fare reimagined, revamped, amplified, and, in some cases, improved. The menu is a gallery of native produce, each used to its full potential. We're inventing a term for it—cosmopolitan Filipino. It adds a certain sophistication to our usual humble cuisine; just look at the hip interiors.
ADVERTISEMENT - CONTINUE READING BELOW
Must-tries: Batchoy (P450), Kansi Panada (P250), Twice-cooked Liempo (P295)
Read more about Kafe Batwan.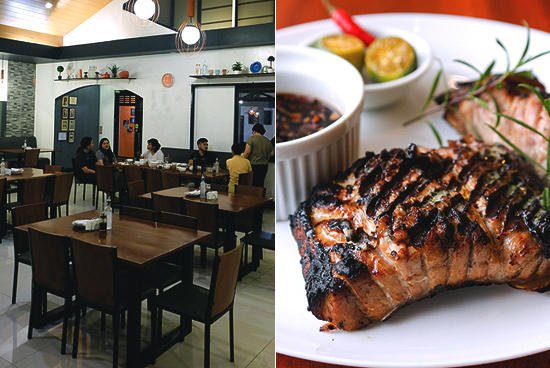 Sinigang
162 Aguirre Avenue, BF Homes, Parañaque City
Contact: 738-7627
Sinigang used to be a bright orange restaurant called Orange Whisk. It sold a medley of global savory dishes (pretty good ones, too) and chewy éclairs. Unfortunately, that project was difficult to market. Owners Isaiah and Korinne Ortega regrouped and came up with something much more straightforward—featuring everyone's favorite sour broth (nope, not tom yum). Some of Orange Whisk's bestsellers were kept onboard, but the menu has more focus now. Head chef Isaiah takes inspiration from the regions, and his soups feature different souring agents from all over the Philippines. There are non-sinigang items, including a sour bulalo!
Must-tries: Sinigang na Salmon sa Libas (P395), Kansi Laman (P260)
Read more about Sinigang. 
MEAT STREET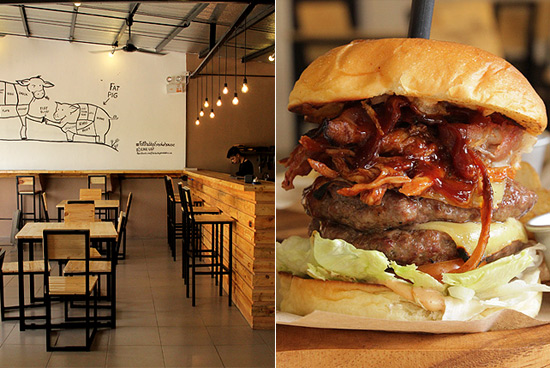 Fat Daddy's Smokehouse
171 Dao Street corner East Drive, Marikina Heights, Marikina City
Contact: 0917-562-6531
Bring your innate caveman when you head over to Marikina. Fat Daddy's is carnivore central, presenting meat in its smoky, barbecued glory. What we love about Fat Daddy's (apart from the fact that it is now air-conditioned) is that, except for actually raising their own livestock, they make everything from scratch. The brisket is smoked for 16 hours, the corned beef is cured for 10, the rolls are baked fresh. Fat Daddy's is owned by the children of catering go-to Josiah's, and it seems that their parents have made them understand what it takes to create good food.
ADVERTISEMENT - CONTINUE READING BELOW
Must-tries: Smoked Beef Brisket (P320), Jera's Ultimate Pulled Pork and Bacon Nachos (P280), Hot Pork Poppers (P90), Corned Beef and Hash (P190)
Read more about Fat Daddy's.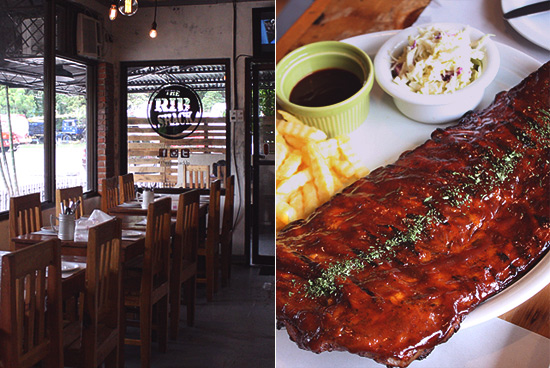 The Rib Shack
PDC Compound, Rose Avenue corner Aguirre Avenue, Pilar Village, Las Piñas City
Contact: 0917-887-4225
Chef Ernest De Jesus had been selling his barbecued ribs only at their family resort when a friend advised him to take things further. They opted for a quieter side of the South instead of the wild hustle of BF. Ribs are the crown jewels, but we'd say the specialty is really likeable dishes, like mashed potatoes, pulled pork sandwiches, and wings. Chef Ernest's strategy is to make everything flavorful, but not to the point of being overpowering, an in-between that caters to many different tastes.
Must-tries: Ribs (P250/Single, P475/In A Relationship, P805/It's Complicated), Buffalo Wings (P290), Pulled Pork Sandwich (P240)
Read more about The Rib Shack.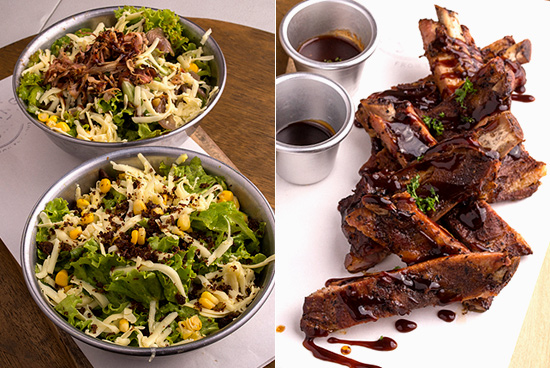 The Smoking Joint
308 Aguirre Avenue, BF Homes, Parañaque City
Contact: 834-2970
The name and the 4:20 p.m. opening time may seem punny, but the folks at The Smoking Joint take smoking seriously—smoking meats, that is. Everything is dry-rubbed and smoked low and slow for 10 to 12 hours. With their smoker working overtime and their beef undergoing such meticulous preps, it's understandable that they use the products on everything. You'll see every kind of smoky permutation here—from as-is slabs to shreds on bread and even to burgers!
We love that their non-smoked, non-meat-centric items are just as good!
ADVERTISEMENT - CONTINUE READING BELOW
Must-tries: Brisket (P190/100 grams), Smoked Duck on Pan de Sal (P200), Mac n Cheese (P90)
Read more about The Smoking Joint.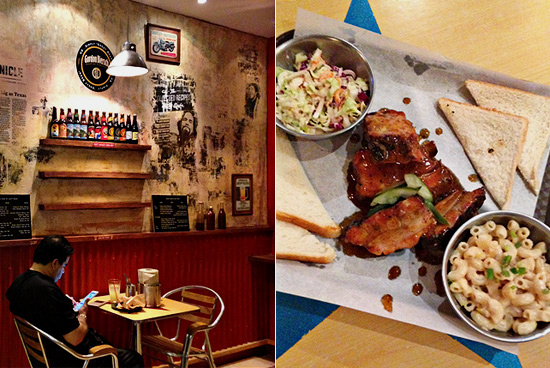 Woody's Texas Barbecue
7838 Makati Avenue, Makati City
Contact: 890-3192
The original Chihuahua branch is now a Texas barbecue joint! Owner Elian Habayeb moved to the Lone Star State when he was 13 and barbecuing was practically religion. So here, the beef brisket is coated in house-made barbecue sauce, the ribs are massive, and sides are hearty. The flavors are definitely unabashed, and what's not to love about a place full of meat? Who won't be in a jolly mood when you have a background of country and '80s music?
Must-tries: Ribs (P255/plate, P565/pound), Mac and Queso (P60 to P250), Beef Brisket (P235 to P625)
Read more about Woody's Texas Barbecue.
MAKE NO MIS-STEAK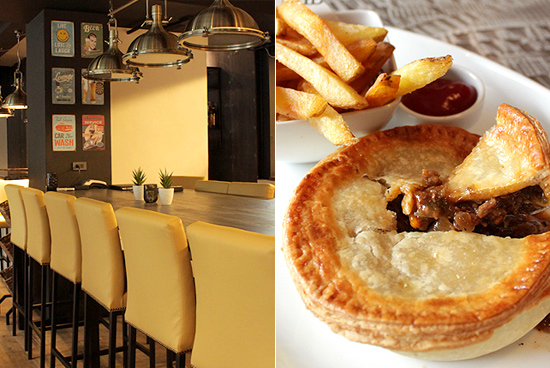 Bondi & Bourke
G/F Cattleya Building, Salcedo Street, Legazpi Village, Makati City
Contact: 833-1812
We're sure you're now aware that Australian food isn't all about Vegemite. Well, at least not at Bondi & Bourke. Chef Wade Watson explains that Australian food consists of a lot of protein—steaks, chicken parmas, lamb, meat pies. Hefty, fresh, nothing too intimidating. The venue itself has the makings of an upscale restaurant (you can surely throw a fancy party here), but it's normally casual and relaxed. How else can you enjoy their giant burgers?
Must-tries: Classic Australian Meat Pie (P795), Classic Steak Meat Pie (P445), Beef Burger (P585)
Read more about Bondi & Bourke.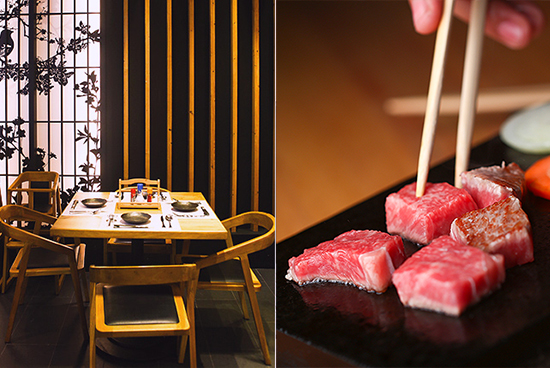 Buta + Wagyu
5/F SM Aura Premier, Bonifacio Global City
Contact: 946-7262
ADVERTISEMENT - CONTINUE READING BELOW
Maybe you've heard of a little meat shop called Wagyu Japanese Beef at Sunvar in Makati? You could consider this its restaurant accompaniment. Buta + Wagyu offers a more comfortable dining environment while providing the same affordability and quality (they only serve A5 grade) Wagyu meats. Co-owner Wesley Villarica tells us that their supplier sends them whole A5 Wagyu to be carved by their in-house Japanese butcher who expertly breaks down the sirloin, rib eye, and chateaubriand. Another butcher at Buta + Wagyu preps these for cooking. The Sunvar store focuses only on steak and a few sides, but the restaurant serves heftier fare, including chahan, bibimbap, kimchi, and ramen!
Must-tries: Steamed Wagyu (P12.10 to P14.50/gram), Chateaubriand (P14.80 to P17.20/gram)
Read more about Buta + Wagyu.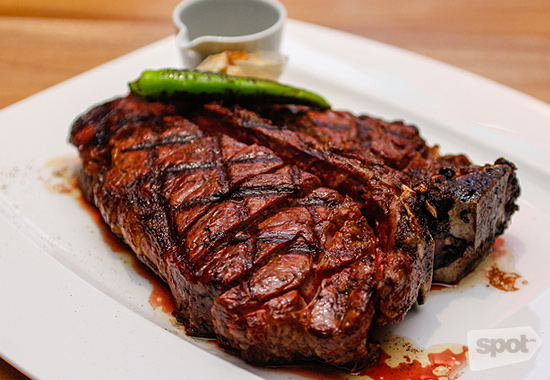 Ruby Jack's Steakhouse
UG/F City of Dreams Manila, Aseana Avenue, Parañaque City
Contact: 801-8888
The Ruby Jack's in City of Dreams is only the second in the world. Australian-born Matthew Crabbe started it in Tokyo, naming the restaurant after his tough-as-nails maternal grandfather and feisty paternal grandmother. The interiors are a near replica of the Japan flagship and, though several ingredients are sourced locally, the meat is imported. The modus is steaks in different varieties—from beautifully marbled meats from Japan to hulking lean cuts from Australia.
Must-tries: T-Bone (P2,800/250 grams), Japanese Ohmi A5 Wagyu Striploin (P6,500/300 grams), Banana Cake (P400), Dessert Plate for Two (P750)
Read more about Ruby Jack's Steakhouse.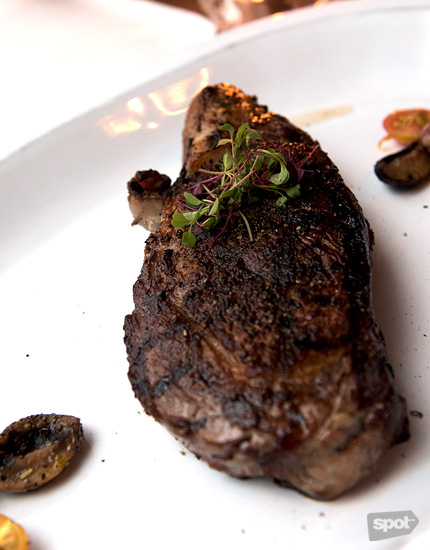 Smith
G/F ACI Building, 147 H.V. Dela Costa Street, Salcedo Village, Makati City
Contact: 833-9623, 0915-429-5167, 0916-609-2421
ADVERTISEMENT - CONTINUE READING BELOW
Smith Butcher and Grill Room is serious about their meats. You can tell from the cow busts on the wall to the cow print on the seats to the glass-encased room that showcases all the beefy goodness. Not only do their steak choices take you around the world (they have variations from five countries—Australia, Japan, U.S., France, and Ireland!), they even allow you to choose your steak and age it to your preference. We love how proud they are of the natural flavor of their meats and to highlight those profiles, they don't recommend cooking them well-done. 
Must-tries: Steak Tartar (P550), Matsusaka Rib Eye (P1,688 to P4,500), Australia T-Bone (P3,500)
TOO FAST TOO GOOD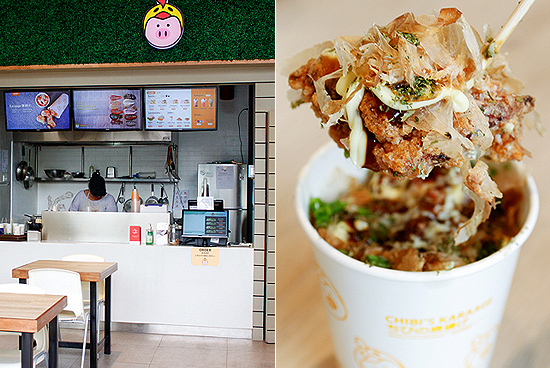 Chibi's Karaage
SM Light Mall, EDSA corner Madison Street, Mandaluyong City
Contact: 0917-535-7529
Chibi's Karaage is a classic example of a dish getting ahead of a restaurant. It's actually an offshoot of Chibi's Kitchen in Las Pinas, but owner Dempsey Uy says that their Japanese-style fried chicken became such a bestseller, he had to open another venue just to showcase it. It's casual fast food, with the chicken served in cups and mixed and matched with two sauces (plus a fee if you want more). If you want rice in your meal, they also offer bento boxes, which come complete with chicken (of course!), a salad, and sesame-topped rice.
Must-tries: Karaage in Original Spice (P120), Buta no Kakuni Bento (P175)
Read more about Chibi's Karaage.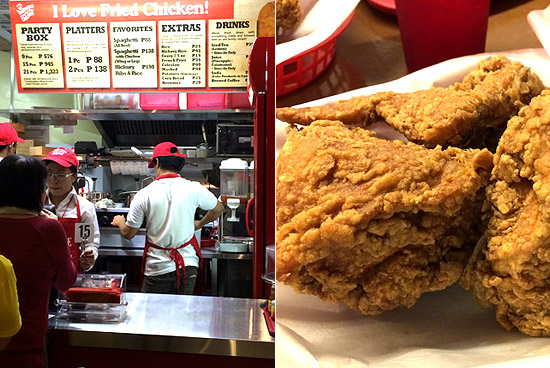 Tom Sawyer's Old Fashioned Fried Chicken
2/F Building A, Tiendesitas, Pasig City
Contact: 966-2291, 0917-811-0338
ADVERTISEMENT - CONTINUE READING BELOW
This chicken shop definitely wins the award for Comeback of the Year. Tom Sawyer's was a popular fast-food chain in the late '70s and early '80s—a time before McDonald's and KFC. It fizzled out eventually, but in late 2014, Chef Eli Aurelio is back to the fryer. He uses the exact same recipe from 30 years ago, a mix of flavors from 19th Century Mississippi, with techniques from West Africa, Scotland, and Ireland.
Must-tries: Fried Chicken (P88 to P1,323), Hickory Rice (P45), Hickory Ribs & Rice (P198)
Read more about Tom Sawyer's Old Fashioned Fried Chicken.
PINKIES IN THE AIR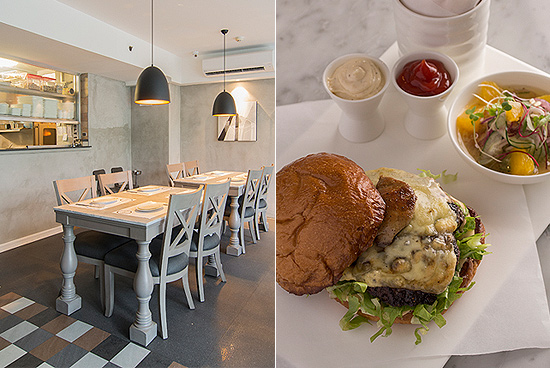 FAT
Forbes Town Center, 29th Street corner Rizal Drive, Bonifacio Global City
Contact: 834-8600, 0917-579-1936
This gray-and-marble venue at Bonifacio Global City is the new playground of Chef Mikel Zaguirre of Locavore fame. The name is pretty hard to stomach, but trust us when we say this isn't a restaurant of giant burritos and gargantuan burgers. There's a lot of butter, chicharon, lard, and, yes, fat, but only enough to maximize flavors. The menu is small and focused—not even two whole pages—but meticulously executed. Chef Kel uses his French background, putting together careful techniques to create something relatable to Pinoys.
Must-tries: Duck Burger (P510), Salpicao (P940), Grilled Unagi Salad (P750)
Read more about FAT.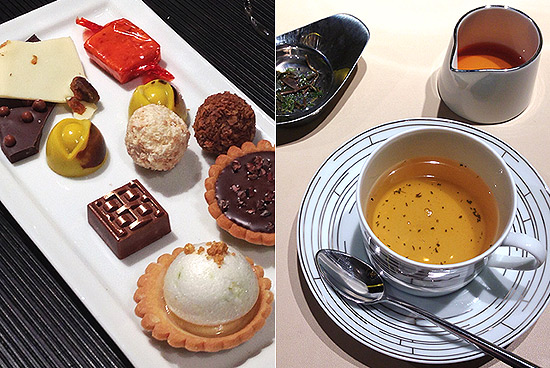 The Tasting Room
G/F Crown Towers, Parañaque City
Contact: 800-8080
The Tasting Room allows customers to create their own menus from five to eight courses and pair them with select wines and whiskies. Chef William Mahi, who has been recognized as "Meilleur Apprenti de France" (Best Apprentice of France), has worked in Michelin-star restaurants all over the globe. His imaginative dishes could be experienced at The Tasting Room. He wows with the most beautiful presentations and spot-on flavor combinations. One such standout is a ravioli stuffed with mushrooms, topped with cappuccino foam, and finished with truffle powder. Simple but decadent and impressive.
ADVERTISEMENT - CONTINUE READING BELOW
Must-tries: Five courses (P3,200), six courses (P3,600), seven courses (P4,200), and eight courses (P4,500). Restaurant manager Daniel Planchenault is on hand to help craft your personal menu.
Read more about The Tasting Room. 
HE-MAN CLUB (WOMEN WELCOME)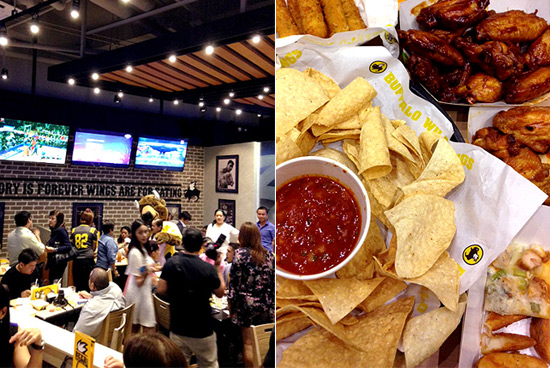 Buffalo Wild Wings
G/F Estancia Mall, Capitol Commons, Pasig City; Glorietta, Makati City
Don't expect anything too fancy at Buffalo Wild Wings. The place is, after all, a sports bar. The specialty is wings and obviously that's best enjoyed with your hands. Buffalo Wild Wings was born in Ohio and brought to the Philippines by the Bistro Group. It's known for its TV sets featuring different sporting events in the world, but their second local outlet in Glorietta was the first in over 1,100 branches to install a "gaming" wall with a variety of video games. Cool!
Must-tries: Wings (P295 to 895), Fried Mozzarella Sticks (P325)
Read more about Buffalo Wild Wings.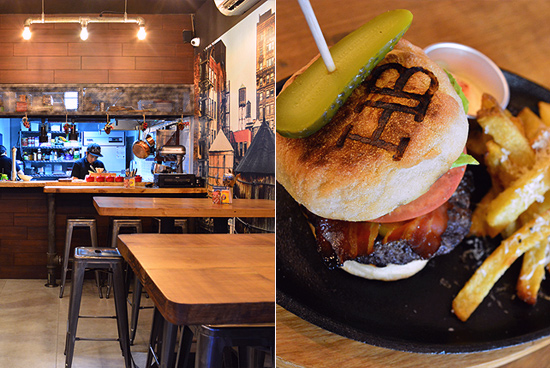 HotBox Kitchen
450C P. Guevarra Street corner Wilson Street, San Juan City
Contact: 275-4577
No-frills comfort food. We miss those. Chefs Evan and Michelle Corby of HotBox Kitchen go for simple Canadian cuisine—a lot of meat, a lot of homemade, but the results are sans fuss. Evan is English so he manages to sneak some of that culture into the menu, as well. If you're looking for honest-to-goodness food, you just have to make it to this busy corner.
Must-tries: HotBox Burger (P365), Bangers & Mash (P300)
Read more about HotBox Kitchen.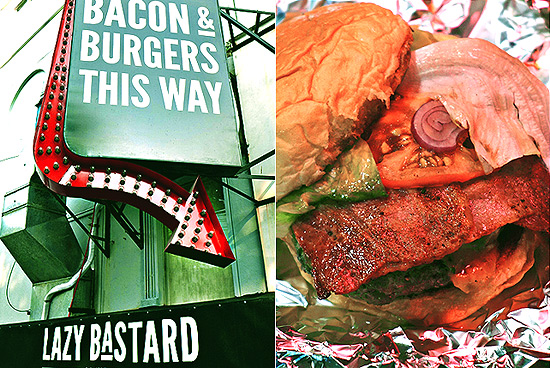 Lazy Bastard
Basement Floor, 22 Jupiter Street, Makati City
Contact: 832-5330
ADVERTISEMENT - CONTINUE READING BELOW
Only good things can result when you put bacon and hotdogs together—and that's just one of Lazy Bastard's dishes. Lazy Bastard operates under the radar, in a basement. It is, however, hard to ignore the sign that promises to lead you to bacon and burgers. There's something a little Hansel and Gretel about it, we know, but the only things worrisome inside are the sinful American-styled comfort dishes that has made them famous. Lazy Bastard may be a little hard to sniff out, but their food is pretty straightforward. "We hate pretense in food so we wanted to eliminate all of it and just focus on simple but amazing goodness," says managing owner Patrick Cuartero. As for the name, well, that's how you describe yourself after a meal at this restaurant.
Must-tries: Bacon Cheeseburger (P220), Sloppy Joe (P150), Honey Parmesan Hotdog (P200)
Read more about Lazy Bastard.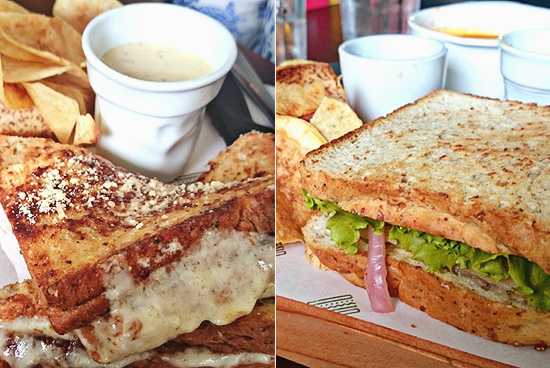 Mr. Graham's
51D Scout Rallos Street, Quezon City
Contact: 0917-327-7051
A year ago, Mrs. Graham's was wowing the food scene with her macaron triumphs that came in flavors like Bibingka and Popcorn. This year, it's the mister's turn. Instead of delicate French cookies, Mr. Graham's goes for brawny sandwiches—which offer the same level of quirk as its macaron other half. How about turning a Cubano into a "Cebuano" by adding some essential lechon pieces? How about turning apple pie into soda? Mr. and Mrs. Graham may have tiny nooks for restaurants, but the possibilities they create are endless.
ADVERTISEMENT - CONTINUE READING BELOW
Must-tries: The Cebuano (P290 to P390), Apple Pie Soda (P90), Four Cheese? Yes Please (P250)
Read more about Mr. Graham's.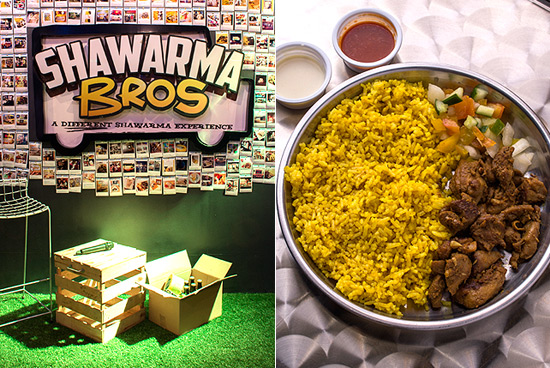 Shawarma Bros.
2/F BGC Stopover Pavilion, Rizal Drive corner 31st Street, Bonifacio Global City
Contact: 0977-325-7032
Food trucks are a hit or miss in Metro Manila, but one of its pioneers, Shawarma Bros., definitely carved a smooth path for themselves in the city's dining landscape. The five bros (who don't cook) used Pinoys' love for rice to create meat-and-carb combinations that are instant crowd-pleasers. There's nothing fussy: just protein, fluffy biryani rice, some veg, and their beloved white and hot sauces. The formula became so successful that they finally opened an actual restaurant. Finally, we can stop chasing them. Now to muster the patience to wait in line.
Must-tries: Beef Shawarma Rice Meal (P179), Lamb Steak Rice Meal (P219)
Read more about Shawarma Bros.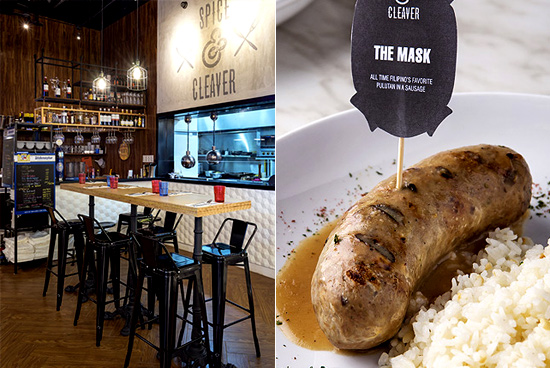 Spice & Cleaver
LG/F Estancia Mall, Capitol Commons, Pasig City
Contact: 703-0237
Sausage is first and final word at Spice & Cleaver. You get your basic chorizo and kielbasa, but the fun is in their own kooky artisan creations. Owned by the brothers of Brothers Burger, the idea began when they noticed that their executive chef listed sausage-making on his resume. Chef Miguel Gianan trained under the late Michael Beck of Mickey's Delicatessen. The artisan sausages are impressively faithful to their inspirations (taste them and you'll understand what we're saying). If you're not a sausage lover, the rest of the menu is delicious, too! The puff pastry pizza features an overload of toppings that ends up light on the flaky base.
ADVERTISEMENT - CONTINUE READING BELOW
Must-tries: Pizza Sausage (P280 to P480), The Mask (P280 to P480), Miss Piggy Puffiza (P399)
Read more about Spice & Cleaver.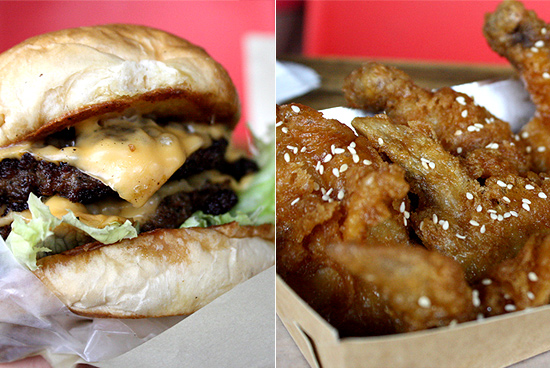 Sweet Ecstasy
Click here for a list of Sweet Ecstasy branches.
If you find it curious that a burger joint has a name like Sweet Ecstasy, it's because this franchise began as a cookies-and-milk shop in Cubao X. One day, co-owner Al Galang decided he wanted to make burgers. Sweet Ecstasy's short menu of burgers is simple: standard fillings like lettuce, tomatoes, and onions. The big, juicy, salted patties provide all the excitement. But Sweet Ecstasy doesn't stray too far from their sweet roots. They have a good set of milkshakes—both virgin and tipsy. Try the off-menu items like the Steamed Burger and the Stuffed Wings.
Must-tries: Single (P170), Double (P230), Wings (P200 to P320)
Read more about Sweet Ecstasy.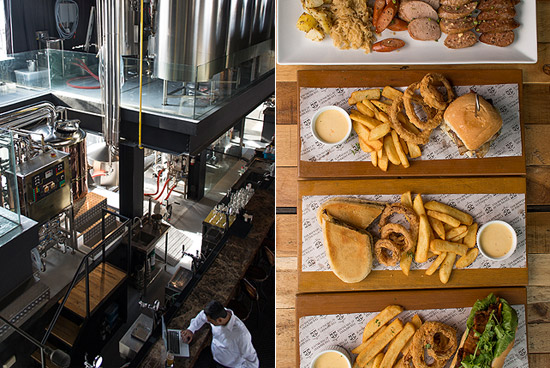 The Brewery
The Palace, 10th Avenue corner 38th Street, Uptown Fort, Bonifacio Global City
Contact: 0917-813-9429, 0917-638-3339
The Brewery is Chef Carlo Miguel's latest project. This spiffy, massive beer-centered space, which has its own microbrewery on the premises, is where he puts his signature spin on comfort food. Chef Carlo even has a line of dishes featuring beer byproducts, along with ones that put a spin on classic bar chow: the most luxurious sisig foam, a crab-infused macaroni and cheese...and if you're a fan of the chef's fish and chips, well, he has a gargantuan version here!
Must-tries: The Fisherman's Basket (P690), Grilled Cheese and Mushroom, Microbrewery Cheese Pizza (P520)
ADVERTISEMENT - CONTINUE READING BELOW
Read more about The Brewery.
HEALTHY HAVENS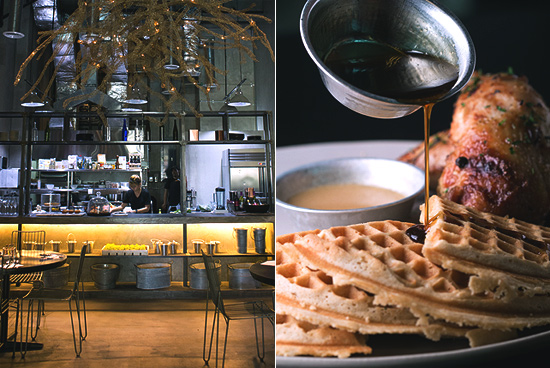 Adaäm & Yves
Icon Plaza, 25th Street corner 6th Avenue, Bonifacio Global City
Contact: 801-6084
It's impressive how this gray industrial setting can put you in such a good mood. Stylist and owner Sean Go is particular with details and every little element plays a role in the overall effect—from the sockets on the tables to the screws that hold those fashionable swing-set seats. Adaäm & Yves takes inspiration from Sean's European travels and it's just dripping with style. The clean aesthetic fits the organic mindset that sets up the menu. Because he believes that everybody loves breakfast, he decided to focus on this type of food so people could warm up the idea of eating organic.
Must-tries: Pink Floyd (P230), Noli Me Tangere (P495)
Read more about Adaäm & Yves.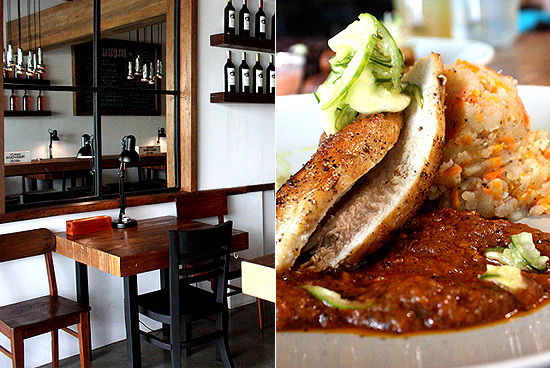 Runner's Kitchen
74 Creekside Square, Tomas Morato Avenue, Quezon City
Finally, a health-oriented place everyone can get in on. The menu at Runner's Kitchen throws words like beans, gluten, and superfood around, but everything turns out quite scrumptious. The menu isn't vegan or vegetarian, and even the portions won't leave you wanting. This restaurant just validates the fact that you don't have to deprive yourself to be healthy.
Must-tries: Yogi's Breakfast (P300), Black Rice Champorado (P150), Pan-seared Chicken Breast (P350)
Read more about Runner's Kitchen.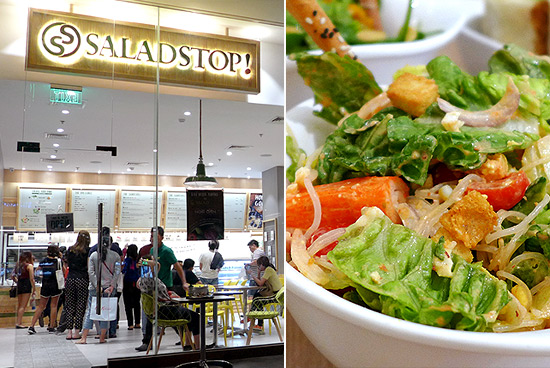 SaladStop!
G/F Central Square, Bonifacio High Street, Bonifacio Global City; Cinema Level, Power Plant Mall, Makati City
SaladStop! is a greens chain from Singapore that lets customers have fun with their D.I.Y. salad combinations. If you need something a little more filling, you can turn it into a wrap. The thrust is a movement they call Eat Wide Awake, which encourages customers to be more conscious when enjoying food. The belief is that eating well (that is, healthy) is a human right. Preservatives are a no-no, and everything is all-natural.
ADVERTISEMENT - CONTINUE READING BELOW
Must-tries: Sunshine Manila (P260), "Wo" Man (P350), Omega 3 Baby! (P350)
Read more about SaladStop!.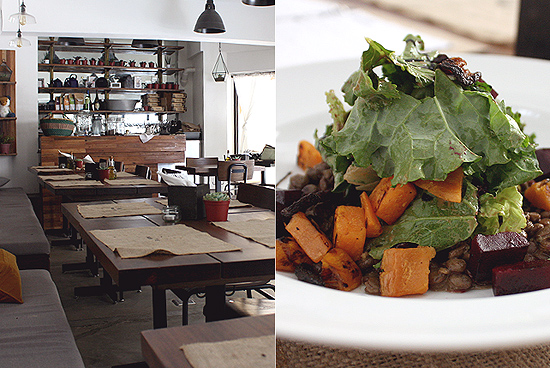 SUSI
Bellagio II, Forbes Town Center, Burgos Circle, Bonifacio Global City
Contact: 833-7874
Bianca Mabanta is the gorgeous restaurateur behind this vegan deli-slash-boulangerie. The name symbolizes the "key to sustainable living," and it's not just in food. You see little reminders everywhere—from quotes like "the grass is greener where you water it" to the bamboo bike on the wall. Without using animal products and byproducts, Bianca manages to come up with dishes that are packed with flavor. Things like mushrooms substitute for meat (it's pretty close) and carrots for cheese. You definitely won't feel deprived. SUSI even has a vegan chocolate cake!
Must-tries: Vedge Curry (P315), Mac & Geez (P295), Eat Your Feelings (P225)
Read more about SUSI.
COOL ASIANS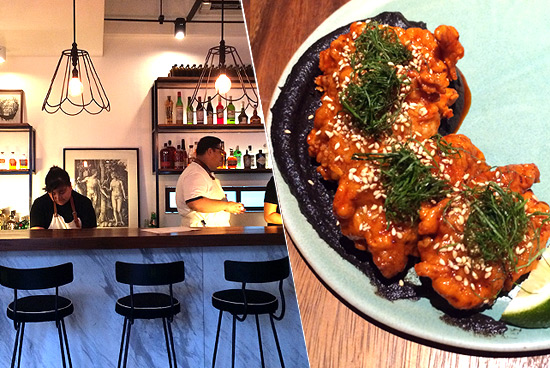 12/10
7635 Guijo Street, San Antonio Village, Makati City
Contact: 0915-663-2823
The Girl and The Bull, Thea de Rivera and Gab Bustos, have once again unleashed their culinary creativity in this second delicious project. The menu is divided into four parts, each one leading to heavier fare. If the decision becomes too paralyzing, trust the servers (who know every single detail about each dish) to wow you. 12/10 serves tapas-sized platters so there's an excuse to get a lot of everything. There's an obvious Japanese inspiration behind the dishes, but just like the venue, they're all pretty hip updates on tradition.
Must-tries: Katsu Sando (P260), Korean Fried Chicken (P320), Mackarel Ceviche (P195)
ADVERTISEMENT - CONTINUE READING BELOW
Read more about 12/10.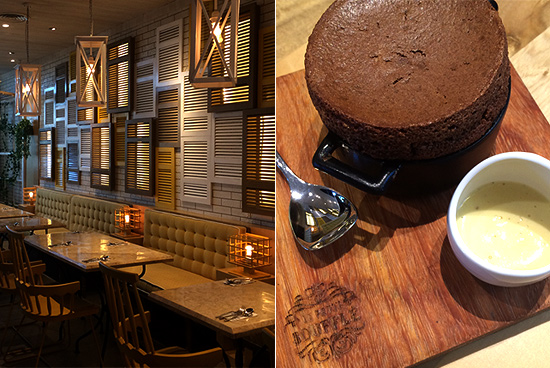 Le Petit Souffle
3/F Century City Mall, Kalayaan Avenue, Makati City
Contact: 886-3056
This gorgeous café is where you should go when you want to reward yourself with sweets. Miko Aspiras is an award-winning pastry chef and he demonstrates his skills so effortlessly at Le Petit Souffle, where the main event is one of the most technically daunting desserts ever. To create a well-rounded experience, Chef Miko goes for a French garden theme complete with twinkly lights draped over lovely faux trees.
Must-tries: Valrhona Guanaja (P350), Classic Souffle Pancake (P200)
Read more about Le Petit Souffle.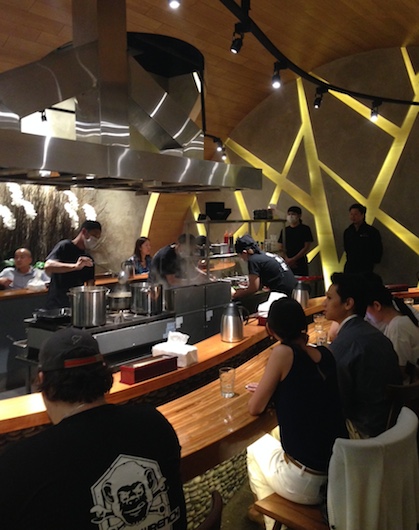 Mendokoro Ramenba
Shop 18 V Corporate Center, Leviste Street, Salcedo Village, Makati City
Contact: 478-9625 
You would think that Mendokoro Ramenba in Makati is a more accessible version of Alabang's popular Ramen Yushoken. Maybe it is, but it has its own personality. Mendokoro's shorter menu is much more centered on ramen. According to Japanese tradition, ramen is best enjoyed within 15 minutes after serving. The bar seating sets up this ideal perfectly!
Must-tries: Shio (P360), Tantanmen (P440)
Read more about Mendokoro Ramenba.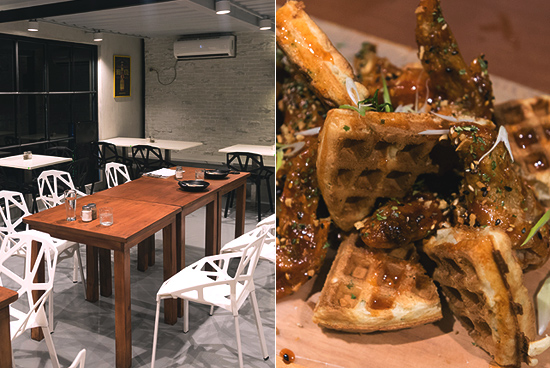 No Reservations
2/F Unit 16, United Street, Kapitolyo, Pasig City
Contact: 0917-605-5365
The vagueness in the name throws you off, but the flavors of this modern Asian restaurant are direct and defined. The small kitchen forced Chef Jay Angeles to curate his menu, but we say that worked to their advantage. Every item is carefully, thoughtfully, and liberally seasoned. You'll find American favorites dressed in Asian fashions like togarashi, nori, matcha, and more. Everything is just such an exciting adventure for your palate.
ADVERTISEMENT - CONTINUE READING BELOW
Must-tries: Seoul Style Wings and Waffle (P329), Thai-style Ribs (P349), Salmon with Apples (P409)
Read more about No Reservations.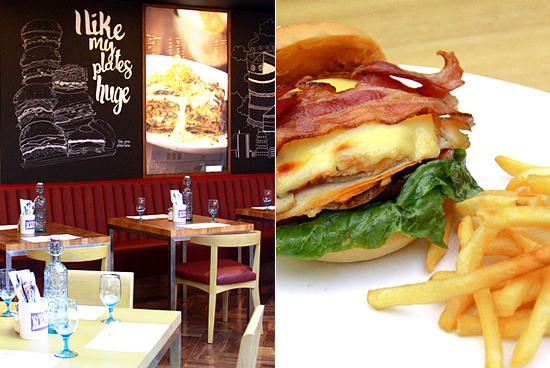 New York Pinoy Deli
G/F Casino Area, Resorts World Manila, Pasay City
What happens when four chefs (one French, one German, one Pinoy, and one American) get together to create a menu? It's a scrumptious hodgepodge of cultures influencing each other. Somehow, that melting pot of a menu makes sense in the faux New York setting. (By the way, make sure to check out the ceiling detail that mimics the feeling of looking at skyscrapers.) New York Pinoy Deli features a buffet for the casino-visiting set, but we love the a la carte menu. It's where tinapa marries spaghetti; where laing finds itself in lasagna. If you're feeling bold, try the garlic ice cream!
Must-tries: Laing Lasagna (P290), 5th Avenue Fresh Roast Sandwich (P390), Beet Root Gelato (P130)
Read more about New York Pinoy Deli.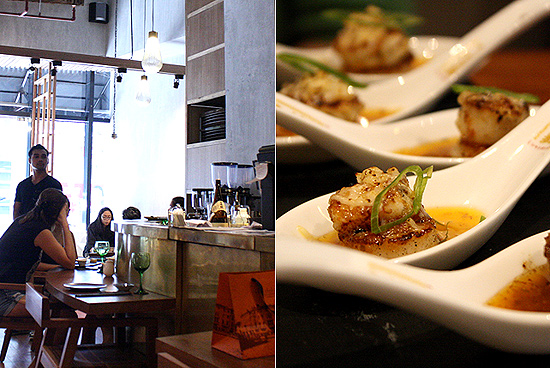 Nikkei
Frabelle Building, Rada Street, Legazpi Village, Makati City
Contact: 0927-273-0114, 880-0231
Nikkei, the term, roughly translates too "Japanese out of Japan." It's also what you use to describe the fusion of Japanese and Peruvian cuisines. South America has a large Japanese community, and both their cooking styles defer to fresh seafood. You take the delicate tastes of sashimi, for example—the Peruvian twist would be to makes its flavors bold and bright. There are blasts of citrus, salt, heat. Because the profiles are on the bold side, the portions are small—but they won't leave you wanting. Do yourself a favor, and get some sake. 
ADVERTISEMENT - CONTINUE READING BELOW
Must-tries: Green Ceviche (P360), Nikkei Tataki (P160), Kocha (P140)
Read more about Nikkei.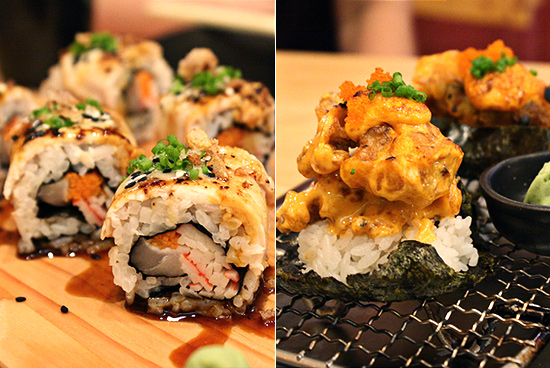 Ooma
3/F SM Mega Fashion Hall, Mandaluyong City
Contact: 656-4591, 0917-539-2083
Chef Bruce Ricketts has been making culinary magic since Robot and Sensei Sushi, but with Ooma, his partnership with The Moment Group, he's gone commercial. We're only happy that more people can now try his innovative brand of cuisine. Ooma is modern Japanese, bold, hip, with easygoing prices, and a funky Tsukiji Market theme. Chef Bruce designed the dishes to be friendly. He skips the sashimi because a lot of people are turned off with raw fish, compromising with tataki (a thin, seared slice of sashimi). He reshapes the temaki to make it easier for people to eat. Ooma may operate on convenience, but those full-on flavors are nonetheless complex.
Must-tries: Uma Ceviche (P195), Soft Shell Crab Taco-Maki (P199), Wagyu Hanger Steak (P495), Buta Kakuni Katsudon (P298)
Read more about Ooma.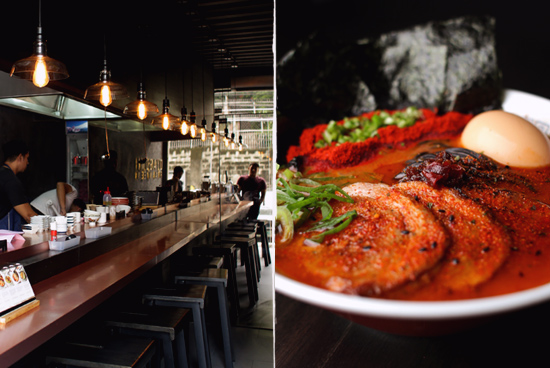 Oyasumi
308 P. Guevara Street corner Sea View Street, Little Baguio, San Juan City
Contact: 275-0309
This San Juan haunt is both cool and geeky: Black and gray hues make up the color palette while anime programs are projected on the wall. Oyasumi features Yokohama-style ramen. The perfectly al dente ramen noodles are made fresh and they're flavored to enhance your meal further. It's a tonkotsu-based broth seasoned with soy sauce and it comes in a variety, too: There's your usual spicy and squid ink, but if you want to take your taste buds for a spin, go for the spicy. It's a killer.
ADVERTISEMENT - CONTINUE READING BELOW
Here's a tip: When you go for the hot one (at spice level 4), make sure to leave some of the broth. For an extra fee, the kitchen turns this into risotto and that wild heat finds a cooler temperament with the rice and water.
Must-tries: Ieki (P350), La Paz (P370)
Read more about Oyasumi.
SKEW YOU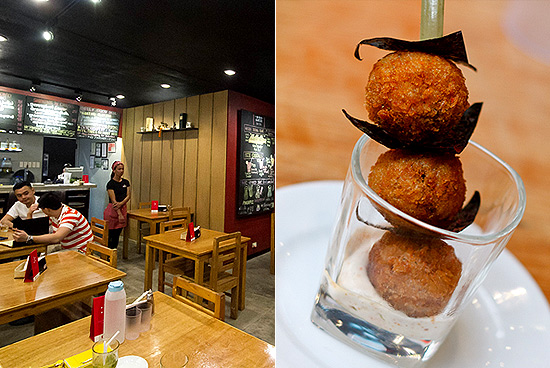 Kantori Yakitori
51D Aguirre Avenue, BF Homes, Parañaque City
Contact: 358-9079
Joining the ranks of holes-in-the-wall serving up complex food on a stick is Kantori. The name is a play on the words kanto (corner) and yakitori (the Japanese technique of skewering food much like our Pinoy BBQ). Conceptualized by a group of friends throwing around ideas, Kantori was designed to be a barkada hangout. It opts for an easygoing ambience, with easier to enjoy Filipino-Asian-inspired skewers.
Must-tries: Maple-Bacon-infused Sake (P78), Tsukene (P58), Shiro (P48)
Read more about Kantori Yakitori.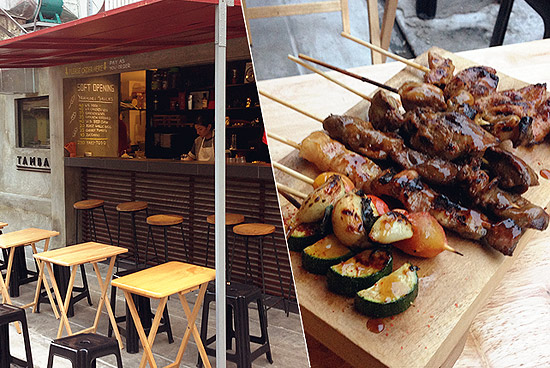 Tambai Yakitori Snackhouse
5779 Felipe Street, Poblacion, Makati City
Contact: 0917-842-3725
The Metro has never been lacking in skewered food—from the isaw and tusok-tusok fishball around the corner to the Pinoy BBQ at your neighbor's front yard. Still, Tambai, which turns this everyday food into something of a celebration, gives it new relevance. The place used to be a sari-sari store (one level up from being a street cart). It's made up of a counter and some tables. It doesn't look like much (something we believe adds to its appeal), but the food is definitely tops. Meats are imported from the U.S. and seasoning is so exact.
ADVERTISEMENT - CONTINUE READING BELOW
Must-tries: U.S. Beef Isaw (P40), Chicken Liver (P34), Soft Shell Crab (P180), Roast Garlic Basil (P20)
Read more about Tambai Yakitori Snackhouse.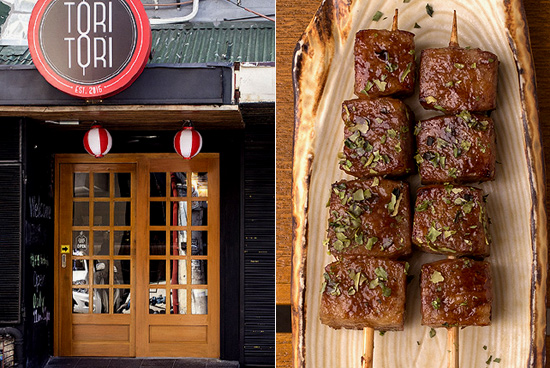 Tori Tori Kushiyaki
197 Wilson Street, San Juan City
Contact: 370-7017
Tori Tori could have been hard to miss, but find the spot overflowing with people, and behind that is this delicious yakitori house. Owner Derrick Co is a firm believer in authenticity and he wanted his restaurant to be as close to the yakitoryis in Japan as possible. His emphasis is on quality ingredients—painstakingly watching over the curating and the processing of the meat—and because they're pretty spot-on on their own, all his skewers really need is a few little lifts and not a lot of embellishment.
Must-tries: Japanese Wagyu (P125), Tako Tsukune (P75), Salmon (P75), Shisamo (P50)
Read more about Tori Tori Kushiyaki. 
INTERNATIONAL DINING SENSATIONS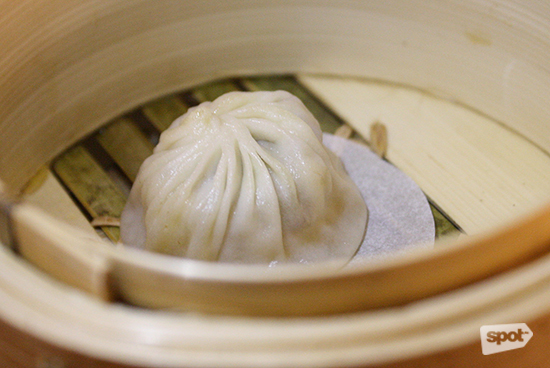 Din Tai Fung
G/F SM Mega Fashion Hall, Mandaluyong City
The Michelin-star magician of soup buns, brought to the country by The Moment Group, is opening on December 8, but we're already putting them here because they're that good. The Philippines is one of the few franchises allowed to make their own special flour (others import it from Taiwan) and just like other outlets in the world, they have localized items specific to the country. We're the only ones with foie gras soup buns!
Must-tries: Pork Xia Long Bao, Truffle and Pork Xiao Long Bao, Foie Gras Xiao Long Bao, Chocolate Truffle Xiao Long Bao, Shrimp Paste Chicken Wings, Black Pepper Beef
ADVERTISEMENT - CONTINUE READING BELOW
Read more about Din Tai Fung.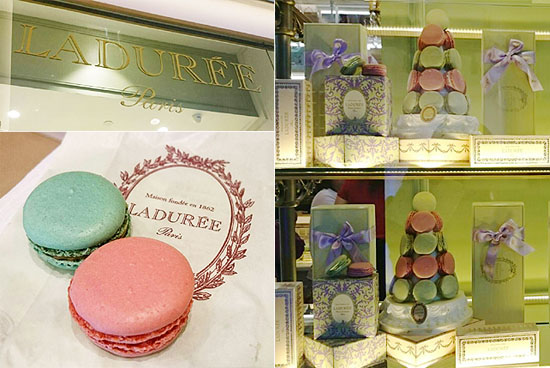 Laduree
8 Rockwell, Hidalgo Drive, Rockwell, Makati City
This French bakery pioneered the macaron as we know it today. It opened way back in 1862, but in the '30s, Pierre Desfontaines developed a recipe that would change the world of cookies forever: He thought to make a little sandwich of two crisp shells and flavored ganache. The recipe hasn't changed one bit since then, and all Laduree branches around the world, including the lovely pick-up-and-go concessionaire in Manila, still source their cookies from a Paris commissary.
Must-tries: Earl Grey, The Marie-Antoinette, Café, Toffee (P150/each); Macaron Ice Cream Sundae (P450)
Read more about Laduree.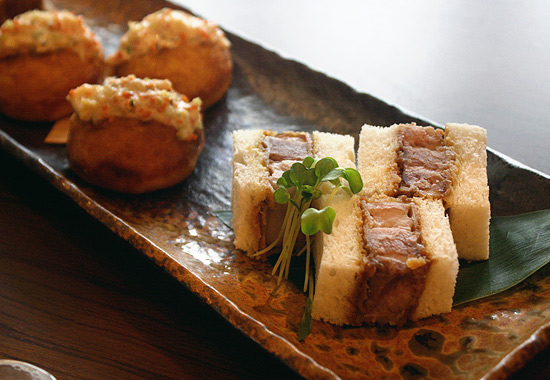 Nobu and Nobu Tea House
Nobu Hotel, City of Dreams, Aseana Avenue corner Roxas Boulevard, Entertainment City, Parañaque City
Contact: 800-8080
The 21-year-old dining icon put Nikkei cuisine in the mainstream. It was Chef Nobuyuki "Nobu" Matsuhisa's peppy flavors that introduced the world to Japanese cuisine that's just a touch Peruvian. Executive Chef Zachary Hillberry leads the local Nobu, with Chef Akihisa Kawai in charge of the sushi.
Must-tries: Wagyu Beef, Chef Choice Sushi, Tonkatsu Sandwich, Lobster Roll
Read more about Nobu.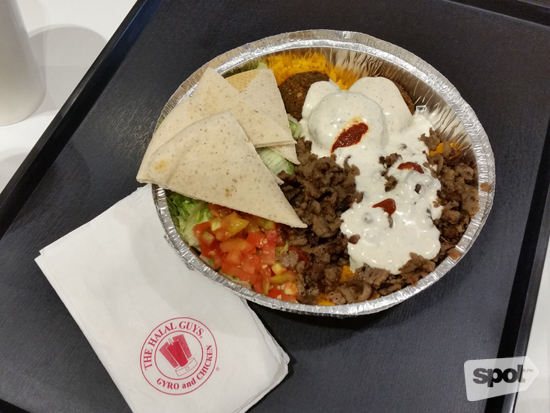 The Halal Guys
5/F SM Mega Food Hall, Mandaluyong City
It took over a year, but finally The Halal Guys is in Manila—and quickly expanding, too! (They are set to open in Bonifacio Global City.) The Halal Guys was conceptualized in New York after an original hotdog stand idea didn't pan out. With just rice or pita, some proteins, and signature sauces, they've created a Big Apple must-try, and over 20 years later, lines are still a fixture in their New York locations. It's not too different in Manila.
ADVERTISEMENT - CONTINUE READING BELOW
Must-tries: Chicken Over Rice (P239 to P460), Gyro Over Rice (P269 to P469), Chicken and Falafel (P239 to P339)
Read more about The Halal Guys.
HISPANIC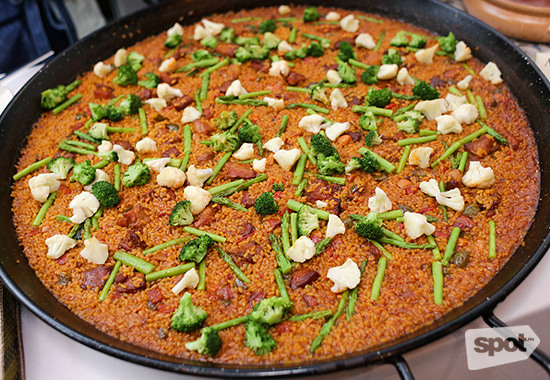 ArroZeria
4/F Century City Mall, Kalayaan Avenue, Makati City
Contact: 217-6563, 0920-974-4742
Wear your stretchy pants because Chef Chele Gonzalez's industrial-whimsical ArroZeria (check out the upside-down ladders on the ceiling and the jack door) is carb central. This is more than a place to enjoy rice. ArroZeria is a thesis on paella—he has dry ones, gooey ones, ones that are soupy, ones that are saucy, fideua, one with duck, one with chicken, another with vegetables. It's really paella, your way. The good chef, who is also the creative mind behind Vask, has some non-rice dishes, too, but trust us when we say they work best with the paella.
Must-tries: Negra Fideua (P275), Pato y Setas (P375), Valenciana (P295)
Read more about ArroZeria.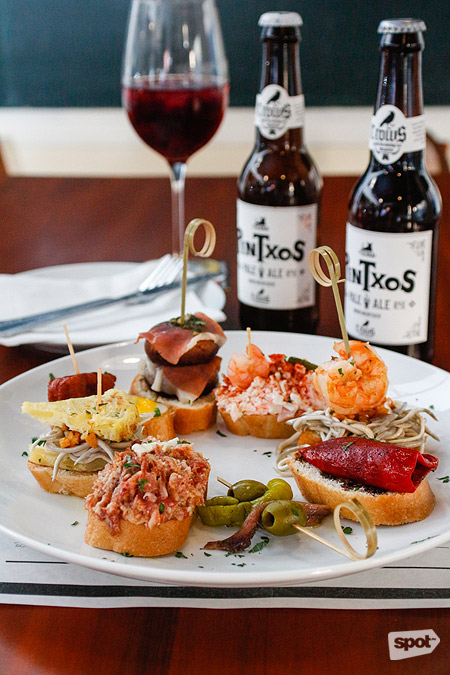 Bar Pintxos
Don Gesu Building, Don Jesus Boulevard, Muntinlupa City
Contact: 831-0065
There are some people who believe that a singular bite will tell you everything you need to know about a dish. This is true at Bar Pintxos, SPOT.ph's current No. 1 Tapas Place in Metro Manila. It's a catalogue of skewered bites, and we're still awed by how much flavor they can pull off with a single taste. But then again, after that first try, you'll be having bite after bite. If you follow Bar Pintxos on Facebook (as you should), you'll notice how often they add or revise their menu—and it's always exciting to see what they've got in store.
ADVERTISEMENT - CONTINUE READING BELOW
Must-tries: Gildas (P50/piece), Brie-Cebolla (P90)
Read more about Bar Pintxos.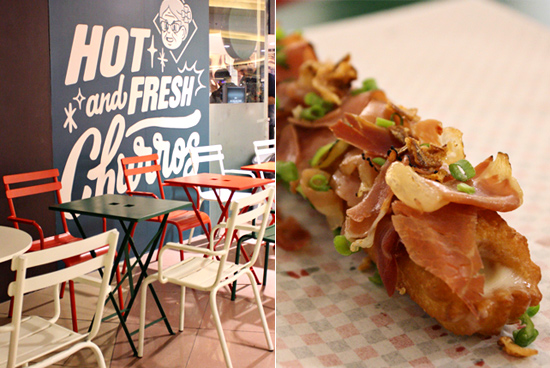 Churreria La Lola
Click here for a list of Churreria La Lola branches.
People forget that Churreria La Lola is barely a year old. It opened five branches in a span of a year and their distinctive containers are impossible to miss. What we love best about La Lola is the owners' determination to always improve. When they opened after Christmas 2014, they were as good as churros could get, but somehow they've only gotten better: crunchier, less oily, with a more defined chocolate flavor. Their kiosks will give you any churros permutation you crave—with chocolate dip, as minis, stuffed to both ends, coated in chocolate, savory, with ice cream.
Must-tries: Clasicos (P110 to P275), Chocochurros (P195 to P495), Jamon Y Queso Xuxo (P345)
Read more about Churreria La Lola.
Cocina Peruvia
G/F Bonifacio One Technology Tower, 3030 Rizal Drive corner 31st Street, Bonifacio Global City
Contact: 955-9975, 623-7504
With Chef Him Uy de Baron and Chef Andres Higa as consulting chefs, you're already assured of pretty topnotch dishes. Cocina Peruvia is a South American gateway, a ticket to the colorful flavors of Peru. Plates are small, with all kinds of proteins brightened by citrusy ingredients. It's as authentic as you can get—except that they won't serve guinea pigs.
Must-tries: Pescado al Ajillo (P450), Bistec a la Plancha (P700), Anticucho de Pollo (P280)
Read more about Cocina Peruvia.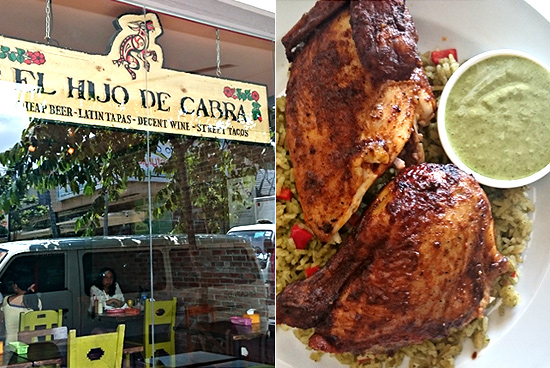 El Hijo de Cabra
The Hub, Greenfield District, Highway Hills, Mandaluyong City
Contact: 696-2495
ADVERTISEMENT - CONTINUE READING BELOW
The "Black Sheep Son" of El Chupacabra is a lot like its predecessor. Here, you can find the same delicious tacos, the same Tex-Mex wraps, the same stuffed burritos. There are two glaring differences: El Hijo is thankfully air-conditioned and there's a roasting and grilling station just outside the entrance. This is where their Peruvian-style chicken is prepped. The skin is a heavenly brown and loaded with salty spices that seep well into the flesh. Fresh ajiverde gives it a wonderful zing. The chicken is the reason we're picking Greenfield over Felipe.
Must-tries: Peruvian Chicken (P259 to P580), Patacones (P88)
Read more about El Hijo de Cabra.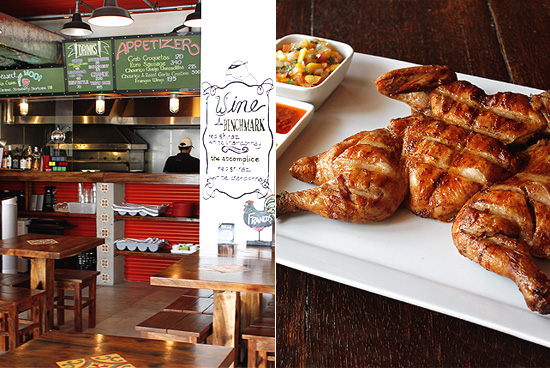 Frangos
Buma Building, 9595 Kamagong Street, Makati City
Contact: 0917-800-7777
Frangos has been around for several years, but it was only in April that they opened their own restaurant. Their signature item? Portuguese-style chicken. Yes, emphasis on "style." Owner Jonathan Renato told us that the Portuguese got the piri-piri chilies from Africa and took them home to create the chicken. Somehow, when the Portuguese introduced their flavorful poultry back to Africa, the Africans adapted the recipe to develop something much more forceful. Just like the African interpretation, Frangos uses 14 spices instead of the six or seven that embellish the sauce-driven ones from Portugal. To keep their chicken gems consistent, Jonathan even had a special rotating grill designed while his wife, Pia, makes the sauces fresh every day! That's commitment. 
Must-tries: Grilled Chicken (P145 to P480), Wings (P195), Chourico Queijo Quesadillas (P215)
Read more about Frangos.
ADVERTISEMENT - CONTINUE READING BELOW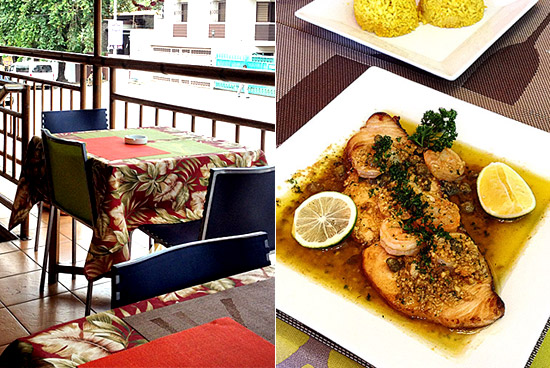 Mantaro
57B Scout Tobias Street corner Scout Limbaga Street, Quezon City
Contact: 709-3704, 0905-229-9605
Chef Luis Higa and his wife Candy are some of the first people to introduce Metro Manila to the now-trending Peruvian cuisine. Their new project is inspired by the high altitude of Mantaro Valley, Peru, and as with the chef's previous undertakings, the menu is short but bold. Chef Luis is a master at creating bright and springy flavors. He makes beautiful ceviches, delicious chicken, a wonderful paella-like rice. If you're craving Peruvian food, then head in Mantaro's direction.
Must-tries: Arroz con Mariscos (P320), Ceviche de Pescado (P280), Pulpo al Olivo (P320)
Read more about Mantaro.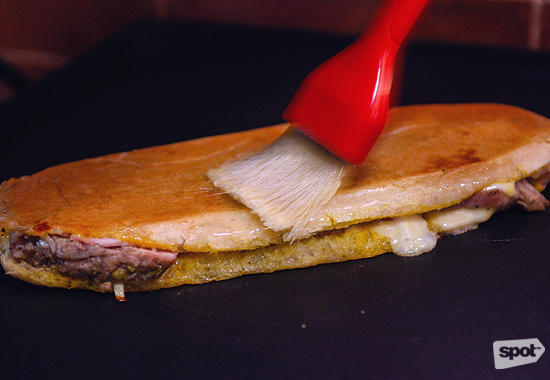 Pepi Cubano
Unit 7, G/F Tropical Palms Condominium, Dela Rosa Street corner Gallardo Street, Legazpi Village, Makati City
Pepi Cubano has been around for almost a decade (way before Chef), but it was only in September when they finally opened a full-fledged restaurant. By that, we mean a pick-up space with some bar seating for those who don't have enough EQ to wait till they get to the office to eat their sandwich. These flattened sandwiches are best eaten fresh, after all. Susan Dalmacion developed Pepi Cubano from her time in the U.S., but her son Toti and his wife, Rica run this new outlet. The menu has expanded, and they now have South American desserts!
Must-tries: Cubano (P250), Media Noche (P150), Tito Choripan (P200)
Read more about Pepi Cubano.
HOLES-IN-THE-WALL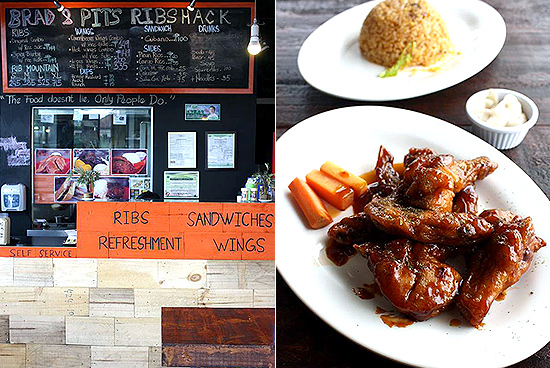 Brad and Pit
116 Lilac Street, SSS Village, Concepcion Dos, Marikina City
Contact: 503-1656
ADVERTISEMENT - CONTINUE READING BELOW
This restaurant is a true labor of love. The owners D.I.Y.-ed nearly everything—the chairs, the tables—a process that took four days. Budget was low, but it really drives home that hole-in-the-wall, al fresco-kiosk vibe. Brad and Pit doesn't refer to the Hollywood A-lister. Brad is owner Bradley Pineda; Pit is Chef Pitol Buzuela. The specialty is ribs (big juicy ones flown in from the U.S.), but the pair also wanted to add some Cuban flair. Think cantina. Think super affordable.
Must-tries: Burrito Rice (P45), Rib Mountain (P245 to P715), Fish and Chips (P175)
Read more about Brad and Pit.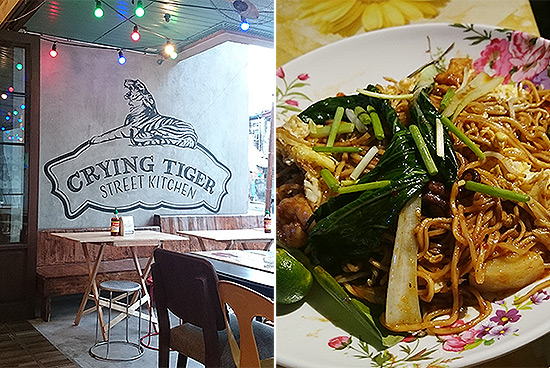 Crying Tiger Street Kitchen
Guanzon Street (behind Fersal Hotel, Makati Avenue), Makati City
Just as El Chupacabra changed the game for Mexican food, so has Crying Tiger—this time for Thai cuisine. The Mexicali group (who owns both brands) puts Thai food rightfully back on the street, much like those yummy hideaways in Bangkok. There's a purposeful effort to recreate something of a street kitchen, hence the mismatched floral-patterned plastic plates, a dingy television set showing Thai karaoke, and a giant calendar on the wall. The jewel colors, however, make it a total party.
Must-tries: Thai Fried Chicken (P69 to P499), Thai Pork Omelette (P95), Mee Goreng (P199)
Read more about Crying Tiger.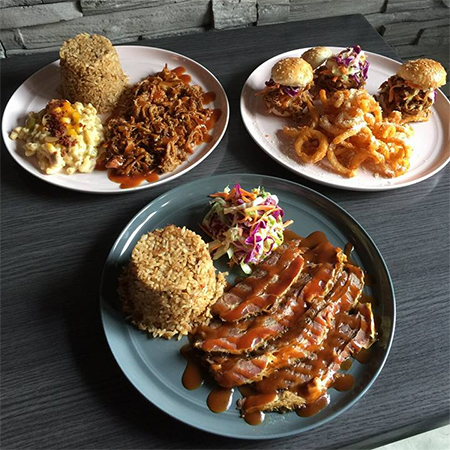 Cue and Brew
248 Aguirre Avenue, BF Homes, Parañaque City
Smoking meats is the name of their game. Chef Ari Gamboa cooks Cue and Brew's meats low and slow for 12 hours every single day. Commitment? You bet! The flavors they're able to pull together are powerful, tender things. If you want to get a measure of what they can do, you better skip the sauce. Go with the naked meats and maybe a drink or two.
ADVERTISEMENT - CONTINUE READING BELOW
Must-tries: Smoked Beef Brisket (P295), Dirty Rice (P50)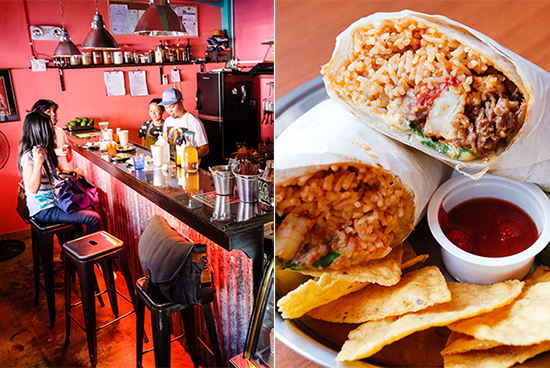 Drive-by Taco Shop
167 Aguirre Avenue, BF Homes, Parañaque City
Contact: 0917-803-3663
The tip is to come around five minutes before doors open and be the first customer there. Once people start pouring in, this cramped "drive-by" (it's really a counter) will be packed until closing. Owners Mikey San Miguel and Mai De Guzman initially wanted a food truck, but they eventually settled on this tiny eatery, which they dressed up themselves. Mai makes the tortilla herself—with corn flour that gives it this yellowish tint and chewier tone. With their stage set, they proceed to load it with both classic and playful arrangements, including one with goat and apples!
Must-tries: Homemade Pork Chorizo Quesadilla (P120), Marv's Goat Taco (P140), Homemade Pork Chicharones Taco (P125)
Read more about Drive-by Taco Shop.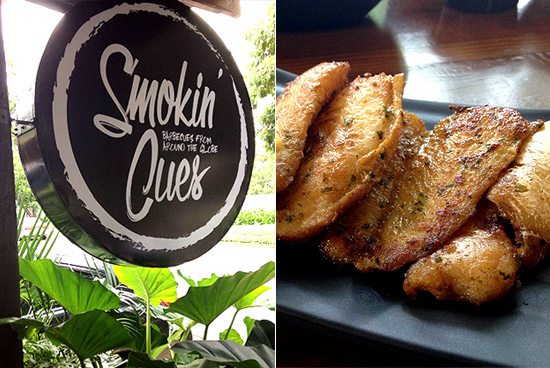 Smokin' Cues
42 Katipunan Avenue, White Plains, Quezon City
Contact: 0917-674-1445
This concrete block of a restaurant is from the same folks who brought Bawai's to Manila. It's not all about skewers. Smokin' Cues is kind of like a trip around the world—via barbecue. All kinds of meats are treated with different spices to mimic the smoky flavors from different countries—Filipino, Japan, Morocco, the United States.
Must-tries: Kansas City-style Pork Belly (P215), Moroccan Barbeque (P215)
Read more about Smokin Cues.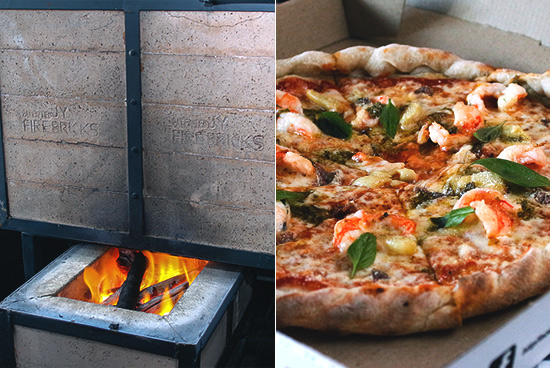 Stephen's Brick-Oven Pizza
89 P. Guevarra Street, Sta. Lucia, San Juan City
Contact: 0917-688-0609, 959-2442
It may be a tiny corner beside a car shop, but there's certain sophistication in the way owner Stephen Chanco makes his brick-oven pies. For one, he uses a three-cheese blend (mozzarella, Parmesan, and fontina) to make each one stand out. He always dreamt of opening his own pizza place and actually tried juggling a kiosk-type chain with his corporate work. That plan failed, but when he finally found his focus, he came up with something rustic and incredible.
ADVERTISEMENT - CONTINUE READING BELOW
Must-tries: Muscle Up (P380), Classic Pepperoni (P320), Something Fishy (P380)
Read more about Stephen's Brick-Oven Pizza.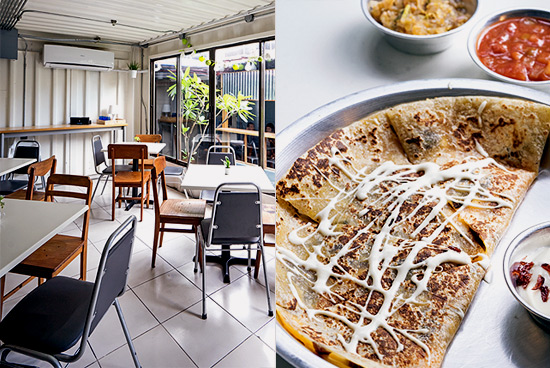 Taco Vengo
16 United Street, Kapitolyo, Pasig City
Contact: 0917-558-1658
This is the container van that is making everyone curious. Could it be their hybrid desserts? Their special waffles? Their nachos with a sous-vide egg? It's all these and more. Taco Vengo doesn't pretend to be authentic, but they are authentic when it comes to delivering flavor. Despite some unconventional methods, you won't question the results. The folks at Taco Vengo are so committed to quality that they advise against taking their food to go. Chef Mickee Mendoza tells us to eat their tacos as soon as they're served, fresh and hot.
Must-tries: Nachos por Machos (P160), Pork Taco (P95 to P180), Cranberry Quesadilla, Chwaffle a la Mode (P130)
Read more about Taco Vengo.  
GNARLY CONCEPTS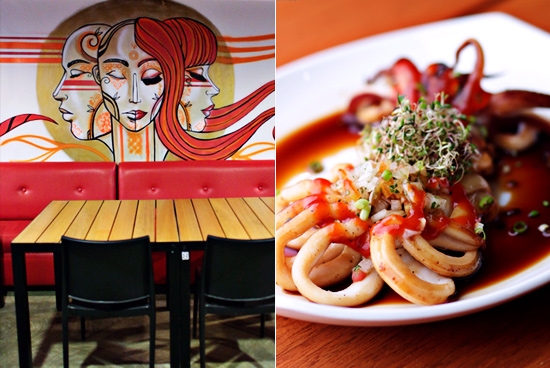 Anu'Man Kitchen + Pub
Unit H, 16 United Street, Kapitolyo, Pasig City
Contact: 0917-856-4511, 0905-209-1207
This unassuming nook in a developing hideaway in Kapitolyo is the first LGBT-friendly restaurant in the country. But don't mistake that for a theme. It's more of a philosophy. There's no discrimination here, only wittily named dishes aimed at providing comfort and community.
Must-tries: Kilig to the Balls (P175), Ang Pinakamakisig na Sisig sa Balat ng Lupa (P185)
Read more about Anu'Man Kitchen + Pub.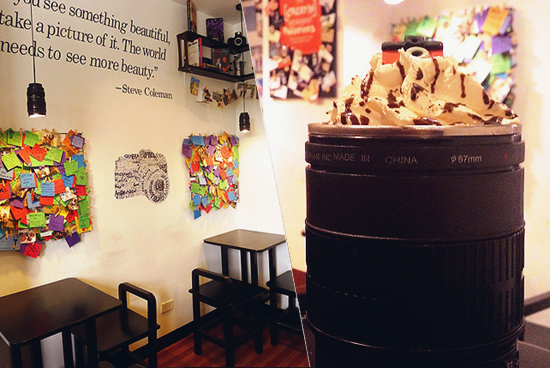 Caffera
2/F Dona Zenona Suites, Maginhawa Street corner Mahusay Street, Teachers Village, Quezon City
Contact: 0927-317-2729
Isn't it sort of "meta" how this camera-themed café is such a popular Instagram subject? Caffera is the brainchild of UST students whose thesis idea became a full-fledged café. Being their own market, they decided to capitalize on people's newfound love for taking photos of restaurants and their dishes. Every nook and cranny at Caffera is photogenic—from the wall of photos to the lens-inspired lighting to the lens-inspired cups.
ADVERTISEMENT - CONTINUE READING BELOW
Must-tries: Choco Mint Frapperture (P120), ISO Choco-LoFi (P90), S'mores Cookies (P110)
Read more about Caffera.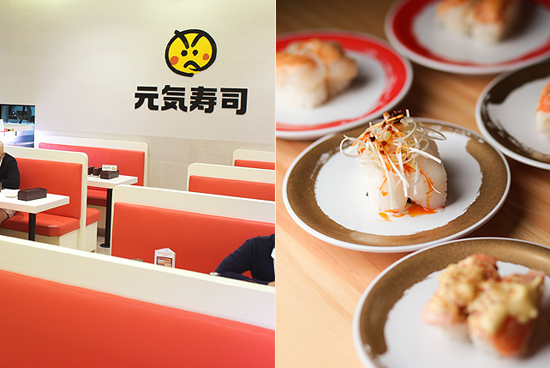 Genki Sushi
2/F Bonifacio Stopover Pavilion, Rizal Drive corner 31st Street, Bonifacio Global City
Contact: 624-2867, 0917-315-5671
Genki Sushi is a Japanese franchise with outlets in Hong Kong, Bangkok, Singapore, and the U.S. The concept is fairly simple: Order from an iPad and have your sushi zoomed to your table via an "expressway lane system." You can get your orders of salmon riding a Shinkansen or your Chirashi hitching on Astroboy. Kawaii!
Must-tries: Steamed Egg Custard (P120), Seared Salmon with Pollock Roe (P200), Surf Clam (P150)
Read more about Genki Sushi.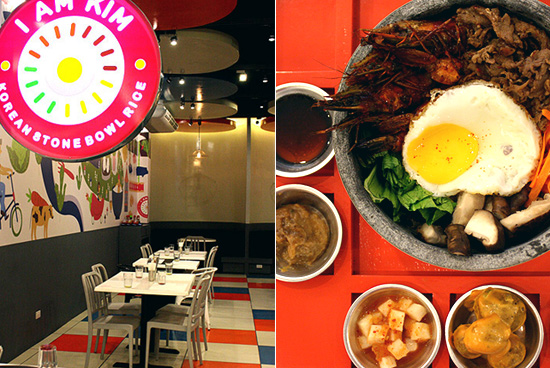 I Am Kim
Estancia Mall, Meralco Avenue, Capitol Commons, Pasig City
Contact: 542-2558
We'll tell you right off the bat how to get the best-tasting experience at I Am Kim. You see those tubs of sauces on the side? Don't be stingy. Dunk them all into your rice bowl. Chef Him Uy de Baron, when he makes his food, doesn't hold back when it comes to seasoning (anyone remember Nomama?), but I Am Kim is a build-your-own bibimbap situation. The flavors are intentionally lean because you're supposed to add to suit your taste.
At the playful I Am Kim, Chef Him once again shows off his knack for fusing together cultures. His pre-arranged "baps" go beyond Korean ingredients, and he even has his version of a gyoza!
Must-tries: B.E.C. Bap (P300 to P415), Umami Bomb (P350 to P470), Korean Pan-fried Dumpling (P190), Korean Sausage (P180)
ADVERTISEMENT - CONTINUE READING BELOW
Read more about I Am Kim.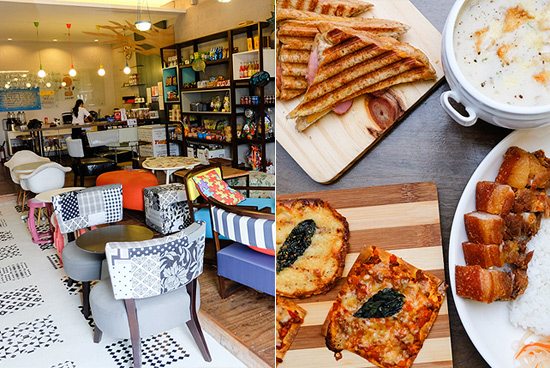 Puzzle Gourmet Store and Café
1 Comets Loop, Blue Ridge B Subdivision, Project 4, Quezon City
Contact: 0917-501-9645
When the Canoys opened their restaurant and gourmet grocery store, they had a mission much bigger than just serving food. Their son Joseph has autism, and the family sought to secure his future as well as provide for him a venue to interact with others. Joseph arranges merchandise and serves customers a few nights a week. Since then, the project has become much bigger. Currently, Puzzle employs other individuals with special needs. It's become a platform to teach others about autism.
Must-tries: Joey de Lechon (P220), Sweepsteaks Imbento Box (P490) Lola Lirs' Crisp Tapa Rice (P295)
Read more about Puzzle Gourmet Store and Café.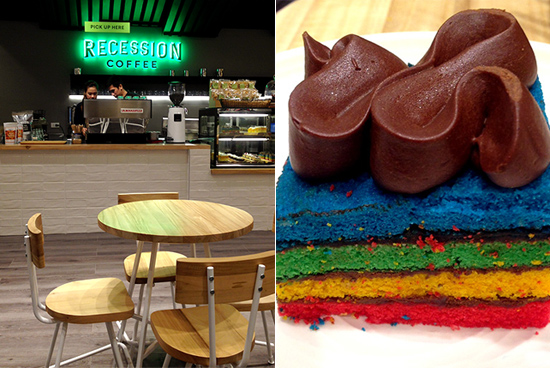 Recession Coffee
Digital Walker, 3/F Eastwood Mall, Quezon City
Most coffee shops in Manila have their prices plastered behind the counter, but not at Recession Coffee, a little corner inside a tech store. There, you order your dose of caffeine and decide for yourself how much you want to pay. It's a concept common in the United Kingdom, Australia, and United States. The beans are sourced from EDSA BDG's YKW so you're getting pretty good stuff. They want to know how much you personally think their coffee is worth. (Tip: Pay north of P150.)
If you're not in the mood for coffee or judgment, they have pre-priced desserts made by Chef Miko Aspiras.
Must-tries: Banana Almond Tart (P140), #LoveWins (P150)
ADVERTISEMENT - CONTINUE READING BELOW
Read more about Recession Coffee.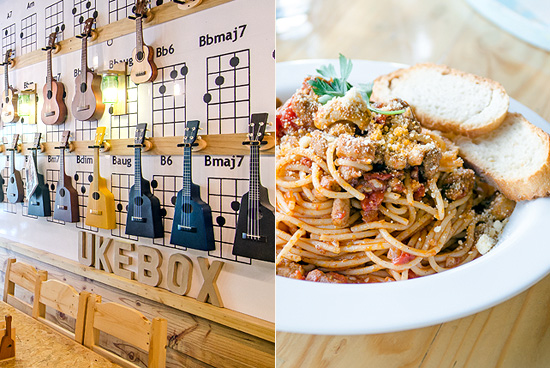 Uke Box Caffé
187 Village Center, E. Rodriguez Jr. Avenue, Libis, Quezon City
Contact: 374-7467
First of all, we love how this snazzy café is promoting a rather underrated art. Three friends from Baguio own the airy café, designing the closest attempt at a beach in the middle of the city. There are bunk-style seats, lazy-day beanbags (with mock seascape views), and loft booths that feel like cottages. Uke Box Caffe also offers uke workshops aside from hosting open mic nights.
Must-tries: Tuna Marinara Pasta (P250), Greet Tea Matcha (P155), Monte Cristo (P250), Ferrero Rocher Cake (P150)
Read more about Uke Box Caffé. 
TURNING JAPANESE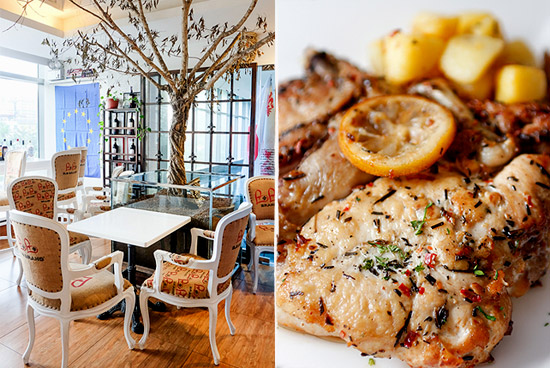 BB Brand Bakery Bistro
2/F RCBC Savings Bank Corporate Tower, 25th Street corner 26th Street, Bonifacio Global City
Contact: 893-1599
Japanese-style pasta? It works. We've seen udon flourished with cream sauce; we've seen spaghetti crowned with crab roe. This adorable setting—a mishmash of cutesy and rustic—pushes for authentic Italian food using Japanese sensibilities. It's incredibly affordable (you can get an appetizer for P80!), too!
Must-tries: Carbonara Rosa (P280), Spaghetti Alla Puttanesca (P290)
Read more about BB Brand Bakery Bistro.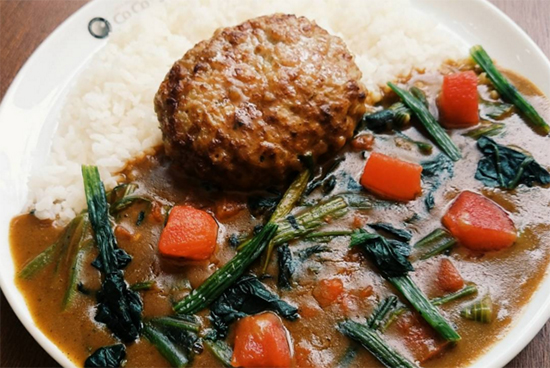 CoCo Ichibanya
Click here for a list of CoCo Ichibanya branches.
Japan's biggest curry chain is now in the Philippines and boy, is it growing fast. It first opened in Estancia in the first quarter of 2015, and currently, three branches are already open (we heard that around seven stores are planned). The menu is pick-your-own—from the amount of rice to the heat level to the protein to the combination of all those previously mentioned elements. This is Japanese curry at its best—fragrant, bold, but not overwhelming.
ADVERTISEMENT - CONTINUE READING BELOW
Must-tries: Sausage Curry with Cheese (P310), Chicken Cutlet Curry (P340)
Read more about CoCo Ichibanya.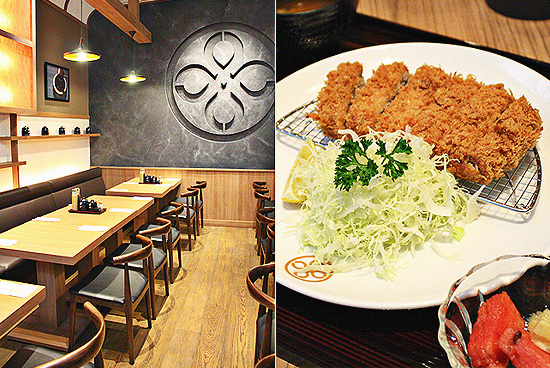 Maisen
Greenbelt 5, Makati City; SM Megamall, Mandaluyong City
Here's the short version of Maisen's long and colorful history. Back in the '60s, when Japan's economy started to improve, Chiyoko Koide was one of the people who started converting the then-celebratory tonkatsu (pork and beef were really pricey then) to something of an everyday meal. Her first restaurant in Hibiya became so popular that it is now run by Japan giant Suntory Holdings. Maisen has two very important considerations when prepping their fried breaded cutlets. First, the panko breading has to be made fresh—an original recipe!—in Maisen's commissary. Second, they have this technique called kendachi, which is what happens when the panko rises during cooking and doesn't fall flat.
Must-tries: Katsumabushi Set, Prawn Katsu Curry Set (P425), Tenderloin Katsu Pocket Sandwich (P275)
Read more about Maisen.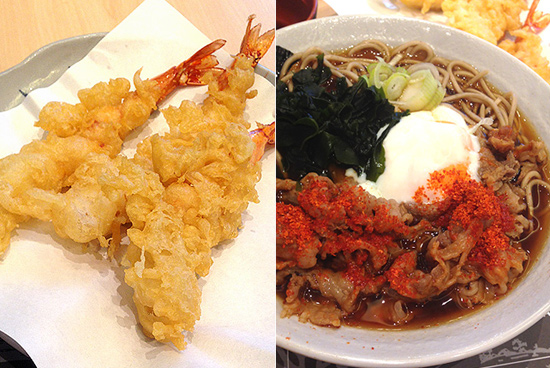 NadaiFujisoba
Bonifacio High Street, Bonifacio Global City; SM Aura Premier, Bonifacio Global City
Contact: 830-333
Those who are sick of ramen will find new noodles to love in this Japanese import. NadaiFujisoba specializes in bucketwheat noodles, very similar to spaghetti in terms of size, but with a slightly roasted flavor. You can get them chilled with a dipping sauce or in a warm soup. Toppings are in order. You can load up your bowl with tempura, egg, charsiu, and more!
Must-tries: Aka Fujisoba (P260), Ebi Ten Mori Saba (P260)
Read more about NadaiFujisoba.
ADVERTISEMENT - CONTINUE READING BELOW
DESSERT TO THE NINES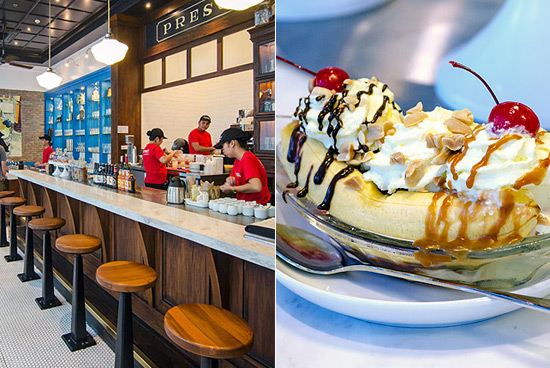 Farmacy Ice Cream & Soda Fountain
G/F Net Lima Building, 4th Avenue and 26th Street, Bonifacio Global City
Contact: 887-3622
From the same people behind Wildflour is this sweet shop of ice cream, waffle cones, pastels, and glass beakers. Farmacy recreates the soda-fountain-at-the-pharmacy experience of co-owner Chef Walter Manzke's youth. It's retro-inspired, equal parts cute and elegant. The ice cream is splendid, made fresh daily, prepped meticulously (no preservatives, all natural ingredients), and served at optimum temperatures so you get the perfect texture and flavor. In keeping with its nostalgic theme, Farmacy sticks to classic, familiar flavors.
Must-tries: Ice Cream Float (P270), Brioche Bomboloni (P225), Banana Split (P270)
Read more about Farmacy.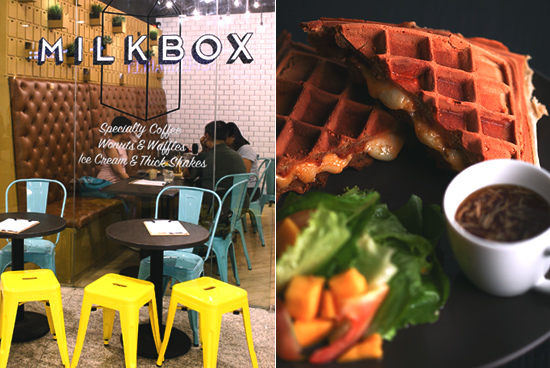 Milkbox
LG/F New Wing, Alabang Town Center, Muntinlupa City
Contact: 0999-884-0624
It's amazing how this Southern gem reworks "common" things like ice cream, milkshakes, and waffles into something even more wonderful. Over-the-top milkshakes and crazy food hybrids will come and go, but Milkbox will always be known be known as the inventor of the Wonut—that's Waffle Donut. Let's start with the fact that no matter how gimmicky it seems, it's unquestionably good. It's essentially a waffle sandwich, with a delicious cream and syrup filling, and more decadent toppings.
Must-tries: Salted Caramel and Mango Wonut (P210+), Matcha and Dark Chocolate Wonut (P210), Tres Leches Waffle Sundae (P245 to P340)
Read more about Milkbox.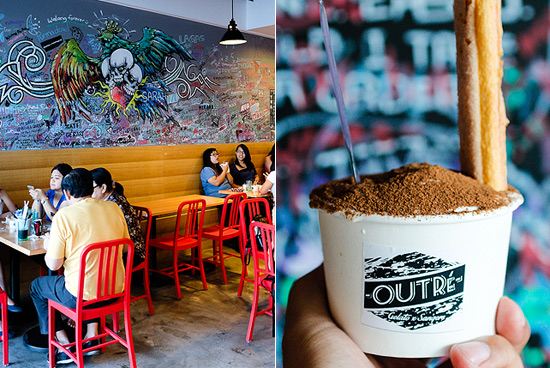 Outre
169 Aguirre Avenue, BF Homes, Parañaque City
Contact: 832-2990
If you haven't been to Aguirre in a while, you might have seen Outre on your social media feeds. The money shot is always that liquid nitrogen gelato held up against the graffiti-sprayed wall. There are only five flavors to choose from (and they change every now and then), but they're all delightfully delicious and outrageously photogenic. If you're not a sweet tooth, that's okay, you can still join in on the trend with their set of savory dishes.
ADVERTISEMENT - CONTINUE READING BELOW
Must-tries: Green "Something" Crumble (P150), Milo Dinosaur (P150), Prawn Mac and Cheese (P255)
Read more about Outre.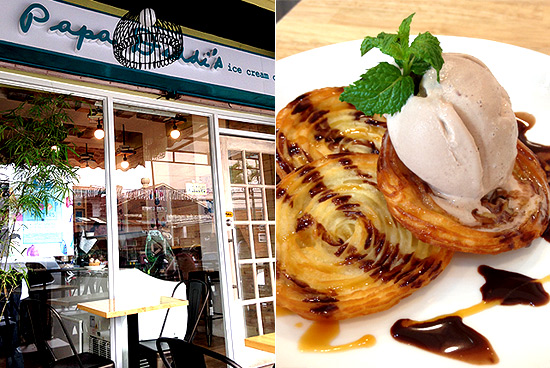 Papa Diddi's Handcrafted Ice Cream
168 Maginhawa Street, Quezon City
Contact: 0929-309-9919
Instead of wild decor and crazy gimmicks, the most eye-catching design element is a vintage photo of a man smiling. That's Papa Diddi's, the late father of owner Paul Perez. Papa Diddi was a lawyer and a home cook. He loved experimenting with homemade ice cream using ingredients from the family farm. Paul follows this practice but on a grander scale. The restaurant is a tribute to his father, and while he's not limited to the family's own produce, he sticks to sourcing from small local farms. Everything is also made in small batches to ensure freshness.
Must-tries: Churros con Tsokolate Ice Cream (P85), Roasted Forbidden Rice, Sweet Basil (ice creams range from P55 to P95)
Read more about Papa Diddi's Handcrafted Ice Cream.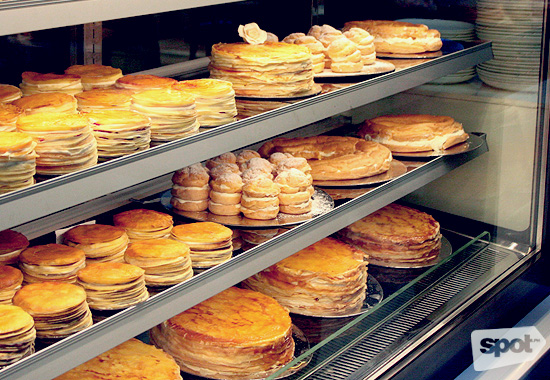 Paper Moon
Click here for a list of Paper Moon branches.
This desscert destination hails from Tokyo, Japan. Madame Kazuko Emy Wada is the Grand Dame of Specialty Cakes, and it's a well-deserved title. Her desserts are known throughout the world and she even supplies for Neiman Marcus, Dean & DeLuca, and Takashimaya. Her crepe cakes boast at least 20 delicate and elegant layers, filled with luscious and light cream. Her strawberry shortcake is magical—so much so, you have to order it a few days in advance!
Must-tries: Mango Mille Crepe (P225 to P1,400), Strawberry Shortcake (P3,000)
ADVERTISEMENT - CONTINUE READING BELOW
Read more about Paper Moon.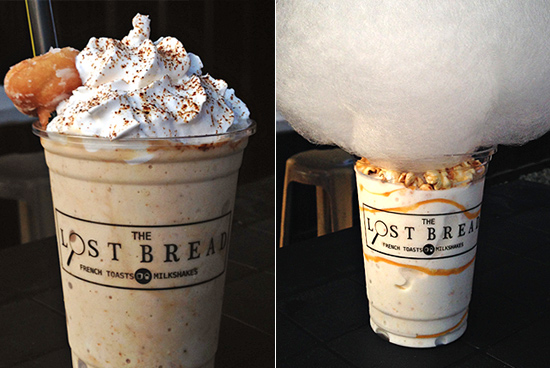 The Lost Bread
StrEAT Food Park, Maginhawa Street, Quezon City 
The Lost Bread is probably the most popular stall in gastro-event StrEAT. Expect milkshakes topped with the most outrageous things: They have one that simulates the flavors of breakfast, another covered in whipped cream, another crowned with donuts. The name is based on their other specialty, the pain perdu, which literally translates to "lost bread," but also means French toast.
Must-tries: Spiked Cookie (P120), Doughfee (P99), Carnival (P99)
Read more about The Lost Bread. 
LITTLE SWEET STOPS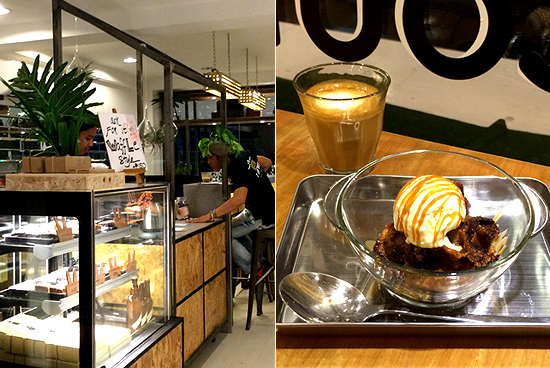 Bucky's Counter
169 Aguirre Avenue, BF Homes, Parañaque City
Contact: 0917-844-5104
Every respectable foodie who's made their rounds at the Metro's most influential markets and bazaars knows what a Bucky is. It's a giant non-brownie that's dense, rich, and rewarding. It's been around for years, even supplying for coffee shops. It was only early in 2015, however, that Miguel Vargas finally opened his own brick-and-mortar shop. It's not a big setup, and grab-and-go is still a big thing, but now people can finally enjoy their fudgy cakes with—wait for it—ice cream!
Must-tries: Put add-ons like Salted Caramel (P40), Vanilla Crème (P30), and Carmen's Best Madagascar Vanilla Ice Cream (P150)
Read more about Bucky's Counter.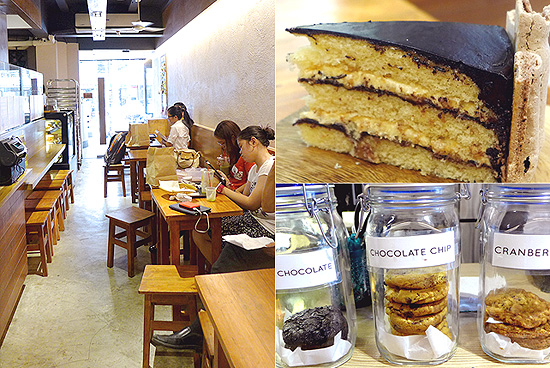 Salt Bakery
325 F.B. Dela Rosa Street corner Katipunan Avenue, Quezon City
Contact: 0998-656-2949
This quaint shop ironically shares space with Go! Salads. Owner Sam Ty's decadent displays, however, will make diets impossible! Her goal is to catch people's interest and pique curiosity with her baking twists. The menu is simple, categorized by Cakes, Cookies, and Other Treats, but everything tastes incredible. The cookies melt in your mouth, the cakes are rich but fluffy, the cupcakes more so. She even has a cake inspired by Momofuku Milk Bar Chef Christina Tosi.
ADVERTISEMENT - CONTINUE READING BELOW
Must-tries: Garth Vader (P125), Dahl (P125), Salted Egg Custard Cupcake (P65)
Read more about Salt Bakery.
ICE AND CREAM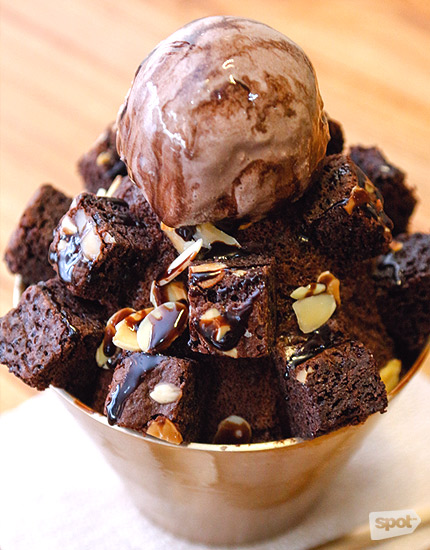 Café Seolhwa
2/F Forum South Global, 7th Avenue corner Federacion Drive, Bonifacio Global City
Contact: 425-9193
It's easy to understand why people are going gaga over this shaved-ice shop. Bingsu is Korea's version of our halo-halo, so there's an instant following. The humidity helps, too. But this isn't your usual flavored syrup, milk, and fruit over ice. Café Seolhwa knows how to make water decadent. Their creations are topped with cakes, waffles, soy powder. Everything is prepared fresh daily and the kitchen skips preservatives and synthetic coloring agents. Not a fan of shaved-ice treats? They have great shakes, too!
Must-tries: Pay (P190 to P260), Injeolmi (P190 to P260)
Read more about Café Seolhwa.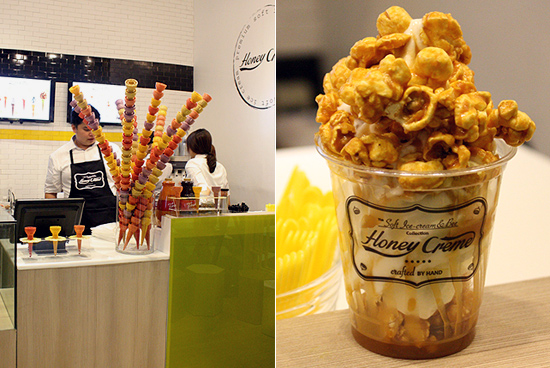 Honey Crème
SM Aura Premier, Bonifacio Global City
Honey Crème is a franchise from Taiwan and they feature velvety, luscious milk ice cream topped with all sorts of fun (cotton candy, popcorn, coffee). If you had it in Hong Kong, well, without bias, we say the one in Manila is better. "It's the milk supplier," one of the owners tells us. The star honeycomb and honey, however, are all sourced from New Zealand.
Must-tries: Caramel Popcorn (P165), Organic Honeycomb in a cup (P185), Organic Cotton Candy (P175)
Read more about Honey Crème.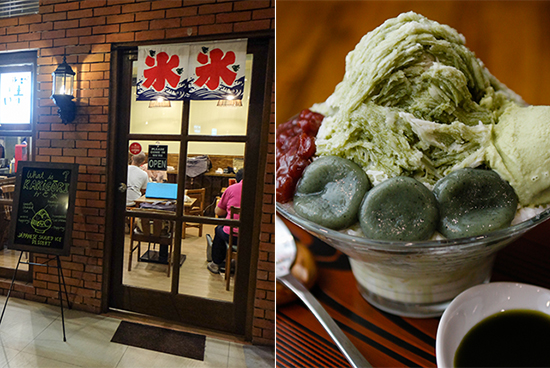 Ikigai Kakigori
POS Building, Scout Madrinan Street corner Tomas Morato Avenue, Quezon City
Contact: 372-1341
If you're a fan of vegetarian go-to Wabi Sabi, then you'll love Ikigai Kakigori. After the success of his Asian noodle house, Wabi Sabi owner Ibarra Padolina wanted to open something completely different—but still fitting with his love for all things Japanese. Kakigori, which is Japan's version of a halo-halo, was the logical next step. Every topping at Ikigai is made fresh from scratch, from the ice cream to the brownies to the rice balls. You won't find any additives or stabilizers here. Ibarra wanted to show that ingredients—no matter how simple or few—could turn into something incredibly tasty when you push for quality.
ADVERTISEMENT - CONTINUE READING BELOW
Must-tries: Mango Kakigori (P180 to P240), Kuromitsu Kakigori (P180 to P240)
Read more about Ikigai Kakigori.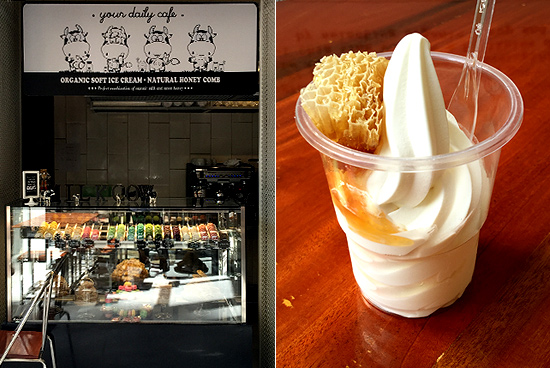 Milkcow
Click here for a list of Milkcow branches.
Organic milk and sweet honey never tasted so great together. Until Milkcow, that is. Everything at this Korean soft-serve chain is organic and sans sugar. The sweetness comes from natural honey from Tasmania and Australia or from the crazy toppings that are available to adorn your sundae—macarons, nuts, cotton candy, cheese, syrups, and more!
Must-tries: Macao Dream (P170), Milky Cube (P170), Cheesy Berry (P150)
Read more about Milkcow.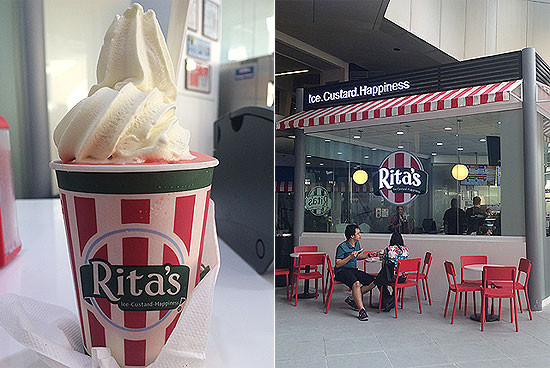 Rita's Italian Ice
Click here for a list of Rita's Italian Ice branches.
Ice and custard equal an entire world of possibilities. At Rita's, you can enjoy them individually, in layers (Gelati), blended (Misto Shake), blended with a topping (Blendini), and more. There are flavors for you to mix and match, too.
Rita's started in Philadelphia—a porch window in 1984. Ironically, it was founded by a former firefighter named Bob Tumolo. Since it opened in November 2014, Rita's has been a constant sanctuary in this tropical climate.
Must-tries: Blendini (P130 to P160), Frozen Custard Sundae (P160 to P195)
Read more about Rita's Italian Ice.
Load More Stories