Top 10 Tonkatsu in Manila (2015 Edition)
Who's the gold standard when it comes to golden-fried pork cutlets?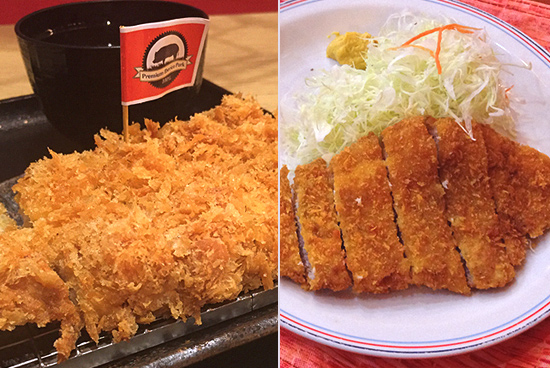 (SPOT.ph) This fad isn't going anywhere. A few years ago, Manila was bitten by a katsu bug that made locals suddenly want to patiently line up for a humble slab of pork. Of course, this pork—tender, melt-in-your-mouth, and dressed in delicious gold flakes of bread— was definitely not your average breed.
Fast forward to today and the tonkatsu (the technical term to refer to these fried pork cutlets) trend has become timeless. From international giants to local bigwigs and humble eateries, we rank the best of the best of this delicious Japanese classic. Get your chopsticks ready and dig in!
All SPOT.ph Top 10 lists are researched, paid for, tested, and selected by the writers and editors. They are discreetly conducted without any notice made to the restaurants or their owners. Hotel restaurants were not included in the review.
Also read: Top 10 Tonkatsu in Manila (2013 Edition)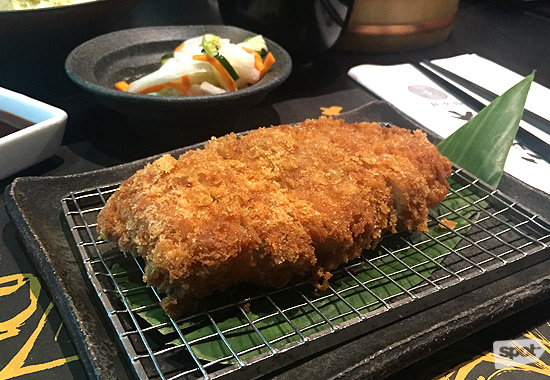 ADVERTISEMENT - CONTINUE READING BELOW
10. Kimukatsu's Kurobuta Kimukatsu Set (P595)
Kimukatsu offers plenty of options—they have katsu variations that are sliced, rolled, layered, and stuffed. Stick to the standard if you want to play it safe. It comes with a salad that's unsurprisingly presented with a number of dressings as well (go for Japanese mayo with calamansi and the sweet-and-spicy white sesame). The standard katsu, however, is just that. Standard. It's crispy, juicy, and considerably tasty, but it's just...not top of mind.
Kimukatsu has branches at Shangri-La Plaza, Mandaluyong City; Bonifacio High Street, Bonifacio Global City; and Century City Mall, Makati City. Read more about Kimukatsu.
CONTINUE READING BELOW
Recommended Videos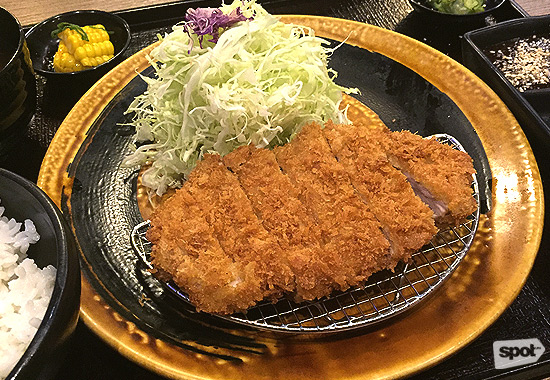 9. Tonkatsu by Terazawa's Hire Katsu Set (P325 to P475)
Tonkatsu by Terazawa is always packed, even on weeknights, with families, friends, and Japanese businessmen. They're here for one thing, the katsu, and they never leave disappointed. The pork is very tender! (Yes, with feelings.) On some occasions, however, its overly tender texture muffles the crust we look for in the panko crumb coat. There's a presentation issue, too: The breading gets steamed by the pork heat, making the underside a tad soggy. A quick solution? Lots of tonkatsu sauce! Chef Terazawa pioneered the type of tonkatsu sauce most restaurants use today.
ADVERTISEMENT - CONTINUE READING BELOW
Tonkatsu by Terazawa has branches at Greenbelt 2, Makati City; and Lucky Chinatown Mall, Manila. Read more about Tonkatsu by Terazawa.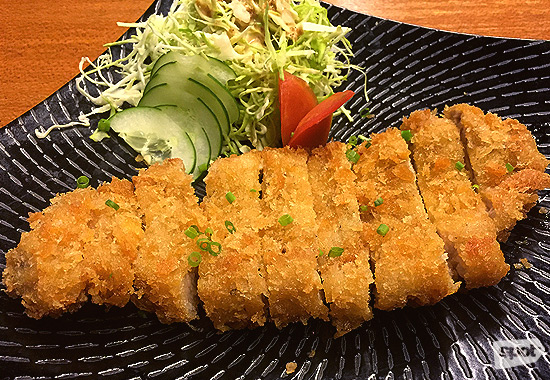 8. Yumi's Tonkatsu (P465)
The katsu here comes a la carte, without rice, miso soup, pickles, or dessert. The only extras are a cabbage salad and goma dressing. Yumi doesn't need any frills though. The nice, juicy pork cutlet more than satisfies. It's not as thick as other kurobuta versions and it could do with more seasoning, but its juiciness is already a winning factor.
Yumi has branches at Century City Mall, Makati City; and Mezzanine Area, Promenade 3, Greenhills Shopping Center, San Juan City.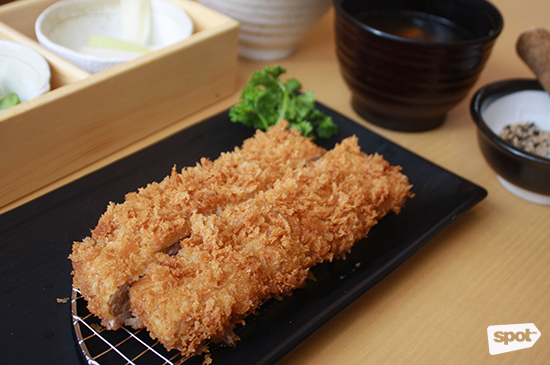 ADVERTISEMENT - CONTINUE READING BELOW
7. Saboten's Tenderloin Set (P390 to P440)
Saboten leveled up the katsu game at the beginning, changing—and really bringing up the standard for pork. We're a little hard on it, especially because it used to hold the top spot. We fear, however, that the once-impervious freshly made panko crumbs have come a bit loose. The katsu is oilier now and even the underside soggy; the pork lacks that distinct tenderness and that burst of flavor we once knew. But our hopes are up, we know Saboten can change the game again, one cup of fine, golden breadcrumbs at a time.
Saboten has branches at G/F Serendra, Bonifacio Global City; and Glorietta 5, Makati City. Read more about Saboten.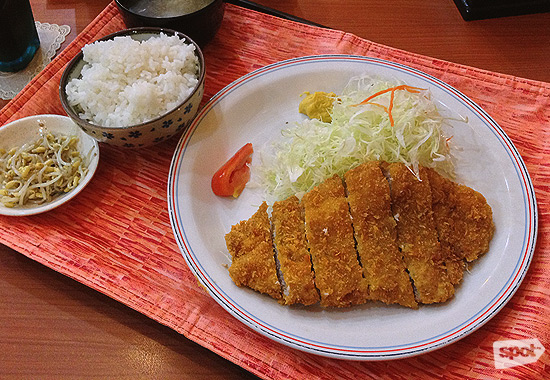 6. Tonkatsuya's Tonkatsu Set (P190)
If authentic is what you're looking for, then patiently waiting Japanese businessmen outside the restaurant indicates that you're in the right place. Looking for this hole-in-the-wall itself builds up a lot excitement, and Tonkatsuya delivers in every way. Even if the pork isn't as thick as its counterparts, it's still as flavor-packed as it can be. The breading could do with more crispiness but that's a tiny detail you'll forget at the end of your meal. Leaving the doors will be difficult, because you want to linger and take in more of the Japanese experience, but it's only polite to give way to the other customers waiting outside.
ADVERTISEMENT - CONTINUE READING BELOW
Tonkatsuya is at LG/F Palm Tower C, St. Paul Road, San Antonio Village, Makati City.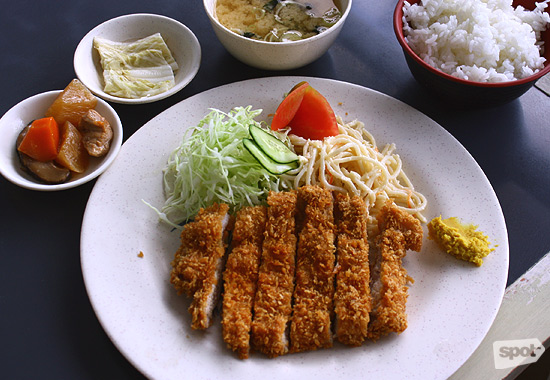 5. Yamazaki's Tonkatsu Teishoku (P196)
Who would go through the maze-like Makati traffic just to have their fill of tonkatsu? We would, really, even if it takes more time than a one-way trip to Japan. For less than P200, you get an authentic Japanese katsu experience—a golden, fried pork cutlet with the right amount of fat, plus a bevy of sides and add-ons that will leave even the biggest of appetites satisfied. (Yup, that's spaghetti and rice next to your katsu.) The experience is unbeatable, even after clocking in several minutes just to find this Little Tokyo gem (tip: it's inside a grocery). Trust us, it'll be worth it.
Yamazaki is at Little Tokyo, 2277 Fernando Street corner Pasong Tamo Street, Legazpi Village, Makati City.
ADVERTISEMENT - CONTINUE READING BELOW
4. Maisen's Kurobuta Tenderloin Katsu Set (P630)
The newest player in the local field has definitely stirred things up. One of Japan's favorite katsu houses, Maisen brings to the table a couple of factors that set it apart from the rest. Their katsu looks like any other plate out there, but bite into your pork cutlets and you'll realize the difference, as if there were a symphony of angels announcing that X-factor. It's the breading! Fine, golden flakes hug every piece of pork like a warm embrace. Don't forget about the apple-infused tonkatsu sauce, too. It's a drizzle of love from the heavens above. Only Maisen has truly mastered the art of "kendachi," the technique to make the panko crumbs "rise."
Maisen is at Greenbelt 5, Makati City; G/F SM North EDSA, Quezon City; and SM Megamall, Mandaluyong City. Read more about Maisen.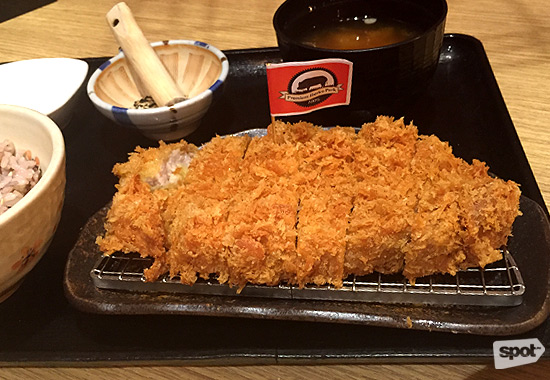 3. Katsu Sora's Iberico Pork Tonkatsu Set (P655)
ADVERTISEMENT - CONTINUE READING BELOW
Katsu Sora uses top-of-the-line pork, equivalent to Wagyu beef. You'll be spoiled for choice here as you can choose between Iberico, Kurobuta, Shimofuri, or Sakura pork as the star of your meal. Go for the Spanish-bred Iberico and you'll be rewarded with an inch thick of juicy, marbled meat that vanishes in the mouth with barely any effort. It could do with a bit more salt, but the texture and perfect golden crunch more than make up for it.
Katsu Sora has branches at Trinoma, Quezon City; Eastwood Mall, Quezon City; and Promenade, Greenhills Shopping Center, San Juan City. Read more about Katsu Sora.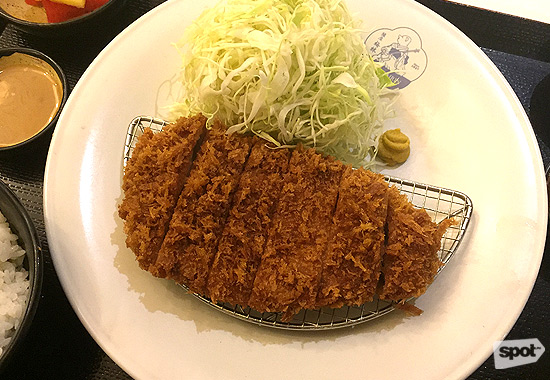 2. Ginza Bairin's Kurobuta Rosu Katsu Set (P595)
On our most recent visit to Ginza Bairin, we were unfortunately told that they were having problems with their tonkatsu sauce supplier. We shrugged it off and settled in because we knew that was no problem. This pork cutlet needs no sauce to hide any flaws (maybe because there are barely any). The pork is so good, so flavorful, so succulent on its own. Once you bite into a pork strip, it's all juicy goodness from there. We'd be happier if the breading were a little less coarse and if it featured a lovely golden finish, but we really can't complain, especially with this flavor bomb.
ADVERTISEMENT - CONTINUE READING BELOW
Ginza Bairin has branches at Trinoma, Quezon City; UP Town Center, Quezon City; and Glorietta 2, Makati City. Read more about Ginza Bairin.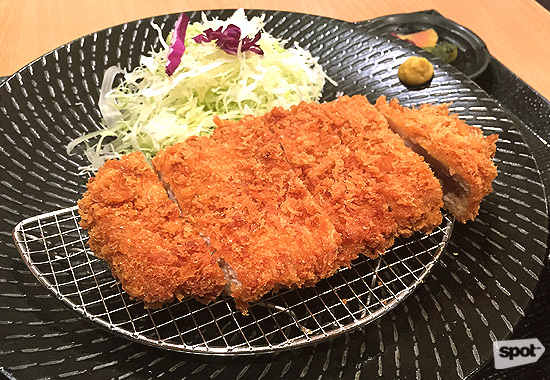 1. Yabu's Kurobuta Pork Set (P535 to P595)
Yabu has been around since 2011 and yet every branch still attracts droves of customers. This is evidence that this restaurant is doing something right. We can still remember the first meal we had here, especially because the quality of the whole experience has remained the same. The crunch of the golden coat has never wavered, the pork has never come up dry, the sauces have been consistently sweet and tart, the rice has never run out—Yabu should be in the dictionary under "consistency."
Standing alongside international franchises is no easy feat, but Yabu's service, customer care, and consistency has allowed it to take the top plum. We can't help but smile for every "certainly" or "with pleasure" remark from Yabu's servers after our string of orders—it's that extra touch of hospitality that makes us proud that a local gem is leading the whole katsu game.
ADVERTISEMENT - CONTINUE READING BELOW
Click here for a list of Yabu branches. Read more about Yabu.
---
Help us make Spot.ph better!
Take the short survey
Load More Stories