Our Beefiest List Ever: 10 Drool-Worthy Beef Dishes for Meat Lovers
You've never seen a beefier list!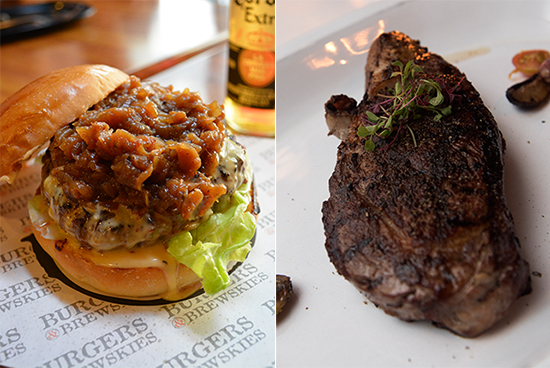 (SPOT.ph) We're not discounting other meats here, but there's something about beef. Seriously, what is the beef with beef? Those rich and robust flavors of a good beef burger. The dissolving quality of a beautifully marbled steak. How it can be so good on its own with just a few dashes of salt yet still be so perfect even with a load of seasonings. That sheer...beefiness. Because we're craving this meaty gem so much, we went through our stores to look back on some of our best beef moments.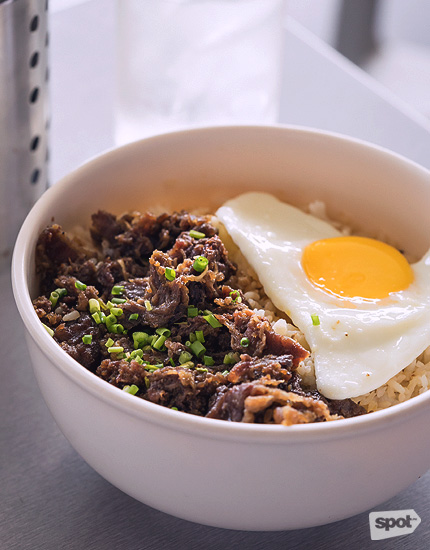 Recovery Food's Tapa de Morning (P180/Regular, P260/Full Recovery)
Recovery Food takes breakfast all-day literally, with its 24-hour service. Their take on the classic tapa, sinangag, and egg combination is a rice topping-style bowl filled with a slightly sweet, almost bulgogi-flavored meat crowned with your choice of white or brown rice and scrambled or fried egg. Apart from those options, Tapa de Morning also goes swimmingly well with RF's sinamak vinegar. That incredibly refreshing green mango and onion mix on the side shouldn't be ignored. It gives a fresh little balance to this number. Hungry patrons will like the fact that you can order a bigger bowl.
ADVERTISEMENT - CONTINUE READING BELOW
Click here for a list of Recovery Food branches. The Tapa de Morning ranked No. 3 on SPOT.ph's Top 10 Tapsilog in Manila (2015 Edition).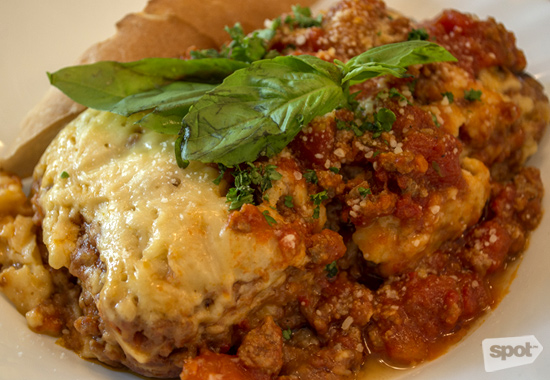 CONTINUE READING BELOW
Recommended Videos
Benassi's Beef Lasagna (P410)
Benassi's Beef Lasagna is a carnivore's dream come true. The layers of pasta, béchamel sauce, and cheese serve as sturdy foundations for the generous mound of meat and tomato sauce that is poured on top of them. The Italian herbs provide dimension to each mouthwatering bite, so make sure you bring a huge appetite when you order this dish.
Benassi Ristorante is at G/F The Exchange Regency Residence Hotel, Exchange Road corner Jade Street, Ortigas Center, Pasig City. Benassi's Beef Lasagna ranked No. 10 on SPOT.ph's Top 10 Beef Lasagnas (2015 Edition).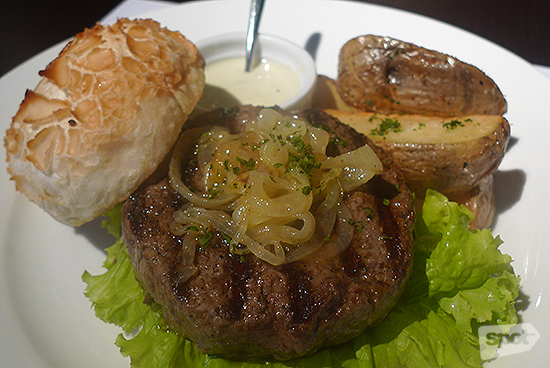 ADVERTISEMENT - CONTINUE READING BELOW
Chef's Burger from Elbert's Steak Room (P1,200)
Upon introduction, it may look pretty lean and devoid of any trace of sinfulness. But slice through that baby and you will instantly realize how deceivingly indulgent the patty is. Served with roasted potato wedges and a chunky Cambozola sauce, the Chef's Burger keeps delicious globules of bone marrow trapped within the already-flavorful aged tenderloin patty. When you bite into these small nuggets of marrow, out flows a richness that coats your tongue and tickles your taste buds. You'll also get a very faint taste of truffle from the tenderloin patty. Go easy on the blue cheese sauce as it can overpower your palate and blanket all the other flavors offered by the burger.
Elbert's Steak Room is at the Sagittarius Building. III, 111 H.V. Dela Costa Street Salcedo Village, Makati. The Chef's Burger ranked No. 3 on SPOT.ph's Top 10 Gourmet Burgers (2013 Edition).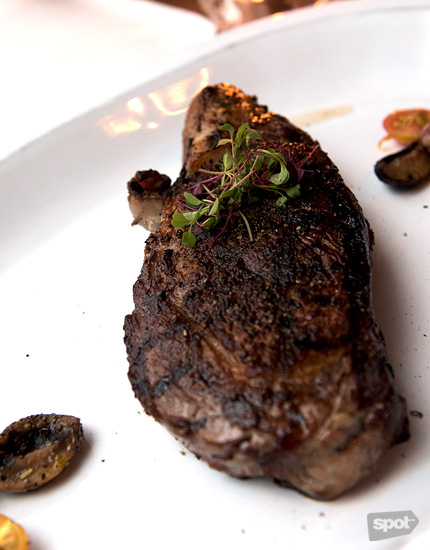 ADVERTISEMENT - CONTINUE READING BELOW
Smith Butcher and Grill Room's U.S.A. Prime Angus, Grain Fed, Wet Aged 3 Days (P1,300 to P4,998)
If you want to come in for steak, you have to be financially prepared. Smith carries four kinds of rib eye (among other cuts), with the U.S.A. Prime Angus, Grain Fed, Wet Aged 3 Days being most affordable. It's a hulking cut of meat, almost two inches thick and lean with some ligaments around the perimeter. Persevere because once you get past the chewy bits, it's full flavor ahead. This steak benefits from a rare to medium rare (Smith discourages cooking their steak well-done that they don't even give you that option) so you get a soft chewiness that emphasizes the very lightly seasoned meat. If you want extra succulence, get it with sauce. We're partial to the black truffle.
Smith Butcher and Grill Room is at ACI Building, 147 H.V. Dela Costa Street, Salcedo Village, Makati City (0915-429-5167, 0927-375-9467). The U.S.A. Prime Angus Steak ranked No. 9 on SPOT.ph's Top 10 Steaks (2015 Edition).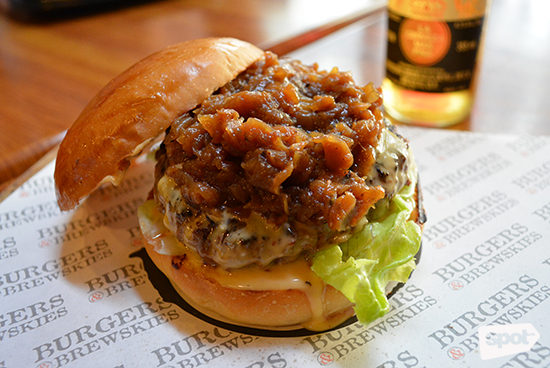 ADVERTISEMENT - CONTINUE READING BELOW
Burgers and Brewskies' Neat Burger (P198)
Pairing a burger with the right beer should be an art form, and the people behind Burgers and Brewskies should be hailed as real craftsmen. From the array of their signature burgers, get the Neat Burger-one-third pound of 100% imported beef patty cooked to a perfect medium-topped with roasted garlic aioli, B&B cheese sauce, and onion confit. The sweetness of the onions brightens the hearty flavors of beef, and the double serving of sauce amps up the juiciness in each bite. The bun is fun, almost like a pretzel, which complements the tenderness of everything else. If you have a few extra bucks, wash it down with a bottle of Corona. The pairing is worth it.
Burgers and Brewskies has branches at Estancia Mall, Capitol Commons, Pasig City; and Bellagio II, Forbes Town Center, Burgos Circle, Bonifacio Global City. The Neat Burger ranked No. 1 on SPOT.ph's Top 10 Cheeseburgers Under P200 (2014 Edition).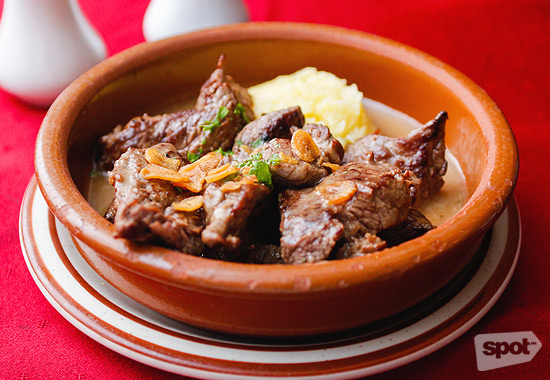 ADVERTISEMENT - CONTINUE READING BELOW
Alba's Salpicado de Solomillo (P480)
Here's a tip to get the best version of Alba's Salpicado de Solomillo: Ask them to cook your order medium-rare to get this very tender lean meat. The dish has a garlicky, brown sauce which is so intensely good, you'd want to ask for more—just so you could mix it with the side of mashed potato.
Alba has branches at Bel-Air, Makati City; Filinvest City, Alabang, Muntinlupa City; Tomas Morato, Quezon City; Mall of Asia Complex, Pasay City. The Salpicado de Solomillo ranked No. 7 on SPOT.ph's Top 10 Salpicao (2015 Edition).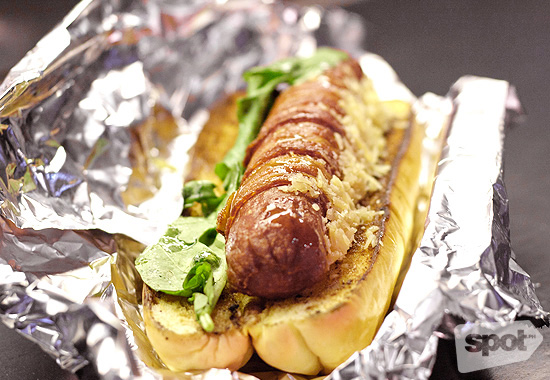 Lazy Bastard's Honey Parmesan Dog (P200)
The Lazy Bastard hotdogs are clearly not made by lazy bastards. Their Honey Parmesan dog is one of Jupiter's best-kept secrets (and well-hidden, as it's in the basement of a building behind a ramen joint) and a true gourmet dog gem. It's bacon-wrapped 100% beef deliciousness in a crunchy toasted bun, enveloped by rich sweet honey, sharp Parmesan cheese, and tart arugula. Each bite is an unexpected perfect harmony of juicy, crunchy, bitter, and sweet!
ADVERTISEMENT - CONTINUE READING BELOW
Lazy Bastard is at the basement of 22 Jupiter Street corner Galaxy Street, Bel-Air, Makati City. Read more about Lazy Bastard. The Honey Parmesan Dog ranked No. 1 on SPOT.ph's Top 10 Hotdogs in Manila (2015 Edition).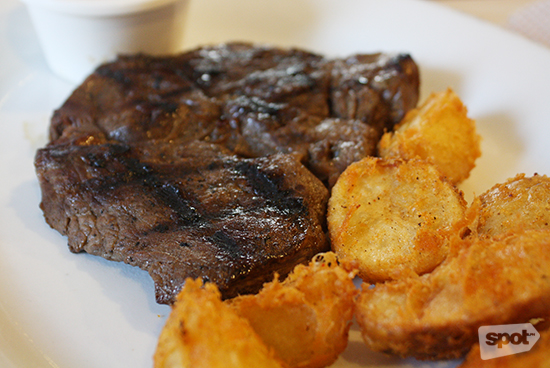 Everything At Steak's Rib Eye (P225)
Customers have the option of choosing between the fiery New Orleans Rub or the bestselling Original Marinade. Pick the latter to really put the spotlight on the beef. The plate-sized steak has that deep brown hue of something that's been laid on a grill. It gives off a strong, mouthwatering, smoky odor, which is just as well because that's where it gets most of its flavor profile. The ribeye is slightly thicker than other steaks and it's cooked to a medium well. There's a juicy tenderness to each mildly salted slice. Pick the Original Mushroom Gravy. It's lumpy, like the kind you have at home. You'll be wanting more, especially if you get the potato wedges. Should you crave a more peppery kick, get the Peppercorn Gravy. It's a very basic steak that offers a lot of leeway for your preferences.
ADVERTISEMENT - CONTINUE READING BELOW
Everything At Steak has branches at Annapolis Street, San Juan; Banawe Street, Quezon City; and Little Baguio, San Juan City. This rib eye ranked No. 5 on SPOT.ph's Top 10 Steaks Under P500 (2014 Edition).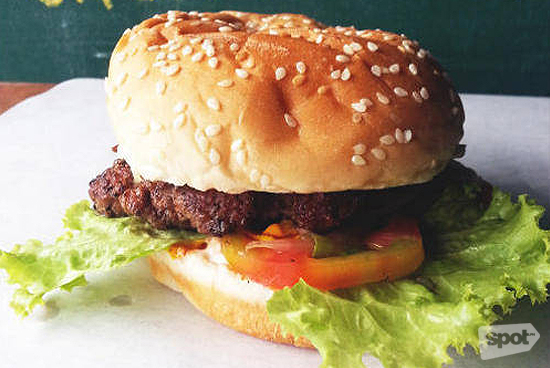 The Snack Shack's Quarter Pounder with Cheese (P70)
The hefty beast boasts of a grilled-before-your-eyes patty that's so unbelievably juicy, you'll feel like you've died and gone to Carnivore Heaven when you take a bite. It comes with cheddar cheese, lettuce, tomato, and a couple of rings of raw white onion, plus a dollop of mustard. It sure doesn't hurt that the sesame seed bun is soft and fluffy. The Snack Shack burgers are grilled and made to order, so there's a minimum 15-minute waiting time-this, apart from the crowds and long lines. But for burger this good, you'll always be more than willing to stick around.
Along V. Luna Extension, beside SM Savemore, Sikatuna Village, Diliman, Quezon City with a branch at the UP Diliman Campus (near the Post Office). The Quarter Pounder with Cheese ranked No. 1 on SPOT.ph's Top 10 Burgers Under P100 (2013 Edition).
ADVERTISEMENT - CONTINUE READING BELOW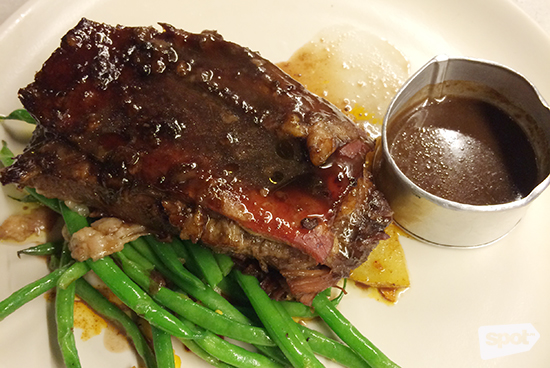 Grace Park's Muscovado Beef Belly (P540)
The thick cut of meat and caramelized skin should be enough of a draw, then slowly work your way through the layers of this beef belly and it rewards with such tenderness and flavor. The sweet, roasted addition of muscovado sugar seeps with every bite, down to the bed of potato slices and crisp green beans on which the meat rests. The sweet-salty dripping sauce adds another dimension should you need an extra kick of fat, although the flavors stand on their own even without its help.
Grace Park is at G/F One Rockwell, Rockwell Drive, Rockwell Center, Makati City (843-7275). The Muscovado Beef Belly ranked No. 2 on SPOT.ph's Top 10 Roast Beef Dishes (2015 Edition).
---
Help us make Spot.ph better!
Take the short survey
Load More Stories