New Restaurant Alert: Rocky Mountain Chocolate Factory at UP Town Center, Quezon City
This is your chocolate dream come true.
Rocky Mountain Chocolate Factory
LG/F UP Town Center, Katipunan Avenue, Quezon City
Open daily from 11 a.m. to 10 p.m.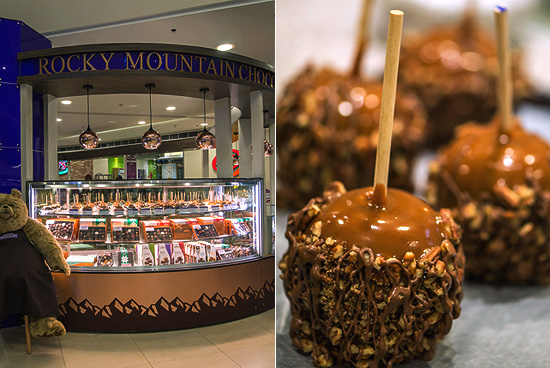 (SPOT.ph) It's difficult to compete for attention when you're in between family staple Max's Fried Chicken and mall favorite Churerria La Lola. Yet, here we are. All eyes are on Rocky Mountain Chocolate Factory. The store opens to the public on December 17, but two days before that magical chocolate-filled moment, the candy shop fills their glass displays with rows upon rows of chocolate.
This "practice run" is a bit of a tease and many are taking the bait. Co-owner Tracy Dacay has spent nearly all day talking to potential customers ready to buy a box or three. "We're opening on the 17th," she promises. "Drop by because the first 100 customers will get a caramel apple for only P20." Tracy repeats this spiel to every interested passerby, sating his or her cravings for now with a sample chocolate truffle that would undoubtedly have them coming back.
ADVERTISEMENT - CONTINUE READING BELOW
The caramel apple, by the way, for those who have plans of visiting on Thursday, averages at P220.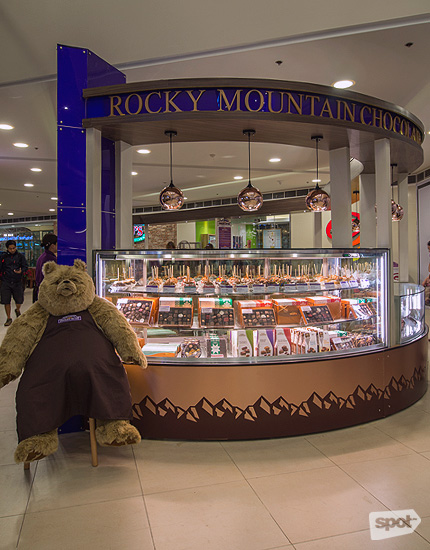 CONTINUE READING BELOW
Recommended Videos
Truffles the Bear
Rocky Mountain Chocolate Factory, as SPOT.ph mentioned when we broke the news of its opening in November, is an international franchise based in Durango, Colorado. It began in 1981 when Frank Crail and his family moved from Southern California to the Centennial State. He surveyed the area for potential business opportunities and settled with opening a chocolate shop. Now, that chocolate shop is a 53,000-square foot factory with over 300 chocolate varieties.
The Dacay family brought Rocky Mountain Chocolate Factory to the Philippines. Ara Dacay recalls that they used to go to the store when they were kids and would hand-carry their caramel apples and chocolates back to Manila. It's the same story for many of the curious onlookers. They know about the brand from overseas and are excited that the once-sporadic treat is now easily available.
ADVERTISEMENT - CONTINUE READING BELOW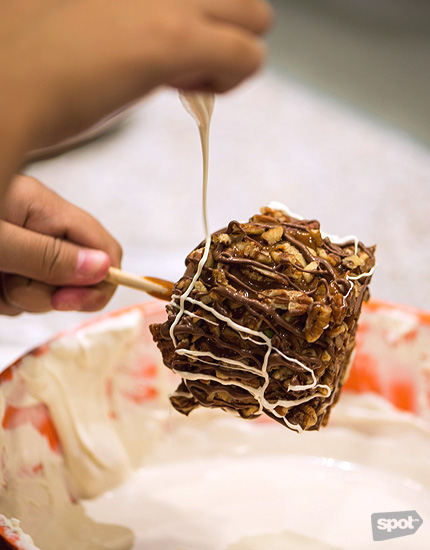 Preparing some great bites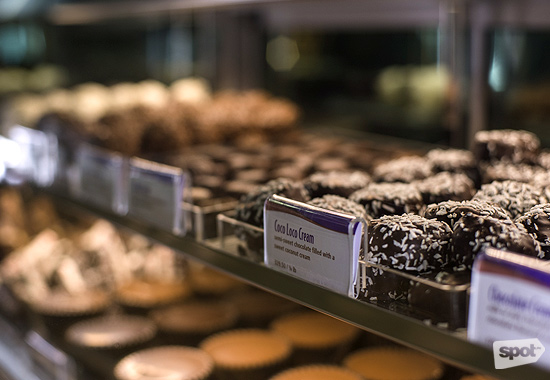 Creams
Nearly everything on the shelves is imported from Durango and Rocky Mountain Chocolate Factory has something for every kind of chocolate lover. There are filled chocolate bites like the Aspen (P329.50/quarter pound) with brown sugar cream or the Coco Loco (P329.50/quarter pound) with sweet coconut cream. There are indulgent Peanut Butter Buckets (P329/quarter pound) for those whose sweet tooth is craving something intense, as well as gorgeous bricks of toffee—some with smooth surfaces like the almond-infused Mountain (P329.50/quarter pound) or the coffee-tinted Java (P329.50/quarter pound) while some are nutty and chunky like the almond-speckled English (P329.50/quarter pound).
ADVERTISEMENT - CONTINUE READING BELOW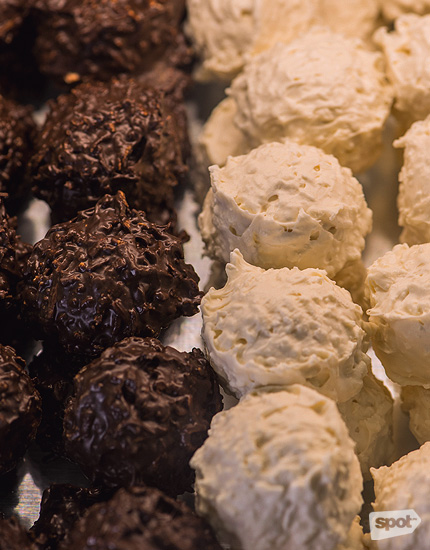 Haystacks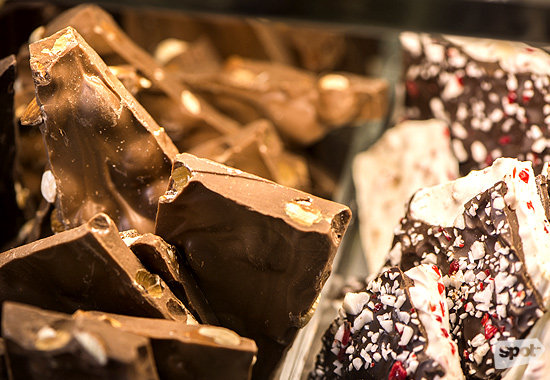 Barks
If you want a different dimension in your chocolate, you'll find satisfaction in the variety of Haystacks (P350/quarter pound). They're baubles of shredded coconut covered in either milk or dark chocolate, or white confection (we'll explain this later).
Barks (P338/quarter pound), of course, are another ideal way of getting your chocolate fix. Rocky Mountain Chocolate Factory has them in either Almond or Peppermint.
ADVERTISEMENT - CONTINUE READING BELOW
Then, there's the "snack line." It's one case filled with chocolate-covered everything. There are dipped potato chips, dipped orange peels, dipped peanut butter fingers, dipped pretzels, dipped Oreos, and dipped marshmallows. There are skewers of homemade mallows enrobed in chocolate chips, sprinkles, M&Ms. There are squares of chewy caramel and squares of chewy caramel coated in chocolate and sprinkled with Sel Gris Grey sea salt.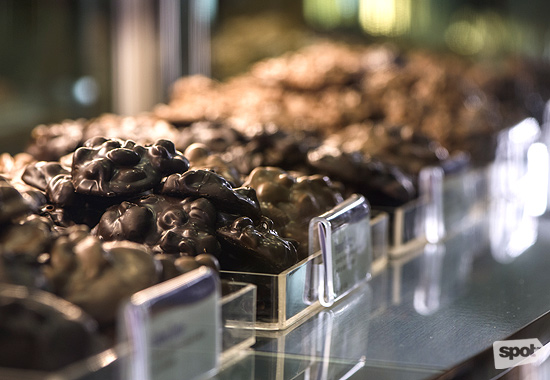 Bears
Some of Rocky Mountain Chocolate Factory's bestselling signatures are the Clusters and the Bears. The Clusters are cookie-like things—discs made up of rice crispies (P350/quarter pound), pecans (P350/quarter pound), peanuts (P305.50/quarter pound), cashews (P350/quarter pound), or almonds (P350/quarter pound) blanketed in luscious chocolate. Think of that sinful combination, add caramel in the mix, and you have the Bears (P325.25/quarter pound to P350/quarter pound).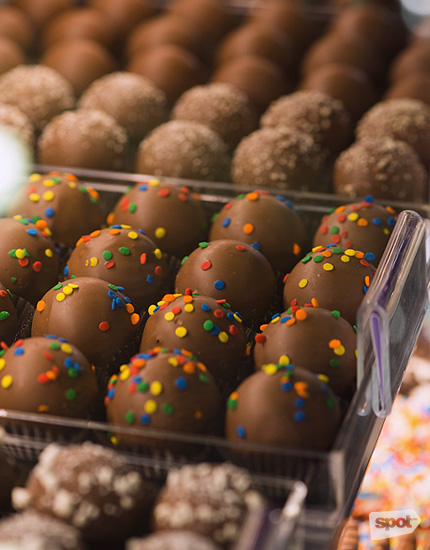 ADVERTISEMENT - CONTINUE READING BELOW
Truffles
Debbie Smith, director of strategic development, who's here to oversee the opening, points at the Rocky Road Cluster (P379.25/quarter pound). It's a collective favorite. The marshmallows are from a special recipe that keeps it incredibly moist in the heavy mix of walnuts and chocolates.
Debbie has been with the company for 21 years and she was the one who trained the Dacay siblings on the art of Rocky Mountain chocolate. The chocolate, she tells us, is from Guittard in San Francisco, and they melt it down to create the masterpieces we're looking at today.
"Everything is really chocolate," we tell Tracy in amazement. "It's a factory!" she answers, laughing. Still, if you like but aren't totally obsessed with chocolate, you'll still find something to look forward to at Rocky Mountain. Case in point: The apples. The apples probably use the least chocolate, but those columns of picture-perfect candied fruit bear their own appeal.
Rocky Mountain has over 30 varieties—and that excludes their seasonal flavor like Christmas Curl (P330) and Christmas Sugar (P286). The kitchen makes the caramel fresh in a special copper pot that Debbie says distributes heat more evenly and consequently makes smoother caramel. Every bit of caramel that covers the beautifully crisp Granny Smiths is nicely chewy and sticky. It's not too thick, nor is it too sweet. The green apples are extra tart to give a really delicious contrast to the caramel, chocolate, toppings, and white confection.
The white confection is non-cocoa candy. Rocky Mountain doesn't have a lot of white chocolate options and this similar-tasting sweet is a good alternative. According to Debbie, this simple mix of sugar, butter, and milk makes it a viable option for those who can't have chocolate. Because the flavor isn't too overwhelming, it also makes an effective canvas for the sweeter type of toppings.
ADVERTISEMENT - CONTINUE READING BELOW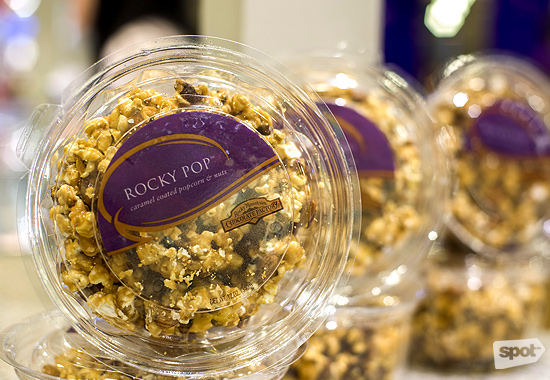 The caramel is just as important as the chocolate.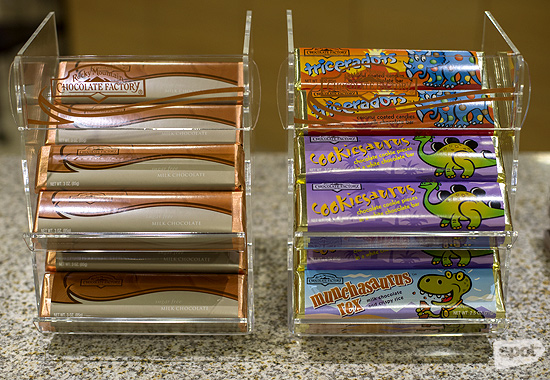 In case kids need more convincing to like chocolate!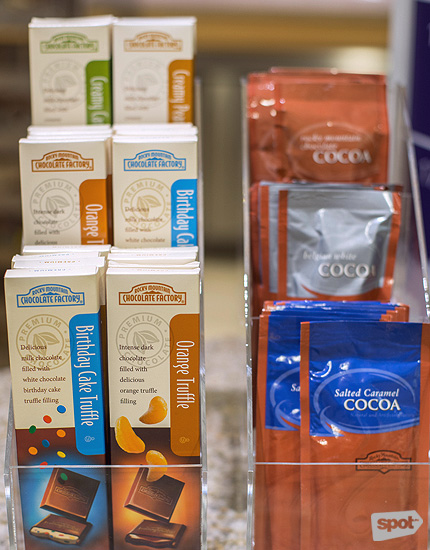 ADVERTISEMENT - CONTINUE READING BELOW
Packaged versions of their chocolate and cocoa!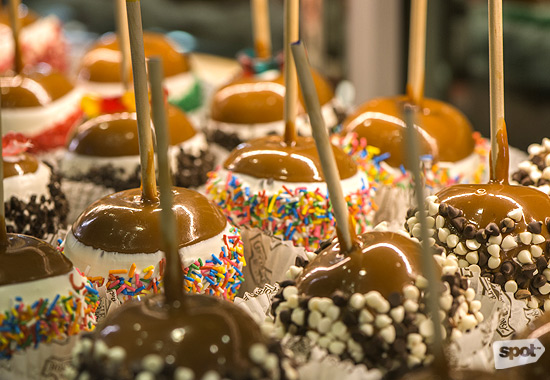 Candy apples! The white coat is the White Confection.
The Cheesecake Apple (P270) is simple yet mind-blowing. It's here where you can appreciate Rocky Mountain's premium ingredients without a lot of distraction from gummy bears or sprinkles. The apple is carefully blanketed with caramel, then dipped in white confection. The touch of crushed graham crackers gives it a nice grainy contrast (because you won't find that in their impressive caramel!).
You won't get any more classic than the plain Caramel Apple (P215), but if you're trying for nostalgia, the Tiger Butter Apple (P270), with its peanut butter mix, will take you back to grade school when you were smearing peanut butter over apple slices. There's also a doubly enjoyable treat called the Apple Pie Apple!
For more sophisticated combinations, there are options speckled with almonds, pecans, and chocolate chips, but we won't judge you if you get the adorable Worms & Dirt (P270)—a sweet treat with crushed Oreos and gummy worms.
ADVERTISEMENT - CONTINUE READING BELOW
Don Dacay, who's in charge of marketing, tells us that once they get settled, they're also looking into catering for weddings and parties.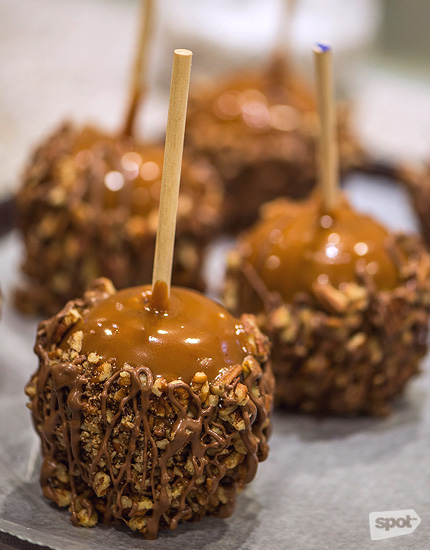 Pecan Apple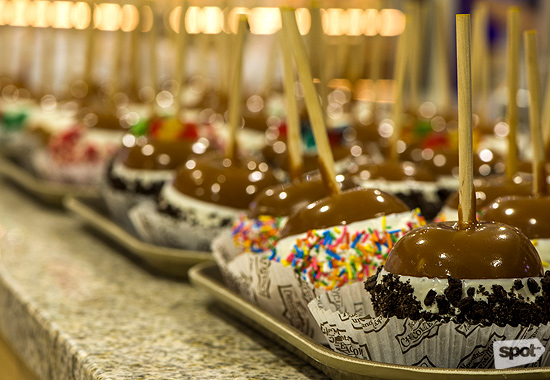 Freshly coated apples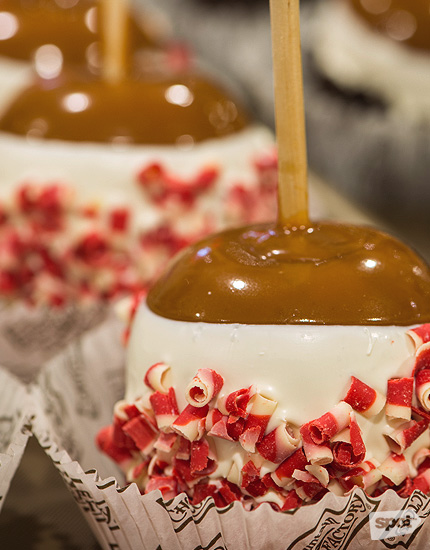 ADVERTISEMENT - CONTINUE READING BELOW
Christmas Curl
The local Rocky Mountain Chocolate Factory has also come up with delicious beverages to complement their sweet thrills. There are hot drinks like coffee (P85 to P130) and hot chocolate (P150)—Rocky Mountain's chocolates aren't designed to be converted to drinks so you won't be getting melted versions of the Java Toffee—as well as fun inventions like Tiger Butter Frappe (P170), White Strawberry Avalanche Frappe (P170), Caramel Apple Smoothie (P175), and Hazelnut Bear Frappe (P175). According to Don, you'll get actual apple bits in the smoothie as well as chunks of wafers in the nutty bear frappe.
Walk past Rocky Mountain Chocolate Factory and we dare you to resist any of their gorgeous confections. The chocolate is calling.
Photos by Hans Fausto
---
Help us make Spot.ph better!
Take the short survey
Load More Stories