10 Cool Breakfast and Brunch Places in Manila
For those whose cravings go past pancakes and bacon...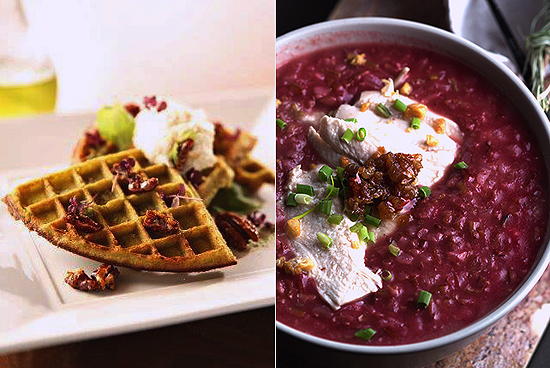 (SPOT.ph) We love breakfast–any time of the day. We love waffles, we love pancakes, we love tapsilog. The best part is that while Metro Manila is bursting with all these classical options, there are still more choices available. If you're looking for quirkier ways to start your day, we've come up with a list of out-of-the-box breakfast places for you to try. 
Also read:
10 Places to Enjoy Great Eggs for Breakfast
10 Breakfast-flavored Treats in Manila
10 Must-Try All-Day Breakfast Spots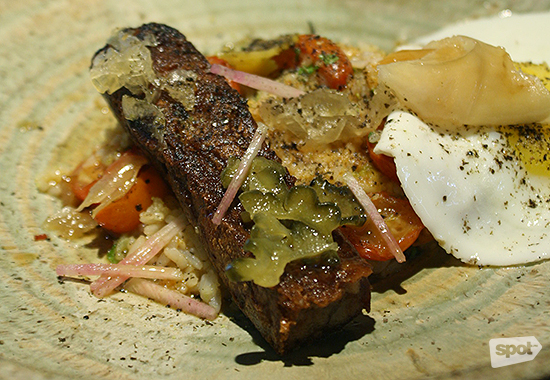 The Pig Pen by The Black Pig
Chefs Carlos Garcia and Tricia MacDonald converted The Black Pig into a stellar breakfast and drinks place by day, and if you're familiar with the restaurant's atypical cuisine, then you know you won't find everyday breakfast items here. The chefs love to evolve and play, and nothing ever stays on the menu for too long. The Pig Pen has an entire selection dedicated solely to 62-degree eggs (their version of sous-vide eggs), and their breakfast offerings even feature Manchego cheese, olives, thin slices of ham fat, pork shoulder, and bulgur. The best part is that you won't even miss your waffles.
ADVERTISEMENT - CONTINUE READING BELOW
Must-tries: Pastry Basket (P250), Fried Egg with Crispy Pork Trotter (P280)
The Pig Pen is at The Black Pig, Commercenter Building, East Asia Drive, Filinvest Corporate City, Muntinlupa City. Read more about The Pig Pen.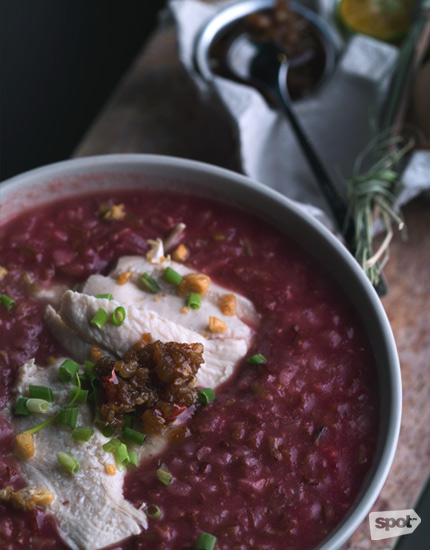 CONTINUE READING BELOW
Recommended Videos
Adaam & Yves
The main theme at this stylish organic haven is industrial: unfinished walls, overly large booths, metal details, and giant copper installations, but there's still something delicate and exquisite with how everything comes together. Maybe it's the swingset seats, which add a touch of whimsy. They're fastened to the ground so you won't be wobbling and swaying as you enjoy their brand of breakfast food. Adaam & Yves is where classic breakfast meals are dressed in punny names, premium ingredients, and the occasional accessorizing. Some dishes also get minor makeovers, like the spicy and beet-infused pink arroz caldo and the melt-in-your-mouth grilled ostrich. 
Must-tries: Pink Floyd (P230), Road Runner (P760)
Adaam & Yves is at Icon Plaza, 25th Street corner 6th Avenue, Bonifacio Global City. Read more about Adaam & Yves. 
ADVERTISEMENT - CONTINUE READING BELOW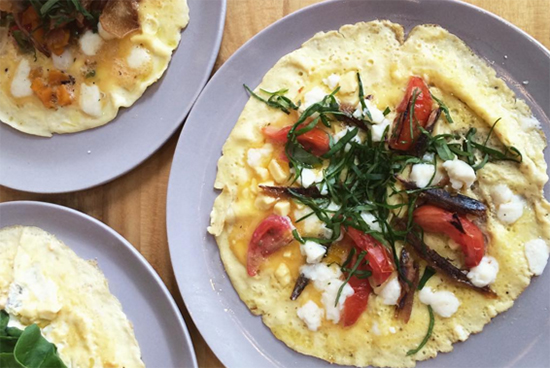 Kafe Batwan by Sarsa
Chef JP Anglo is all about intense Filipino flavors; sometimes he boosts classics, sometimes he reinvents them entirely. Kafe Batwan's breakfast menu is no different. It's short, but explosive. You can order the chef's signature kansi–this time with corned beef. Granola gets a Pinoy twist with carabao milk, while champorado is elevated with "gourmet" tuyo. 
Must-tries: Adobo Flakes (P320), Kansi Corned Beef (P350)
Kafe Batwan by Sarsa is at 122 Joya Lofts & Towers, Amorsolo Drive, Makati City. Read more about Kafe Batwan.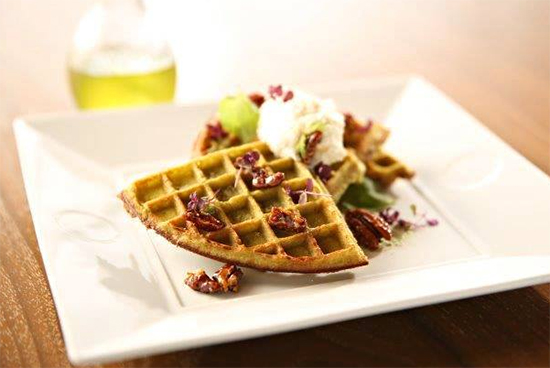 ADVERTISEMENT - CONTINUE READING BELOW
Nobu
If you've ever been to Japan, then you know that it's a difficult, difficult task to enjoy breakfast at a restaurant. The Japanese eat breakfast at home, and places that are open early are usually 24-hour ramen joints or other fast-casual concepts. So how does Nobu create a Japanese breakfast? By infusing Japanese flavors in morning classics. Think soba pancakes, green tea muffins, yuzu whipped cream, miso glazes. Each dish is an eye opener in flavor. It's a buffet—every Sunday, 11:30 a.m. to 3 p.m.—so go nuts. 
Nobu also has a menu for Minis or freshly prepped small servings from a separate menu. 
Must-tries: Green Tea Waffles, X.O. Fried Rice. (Nobu's buffet is priced at P2,800+.)
Nobu is at City of Dreams, Parañaque City. Read more about Nobu.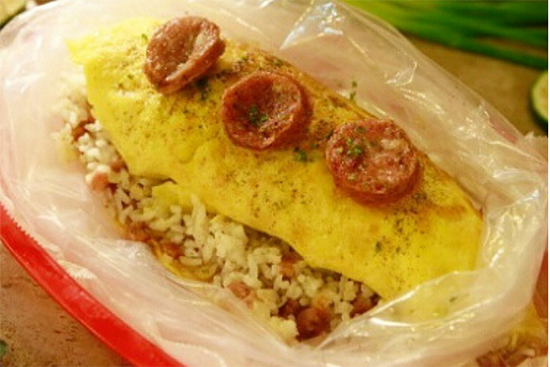 Bag O' Shrimps
If you're not familiar with this seafood chain, then let us tell you why Bag O' Shrimps is always a pleasurable eating experience. It was one of the first restaurants in Metro Manila to offer "boiling bags" where a plethora of crustaceans, potatoes, and sausages are boiled in a spice-heavy sauce. Every bag is a flavorful experience. Now, imagine that with brunch. 
ADVERTISEMENT - CONTINUE READING BELOW
Bag O' Shrimps brunch items aren't cooked this way, but most of them come in bags as well. Brunch here is a seafood-oriented start to your day, with jambalaya, fish fillet with maple syrup, clam chowder pasta, and shrimp pasta.
Must-tries: Seafood Jambalaya (P240), Lemon and Shrimp Pasta (P290)
Bag O' Shrimps has branches at Venice Piazza, McKinley Hill, Taguig City; and SM Megamall, Mandaluyong City. Read more about Bag O' Shrimps.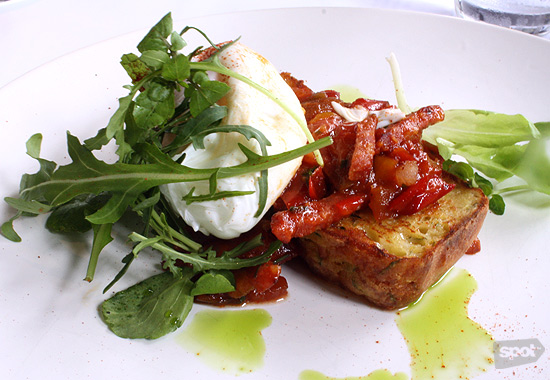 Blackbird
Chef Colin Mackay's usual brand of excellence translates wonderfully into his selection of unconventional morning gastronomic pursuits. The brunch menu, available on weekends from 11 a.m. to 3 p.m., features Southeast Asian concoctions like Nasi Goreng, Prawns in Coconut Sambal Sauce, and Lamb Rendang (Chef Colin also helms Thai staple People's Palace), but it's their lesser-known, traditional breakfast options that have us hooked. The Welsh Rarebit (that's a piece of toast coated in savory sauce and melted cheese) is always a great way to start the day. Blackbird also has a play on Eggs Benedict that uses salmon fishcakes instead of English muffins. Knock it all back with a breakfast cocktail. 
ADVERTISEMENT - CONTINUE READING BELOW
Must-tries: Welsh Rarebit (P490), Breakfast in a Bun (P540), Soft Poached Eggs (P520)
Blackbird is at Nielson Tower, Ayala Triangle, Makati City. Read more about Blackbird.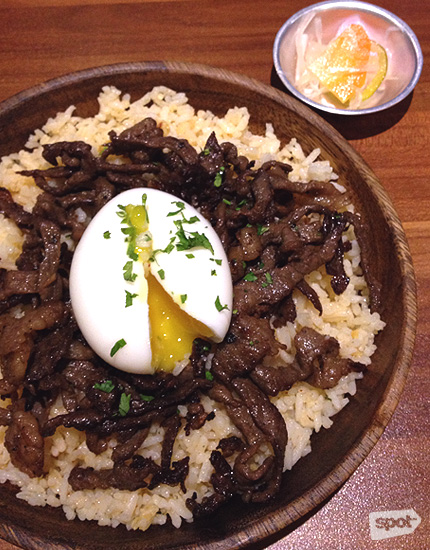 Pi Breakfast and Pies
Chef Ed Bugia is one of those chefs who like to innovate, and his breakfast sanctuary bears the same philosophy. The first dishes on the menu sound straightforward enough, but read it carefully. You'll see the Sriracha in the Eggs Benedict, the waffles paired with salmon, a pancake flavored with lemon and ricotta, and something intriguingly called "Breakfast Salad." Pi Breakfast and Pies is always good at giving us something comfortingly familiar–and turning it into something brand spankin' new.
Must-tries: Caramelized Spam (P265), Three Cheese Grilled Pancake (P235)
Pi Breakfast and Pies is at 39 Malingap Street, Teachers Village, Quezon City. Read more about Pi Breakfast and Pies.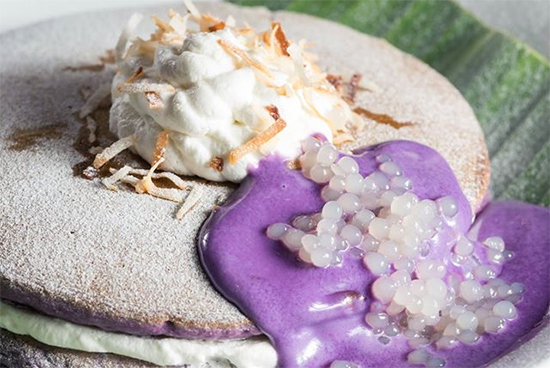 ADVERTISEMENT - CONTINUE READING BELOW
Simple Lang
This modern Filipino restaurant's already small all-day breakfast menu shares space with their merienda options. The selection, however, is concise and comprehensive. Chef Kalel Chan understands intricate flavors: He takes Filipino classics and amplifies them with ingredients like kimchi. You can probably find ube pancakes in other breakfast places, but at Simple Lang, they come with coconut cream, tapioca, and toasted coconut shavings. Wait, was this supposed to be kakanin?
Must-tries: Bacon Tocino Omurice (P250), Simple Lang BFast (P220)
Simple Lang is at Ayala Triangle Gardens, Makati City. Read more about Simple Lang.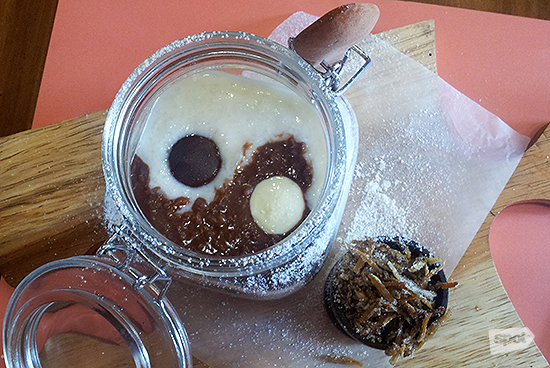 Early Bird Breakfast Club
This breakfast chain always falls under the gorgeous, cute, and exquisite categories, but they're pretty cool, too. You'd expect straight-up Instagram-friendly dishes with a side of Earl Grey tea right off the bat, but the menu is actually quirky (so much so that they like changing it up every now and then). We say any restaurant that turns grilled cheese sandwiches into breakfast food is totes gnarly. Their tocino is katsu-fied, their French toast comes in a fondue, and, of course, their champorado is balance in a bowl. 
ADVERTISEMENT - CONTINUE READING BELOW
Must-tries: Yung and Yang Champorado (P275), Chorizo and Mushroom Risotto (P465)
Click here for a list of Early Bird Breakfast Club branches. Read more about Early Bird Breakfast Club.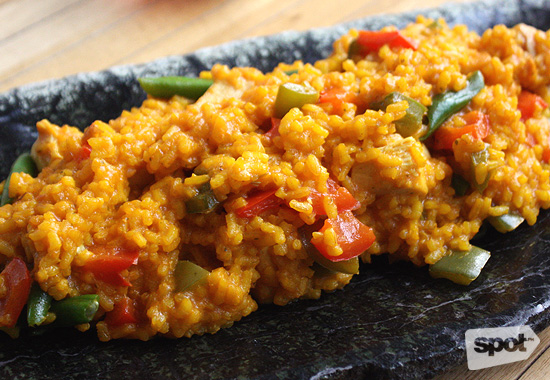 VASK
This isn't breakfast for early birds. Vask holds their weekday brunch buffet from 11:30 a.m. to 10 p.m. You won't find cereal or -silogs here. Chef Chele Gonzalez is a rice master, and he offers a set of unique arroz dishes flourished with bell peppers, Spanish chorizo, and squid. Think smaller paellas. There are slow-cooked stews, meats carefully braised in red wine, pork knuckles, Iberico ham, and more. 
Must-tries: Calamares Tempura, Arroz con Pollo Judias (VASK's brunch menu is priced at P450+.)
VASK is at Clipps Center, 11th Avenue corner 39th Street, Bonifacio Global City. Read more about VASK.
Photos from the official Facebook pages of Nobu, Simple Lang, @kafebatwan, @bagoshrimps, and from SPOT.ph archives
Share this story with your friends!
---
Help us make Spot.ph better!
Take the short survey
Load More Stories