Top 10 Salads That Will Make You Stick to Your Diet
Kick off the New Year with a healthy start and get more greens into your grub.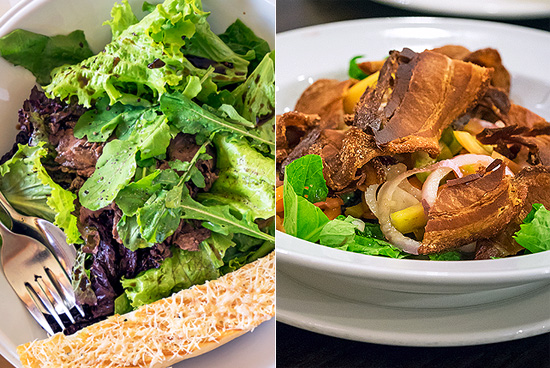 (SPOT.ph) When the year turns, everyone plans to get a little fitter, live a little better, and eat a little healthier. It'll be a test of true willpower to sustain a resolution to eat better for the rest of the year, but with the amazing array of salads now being offered in some of the city's most accessible food haunts, you'll at least have good reason to stick to your guns. With salads to satisfy someone who's always been averse to greens to those who are all for clean eating, you've got a ton of delicious bowls to choose from that won't disappoint your body or your taste buds.
All SPOT.ph Top 10 lists are researched, paid for, tested, and selected by the writers and editors. They are discreetly conducted without any notice made to the restaurants or their owners.
Also read:
10 Must-Try Salads in Manila (2014 Edition)
Top 10 Salads to Try in Metro Manila (2011 Edition)
Top 10 Caesar Salads (2012 Edition)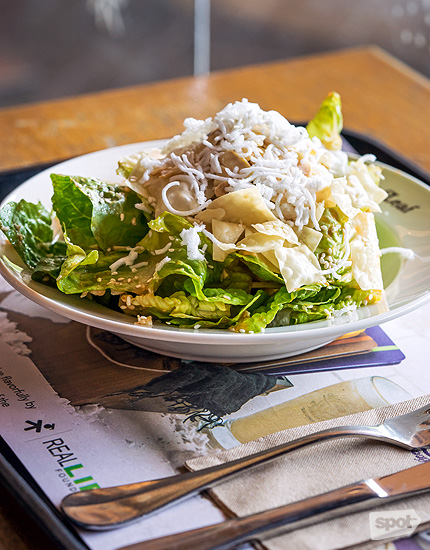 ADVERTISEMENT - CONTINUE READING BELOW
10. The Coffee Bean and Tea Leaf's Chinese Chicken Salad (P225)
CBTL's food selection always ranks high among the hundred of cafes around the city, and this particular salad shows that you don't have to succumb to the usual carb-loaded treat when going to lunch at a coffee shop. This Chinese Chicken Salad is great for those intending to kill some time over coffee—it offers a generous amount of lettuce coupled with crisp rice noodles, crunchy wonton, thin almond slices and a sprinkling of sesame. The orange dressing is simple, understated, and adds Asian flavor to lean slices of chicken. Grab an iced tea while you're at it and end your meal feeling light and refreshed.
CONTINUE READING BELOW
Recommended Videos
Click here for a list of The Coffee Bean and Tea Leaf branches.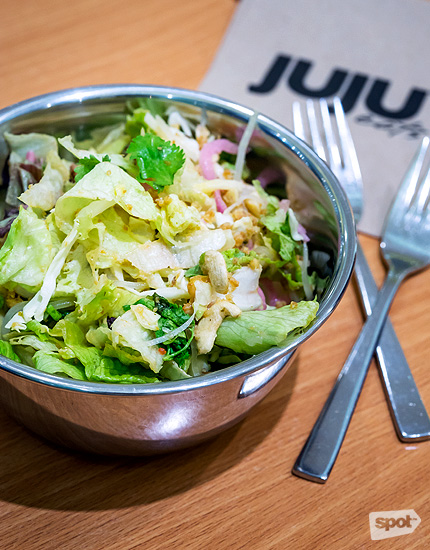 9. Juju Eats' Crispy Catfish (P320/full, P160/half, P190/wrap)
You could either go to a Thai restaurant for this crunchy spicy-sour dish, or get your money's worth with organic ingredients and super fresh greens at Juju Eats. This selection is packed with full-on flavor. Juju couples their house mix with crispy catfish, basil, green mango, cilantro, cashew nuts, green papaya, red onion, and nam pla dressing. Definitely a mouthful, but everything comes together to give you more zest and tang than any Thai place could offer.
ADVERTISEMENT - CONTINUE READING BELOW
Click here for a list of Juju Eats branches.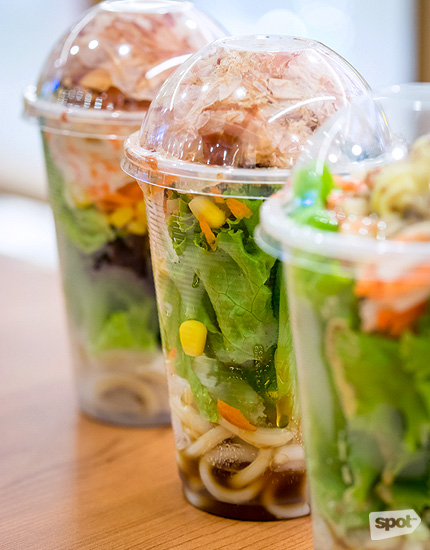 8. Pepper Lunch's Shake! Shake! Salad (P99)
Sure, they're known for their sizzling rice plates, but look deeper into the menu and you'll find that this Japanese casual dining chain's got more to offer by way of their salads. There's no beating value here—you get a cup filled to the brim with ingredients, depending on your salad of choice. Most have a base of lettuce, corn kernels and Japanese noodles, that are mixed with Spicy Tuna, Kani, Seaweed or Sesame Chicken. Our top picks are the spicy tuna and seaweed, both of which are topped with a hefty serving of bonito flakes (beware—the salt in these thin flakes can get pretty overwhelming!). Half the fun in ordering these salads is shaking them up before popping off the cover and devouring.
Click here for a list of Pepper Lunch branches.
ADVERTISEMENT - CONTINUE READING BELOW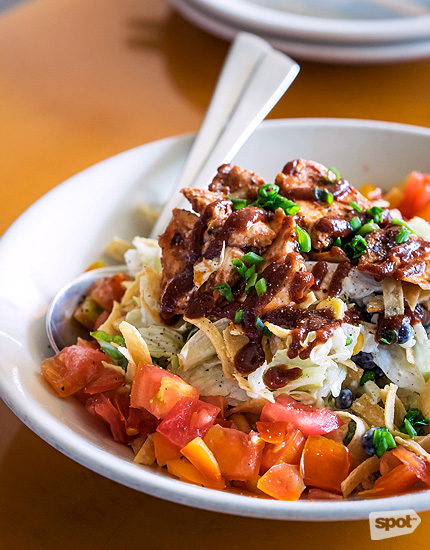 7. CPK's Original BBQ Chicken Chopped (P625/full, P395/half)
One of CPK's signature dishes since 1985, the BBQ Chicken Chopped is wildly popular both as a pizza and as a salad. While the Internet holds a hundred hacks for this zesty salad, there's nothing like getting the original flavor. What makes this salad delicious is its incredible mix of ingredients—barbecue sauce, house-made herb ranch dressing, cilantro, crunchy tortillas, tomato, lime, spring onion, and chopped greens that take slicing and dicing out of the question. With generous slices of chicken, you're sure not to fall into the salad trap and get hungry after an hour or two. We love this salad for its tasty zing and for its full-meal flavor.
Click here for a list of California Pizza Kitchen branches. Read more about California Pizza Kitchen.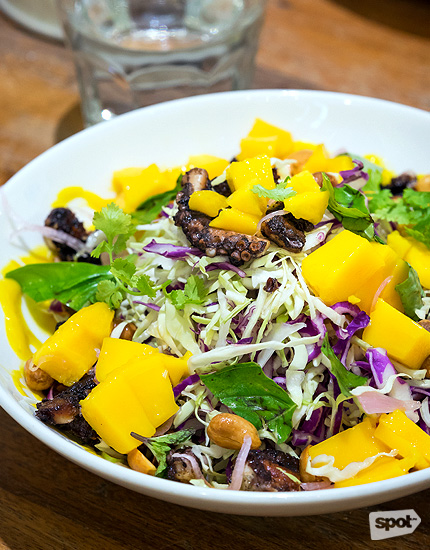 ADVERTISEMENT - CONTINUE READING BELOW
6. Wildflour's Grilled Octopus Salad (P230)
It may take a little more willpower to veer away from Wildflour's carb- and sugar-filled offerings, but sticking to their salad list will not disappoint. This light and summery salad trades in the usual lettuce for some crunchy cabbage mixed with fresh herbs, sweet Philippine mango, and a smattering of peanuts. Grilled octopus may not be for everyone, but it delivers a slight sweetness and soft texture that goes incredibly well with the unmistakable chomp you get from the cabbage. Order the large size or add a green smoothie to your dish to help turn you away from the dessert menu!
Click here for a list of Wildflour branches. Read more about Wildflour.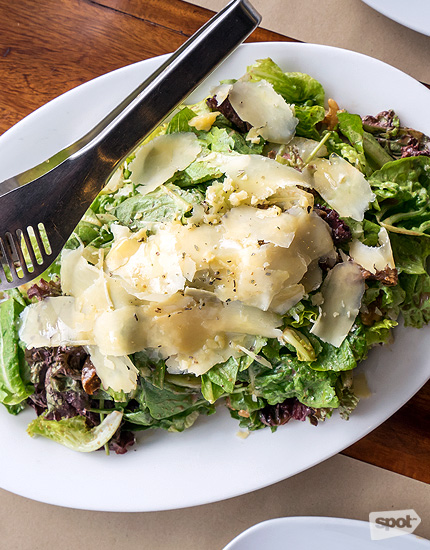 5. Greeka Kouzina's Fig Arugula Salad (P395/to share, P575/family)
If you're a fan of Mediterranean food, then you're sure to be eating graciously well—especially if meals are made of this sunny, summery salad. Mixed greens and arugula make the perfect base for a blend of different textures—slightly salty sun dried tomatoes, walnuts, and a substantial serving of chewy, sweet figs. Slices of Parmesan top the salad too, adding another layer of succulence to this dish, which can definitely stand as a full meal if you're skipping on a main course or dessert.
ADVERTISEMENT - CONTINUE READING BELOW
Click here for a list of Greeka Kouzina branches. Read more about Greeka Kouzina.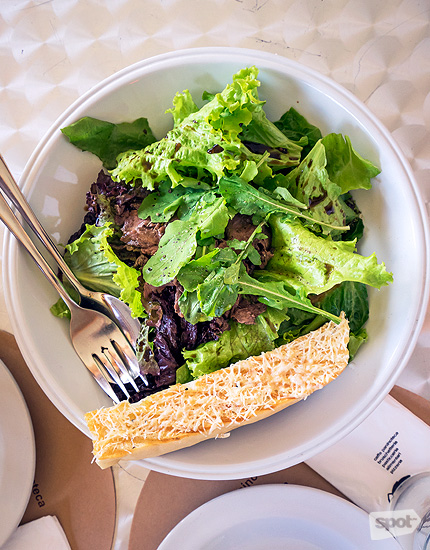 4. CIBO's Insalata di Manzo (P295, P550/insalatone)
If you just can't give up your meat, this extremely simple but perfectly balanced dish can give you the best of both worlds. CIBO's melt-in-your-mouth slices of roast beef tenderloin are the perfect foil to its generous serving of crisp and leafy greens, all topped with balsamic vinaigrette dressing. The delicious crunch you get from your vegetables pairs off extremely well with the tenderness of the roast beef, which receive a generous sprinkling of herbs that deliver a lovely Italian flavor.
Click here for a list of CIBO branches. Read more about CIBO.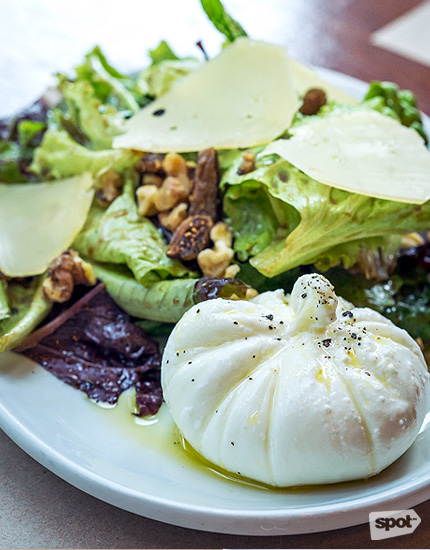 ADVERTISEMENT - CONTINUE READING BELOW
3. Gino's Brick Oven Pizza's Burrata with House Salad (P395, P150/house salad only)
You could technically forego the cheese in this dish and just go for the house salad—which is delicious on its own. But what's a meal at a pizza place without some great cheese? Gino's Burrata with House Salad mixes the rich, creamy, sinful goodness of its extremely popular burrata with a house salad that stands on its own. Balsamic dressing is drizzled over greens, caramelized walnuts, dried figs, and a generous serving of Parmigiano Reggiano. If you're watching calories, we suggest splitting the burrata with a pal, because even just a bite will do that full salad good.
Click here for a list of Gino's Brick Oven Pizza branches.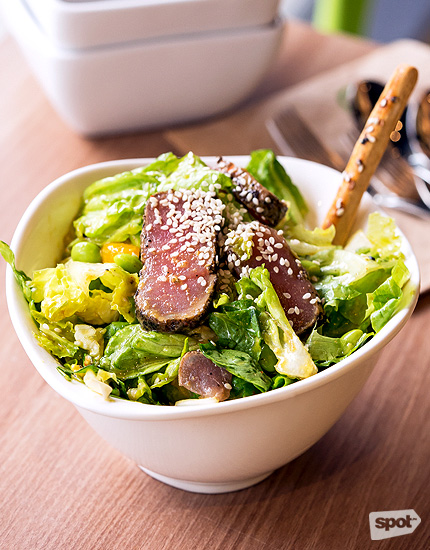 2. SaladStop's Tuna San (P350)
With a healthy lifestyle coming into focus, it's no wonder that SaladStop has been making the rounds all over the Metro. This fresh, simple, salad restaurant's Tuna San makes for a hearty and healthy meal for those craving some Asian flavor. With 550 kcal, you're getting lovely romaine lettuce paired with seared tuna, edamame, crunchy cherry tomatoes, mandarin oranges, and sesame seed sprinkles. The bonus? Slices of avocado that add a rich, Californian texture to the dish. The Japanese-themed salad gets a lot of its bold flavor from the wasabi honey soy dressing that gives it its refreshingly unique taste. SaladStop doesn't scrimp on servings either—you'll leave the table filled up and refueled!
ADVERTISEMENT - CONTINUE READING BELOW
Click here for a list of SaladStop branches. Read more about SaladStop.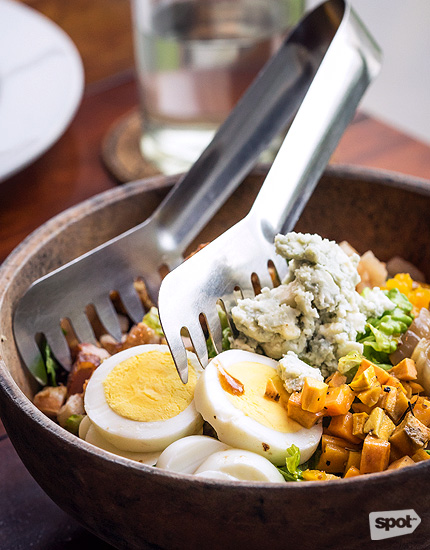 1. Green Pastures' Autumn Sunrise (P430/small, P595/large)
Green Pastures is known for its farm-to-fork dishes—most especially its colorful collection of salads. Autumn Sunrise provides you with a hefty serving of fresh greens (share the calories and share the bowl!) that will leave you loving life. With mesclun baby spinach as a pretty healthy base, you've also got more substantial ingredients in the mix—roasted sweet potato, blue cheese, baked onion, bacon, farm egg, pears, and candied walnuts, which provide a nice bite and texture to the whole deal. With its balsamic vinaigrette dressing, Autumn Sunrise shows you the sweet taste of moderation between the good stuff and the not-so-good-stuff (did you say bacon?) in moderate quantities.
While this spot is also famous for its seasonal salads, this staple will work well regardless of the time of year.
ADVERTISEMENT - CONTINUE READING BELOW
Green Pastures has branches at Eastwood Mall, Quezon City; and Shangri-La Plaza East Wing, Mandaluyong City. Read more about Green Pastures.
Photos by Toto Labrador
Share this story with your friends!
---
Help us make Spot.ph better!
Take the short survey
Load More Stories