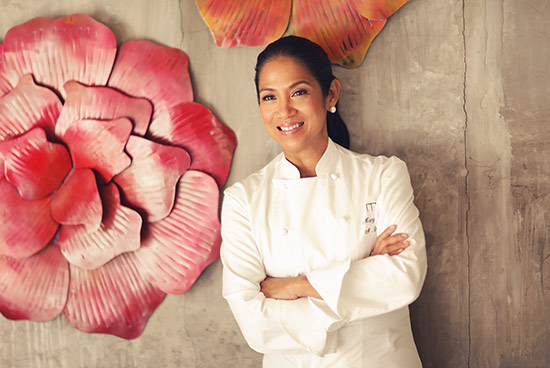 (SPOT.ph) Chef Margarita Fores knew only hours before the special media conference on January 12 that she was named Asia's Best Female Chef for 2016. The award is given by the William Reed Media Group, which also releases the World's 50 Best Restaurants, Asia's 50 Best Restaurants, and Latin America's 50 Best Restaurants.
The CIBO chef is still reeling from the news. Fores, who also runs Grace Park, CIBO Di M, and Lusso, among many other commitments, had been chosen by a pool of 318 chefs, restaurateurs, critics, and gourmands in Asia.
Prior to the announcement, Fores was already given the privilege of being the first Filipino chef to speak at the Asia's 50 Best Restaurants forum in Thailand in February. Her response to this extra honor? Exactly how anyone would react, post-Miss Universe. "I had to ask if it was really me. I had to ask if they were going to take it away," laughs the obviously overwhelmed and teary-eyed chef. No shortlist of nominees was released.
"Not in my wildest dreams!" she says when asked if she ever expected to be named Best Female Chef. "I think there's just one question, so [the judges] answer whoever is in [their] awareness. These are 300 judges from all over Asia. I didn't realize that we are really on the radar now."
Fores is the fourth recipient of the award, which debuted in 2013. "I thought a Japanese chef would get this award before a Filipino!" she adds, still in disbelief.
ADVERTISEMENT - CONTINUE READING BELOW
According to Fores, her mission has just become clearer. The chef, who has been pushing for locally sourced ingredients and Filipino food for over a decade, plans to continue the upward trend. "I will promote Filipino cuisine because it's a cause that needs to be shouted out a bit louder," she exclaims. "Our time is now. It's the time of the Filipino chef. A Filipina chef!" The recognition has only given her a grander stage to do it.
The chef attributes this exposure to a team effort. "All of us in the industry, and it's not just the food industry. We joined hands with the government, the Department of Agriculture, the Department of Tourism, the farmers who bring the interesting produce to our table, the home cooks who have treasured these heirloom recipes," she continues. Fores says this engagement has always been there, but Filipinos didn't take pride in their cuisine. Until now, that is.
"We've embraced our cuisine. We've embraced that our being a halo-halo cuisine makes us unique," says Fores proudly.
She also believes that the Filipinos' time has been stewing, building up from boxing legend Manny Pacquiao to Typhoon Yolanda showing the Pinoys' resilience to people noticing the beauty of the country. "Our kababayans are out there all over the world, taking care of children, on ships, cooking in restaurants. They've been in the service industry forever and in all parts of the world–a network quietly waiting to be tapped. They are all responsible for this moment."
ADVERTISEMENT - CONTINUE READING BELOW
Recommended Videos
"I'm just the mouthpiece. This is really yours. This is the Philippines'," she says of the honor.
Fores takes the award as a call to further improve. "My team and I have to be ultra conscious of our standards. It's largely their work that allowed this to happen. We have to get together. It's one big handshake to really validate why we deserve this honor."
Asia's 50 Best Restaurants for 2016 will be revealed on February 29. Last year, the lone Philippine entry was Chef Tony boy Escalante's Antonio's at No. 48.
Share this story with your friends!
---
Help us make Spot.ph better!
Take the short survey
Load More Stories