10 Filipino Dishes That Will Always Be Favorites
Liempo, champorado, lechon, oh my!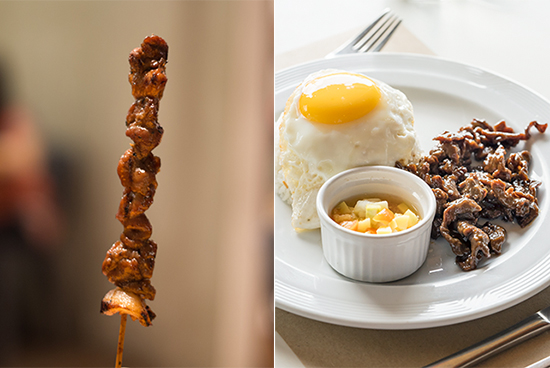 (SPOT.ph) We just can't shake off Filipino food. No matter what new and exotic cuisine we try, the pull of a good crispy pata or lechon is just too hard to resist. We're feeling patriotic this week, and how do we best express that? With food, of course (also, we're really hungry). Here's a run-down of some of our Filipino favorites.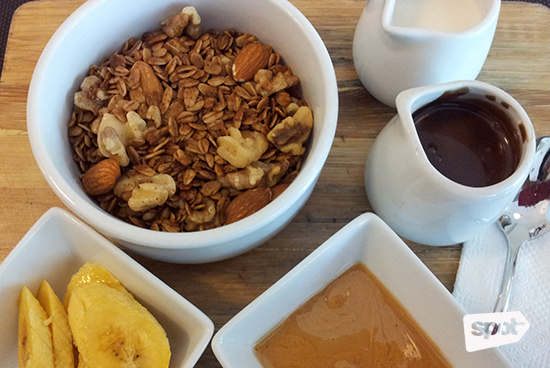 Slice's Champorado (P160/Milk Chocolate, P200/Belgian Dark Chocolate)
With its heaping spoonfuls of molten chocolate, evaporated milk, and rice, champorado is definitely not for the average weight watcher. For those looking for a healthier alternative, Slice offers a guilt-free version. Instead of rice, the concept café offers a bowl of fibrous granola, topped with walnuts and almonds. Served with a side of banana slices, peanut butter, milk, and your choice of chocolate, you're pretty much getting a complete breakfast all in one tray. Best of all, you won't miss the rice; enjoy a crunchy nutty flavor with the silky sweetness of chocolate. The hint of cinnamon gives it a sweet-spicy fragrance that makes it all the more delectable.
Slice is at Bonifacio High Street, Bonifacio Global City; and SM Aura Premier, Bonifacio Global City. Slice's champorado ranked No. 9 on SPOT.ph's Top 10 Champorado (2013 Edition).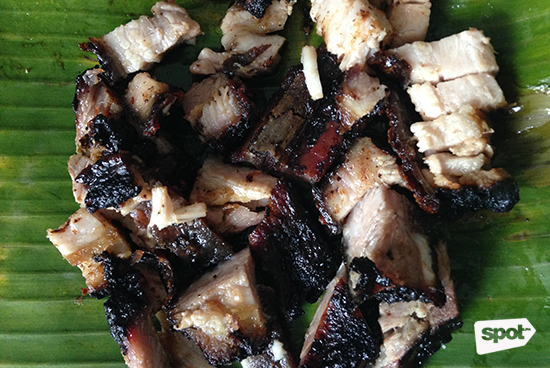 Andok's Liempo (P175)
Perhaps best known for their lechon manok, Andok's also serves up a formidable plate of liempo. Their marinade is on the sweeter side and each soft chunk of meat offers a myriad of flavors Pinoys will love. It might be a little too fatty for some people, but the peppery-sweet flavor will keep you wanting more.
ADVERTISEMENT - CONTINUE READING BELOW
Click here for a list of Andok's branches. Andok's Liempo ranked No. 9 on SPOT.ph's Top 10 Liempo (2015 Edition).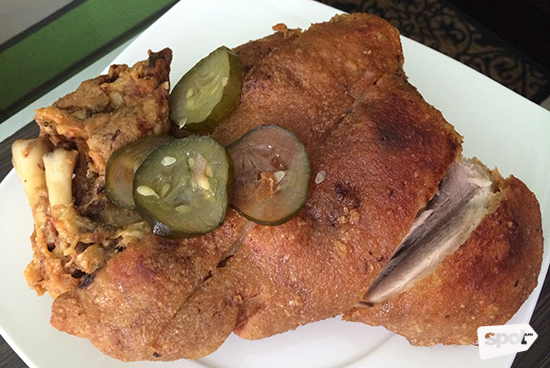 Jamicos Restaurant's Judy Ann Crispy Pata (P500)
Malabon is known for their pancit, but this crispy pata is worth the drive there, too. Sliced pickles on top drench the pata in salty-tart juices, coating tanginess on the skin whose crispness is impressively impervious to it. It reminds us of bagnet, actually. White-meat lovers will enjoy the hefty portions served with two kinds of sauce. (Go for the sweet chili one and turn it into a variation of sweet and sour pork.)
Jamicos Restaurant is at 201 General Luna Street, Concepcion, Malabon City (281-4193). Jamico's Judy Ann Crispy Pata ranked N0. 5 on SPOT.ph's Top 10 Crispy Pata (2014 Edition).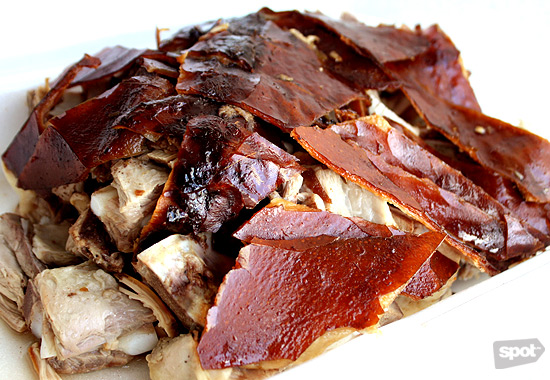 Loring's Native Lechon (P900/one kilo, P6,000 to P10,000/whole)
Loring's Native Lechon (also known as Aling Loring's) has been serving lechon for 55 years now—since 1960! The lechon has thin, crispy skin—although there are some parts that are not crunchy, with layers of fat underneath that make it oily. The meat has a warm, dark color that's nicely tender. The sweet, peppery gravy is a great complement to the flavorful meat. It's also worth mentioning that they have a friendly staff, which makes the ordering and delivery process a breeze.
Loring's Native Lechon is at 6 J. Eustaquio corner N. Domingo Streets, San Juan City (0915-642-1544 or 724-2867). Loring's Native Lechon ranked No. 9 on SPOT.ph's Top 10 Lechon (2015 Edition).
ADVERTISEMENT - CONTINUE READING BELOW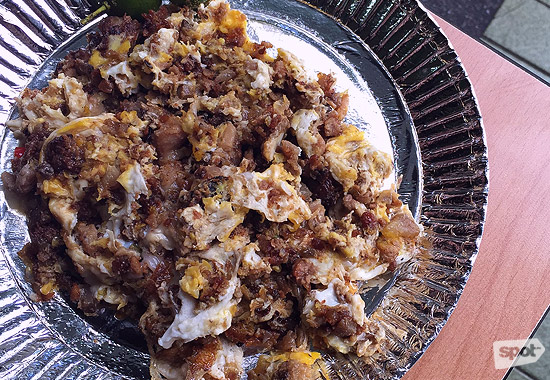 Sisig sa Rada (P40)
Be sure to flag your boss for an earlier lunch break when you plan to head over to this famous Jolli Jeep stall in Makati City. Called "Sisig sa Rada" by loyal patrons, it's hard to miss especially since people flock and line up for their sisig as early as 10:30 a.m. Sisig sa Rada is an institution for the office crowd, serving up a spicier version of sisig as we know it. It's crunchy, chewy, and meaty all at once, fried with a scrambled egg mixed into the dish. Every bite requires a second spoonful of rice, and every meal demands a second (or third!) visit during the same week. Rumor has it that this stall earns around P50,000 a day—how's that for a testimonial?
Sisig sa Rada is at Metrochef Stall #002, Rada Street (across 7-Eleven), Makati City. Sisig sa Rada ranked No. 2 on SPOT.ph's Top 10 Sisig (2015 Edition).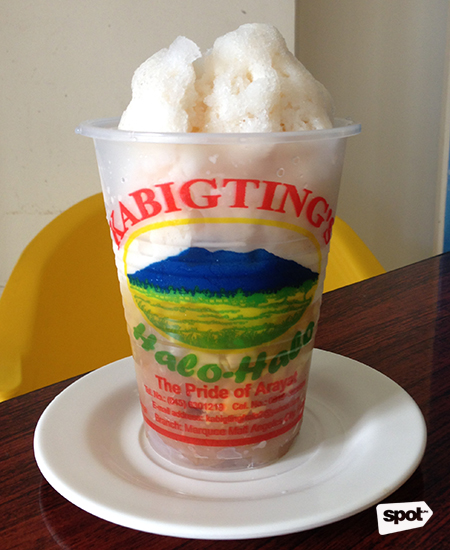 Kabigting's Halo-Halo (P90)
Mashed beans, corn, carabao's milk pastillas—these three make up Kabigting's halo-halo. It's basic, but you won't find anything lacking. Though considered novel to Manila's halo-halo playing field, Kabigting's has been a favorite in Pampanga, especially in Arayat where it hails from. Now, there's no need to troop up north. You can get this heavenly concoction in their branch in Quezon City. Kabigting's sets the bar high when it comes to the quality of ice. Every cup brims over with extra-fine ice that is measured to yield the smoothest, creamiest halo-halo. You won't even have to look for extra sweeteners to add to the mix as the ingredients already offer a distinct natural sweetness. It's amazing how simplicity can equate to pure bliss even under this blazing sun—and Kabigting's is out to prove no less.
ADVERTISEMENT - CONTINUE READING BELOW
Kabigting's is at 528 Banawe Avenue corner Calamba Street, Quezon City. Kabigting's Halo-Halo ranked No. 1 on SPOT.ph's Top 10 Halo-Halo (2014 Edition).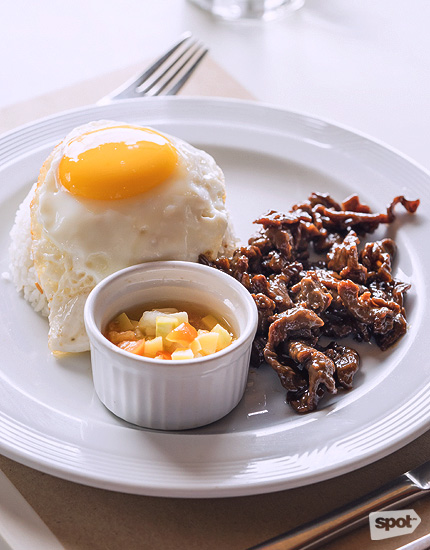 Pancake House's Beef Tapa (P264)
When you're not in the mood for the more continental options, Pancake House's Filipino breakfast is worth a try. This chunky tapa delivers more bite than the finely sliced offerings of other restaurants. Saucy with a distinctly home-cooked taste, this slightly sweet style closely resembles another Filipino classic, bistek. The tapsilog at Pancake House also comes with a cool green mango, onion, and tomato salad. Another bonus? They sell their tapa mix so you can make it right at home.
Click here for a list of Pancake House branches. Pancake House's Beef Tapa ranked No. 8 on SPOT.ph's Top 10 Tapsilog (2015 Edition).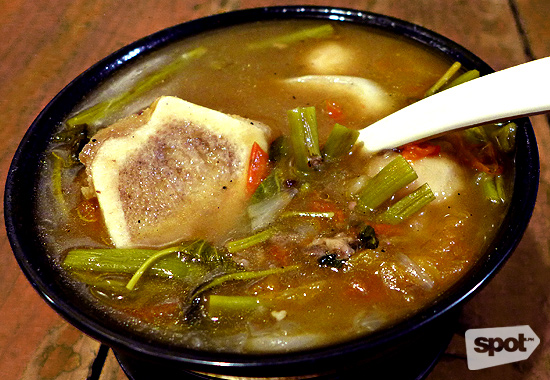 asimBULL (P285) from Bullchef
From the vegetable ingredients to the use of sampaloc as souring agent, everything seems to be traditional in this dish—until you see the bulalo, its intact marrow glistening with so much promise. The beef shank is cooked until tender; its thick, tangy soup made even richer with melted fat. Don't be shy—Bullchef has an option that lets you order this bowl with two cups of rice. Every serving is no doubt a food coma in the making, high blood pressure aside.
Bullchef is at 4 East Capitol Drive Kapitolyo, Pasig City (0916-338-3898). Bullchef's asimBULL ranked No. 6 on SPOT.ph's Top 10 Sinigang.
ADVERTISEMENT - CONTINUE READING BELOW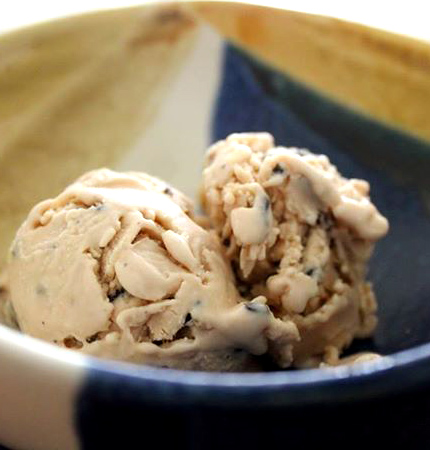 Roasted Forbidden Rice Ice Cream (P55 to P95++) from Papa Diddi's Handcrafted Ice Cream
Owner and ice cream artisan Paul Perez makes it his personal mission to highlight the Philippines in every ice cream he produces. In his growing arsenal, he already has Champ-O-Rado, Farm Cheese (which uses kesong puti to shake up your usual cheese ice cream), and Exhibit K (featuring corn from Katipunan vendors), but it's one of his original flavors that catches our eye and taste buds. The Roasted Forbidden Rice uses black rice from the Mountain Province to make a one-of-a-kind nutty profile.
Papa Diddi is at 168 Maginhawa Street, Quezon City. Papa Diddi's Roasted Forbidden Rice Ice Cream is included in 10 New Pinoy Ice Cream Flavors.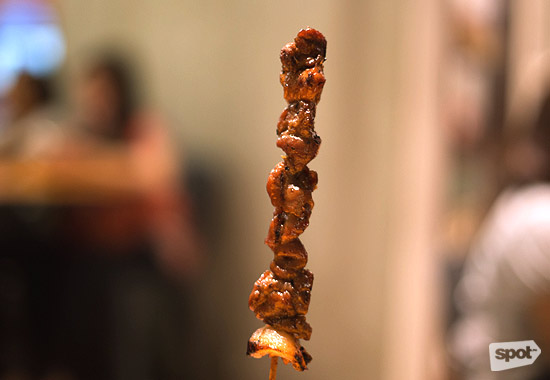 Three Sisters' Pork Barbecue (P48/stick)
A stick of Three Sisters' barbecue has hefty cuts of pork meat with little fat and the tender and juicy pork cuts skewered like a kebab has a smoky taste. Tocino lovers will love Three Sisters' barbecue because it's drenched in thick marinade, which is almost "tocino-like" in terms of sweetness.
Three Sisters is at 136 West Capitol Drive, Barangay Kapitolyo, Pasig City. Three Sisters' Pork BBQ ranked No. 10 on SPOT.ph's Top 10 Pinoy Barbecue (2010 Edition).
Load More Stories