Top 10 Onion Rings in Manila (2016 Edition)
The best kind of vegetables are always the fried kind.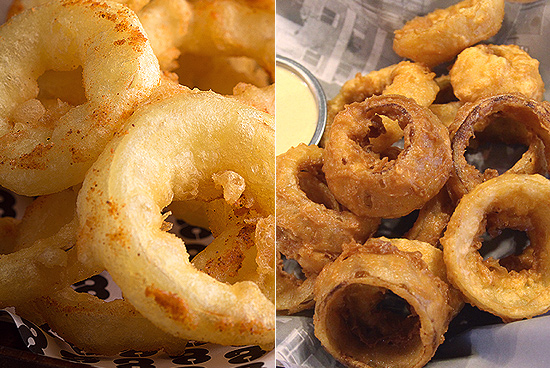 (SPOT.ph) Turning onions into onion rings has become something of an art form. On one hand, they're incredibly simple; so commonplace that people don't often give them a second thought. On another, it takes the most precise recipe to make them memorable. It has to be subtle enough to whet your appetite yet distinct enough to be actually appetizing. It's a tough formula, but there are 10 restaurants who get it right.
All SPOT.ph Top 10 lists are researched, paid for, tested, and selected by the writers and editors. They are discreetly conducted without any notice made to the restaurants or their owners.
Also read: Top 10 Onion Rings in Manila (2014 Edition)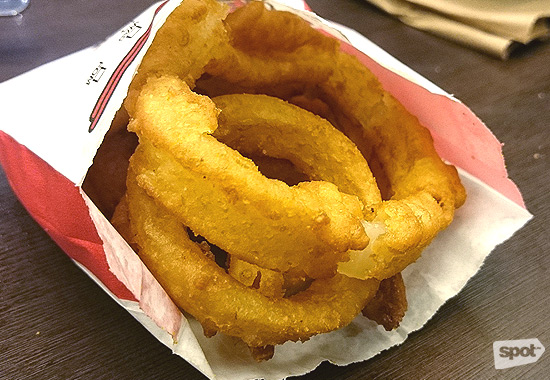 10. Taters' Onion Rings (P90/Minor League, P170/Major League)
These sweet loops are big, thick, and encased in a smooth batter that reminds us of the chicken nuggets from a certain fast-food chain. They're very lightly seasoned—just a dash of salt and pepper that requires some ketchup to really appreciate. It's served fresh from the fryer and piping hot, which is the only reason we're not inhaling it all at once.
ADVERTISEMENT - CONTINUE READING BELOW
Click here for a list of Taters branches.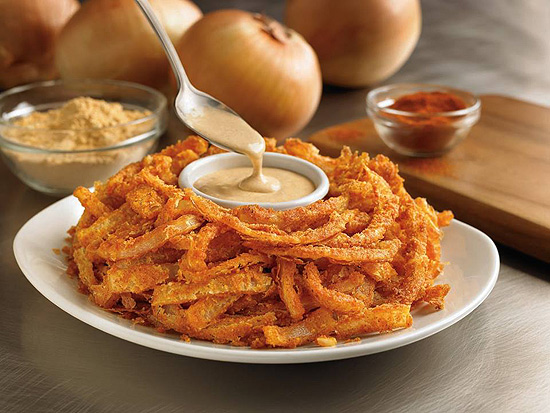 9. Outback's Typhoon Bloom (P399)
This dome-shaped tangle features hand-cut fresh onions with a light sprinkle of saltiness. They're technically not "rings," but we try not to judge a book based on its cover. The blooming beauty come as long strips cooked to an addictive crisp. The spicy mayonnaise augments that mild flavor wonderfully.
Click here for a list of Outback branches.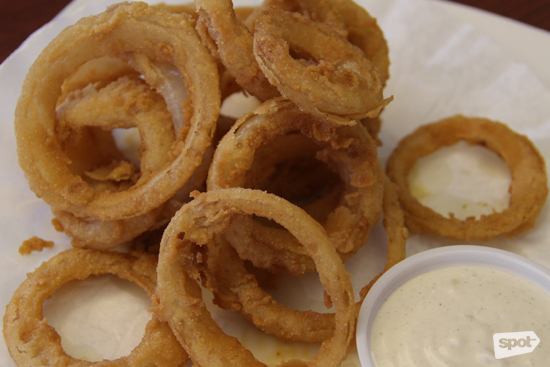 CONTINUE READING BELOW
Recommended Videos
8. Homestyle Onion Rings (P170) from Don Henrico's
The thin, flaking batter reminds us of mojos—and that's enough to sell us on these onion rings. The saltiness can get a bit overwhelming, so you might as well take advantage of the ranch dressing to cut some of that flavor.
Click here for a list of Don Henrico's branches.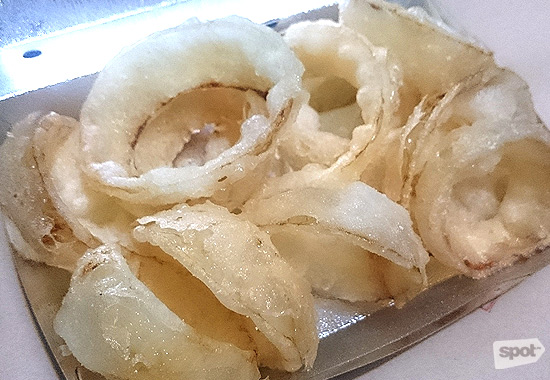 7. Sweet Ecstasy's Onion Rings (P115)
The very light white batter surrounding Sweet X's onions remind us of incredibly airy kropek. These crispy rings are sweeter than most, as if the sweet flavor of the onions were highlighted in their choice of spices. Every so often, you'd catch the salt in the seasoning. That change of pace really changes the game for this version.
Sweet Ecstasy has branches at 10 Jupiter Street corner Asteroid Street, Makati City; and Regis Center, Katipunan Avenue, Quezon City. Read more about Sweet Ecstasy.
ADVERTISEMENT - CONTINUE READING BELOW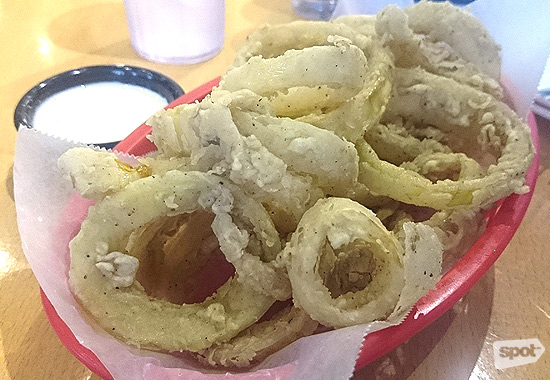 6. RUB Ribs & BBQ's Onion Rings (P160)
These pale rings are sweet and peppery. The batter is so thin that it almost seems like they're flaking away from the onions. Each ring greets you with a resounding crunch that reveals that muffled crispiness from fresh onions. The aioli is the hero though: tangy but not overwhelming.
Click here for a list of RUB branches. Read more about RUB.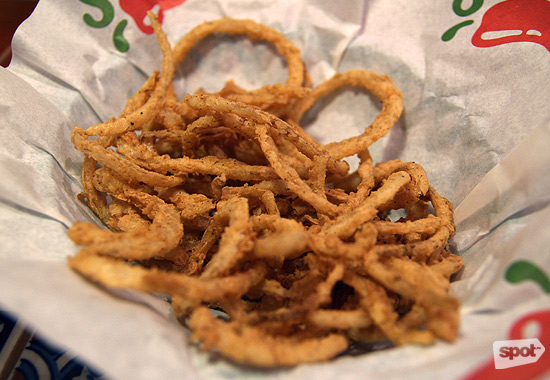 ADVERTISEMENT - CONTINUE READING BELOW
5. Crispy Onion Strings (P80) from Chili's
These circle-shaped "strings" come in a sampler plate, but tell the server you only want the onions and they'll heed your request. The thinness and crunchiness are already worth obsessing over, but that spiced coat really has us hooked. It's one of those "can't get enough" things in the world—right below their unlimited nacho chips.
Click here for a list of Chili's branches.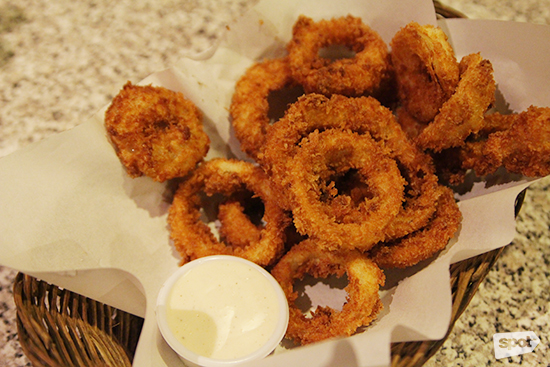 4. Good Fellas' Ring Leader (P150)
Golden breadcrumbs are used to coat the rings, which provide an added crunch. The seasoning is nice and savory, complementing the natural sweetness of onion. While other onion rings rely on the sauce, Good Fellas uses their mildly flavored aioli merely to supplement.
Good Fellas is at 56 T. Gener corner K-1st Street, Kamuning, Quezon City.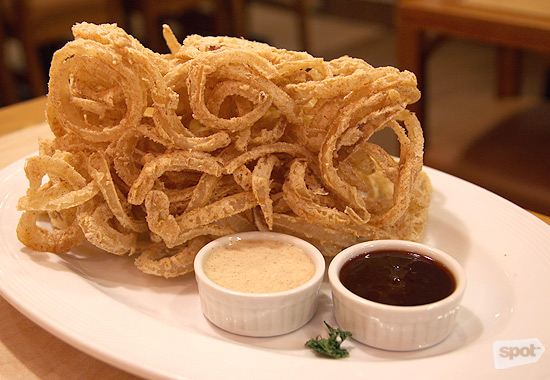 ADVERTISEMENT - CONTINUE READING BELOW
3. Racks' Onion Brick (P210)
The seasoning in this mouthwatering brick is a winner. It's so generously spiced that, apart from the usual salt and pepper, we detect that paprika and more sophisticated chilis are responsible for that smoky flair. The rings are small, fried to a crisp inside that delicious, thin pelt. They're like chips, really.
Click here for a list of Racks branches.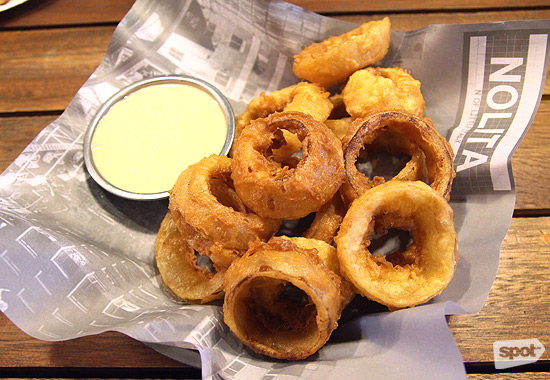 2. Nolita's Beer Battered Onion Rings (P160)
These are the most distinctly "onion" onion ring on this entire list. The rings are cut so thick, as if the chef wanted to remind you that you're supposed to be eating onions and not batter. The seasoning is robust so it's pretty clever that they lay it on thin. They're crispy enough that the texture will give your palate something of interest every time, but you shouldn't pass up the Sriracha aioli.
ADVERTISEMENT - CONTINUE READING BELOW
Nolita is at Bonifacio High Street Central, Bonifacio Global City. Read more about Nolita.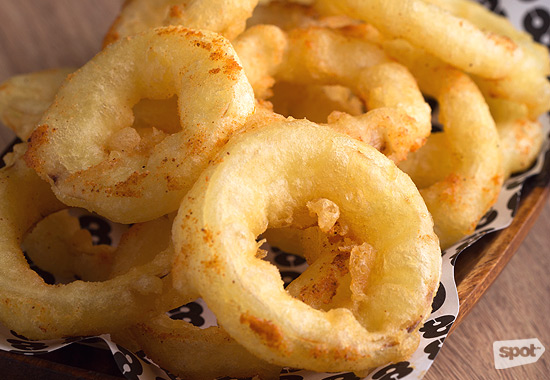 1. 8 Cuts' Oh Rings (P65)
We have to confess: Sometimes, we go to this burger joint just for the onions rings. The batter is thick, but so is the onion. From there, it's all just beautiful symmetry—so much so that its deliciously spiced golden coat refuses to separate from its sweet ring. The Japanese flour and soda water creates this crispy but fluffy batter; there's a bit of heat, a bit of pepper, a bit of everything, really. The touch of barbecue powder gives it just the sparkle it needs to stand out. Mind you, this is no side dish.
Click here for a list of 8 Cuts branches. Read more about 8 Cuts.
Share this story with your friends!
---
Help us make Spot.ph better!
Take the short survey
Load More Stories