New Restaurant Alert: Fat Butchik's at BF Homes, Paranaque
Smoked pork and cookie dough a la mode, anyone?
Fat Butchik's
346 El Grande Street, BF Homes, Parañaque City
Contact: 0917-569-9244
Open from 5 p.m. to 2 a.m. (Tuesday to Sunday)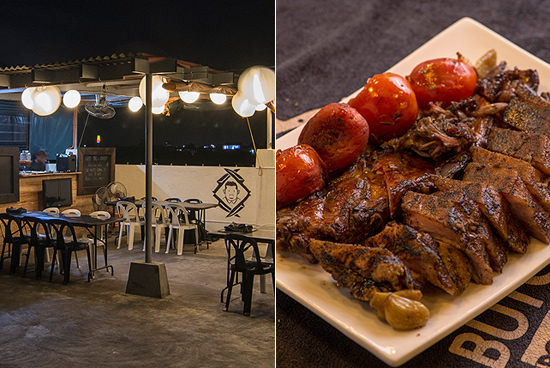 (SPOT.ph) You can drive through BF Homes one day and see a curious, little white sign with a cartoon of a bearded man and the words "Fat Butchik's." On another day, you might not. Butch Adiviso opens only at night and when he's closed, he rolls up the tiny tarp that announces his restaurant. Tucked away on the third floor of a nondescript building, all you have to do is follow the smell of meat smoking—or just look for the Pan de Manila.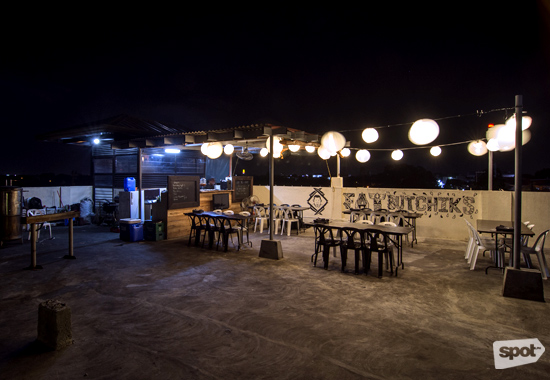 ADVERTISEMENT - CONTINUE READING BELOW
Make way for expansion.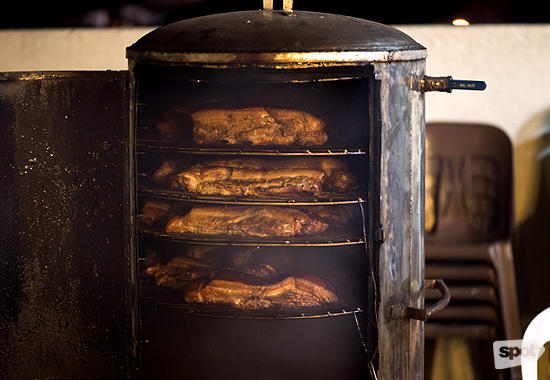 CONTINUE READING BELOW
Recommended Videos
The smoker!
Fat Butchik's is as simple as can be. It takes up half of a roof deck, with a small kitchen and a pop-up canopy that barely protects you (and your loose items) from the cool evening breeze. The smoker is left on the side, and there's enough space for more tables and maybe gigs—which Chef Butch is already working on. Fat Butchik's is that kind of place, one where you and your friends can get lost in great conversation, food, and mojitos (P150).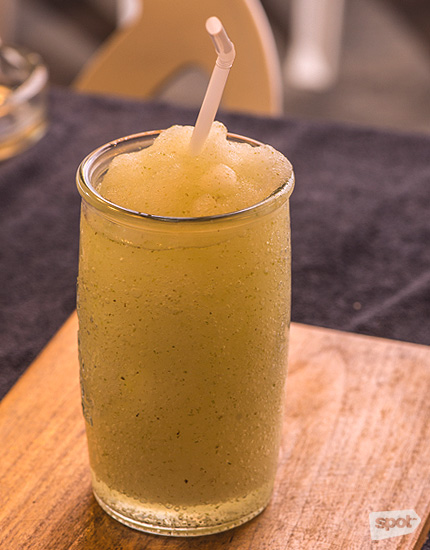 ADVERTISEMENT - CONTINUE READING BELOW
Mojito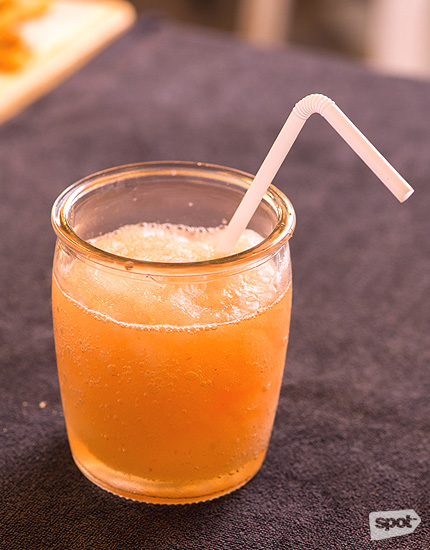 Amaretto Sour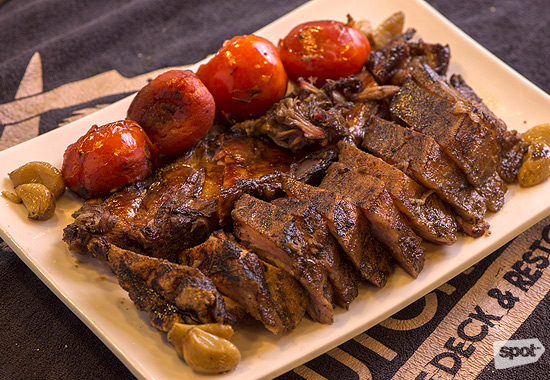 Slow-smoked Pork Belly
The menu is all about brawny comfort food: The showpiece, for example, is a slow-smoked pork belly (P180 to P280) that, if you're not afraid of luscious fat, will put your salivary glands in overdrive. Chef Butchik cooks his pork for two hours per pound, and it's enough to make those thick layers disappear into nothing but tasty juices when you put them in your mouth. "Meat" is still the predominant flavor, and it's exquisite against the soft cloves of baked garlic and tasty smoked tomatoes. Trust us, you're going to want vegetables to soften the blow of this heavyweight.
ADVERTISEMENT - CONTINUE READING BELOW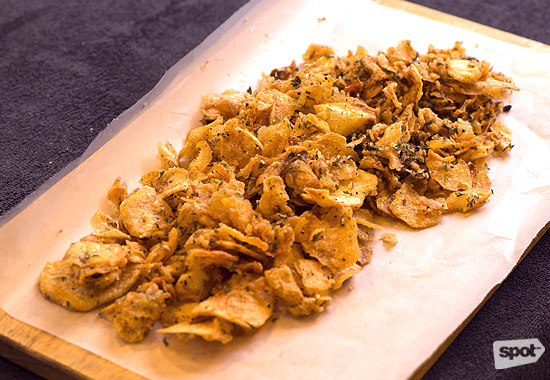 Chips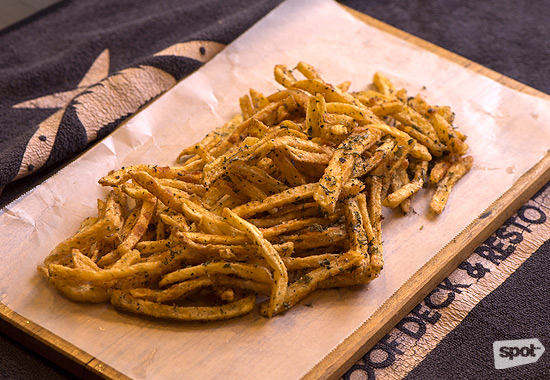 Batons
Pro tip? Alternate your pork belly with bites of the fries to take some of the edge off. Chef Butch throws an entire spice cabinet on his potatoes, which come in batons or chips (P150 each)—whichever shape is addictive. It has Parmesan, truffle oil, parsley, salt, peppercorn, the list goes on. There must be a secret to his proportions, because despite that grocery list of ingredients, these potatoes don't overwhelm.
ADVERTISEMENT - CONTINUE READING BELOW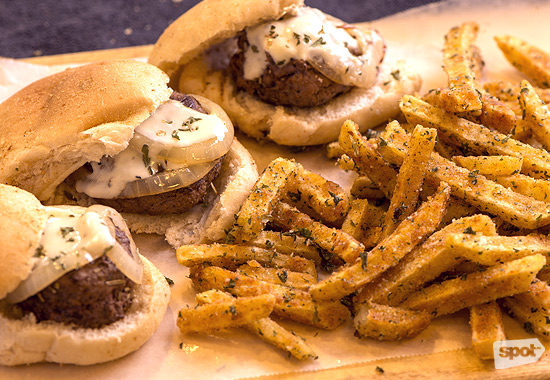 Burger Sliders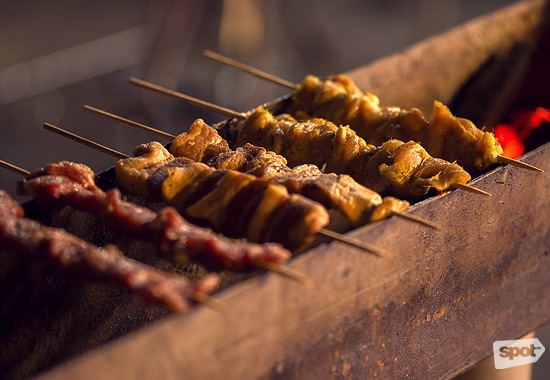 Pork Tenders (P50); Inasal Skewers (P70); Rib Eye (P100)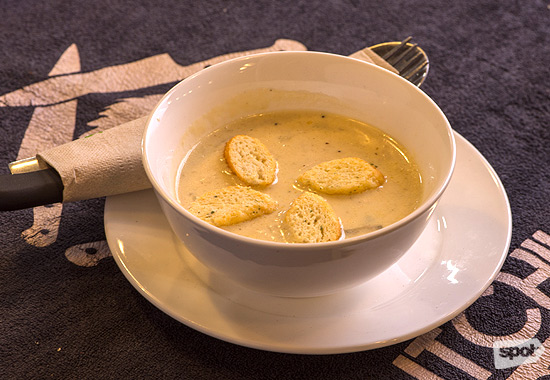 ADVERTISEMENT - CONTINUE READING BELOW
Bowl o' White
There are other hits on Fat Butchik's menu, as well. The Bowl o' White (P150), which is a cream cheese soup, finds a great compromise between saltiness and creaminess. The skewers show off his skills in working with other meats like pork cutlets, beef rib eye, and chicken; and the sliders (P280) hint at his resourcefulness. Instead of getting a fancier type of bread for his burgers, he goes for the pan de sal downstairs, simple, fluffy, and a great canvas to the flavorful chuck patty. "It's underrated," he says.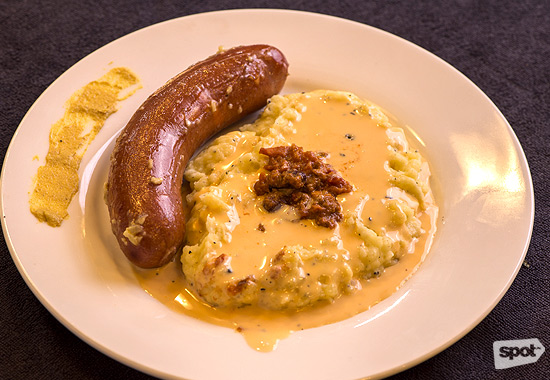 Cheese Sausage
Butchik's doesn't falter on the more unexpected appearances on the menu. The Cheese Sausage (P180 to P280), made with Chef Butch's recipe, surprisingly makes us more excited about sausages than we would ordinarily be. It's smoked, as well, in the same coconut husk-filled locker that leaves a light but distinct taste in the meat. The juiciness of the sausage is kept intact, but the generous amount of cheese inside is like a special little blessing. It comes with mashed potatoes flourished with his famous chili, which you can order separately.
ADVERTISEMENT - CONTINUE READING BELOW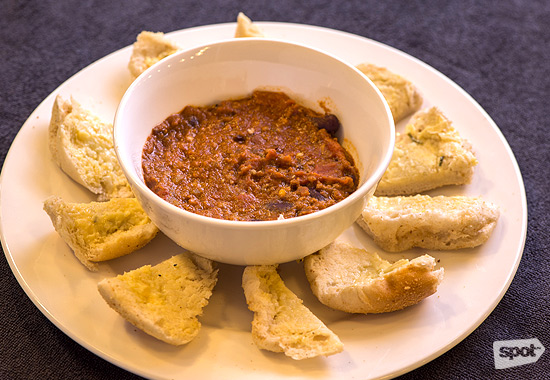 Bowl o' Red (P150)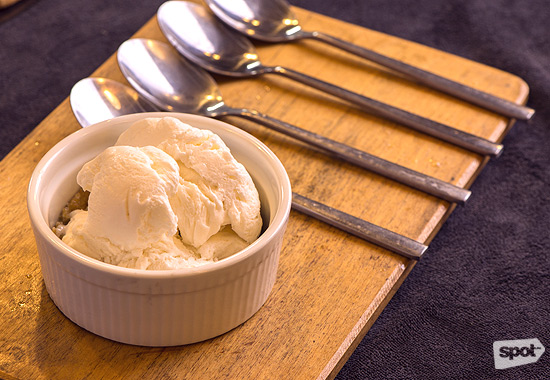 Barely A Cookie
A place like Butchik's would make you crave easy desserts like ice cream or maybe fruit, but Chef Butch comes up with a simple but stunning surprise: Barely A Cookie (P150). It's a cookie dough a la mode, with the raw cookie so expertly blended that you don't get any lumps or bumps. The base is white chocolate, but the sweetness comes through like a whisper—because after a meat-heavy meal, you don't deserve anything cloying. Chef Butch has the ice cream especially made with one strict instruction: It has to taste like a certain fast-food sundae. It does, but it's the ice cream's marriage with the cookie that gives it such a special character.
ADVERTISEMENT - CONTINUE READING BELOW
Butchik's. It's not the fastest place to get to and it doesn't help that it tries to be coy. But once you find it...well, don't let that sausage go.
Photos by Hans Fausto
Share this story with your friends!
---
Help us make Spot.ph better!
Take the short survey
Load More Stories