New Restaurant Alert: Atelier Vivanda Manila at Bonifacio Global City
SPOT.ph Exclusive! A sneak peek at Chef Akrame Benallal's bistro in Manila
Atelier Vivanda Manila
Forbes Town Center, Burgos Circle, Bonifacio Global City
Opens on February 2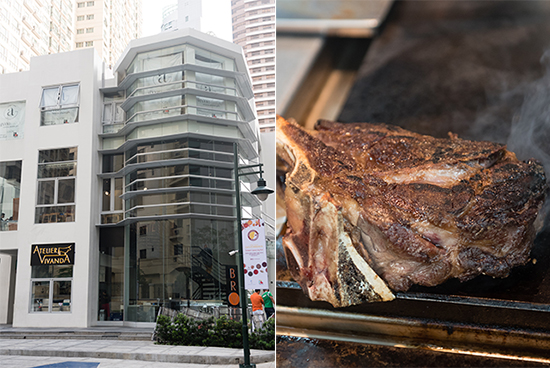 (SPOT.ph) The kitchen is tiny and cramped, and quite unlike what you'd expect at a restaurant by a two-star Michelin-rated chef. But Chef Akrame Benallal's casual bistro is all about easy food and letting the quality ingredients express themselves; they need not go for anything beyond minimalist at Atelier Vivanda.
Atelier Vivanda is Chef Akrame's second brand—and quite a reversal from his first eponymous eatery where, according to the Michelin Guide, he "dares to try unexpected marriages of flavors but always with finesse."
The word "vivanda," as previously reported in SPOT.ph's exclusive published early in January, is a play on la viande or "meat" and la vie or "life." The specialty is to take you back to basics—conveyed mostly through steak and potatoes.
When Khristine Gabriel and Grace Lee went on a European food trip in April 2015, they didn't intend to bring back a restaurant. Grace especially was busy with the opening of Buta + Wagyu. The pair had different plans, but eventually wound up enjoying lunch at Akrame.
ADVERTISEMENT - CONTINUE READING BELOW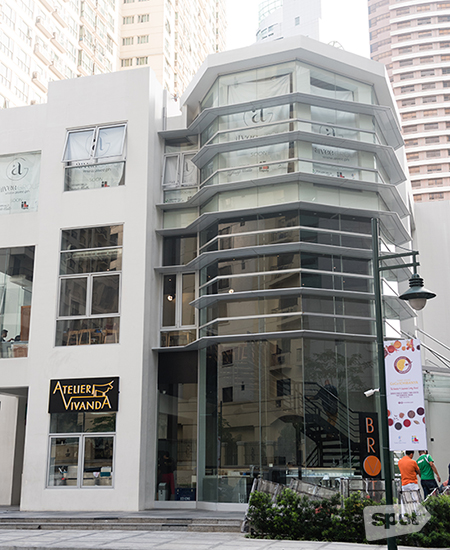 CONTINUE READING BELOW
Recommended Videos
Atelier Vivanda Manila is right next to CoCo Ichibanya and across Robinsons Selections.
"I picked the restaurant because I read that the chef trained under elBulli's Ferran Adria. This could be the closest I could get to eating at elBulli," recalls Khristine. A particular person on the restaurant's staff kept checking to see how they were reacting to the food, with Khristine politely responding with a thumbs up every now and then. That person turned out to be Chef Akrame himself and the three struck up a conversation.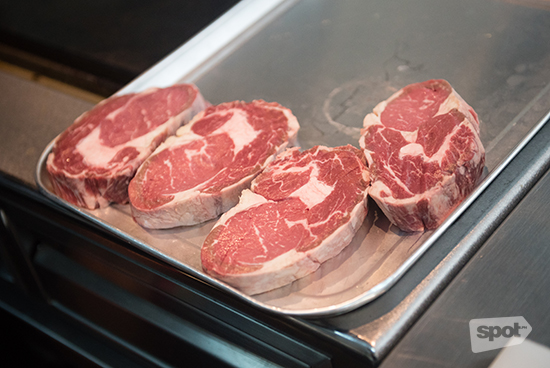 ADVERTISEMENT - CONTINUE READING BELOW
Only the best ingredients
At that time, the chef had already been prepping for the June opening of Atelier Vivanda Hong Kong, where he also has a second Akrame. He consulted with another award-winning chef, Alain Ducasse, who's been to the Philippines several times. Chef Alain told him that if wanted to open in Manila, now is the best time. According to Khristine, Chef Alain described the Philippines as a country on the verge of becoming a "a global culinary destination."
Three weeks after that serendipitous meeting, Chef Akrame flew to Manila to scout the area. Atelier Vivanda Manila will open on February 2—less than a year later.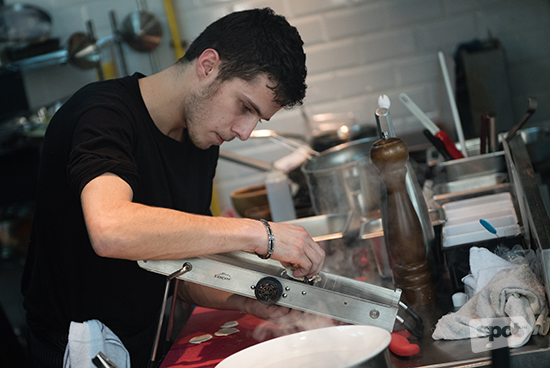 Chef Jonathan at work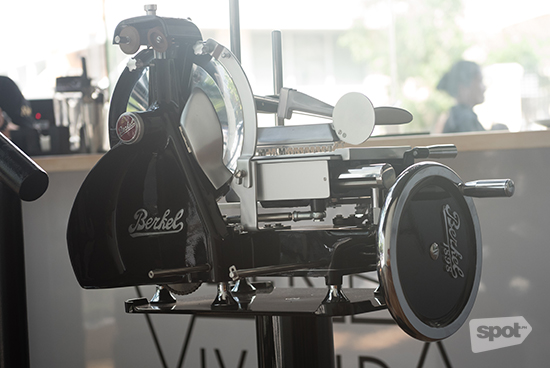 ADVERTISEMENT - CONTINUE READING BELOW
Berkel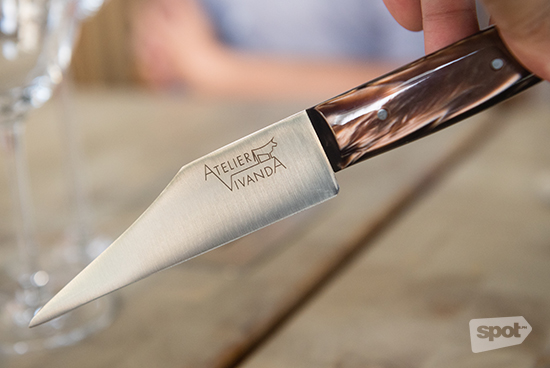 Custom steak knife
Atelier Vivanda Manila is a gorgeous loft-style place, complete with floor-to-ceiling glass windows and an exquisite private room that's also encased in glass. It has the same white, stone-brick walls, red-cushioned chairs, and pale wooden tables as the branch in Hong Kong. The focal point of this high-ceilinged corner space is the Berkel meat slicer, which they playfully describe as the "Ferrari of meat slicers."
For the sneak peek, the place is still in slight chaos, but Khristine tells us that they plan on setting up a cheese bar where seven seasonal cheeses from France will be made available to the customers.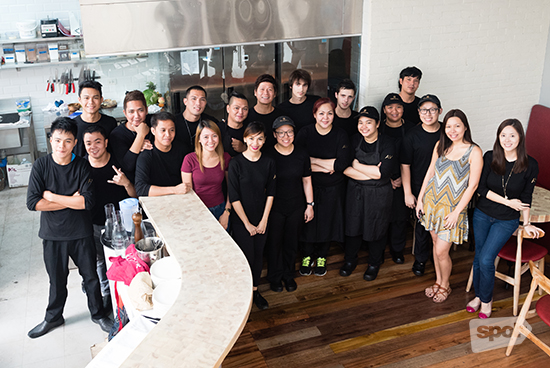 ADVERTISEMENT - CONTINUE READING BELOW
The Atelier Vivanda Manila team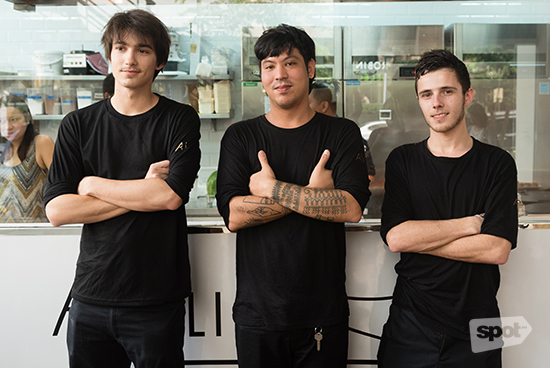 Chefs Sebastian, Etienne, and Jonathan
The restaurant will be led by Chef Akrame's protégés: executive chef Jonathan Petit, 21; kitchen director Sebastian Formal, 25; and line chef Etienne Julian. The three are committed to delivering that quality that Akrame is famous for. Of course, nearly everything is from France, even the cutlery, which is handcrafted by a man who makes only five knives a day—Grace reveals that they had to wait two months for their supply—and the condiments, which are concocted by Chef Akrame himself.
Meat is the star here, but if the egg is any indication, then their magic operates on a much broader scale. It sounds like a simple setup: a boiled egg with cheese, mushrooms, and mayonnaise, but the cheese is cottage and the mayonnaise—a love-it-hate-it ingredient—is shown in its best light. The egg is shrouded in thin slices of white mushroom; underneath are delicious sliced cep mushrooms and on top, a sprinkle of grated egg yolk. A slight tartness comes from the mayonnaise, but the candied pine nuts give it that edge in flavor. No crumb has a chance.
ADVERTISEMENT - CONTINUE READING BELOW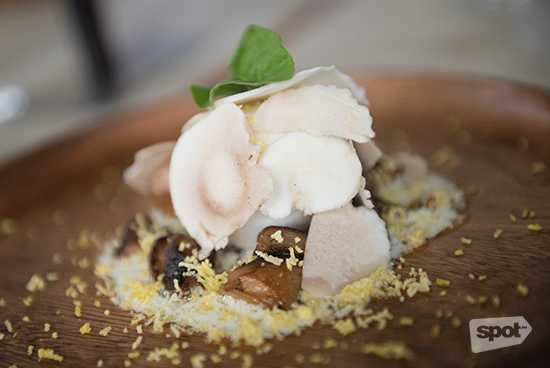 Boiled Egg with Cottage Cheese, Mayonnaise, and Mushrooms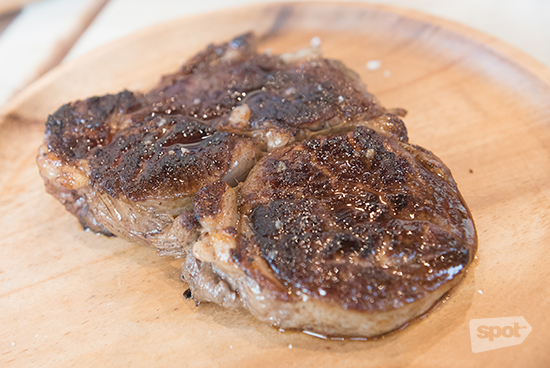 Black Angus Rib Eye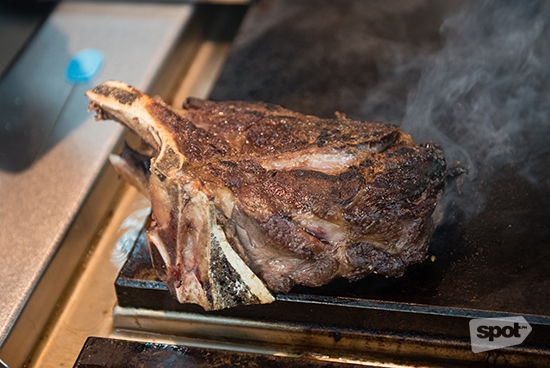 ADVERTISEMENT - CONTINUE READING BELOW
Holstein Beef Rib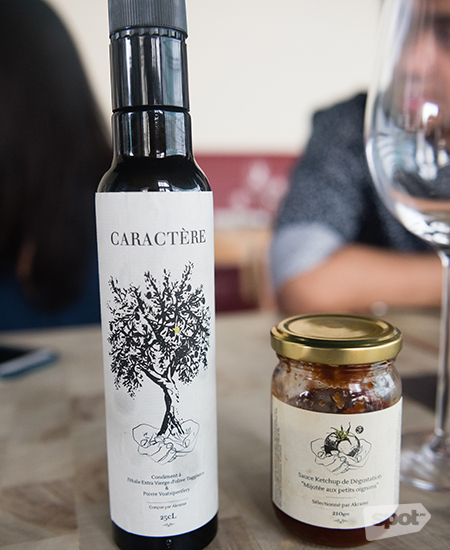 Condiments
The picture-perfect egg is a delicate start to Atelier Vivanda's main courses, perhaps to start you off slow. In their basic, salt-sprinkled primeval form, the steaks are pure, unadulterated bliss. The Black Angus Rib Eye is tender and juicy, even when cooked well done. Ignoring the pepper oil—Chef Akrame's own—on the table would be a crime. Perhaps one of the chef's greatest gifts to the food world is to make that available for purchase (soon in Manila, as well).
The Holstein Beef Rib is the alpha to this meaty lineup. Grace says that it's the cut that the French prefer: a bone-in rib eye cut about an inch-and-a-half thick, lean, and takes well to a rare cook. It's dry aged for 50 days, developing this deep, nutty, and intense flavor. Beefier than beef. Again, pass the pepper oil.
Even humble potatoes are given well-deserved renewal. Sautéed potatoes are seasoned and cooked to creamy perfection, the starch taking so well to the salt and spice. Enjoying the Pomme Darphin is as easy as taking comfort in homemade hash browns. These shredded potato cakes, however, are enriched with a good dose of onions and chives.
ADVERTISEMENT - CONTINUE READING BELOW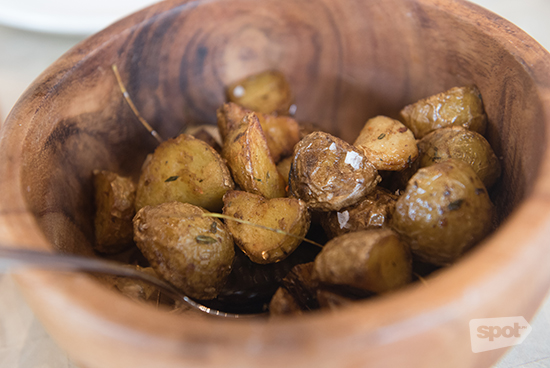 Sautéed Potatoes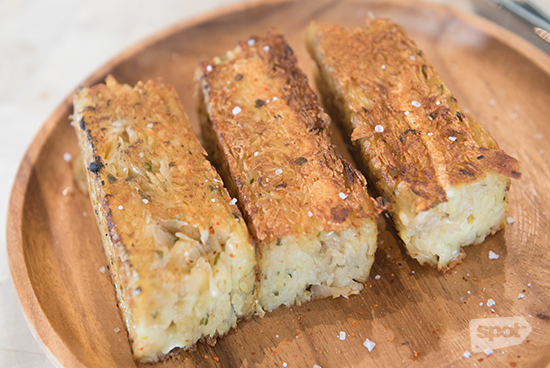 Pomme Darphine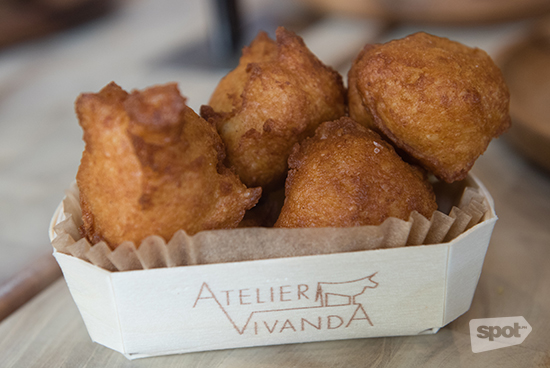 ADVERTISEMENT - CONTINUE READING BELOW
Pomme Dauphines
The Pomme Dauphines are served in the same cartons you'd associate with certain types of street food. Grace describes them as being similar to croquettes, but better. The skin crisps up to a lovely crunch that balances the cheesy potato core. You'll find yourself reaching for Chef Akrame's ketchup, not because these potato balls need it but because you need an excuse to taste its tomato-ey promises.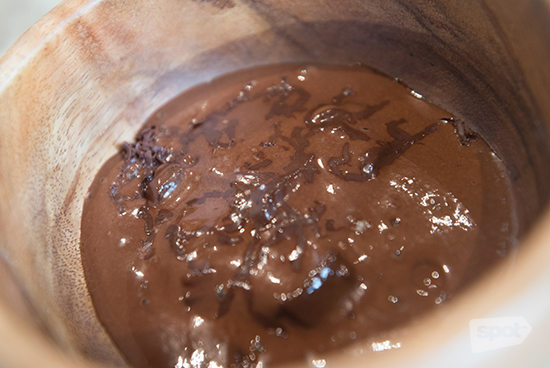 Hot chocolate mousse with pear and pine nuts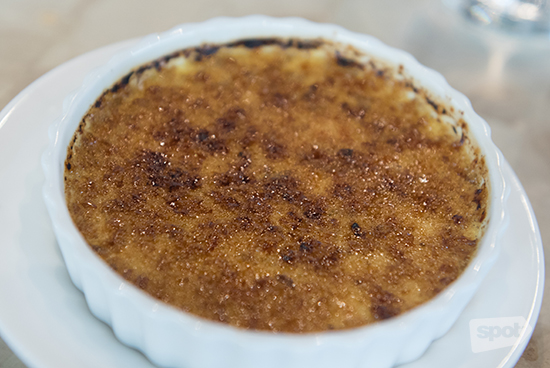 ADVERTISEMENT - CONTINUE READING BELOW
Crème brulee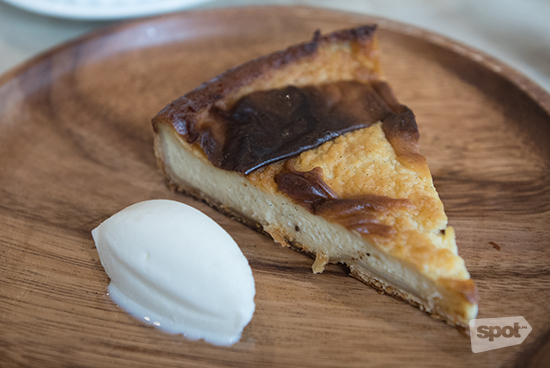 Custard
The hot chocolate mousse with pear and pine nuts would immediately catch your eye—the proportions are impeccable—and the crème brulee is classic and technically perfect, but it's the custard that steals the show. It's a large slice of pie, the custard only very faintly sweet and the phyllo crust amazingly crisp and flaky. The sorbet on the side has a very subtle citrusy tail (courtesy of citronella) that's just enough to give a little lift to the pie.
Atelier Vivanda Manila might have been a fortuitous accident, but everything else—from the knives to the salt to the wines—are all beautifully rehearsed. A perfect performance.
Photos by Jason Mariposa
Also read:
A French Michelin-starred chef is opening a restaurant in Manila
Share this story with your friends!
---
Help us make Spot.ph better!
Take the short survey
Load More Stories