10 Must-Try Japanese Dishes Around Manila
Who else has Japanese food addiction?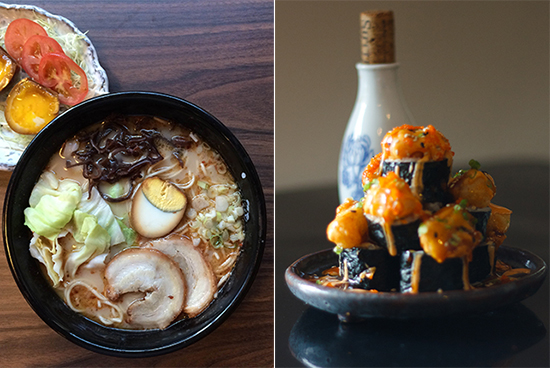 (SPOT.ph) Who doesn't love Japanese food? It's always a different adventure. There's sushi, there's ramen, there's cheesecake, there's fried chicken (karaage, crispier than ever and beautiful with Asian seasonings), there's even steak (hello, Wagyu!). We've rounded up some of our favorite Japanese dishes from restaurants around Metro Manila.
Enjoy turning Japanese!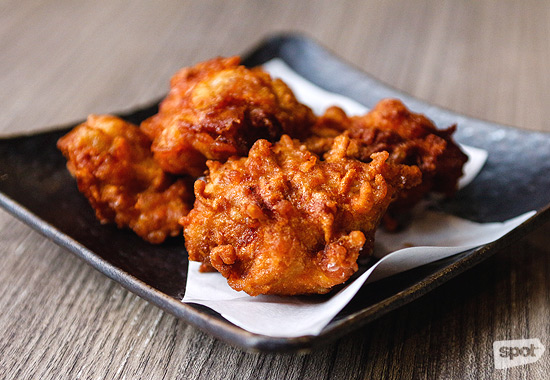 Mitsuyado Sei-Men (P190)
We love the fact that at Mitsuyado Sei-Men, you can let your karaage wait a bit as you enjoy their signature tsukemen and still end up with crispy and delicious fried chicken. It's not oily and one bite is all you need to taste the spices in the chicken's marinade. Bonus: Eating at Mitsuyado Sei-Men makes you feel like you're in a Hayao Miyazaki film, and who wouldn't want that?
Mitsuyado Sei-Men is at 22 Jupiter Street, Bel-Air, Makati City; and Blue Bay Walk, Macapagal Avenue, Pasay City. Mitsuyado Sei-Men ranked No. 8 on SPOT.ph's Top 10 Chicken Karaage (2016 Edition).
ADVERTISEMENT - CONTINUE READING BELOW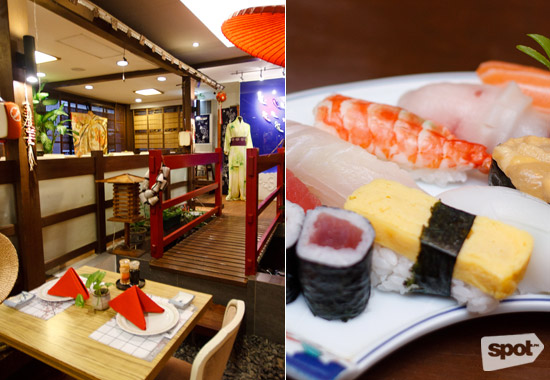 Haru's Sushi
Walking into Haru is like walking into your eccentric, romantic Japanese aunt's house. Every nook and cranny is jammed with all sorts of knick-knacks, from little sushi chef bobble heads to life-sized kimonos on display, from kokeshi dolls to Gundam figures. The overall Haru experience is a feast for the senses, and the visual is just a prelude to the gustation!
Haru's bestsellers are their sushi platters, which are a great way for you to sample the restaurant's wide array of fish. Order the Aki Nigiri Moriwase (P415), a generous serving of tuna, salmon, ebi, ika, tamago, tai, uni, shimaaji, and tekkamaki (tuna rolls). Among these, a number stand out. Their uni is fresh, salty, and wonderfully creamy. The prawn is juicy and just the right texture and color it should be. The tuna is very lean, and you find yourself grateful that there are extra rolls of tekkamaki on your plate. With fresh fish, perfect vinegared rice, and quite generous servings, Haru is the ideal place to take someone on a first date (and impress!) if they really like their sushi.
CONTINUE READING BELOW
Recommended Videos
Haru is at 21 West Capitol Drive, Kapitolyo, Pasig City. Haru ranked No. 4 on SPOT.ph's Top 10 Underrated Sushi Places in Manila.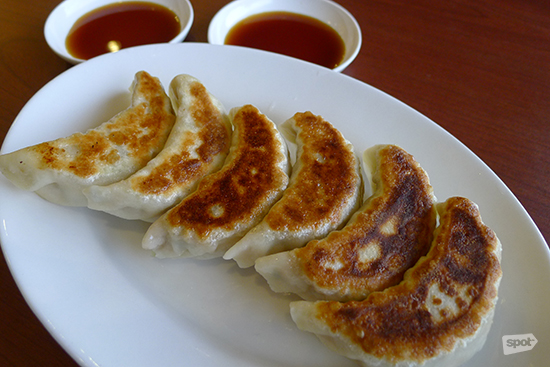 Shinjuku Ramen House's Gyoza (P270)
Shinjuku's gyoza developed its own reverent following through the years—and if consistency is a measure, then this Japanese favorite should rank high on any Top 10. Getting the large order with six pieces of gyoza makes this one of the priciest entries on the list, but there's no buyer's remorse for quality. Shinjuku's version is the largest out of all of them. The filling has the velvety feel of fresh pork with just enough bite for texture. Leeks and ginger really elevate the flavor to something absolutely mouthwatering while cabbage gives it a delightful crunch.
Shinjuku Ramen House has branches at Hercules Street corner Makati Avenue, Makati City; 2277 Chino Roces Avenue, Makati City; and Katipunan Extension, Quezon City. Shinjuku's gyoza ranked No. 3 on SPOT.ph's Top 10 Gyoza (2014 Edition).
ADVERTISEMENT - CONTINUE READING BELOW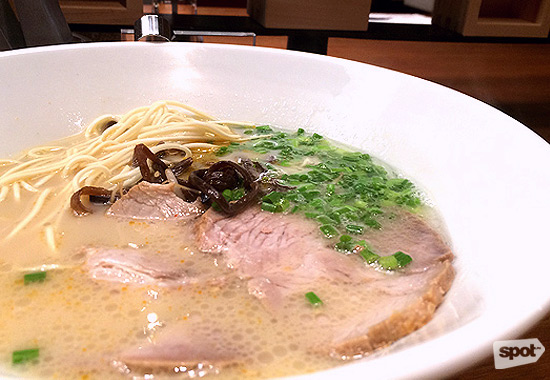 Ippudo's Shiromaru Motoaji (P375)
The tonkotsu ramen at Ippudo looks simple, a bit pale or colorless even, yet none of that matters when it's a, well, matter of taste. Filipinos welcomed this popular chain in 2014 with long lines and excited appetites, and a little over a year later, it remains top-of-mind for ramen enthusiasts in Manila—and it's not hard to see why. This Hakata-style ramen contains broth that's been cooked for 15 hours. Noodles are made fresh daily, with the charsiu boiled and stewed for over two hours. If you read the menu you'll find they encourage you to "sip, slurp, top," which means you have to appreciate the broth first, take a spoonful of noodles, then go for the bean sprouts, kikurage, and spring onions. The soup is rich and flavorful; the noodles ultra thin and perfectly firm; the meat and toppings give you that overall feeling that all things are right in the world. From the first spoonful down to the last, it's the kind of meal that you feel like hugging and having over and over again.
ADVERTISEMENT - CONTINUE READING BELOW
Ippudo is at 3/F Mega Fashion Hall, Mandaluyong City (0999-886-7907); and Robinsons Ermita, Manila. Read more about Ippudo. Ippudo's Shiromaru Motoaji ranked No. 1 on SPOT.ph's Top 10 Ramen (2016 Edition).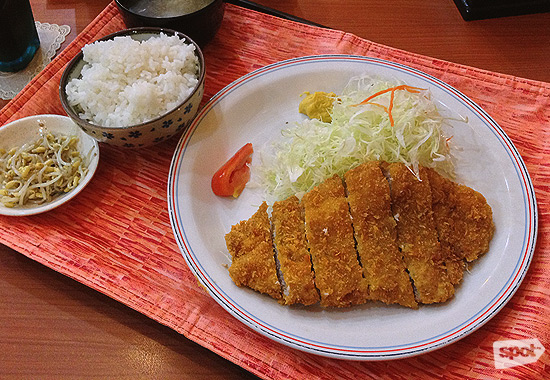 Yamazaki's Tonkatsu Teishoku (P196)
Who would go through the maze-like Makati traffic just to have their fill of tonkatsu? We would, really, even if it takes more time than a one-way trip to Japan. For less than P200, you get an authentic Japanese katsu experience—a golden, fried pork cutlet with the right amount of fat, plus a bevy of sides and add-ons that will leave even the biggest of appetites satisfied. (Yup, that's spaghetti and rice next to your katsu.) The experience is unbeatable, even after clocking in several minutes just to find this Little Tokyo gem (tip: it's inside a grocery). Trust us, it'll be worth it.
Yamazaki is at Little Tokyo, 2277 Fernando Street corner Pasong Tamo Street, Legazpi Village, Makati City. Yamazaki's Tonkatsu Teishoku ranked No. 5 on SPOT.ph's Top 10 Tonkatsu (2015 Edition).
ADVERTISEMENT - CONTINUE READING BELOW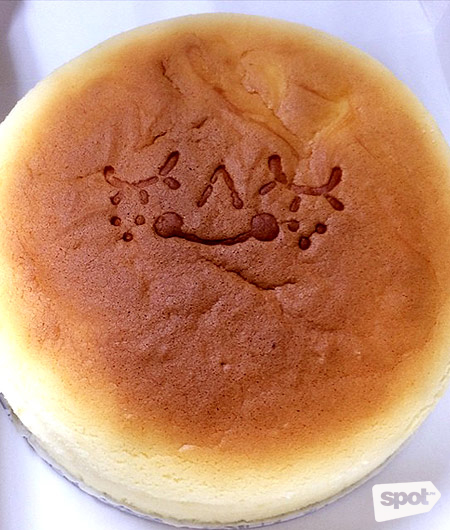 Green Cheese's Happiest Cheesecake (P350+)
Remember when you were a kid and you tried to imagine what it would feel like to bite into a cloud? This is the closest experience you're going to get because it tastes like heaven. Green Cheese's Japanese cheesecake is the creamiest, richest, downiest, most satisfying cloud of a cake. And the magic is that, despite all these superlatives, the faintly cheesy, smiling delight is as light as air. They call it the "happiest cheesecake in the world," and we're only too grateful that they shared that happiness with us. Actually, forget about eating clouds. Green Cheese makes us feel like we're floating among them.
Green Cheese is at Hole in the Wall Food Hall, 4/F Century City Mall, Kalayaan Avenue corner Salamanca Street, Makati City. Green Cheese's Happiest Cheesecake is included on SPOT.ph's 10 Cakes That Will Make You Forget About Chocolate.
ADVERTISEMENT - CONTINUE READING BELOW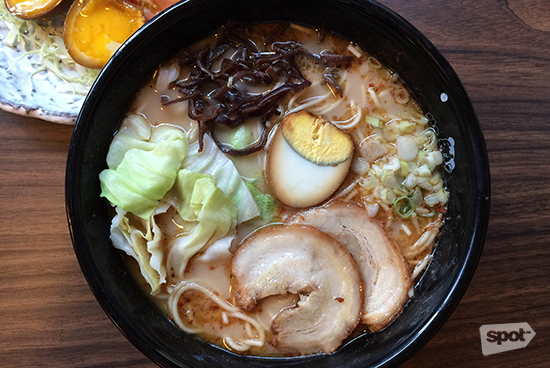 Ajisen Ramen's Special
This one is borderline mainstream, but with the arrival of other major ramen players from Japan, Ajisen has been pushed under the radar. A fitting alternative to your mall-based ramen houses, this place maintains the quality that they've set pre-ramen trend. Their Ajisen Special (P265) is a savory blend of BBQ pork, Ajisen oil, Okinawa salt and a secret "thousand-herb" powder. But the best part hasn't come yet...
Don't forget to get an extra order of their Ajitsuke Tamago (P50), one of best seasoned soft-boiled eggs we've ever tried in Manila. Tamago nirvana!
Click here for a list of Ajisen Ramen branches. Ajisen Ramen is included on SPOT.ph's Under-the-Radar Ramen Places You Shouldn't Miss.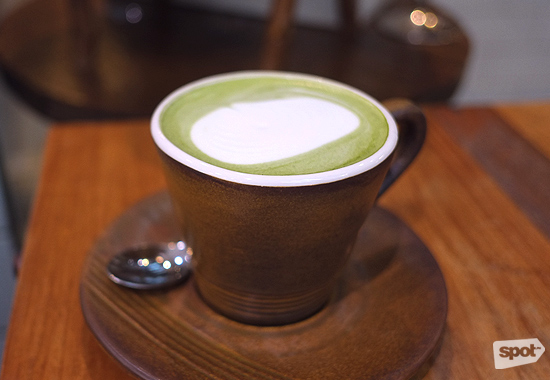 ADVERTISEMENT - CONTINUE READING BELOW
Wildflour's Matcha Latte (P160)
Make sure to wash down Wildflour's savory bone marrow and grilled cheese with a good helping of antioxidants care of their matcha latte. They have a cold-brew green tea for a more invigorating flavor, but the latte version is thicker and creamier—the perfect cup to go with a rainy day. The touch of sweetness in the blend doesn't at all mask the natural flavor of the green tea.
Click here for a list of Wildflour branches. Wildflour's Matcha Latte ranked No. 7 on SPOT.ph's Top 10 Matcha Lattes (2016 Edition).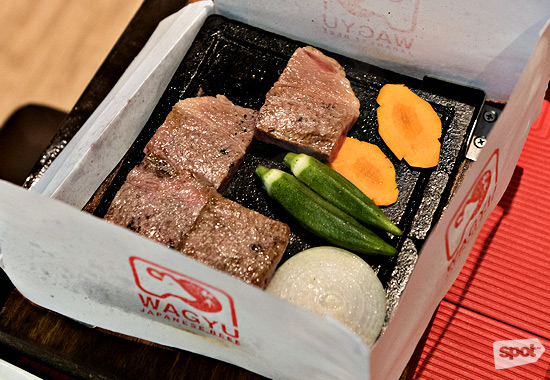 Wagyu Japanese Beef's Stone-Grilled Rib-Eye Ishiyaki (P1,150/100 grams)
Melt in your mouth. These four words often describe chocolates or creamy biscuits. And in the case of the beef—anything you order—at this restaurant, the four pieces of Wagyu beef that we stared at hungrily. It's very lightly seasoned to showcase all that marbling, but if you need to give it some edge, just sprinkle any of their yuzu, plum, or pepper salts. It is a bit pricey considering the size of the slices. But trust us when we say that when you slide these into your eager mouth, you will have a sudden hankering for more. That's the danger when you're dining at Wagyu Japanese Beef, these wondrous slices of Wagyu are addictive. Our recommendation, order the rib eye as a starter to get a ton of flavor and then end with the steamed sirloin (plus steak rice!) to seal the deal and your palate.
ADVERTISEMENT - CONTINUE READING BELOW
Wagyu Japanese Beef is at G-20 Sunvar Plaza Building, Amorsolo Street corner Pasay Road, Makati City (0922-808-9508, 0919-997-0711). Wagyu Japanese Beef's Ishiyaki ranked No. 4 on SPOT.ph's Top 10 Steaks in Manila (2015 Edition).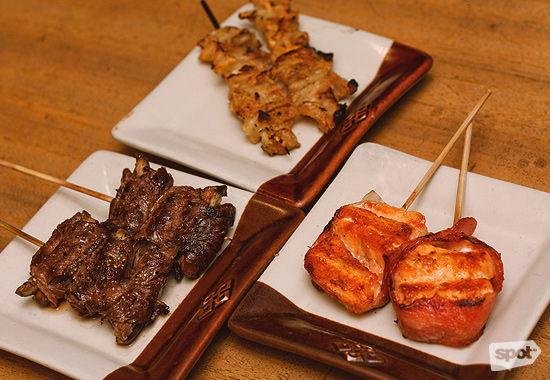 Nanbantei of Tokyo's Yakitori
Boasting branches in Tokyo, Singapore, Shanghai, and Hong Kong, Nanbantei of Tokyo is undoubtedly a master when it comes to making yakitori that fits the Asian palate.
When asked which their bestsellers are, our server was quick to point out three favorites, the Shiitake Maki (P260/two sticks), Kawa (P75/two sticks), and Namajake Sumi Yaki (P300/two sticks).
The Shiitake Maki is tender yakiniku beef wrapped around shiitake mushrooms, a great combination of earthy, grilled, and juicy all at once. The Kawa or chicken skin is a crunchy delight. Be sure to ask them to have it grilled to crispy! Finally, the Namajake Sumi Yaki or grilled salmon wrapped in bacon was something else: Grilling the bacon on the salmon allows the fat to drip on and flavor the fish even more, making it a salty-savory love child of two things you've always adored.
ADVERTISEMENT - CONTINUE READING BELOW
Tip: Have their awesome yakitori with Yaki Onigiri or grilled rice balls (P85), a great side dish that comes to you toasted with the smell of roast nori wafting in the air the minute it lands on your table.
Nanbantei has branches at Greenbelt 3, Makati City; Bonifacio High Street Central, 7th Avenue, Bonifacio Global City; and Alabang Town Center, Muntinlupa City. Nanbantei's Yakitori ranked No. 3 on SPOT.ph's Top 10 Places to Get Food on A Stick in Manila.
Share this story with your friends!
---
Help us make Spot.ph better!
Take the short survey
Load More Stories