New Restaurant Alert: Alley at The Grove by Rockwell, Pasig
Your favorite sandwiches like you've never tasted them before
Alley
Retail Row, The Grove by Rockwell, 117 E. Rodriguez Avenue, Pasig City
Contact: 0916-493-3136
Open daily from 11 a.m. to 11 p.m.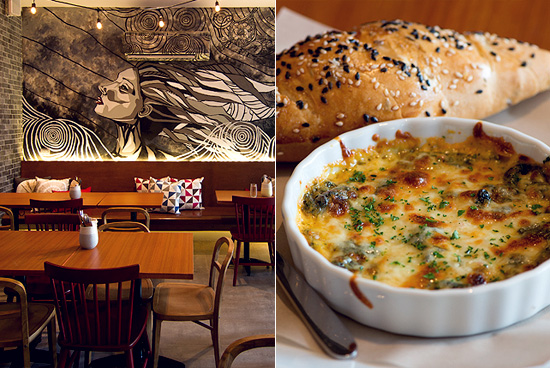 (SPOT.ph) Alley makes a pretty convincing argument for sandwiches. Sandwiches are their bread and butter—pun very much intended—and a rather big gamble in a country where bread seems to be a last-resort carb. Alley, however, bridges nostalgia and curiosity, creating sammies that are one-of-a-kind but still recognizable.
"People love burgers, so they should be able to love sandwiches," says co-owner Butz Tenchavez logically.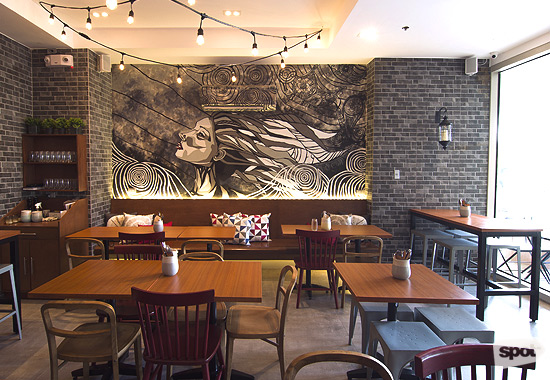 ADVERTISEMENT - CONTINUE READING BELOW
Find the word "alley" in this mural.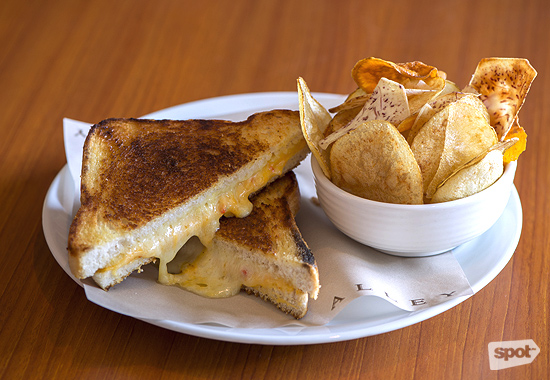 Grilled Cheese Pimiento
Think, for example, of the pimiento sandwiches that you had back in kindergarten. Here, it grows up to be the sophisticated and stylish Grilled Cheese Pimiento (P249). Stronger cheeses like aged cheddar and Gruyere punch through the toasted pan de mie. It's gooey and bold—all the right ways to use cheese to full effect, but without being overwhelming.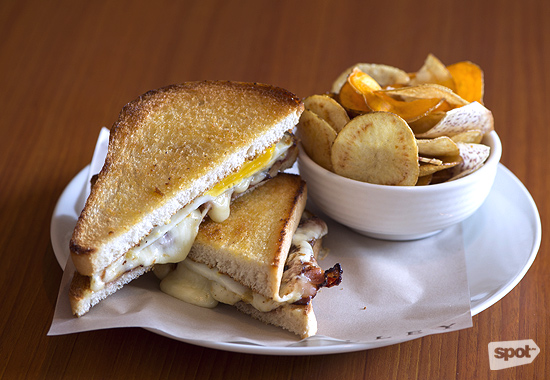 CONTINUE READING BELOW
Recommended Videos
B.E.C.
The B.E.C. (P259) is Alley's version of a clubhouse sandwich, though the original ham, cheese, and mayo trio might cower back to the kitchen with the flavors of this delicious stack. Smoked bacon makes the introduction, but it gives way to the fried egg and cheddar. The strawberry jam comes in late, an unexpected sweet touch that balances the rest of the ingredients.
It's impressive what Alley's trying to do. They're not just stuffing things between bread, but making everything from scratch. Twenty-four-year-old chef Thirdy Dolatre heads a tiny but efficient kitchen that whips up freshly baked bread, pickled vegetables, homemade vinegar, house-churned ice cream, custom hot sauce, and more. No wonder all the flavors work so well together; they were designed for each other. We wouldn't be surprised if years from now they start concocting their own signature cheese.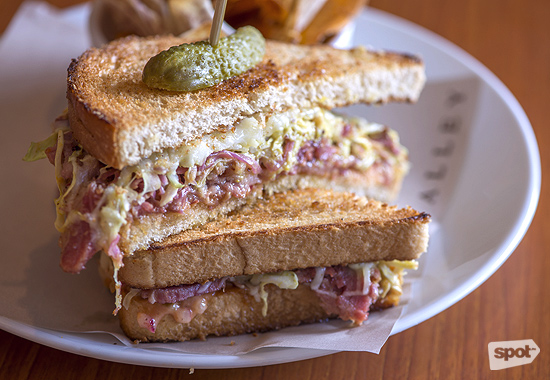 Reuben
This commitment is best seen in the Reuben (P319). The corned beef belly is cured for six days, and Alley doesn't even use sauerkraut to boost the flavor. They have a more delicate approach, using a refreshing (homemade!) pickled slaw to back up the taste of beef. Molasses bread and honey mustard add a flutter of sweetness.
ADVERTISEMENT - CONTINUE READING BELOW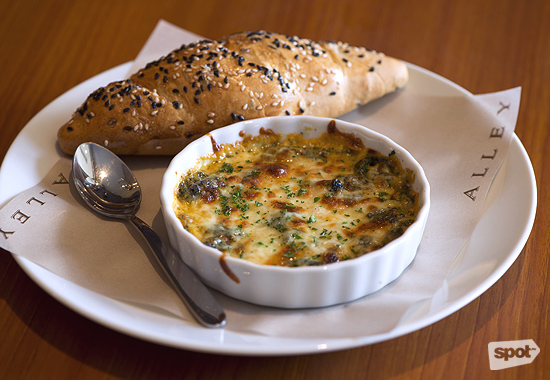 Spinach and Pimiento Fonduta
The folks behind Alley understand that not everyone will take to sandwiches—at least not right away—so they're offering some gateway via smaller plates, heavier mains, and desserts. The Spinach and Pimiento Fonduta (P259) is a great way to pass the time, whether you're whiling the afternoon away or waiting for an entrée. There are equal proportions of greens, peppers, and cheese, so you get all the goodness with every scoop. The multi-grain roll on the side is atypically soft, but it works well in this delicious setup.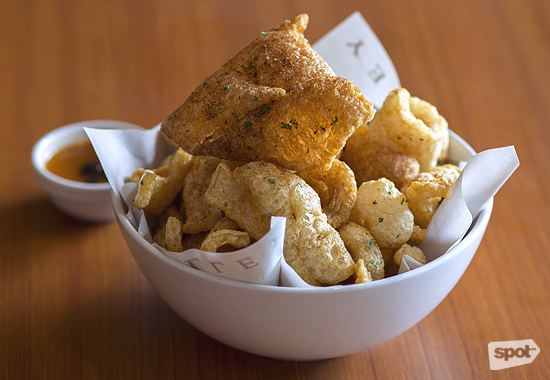 ADVERTISEMENT - CONTINUE READING BELOW
Pork Chicharonnes
The vinegar is the star of the Pork Chicharonnes (P179). It's more refreshing than tart—it's not at all tart, actually—a cool condiment made of orange and star anise. The pork rind is fried excellently to habit-forming chips. Butz is contemplating on adding some hearty laman, but we prefer this airy addiction. It's light enough to still just be a snack. Alley should really consider selling that vinegar, though.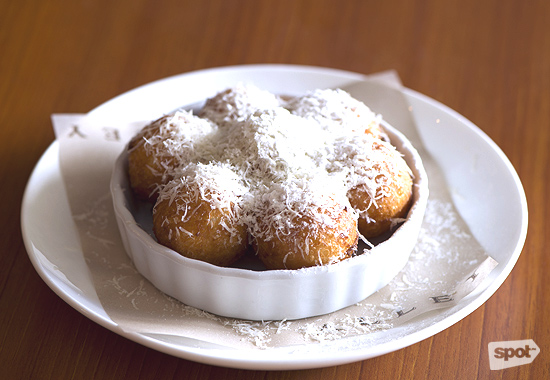 Quezo de Bola Beignets
Keeping up with the fried theme are the Quezo de Bola Beignets (P199). Alley sticks to serving these babies the traditional way—with a heavy coat of powdered sugar on top. The donuts are incredibly moist on the inside and not at all sweet, allowing the flavor of confectioner's sugar and sharp cheese to work their magic.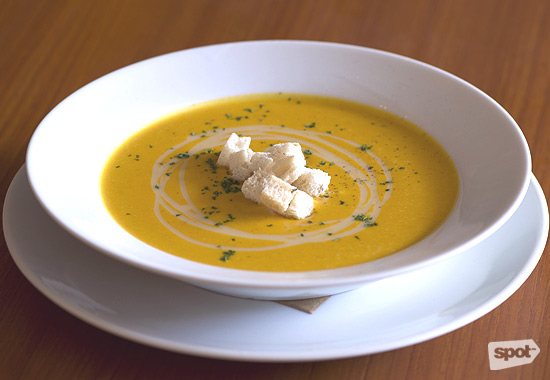 ADVERTISEMENT - CONTINUE READING BELOW
Pumpkin Soup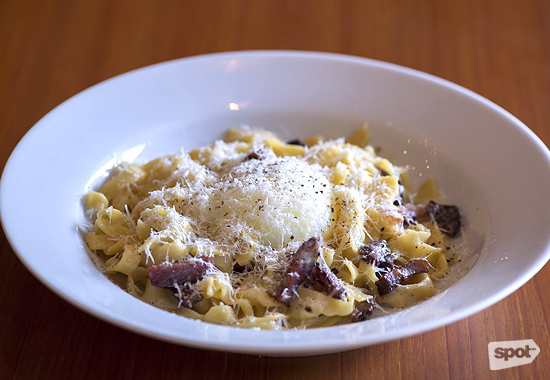 Carbonara
Chef Thirdy is quite the ambitious chef. Even the pasta is made fresh, and that homemade quality really delivers for the Carbonara (P339), which comes with guanciale or pork jowls. They're considered the Italian version of bacon, and we think it's better. The poached egg is textbook and really coats the noodles with a wonderful creaminess.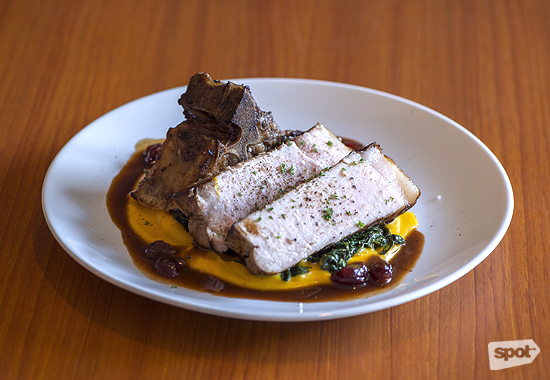 ADVERTISEMENT - CONTINUE READING BELOW
Grilled Porkchop
Appetites will be challenged by the Grilled Porkchop (P529), which is a massive, thick, bone-in slab of meat. It gets the usual Alley treatment: homemade cranberry jus and freshly made squash puree. You'll crave rice with this, but that's only if the pork chop isn't enough.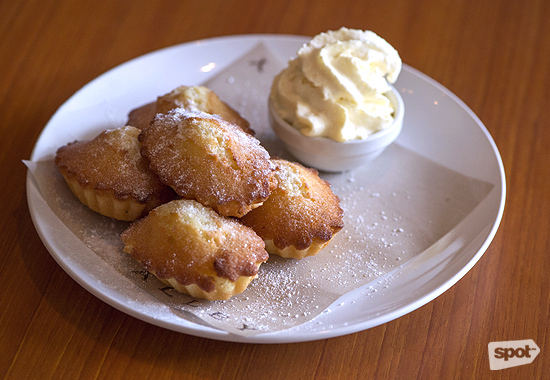 Financiers
Alley is obviously handy with baking. Their Financiers (P229) are light and delightful buttery almond cakes complemented with homemade whipped maple cream. You can stop gingerly smearing that subtly sweet embellishment and just dip each piece, deep.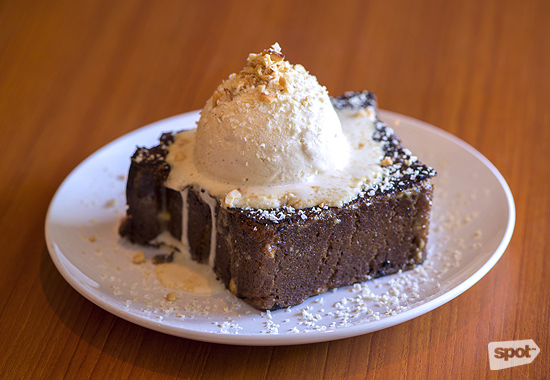 ADVERTISEMENT - CONTINUE READING BELOW
Banana Bread
Not a lot of restaurants feature banana bread (P249) on the menu, but Alley knows how to shake up this humble treat. The thick loaf is caramelized on top for extra sweetness and texture, while the cake itself is just at the right level of moist. The cashew ice cream is the proverbial cherry on top of an already satisfying dessert.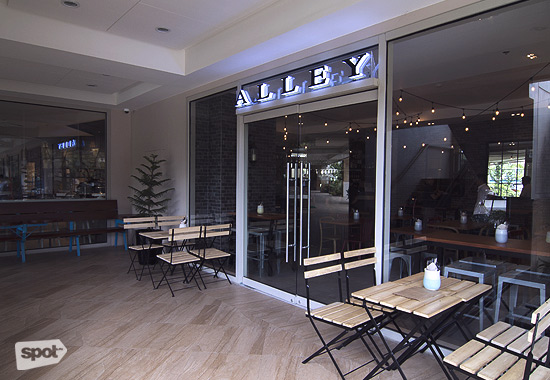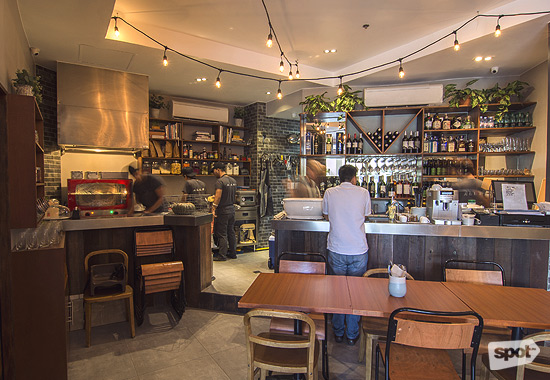 ADVERTISEMENT - CONTINUE READING BELOW
It's styled like an outdoor restaurant...
Alley isn't the most attention-grabbing restaurant at The Grove (heck, it's obscured by a grocery store and coffee chain), but then again, it's one of those places that you'll want to keep a secret—and it's one of those secrets you'll want to share. We think we've just kickstarted a sandwich habit.
Photos by Hans Fausto
Share this story with your friends!
---
Help us make Spot.ph better!
Take the short survey
Load More Stories