New Restaurant Alert: Burger Geek at Molito, Alabang, Muntinlupa
This is like Shake Shack, Five Guys, and Super Duper all rolled into one.
Burger Geek
Molito Commercial Complex, Alabang, Muntinlupa City
Contact: 246-9069
Open daily from 11 a.m. to 10 p.m.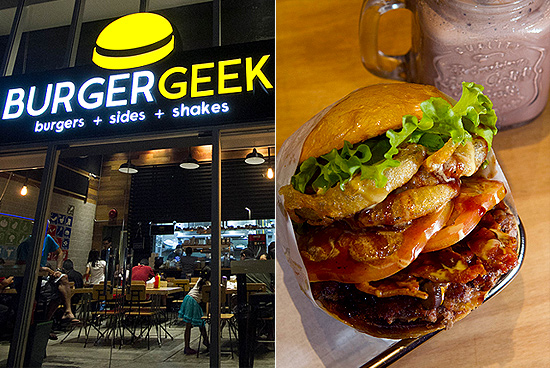 (SPOT.ph) There's nothing that says "Eat here!" quite like a busy, well-lit restaurant whose clear glass façade beckons you to come in. An instant standout in the neighborhood, Burger Geek is a sanctuary for the perfect burger—simple, honest, and made with nothing but pure beef goodness.
George Kho, the master geek and genius behind this culinary adventure, focuses on the total experience of his burger joint. "I want my [customers] to come back for more," he explains. One bite of his burger is all you need to plan your second, third, fourth visit—long before you're even done with your meal.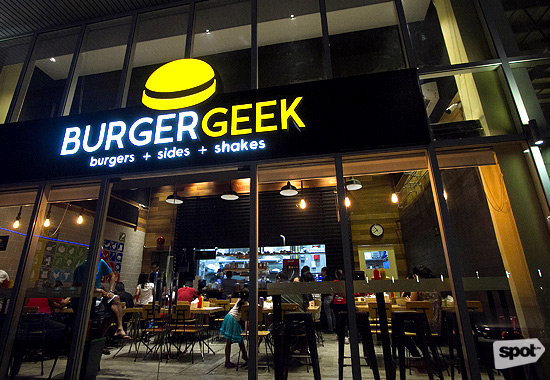 ADVERTISEMENT - CONTINUE READING BELOW
A different kind of geeking out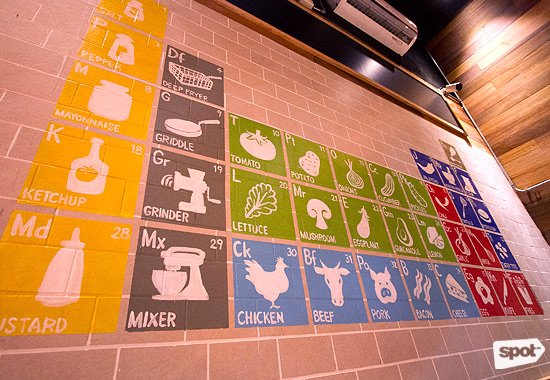 Don't we wish this was what we studied in school?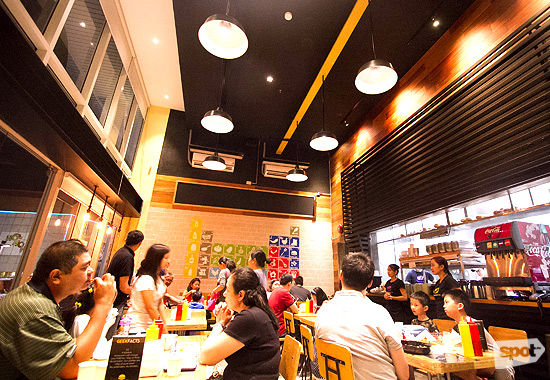 Full house
The smashed patties are the highlight of the Burger Geek eating experience. Contrary to popular belief that you should never press on your patties (it supposedly squeezes out juiciness), Burger Geek is somewhat of a rebel. They smash them forcefully once to create a signature sear. This locks in the flavor and develops that crusty exterior, which also serves as a shield for the juicy core.
CONTINUE READING BELOW
Recommended Videos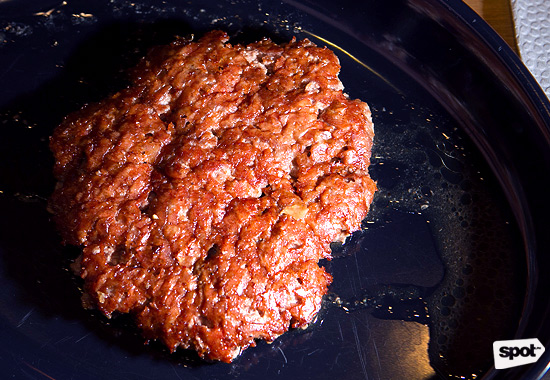 Smashed patty
There are no complicated choices at Burger Geek. They have an obvious formula of using only the best freshly ground beef, an impeccably seasoned patty, and the ideal meat-to-bun ratio. It seems easy to cop, but the nuances determine all the difference.
Burger Geek opts for a school theme that will take you on a nostalgic trip down memory lane. There's a periodic table of elements on the wall and even a school bell that rings when they open and close for the day. If you believe that high school is some of the best years of your life, then you'll love the effort that George demonstrates in his choice of kitschy decor.
Burger Geek's B+ or Bacon Plus (P255) is their take on the classic BLT. The bacon is so crispy that it's actually A+ in our book. Go for an extra crispy meal by pairing this beaut with their perfectly fried onion rings.
ADVERTISEMENT - CONTINUE READING BELOW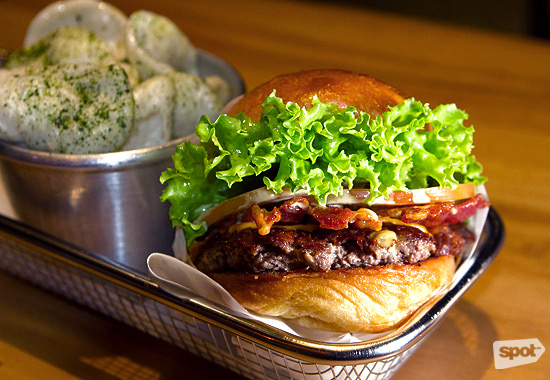 Bacon Plus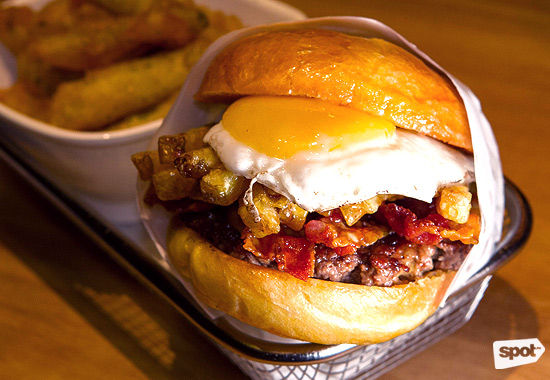 The Hangover
The same A+ bacon (yes, we're calling it that) makes another appearance in The Hangover (P335). This breakfast burger is drenched in their secret geek sauce (we detect hints of maple) and beer syrup, stuffed with french fries, then topped with a sunny side-up egg that will definitely perk up your day. One bite and the oozing yolk doubles as extra sauce.
ADVERTISEMENT - CONTINUE READING BELOW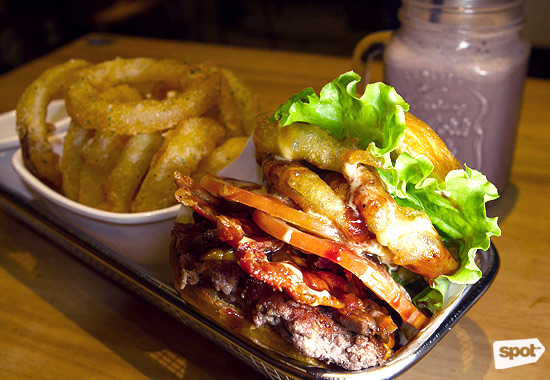 Class President
Playing along with the school theme, we might as well award the Class President (P310) as valedictorian. It's an awesome stack featuring that smashed patty, American cheese, BLT, plus shiitake mushrooms, onion rings, and BBQ sauce. This goody-two-shoes is definitely a goodie.
For those who aren't fans of big beefy bombs, the lighter options are just as satisfying. A must-try is the Grilled Chicken Sandwich (P255), where tender and succulent chicken breast is boosted by cilantro mayo, fresh tomatoes, lettuce, onions, and pickles. George is a stickler for freshness, and he knows that they're the best when it comes to flavors. "If only we could grow everything ourselves..." he laments.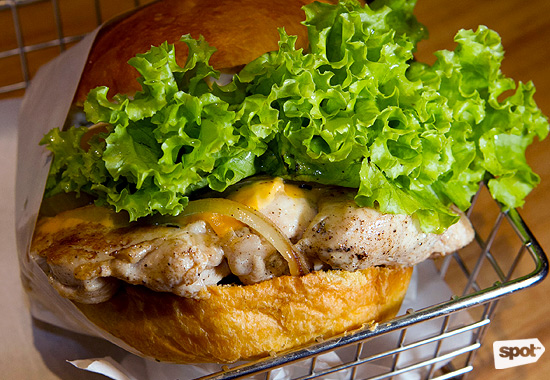 ADVERTISEMENT - CONTINUE READING BELOW
Grilled Chicken Sandwich
If you want to step away from sandwiches, try their Umami Fried Chicken (P295). It's a hefty serving of two Southern fried chicken pieces, umami corn, and a choice of either kimchi rice (their kimchi is homemade, too) or Korean yang chow.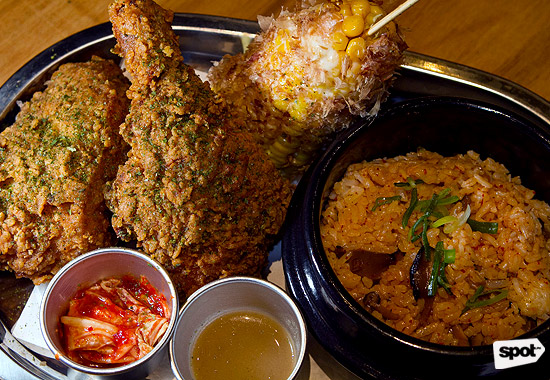 Umami Fried Chicken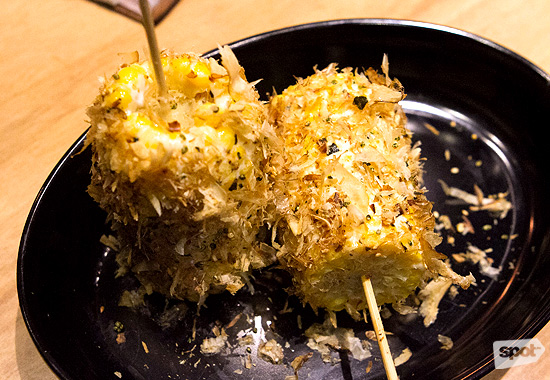 ADVERTISEMENT - CONTINUE READING BELOW
Umami Corn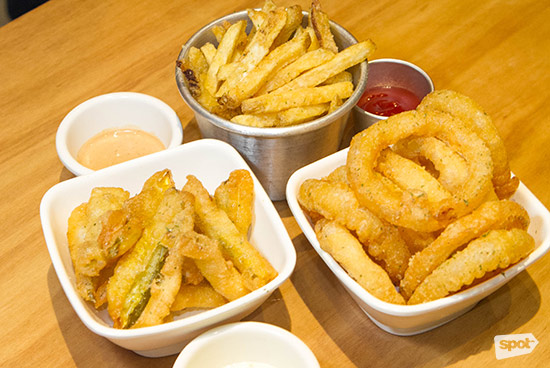 French fries, onion rings and fried pickles (P65/each)
Burger Geek pays careful attention to the proportions and serving sizes of their meals, making sure that there's no spare drop of sauce that could result in umay. "In my head, I know how [our burgers] are supposed to taste. Just one bite and I will know immediately what's missing or what's being overdone," George explains.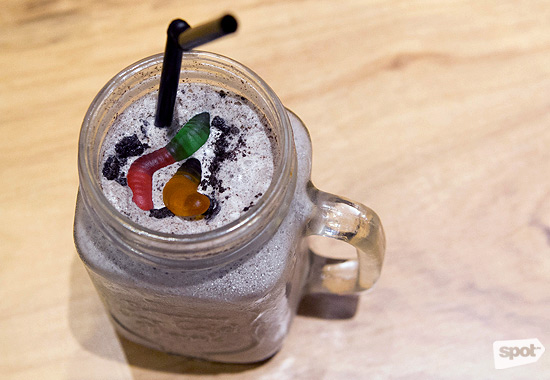 ADVERTISEMENT - CONTINUE READING BELOW
Milkshake
This meticulous owner sure knows how to make his burgers sing. With spot-on food, creamy milkshakes (P165 to P215), and a pop playlist of Sam Smith, Justin Bieber, and Ariana Grade, only innate social graces will stop you from wanting to dance for joy.
Photos by Mawi Dagdag
Share this story with your friends!
---
Help us make Spot.ph better!
Take the short survey
Load More Stories