Could Fireside's chicken be better than Kettle's?
Fireside has a new branch, and their chicken is leading the way.
Fireside by Kettle
G/F Power Plant Mall, Rockwell Drive corner Estrella Street, Makati City
Contact: 801-8457
Open daily from 11 a.m. to 10 p.m.
Also read: New Restaurant Alert: Fireside by Kettle at SM Mega Fashion Hall, Mandaluyong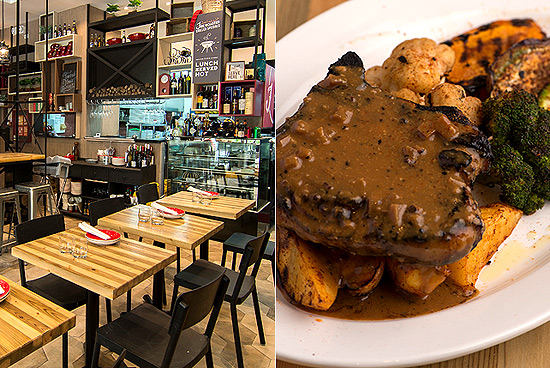 (SPOT.ph) The dust has barely settled in the first Fireside by Kettle at SM Mega Fashion Hall, but Chef Chiloy Santos is already briskly training his staff in their brand-new, street-side location at Power Plant Mall. With the second-generation restaurateur (his family, along with the Tenchavezes, Meers, and Tanjangcos, are the owners of Meat Plus in Subic and the Tender Bob's chain) busy as executive chef for both Fireside by Kettle and its predecessor, Kettle, it's a treat to have him to ourselves and ask some questions. Like: Why open similar concepts almost consecutively?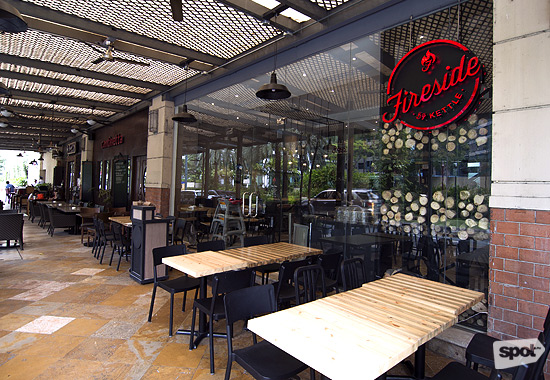 ADVERTISEMENT - CONTINUE READING BELOW
A plum little spot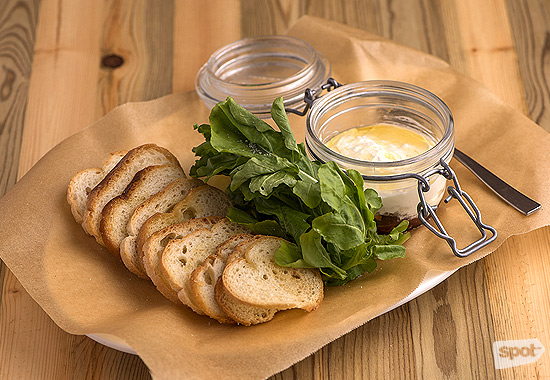 CONTINUE READING BELOW
Recommended Videos
Mascarpone Cheesecake
In between bites of their addictive Mascarpone Cheesecake (P359)—curiously not a dessert, but a mascarpone and cream cheese dip layered with homemade tomato jam—Chef Chiloy's lips curl up in a half-smile. "We really wanted that space in SM [Mega Fashion Hall]," he says, referencing the first Fireside by Kettle branch. "But it was too close to Kettle which is just at Shangri-La Plaza. They suggested that we open a similar concept, but, well, different." So far, with both franchises doing exceptionally well, it's been proven that there is room in this world for both.
Fireside is designed to be akin to an American grill, and they do it well as proven by their wood-fire grilled Australian Lamb Ribs (P719) served simply with fried potato wedges and mint gravy on the side. The juicy, flaky meat falls off the cartilage with minimal prodding, showing the good quality of this under-appreciated cut.
ADVERTISEMENT - CONTINUE READING BELOW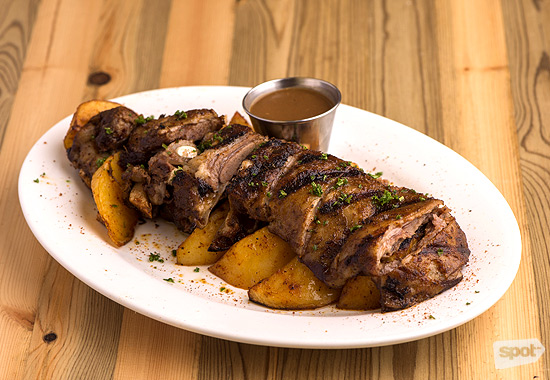 Australian Lamb Ribs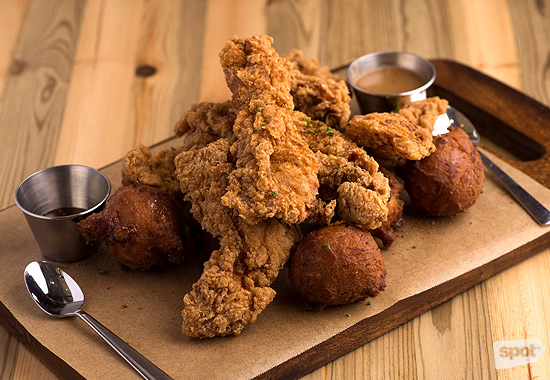 Buttermilk Fried Chicken Fingers
It's difficult, however, to shake off Kettle's shadow. Platter after platter of Buttermilk Fried Chicken Fingers (P489) whiz by us that busy weekday lunch. These chicken fingers are seasoned differently from, say, Kettle's giant and juicy pieces. "Mas may sipa," Chef Chiloy admits. True enough, the crispy batter is given a Louisiana twist with Cajun seasoning and Ritz crackers. It's not spicy, but with more personality than Kettle's very likable yet very "neutral" version. If that isn't soulful enough for you, it comes with cornbread donuts that are taken a notch further by a drizzle of gravy and honey.
ADVERTISEMENT - CONTINUE READING BELOW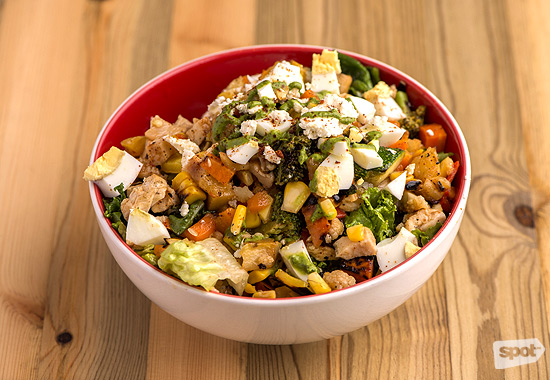 Grilled Chop House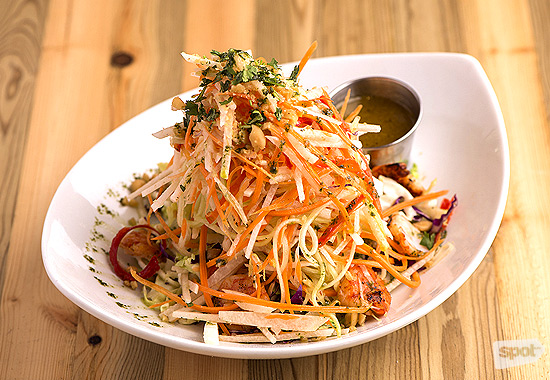 Asian Shrimp Salad
Even the salads were given much thought and attention. The Grilled Chop House (P189 to P389)—with its combination of mixed greens and grilled vegetables such as kale, broccoli, carrots, cauliflower, zucchini, bell peppers, (take a breath here), pineapples, cubed chicken breast, eggs, feta, and lemon dressing—is one of those hearty concoctions you won't be tearfully eating if you're consciously cutting out carbs. The Asian Shrimp Salad (P299) is unabashedly Vietnamese with the crisp, freshly shredded carrots, bell peppers, and cucumbers over glass noodles. It's finished with cilantro, lime, and a fish sauce dressing.
ADVERTISEMENT - CONTINUE READING BELOW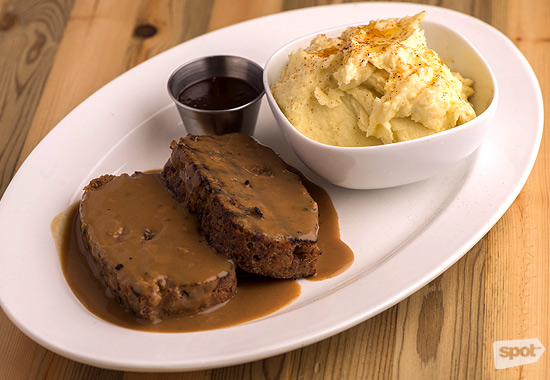 50/50 Meatloaf
Swiveling back your attention to Fireside's American roots is the 50/50 Meatloaf (P389), which is 50% beef and 50% bacon. They serve this with a spiced and fluffy mashed potato and their homemade BBQ sauce. Chef Chiloy admits to being a creature of habit and still prefers to eat this with ketchup, which they always have on hand in case a customer calls for it.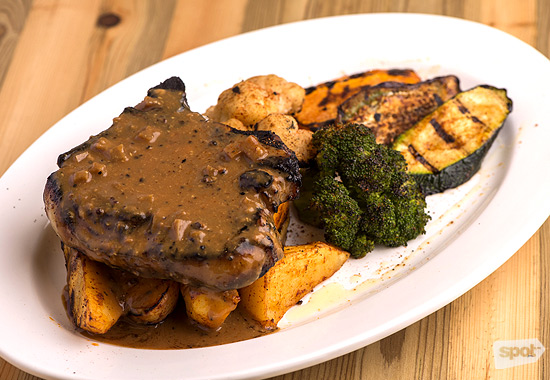 ADVERTISEMENT - CONTINUE READING BELOW
Double Cut Grilled Porkchop
The Double Cut Grilled Porkchop (P519) is thick but juicy, thanks to that honey cider brine and a touch of creamy peppercorn and mustard sauce. "Have some of the grilled apples," Chef Chiloy advises, diverting our attention towards the wedges we originally thought were potatoes. It really is a classic match.
Pace yourself because desserts are worth the tummy space, too. Chiloy's mom ("The 'original' Vilma Santos," jokes Chef Chiloy) created the Coconut Checkered Cake (P259). Unlike Kettle's picture-perfect red velvet version, Fireside's looks more rustic because of its components. Still, that doesn't take away from its spot-on flavor.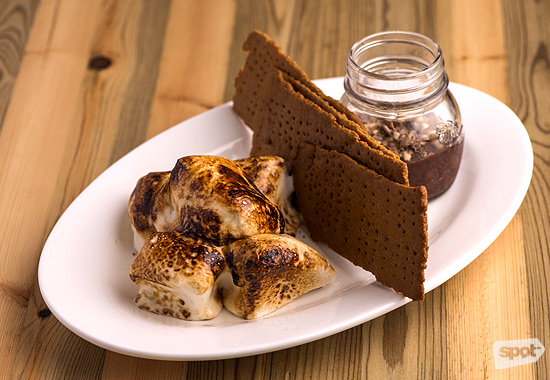 Homemade S'mores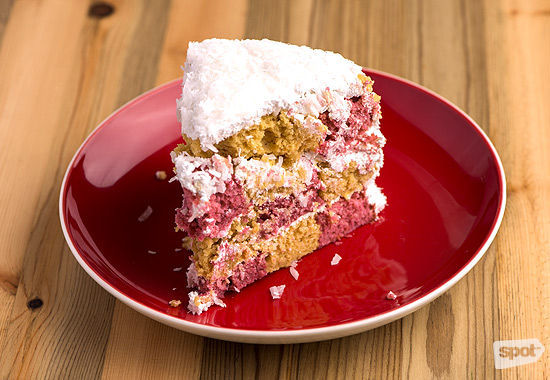 ADVERTISEMENT - CONTINUE READING BELOW
Coconut Checkered Cake
The Homemade S'mores (P139) is playful and an obvious favorite, but we need to talk more about this Sticky Banana Fig Pudding (P129). "This one was a lucky accident," Chef Chiloy shares. "I wanted to make banana bread, but I forgot one ingredient—baking soda or whatever. So, the result was a denser cake. I liked it. Then, I made another one with figs, which made it taste more like sticky toffee pudding." That's what it is—a dense, rich, cake intensely flavored with overripe bananas and sweetened with exotic figs. Even without the ribbons of caramel and the scoop of vanilla ice cream, it can confidently stand on its own.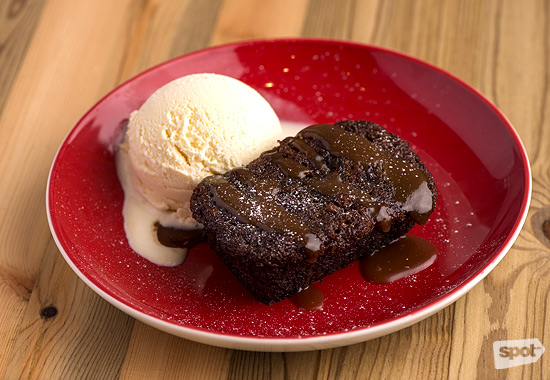 Sticky Banana Fig Pudding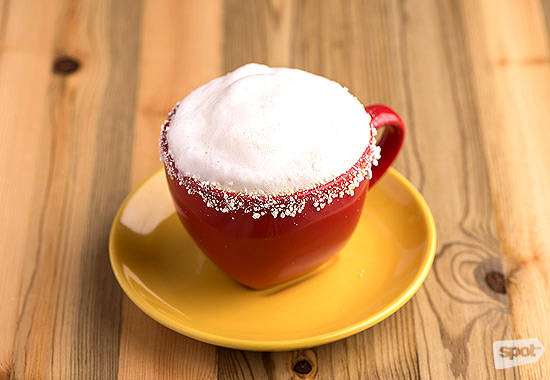 ADVERTISEMENT - CONTINUE READING BELOW
Sweet foamy drinks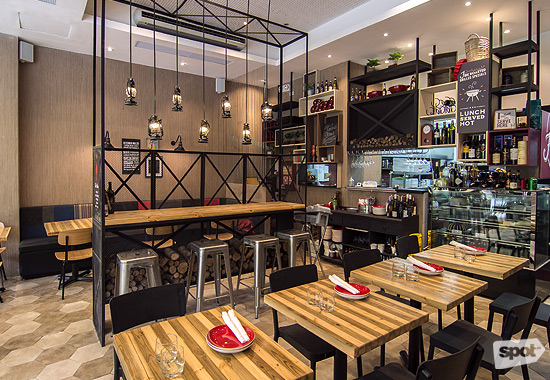 Quite unlike the SM Mega Fashion Hall branch
Chef Chiloy is a budding wine connoisseur and stocks Fireside with plenty of reasonably priced bottles. He recently introduced Wine Hour, which slashes 20% off the prices of vino by the bottle from 3 p.m. to 6 p.m. It's an extra special treat at the Power Plant branch. "I've sat at the al fresco area many times at around 5 p.m., and it really is beautiful out there. Perfect for a few drinks," Chef Chiloy promises. Good advice, we think. After all, we really should look up once in a while from our mountain of fried chicken goodness.
Fireside by Kettle also has a branch at SM Mega Fashion Hall, Mandaluyong City. Read more about Fireside by Kettle.
Photos by Hans Fausto
Share this story with your friends!
---
Help us make Spot.ph better!
Take the short survey
Load More Stories