Your Essential Manila Taco Guide: 10 Taquerias You Should've Tried by Now
We enjoy tacos any day, every day, all day.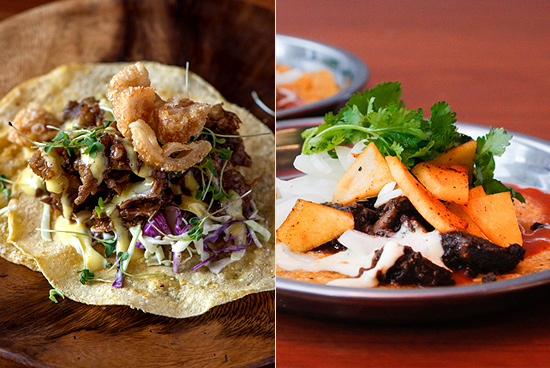 (SPOT.ph) Popeye had spinach. Garfield had lasagna. We have tacos. Whether it's tucked tightly in a soft tortilla or protected by a crispy shell, whether it's straight-up bean-filled Mexican, rice-heavy Fil-Mex, or crunchy Tex-Mex, we'll take any taco we can get. Fortunately, a lot of people share our love for this filled tortilla opus, and while the Metro has never been lacking in Mexican options, we've experienced a recent boom in street-style taquerias. Let's break it down, shall we?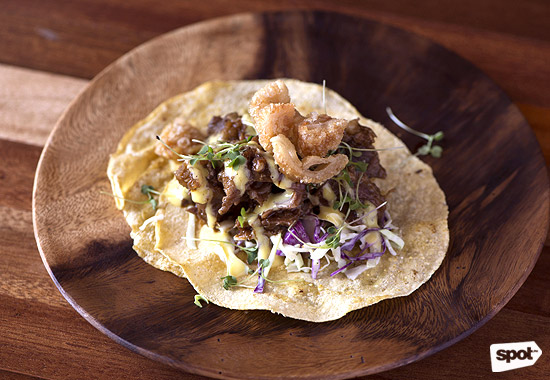 Taqueria 101
There are tacos and there are Chef Mikel Zaguirre tacos. While soft tacos are all the rage lately, this young and ambitious chef decided to put the spotlight on hard shells, filling them with only the freshest ingredients and boldest flavor combinations. Purists can look the other way. Taqueria 101 may not be the most authentic approach to Mexican food, but those profiles ring true to your taste buds. You can also count on the non-taco dishes to be equally spectacular: Churro Popcorn, Hanger Steak, Banana Pudding, and more.
ADVERTISEMENT - CONTINUE READING BELOW
Must-tries: Shawarma (P170), Camarones (P160), Smoked Salmon (P190)
Taqueria 101 is at Doña Soledad Avenue, Better Living Village, Parañaque City. Read more about Taqueria 101.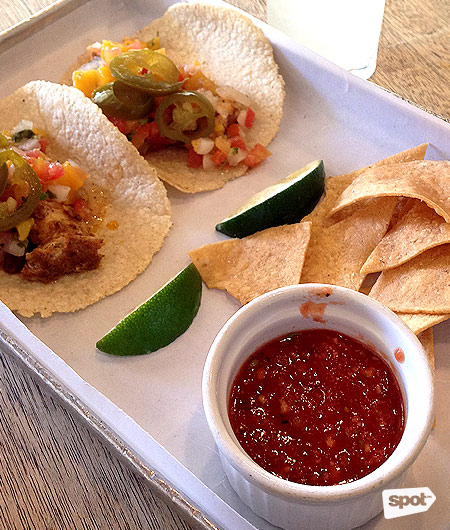 CONTINUE READING BELOW
Recommended Videos
Orale! Taqueria Mexicana
It's hard not to be excited about a restaurant whose name you feel like you have to yell. Orale! (!) used to be an indoor street-styled joint that paid homage to Mexican personalities, from random luchadors to Carlos Santana to Frida Kahlo. Since renovating a few years ago, this eatery adopted a sleeker, more modern look. The food has, thankfully, stayed the same—giant servings with recipes angled to the Filipino palate.
Must-tries: Lengua Tacos (P295), Chile Verde (P295)
Orale! Taqueria Mexicana is at The Fort Strip, 26th Street, Bonifacio Global City.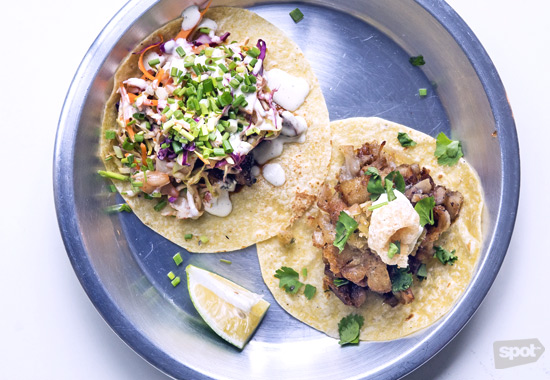 ADVERTISEMENT - CONTINUE READING BELOW
Taco Vengo
The owners of Taco Vengo clarify that they're not what you'd get on the streets of Mexico. The taco combinations they churn out are flavors they like—as well as ones that would be liked by those who don't mind the "non-authentic." This container van-turned-taqueria is one of the most popular stalls of 16 United building, and for good reason. Stark interiors put the focus on the food, which is satisfying every time. If you've gotten your fill of wraps, make sure to get their Chwaffle!
Must-tries: Steak Taco (P110), Chicken Taco (P95)
Taco Vengo is at 16 United Street, Kapitolyo, Pasig City. Read more about Taco Vengo.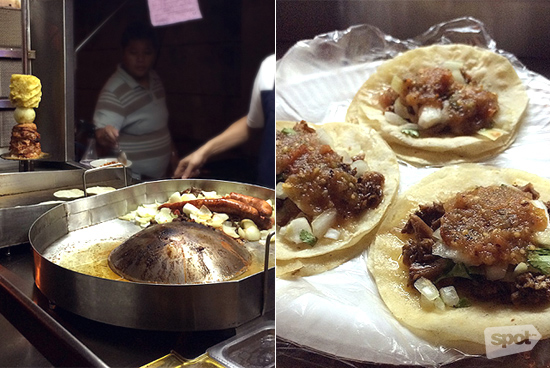 Tacos Chingones
No frills, low-key, and unassuming—we can't over-emphasize Tacos Chingones' appeal. This food truck, by the same folks behind A Toda Madre, peddles honest-to-goodness good tacos, with tasty fillings wrapped in chewy fresh masa tortillas. They call it "Guadalajara style." There's no space to eat, so pick a corner and make sure to squeeze on some of that lime. Things might get messy, but that's the best part.
ADVERTISEMENT - CONTINUE READING BELOW
Must-tries: Al Pastor (P50), Carne Molida con Papas (P50)
Tacos Chingones is at 5923 Algier Street, Barangay Poblacion, Makati City. It also joins bazaars and weekend markets. Read more about Tacos Chingones.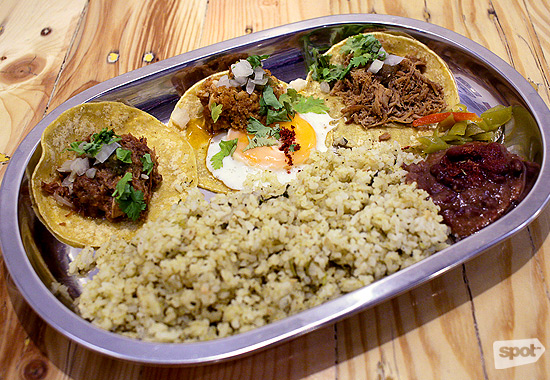 Guisados
When the idea for a restaurant begins with lechon, then you know you're in for a treat. Guisados is the compromise between Mexican flavors and the Pinoy palate. Instead of importing ingredients, recipes are adjusted to suit Filipino alternatives. For example, they use seasoned unripe tomatoes to replace tomatillos. Eighty percent of the ingredients are made on site—which is quite impressive for a space this size.
Must-tries: Chorizo with Egg (P85), Chicharron (P80)
Guisados is at 1 Salinglahi Homes, Congressional Avenue Extension, Quezon City. Read more about Guisados.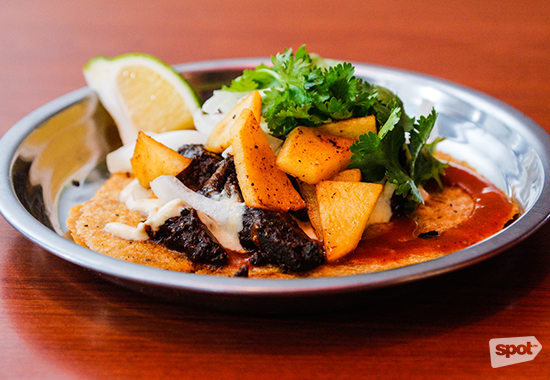 ADVERTISEMENT - CONTINUE READING BELOW
Drive-by Taco Shop
Made with construction scraps, ingenuity, and a dream, Drive-by is a cool dive that serves top-notch tacos. Their tortillas are especially worth a mention. Specially formulated by co-owner and chef Mai de Guzman, they're made of cornmeal, thick, chewy, and relevant. Nope, you won't ignore them for the sake of the toppings. We love their fillings, too. They're not all tomatoes and ground meat. Chef Mai and her partner, Mikey San Miguel, like experimenting with unconventional choices, like goat and kimchi.
Must-tries: Marv's Goat Taco (P140), Chicharones Taco (P125)
Drive-by Taco Shop is at 167 Aguirre Avenue, BF Homes, Parañaque City. Read more about Drive-by.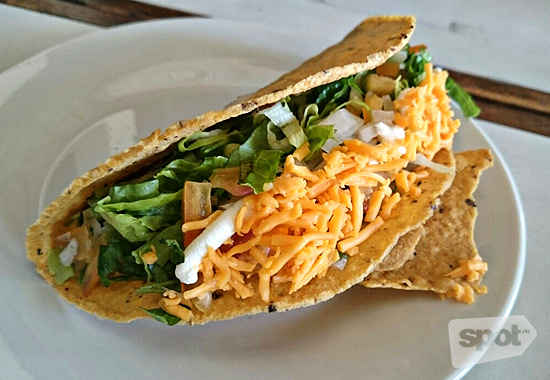 El Chupacabra, El Cabrito, and El Hijo de Cabra
These restaurants are owned by the Mexicali group, with the success of El Chupacabra spawning into El Cabrito and El Hijo de Cabra. All three maintain a festive street-side spirit and a whole lot of good vibes. The taco menus are essentially the same—an entire catalogue of your favorite taco fillings housed in either soft or hard shells. Whichever flavor you order from whichever restaurant, you can count on the freshly grilled meats to take center stage and just the right touch of herbs to flourish every mouthful.
ADVERTISEMENT - CONTINUE READING BELOW
Must-tries: Grilled Shrimp Tex-Mex Tacos (P187), Carne Guisada (P98), Taco de Tripa (P103)
El Chupacabra is at 5782 Felipe Street corner Polaris Street, Makati City; El Hijo de Cabra is at Greenfield District, Mandaluyong City; and El Cabrito is at Promenade Mall, Greenhills, San Juan City.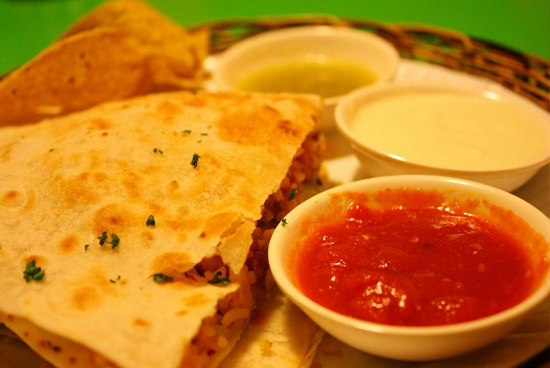 El Fili La Mexicana Taqueria & Churreria
Two words: Unlimited churros. El Fili La Mexicana Taqueria & Churreria is a mouthful to say, especially when your mouth is full of their food. (Seriously, how can it not be when they also have buy-one-take-one burritos?) This Mexican restaurant used to be another eatery called Some Kind of Wonderful, but the owners definitely kept a lot of wonderful behind when they changed concepts. El Fili marries great flavors for affordability, too!
Must-tries: Beef Taco (P85), Chicken Taco (P75)
El Fili La Mexicana Taqueria & Churreria is at Rainbow Street, SSS Village, Marikina City.
ADVERTISEMENT - CONTINUE READING BELOW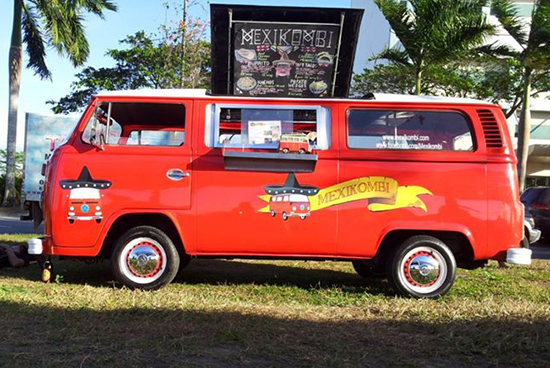 Mexikombi
It's Mexican food in a 1974 VW Kombi and it's always worth the chase. Mexikombi was opened by friends in 2012 and it's a taste of Mexico on wheels, complete with burritos, nachos, and, of course, tacos. We especially love the roof which unfolds to reveal the menu. Their tacos are soft-shelled—a wise strategy for convenient street-side dining—and assembled only upon order so you get the best experience.
Must-tries: Pollo Asada (P130), Chili con Carne (P130)
Follow Mexikombi on their Facebook page. Mexikombi Casita is at 116 Maginhawa Street, Teachers Village, Quezon City.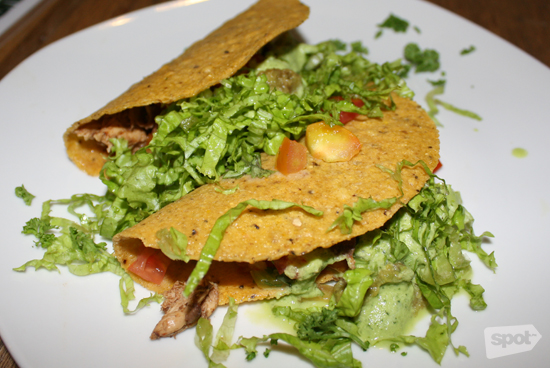 ADVERTISEMENT - CONTINUE READING BELOW
Silantro Fil-Mex Cantina
When it comes to value for money, Silantro can't be beat. If you don't believe us, then try squeezing yourself through the crowds and long lines of any Silantro branch. There's a certain uniformity to their tacos, but you can't argue against those flavors. You can choose up to three types of meat to put in their signature Lucha Tacos. Silantro's herb-heavy wraps work best with a couple of mojitos.
Must-tries: Lucha Tacos with three choices of meat (P110)
Silantro has branches at 75 East Capitol Drive, Kapitolyo, Pasig City; and UP Town Center, Quezon City. Read more about Silantro.
Share this story with your friends!
---
Help us make Spot.ph better!
Take the short survey
Load More Stories