Top 10 Risotto Dishes in Manila
Say goodbye to willpower! These creamy Italian rice dishes are enough to make you pass on that no-carb diet for good.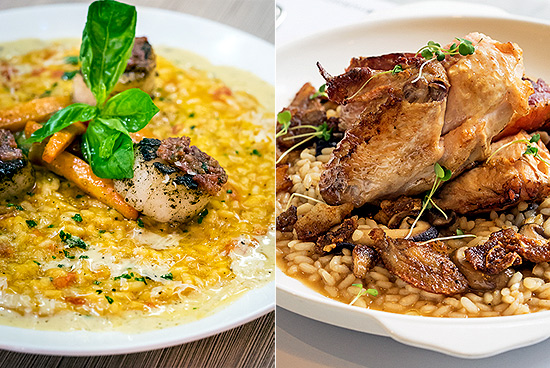 (SPOT.ph) Fact: Filipinos love their rice. And when it's time to raise the bar in terms of indulgence, nothing spells delicious more than a creamy platter of risotto. This Italian rice dish is cooked in broth, typically with butter, wine, onions, and mushrooms (i.e., all the good stuff). The extra flourishes up the ante, especially for folks used to having just a cup of steamed white rice. Whether you're an athlete loading up on carbs before a big run or you're simply looking to partake in life's simple joys, here's a dish that can pull you into instant comfort food happiness.
Also read: Top 10 Rice Bowls in Manila for Crave-Worthy Carbs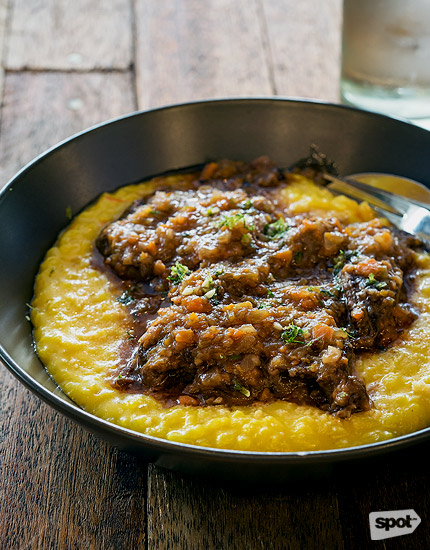 10. Earth Kitchen's Milanese (P640)
If you're looking to counter your carbs with some serious meat, then proceed to Earth Kitchen for their take on Milanese risotto. Extremely tender servings of beef short ribs are tossed in a saffron-infused rice dish that is cooked in butter and Parmesan. The osso buco melts in your mouth and is a good contrast to the rice's slightly soupy texture. Gremolata, which is a classic Italian herb condiment traditionally paired with Milanese, adds zest to the dish. Overall, the flavor is great, the ingredients are sourced locally (the restaurant supports farmers), and it presents a different spin on risotto.
ADVERTISEMENT - CONTINUE READING BELOW
Earth Kitchen has branches at UG/F Bonifacio High Street Central, Bonifacio Global City; and White Plains Avenue, Quezon City. Read more about Earth Kitchen.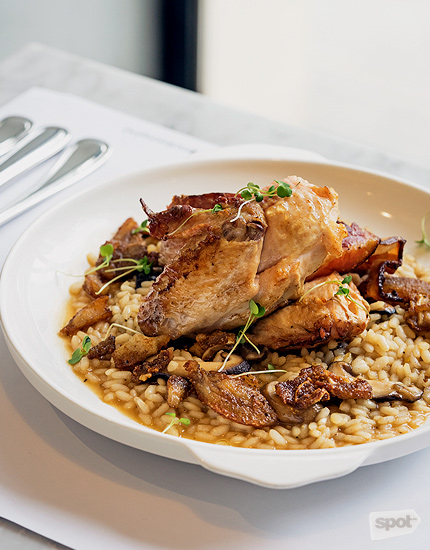 CONTINUE READING BELOW
Recommended Videos
9. FAT's Chicken & Mushroom Risotto in Truffle Oil (P570)
Surrender all healthy eating expectations once you step through FAT's doors. The name itself will shatter any plans to stick to totally nutritious fare. Their risotto, however, is surprisingly light—despite the copious amounts of bacon it's peppered with. The pan-seared chicken on top balances the rice, which, though slightly undercooked is still delicious. Fried pork ear adds a sinful zing to your order and the truffle oil, while decadent, is used sparingly that it won't dominate your taste buds. A friendly introduction to the world of risotto, think of this dish as your gateway to rice and its many faces.
FAT is at Forbes Town Center, Bonifacio Global City. Read more about FAT.
ADVERTISEMENT - CONTINUE READING BELOW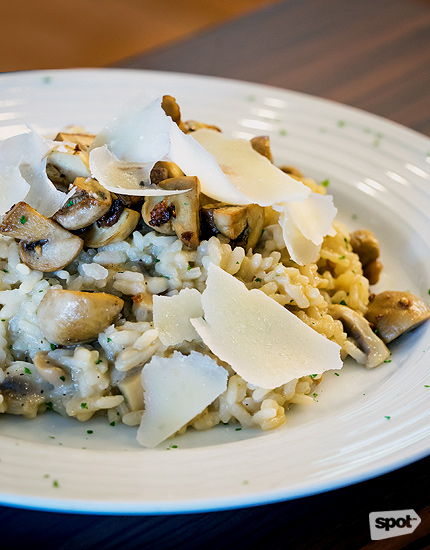 8. La Nuova Pasteleria's Risotto ai Porcini (P610)
La Nuova Pasteleria has been a staple in the neighborhood since 1978. Their dishes have become classics that are sought out generation after generation. Their Italian rice with fresh mushroom is simple, straightforward, and stupendously comforting. The nutty and sharp mushroom flavor is exactly what the palate craves when it's looking for solace. The risotto is al dente and cooked with a generous amount of garlic, too. If you're looking for a dish and an intimate setting to make you feel better, the Risotto ai Porcini at this classic haunt will absolutely deliver.
La Nuova Pasteleria is at San Antonio Plaza, McKinley Road, Makati City.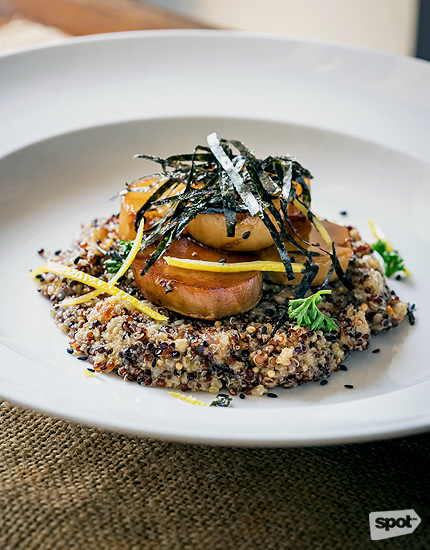 ADVERTISEMENT - CONTINUE READING BELOW
7. Susi's Quinotto (P415)
Who says vegans can't be in on the risotto fun? This gluten-free treat at wellness hit Susi offers you a light, quinoa-based cheat on an otherwise rice and carb-heavy dish. Quinoa is cooked à la risotto with a teriyaki sauce, tamari-glazed king oyster mushroom "scallops" topped with lemon zest strips. It's as light as any meal you'd expect from a healthy-eating joint, but Susi's Quinotto does not scrimp on flavor. Fresh and light, the faux scallop and oyster mushrooms counter the overwhelming texture of quinoa. A perfect dish to help fill you up and cool you down in hot weather, it's worth a try, even for meat eaters.
Susi is at Bellagio 2, Forbes Town Road, Burgos Circle, Bonifacio Global City. Read more about Susi.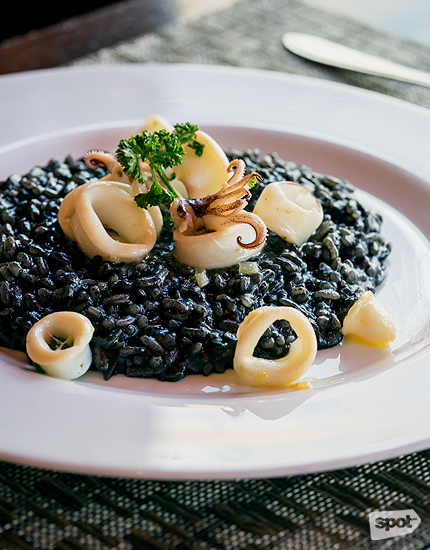 6. Caffe Puccini's Risotti Seppia (P405)
Some people can be turned off by the heaviness of a risotto dish. Caffe Puccini's take on the squid ink dish is surprisingly light, refreshing, and perfect for a summer lunch or dinner. The squid rings add a great texture to the rice dish—soft and not gummy, they infuse the risotto with a welcome bite. Zesty and slightly lemon-flavored, this dish will have you leaving the table pleasantly satisfied and not overstuffed.
ADVERTISEMENT - CONTINUE READING BELOW
Caffe Puccini is at Unit 12, The Fort Strip, 28th Street, Bonifacio Global City.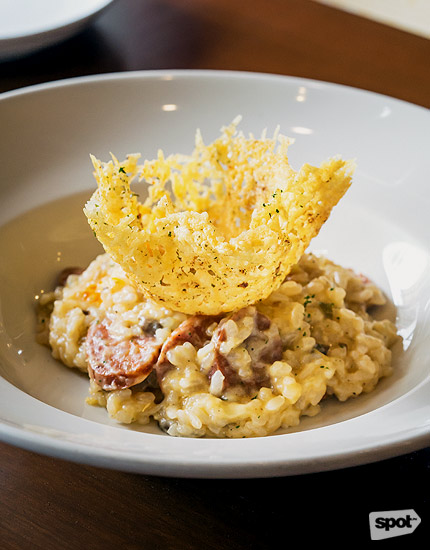 5. Early Bird Breakfast Club's Chorizo & Mushroom Risotto (P464)
Whether you have this for breakfast, lunch, or dinner, you're pretty much guaranteed to walk out the door happy. This version offers the traditional creaminess you search for when ordering a risotto. The chorizo slices give it a slightly spicy kick that's well-balanced by fresh mushrooms. The clincher in this hearty dish is the Parmigiano Reggiano topping that gives it a cheesy crunch. Resist the urge to pick on the cheese topper (you'll want to snack on it because it's so good!) because it'll taste even better when eaten with the risotto itself.
Click here for a list of Early Bird Breakfast Club branches. Read more about Early Bird Breakfast Club.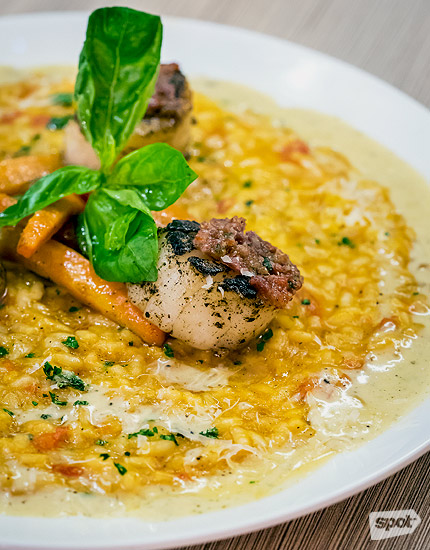 ADVERTISEMENT - CONTINUE READING BELOW
4. Va Bene's Tomato Risotto (P790)
What used to be a small, non-obtrusive restaurant at the Petron gas station along EDSA in Makati has now expanded into BGC to accommodate its followers and fans. Va Bene pulls in droves for its pasta, but its risotto is just as much of a crowd-pleaser. This freshly made dish (again, you've got to be willing to wait!) mixes spicy salami with crusted scallops, and a white wine sauce. It's unpretentious and delicious, if not erring on the salty side. The scallops provide a good texture contrast, and while the risotto employs a host of spices, the resulting taste does not overwhelm the palate. It's a good, hearty dish that's friendly towards people with all types of flavor preferences.
Va Bene has branches at 3/F Central Square, Bonifacio High Street Central, Bonifacio Global City; and Petron Gas Station, EDSA corner A. Arnaiz Avenue, Dasmariñas Village, Makati City.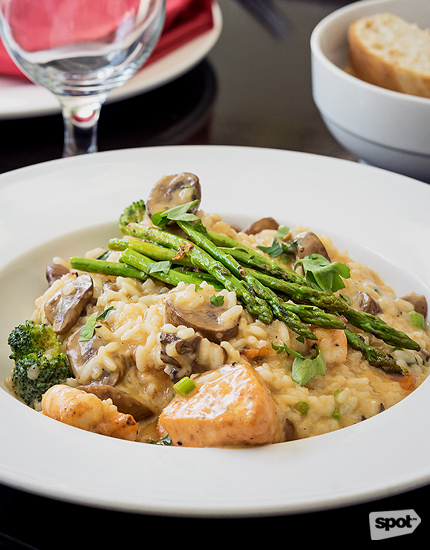 ADVERTISEMENT - CONTINUE READING BELOW
3. My Kitchen by Chef Chris' Risotto Tinlou (P880)
Fans of Chef Chris Locher's old restaurant in Pampanga would surely be willing to go the distance to get a taste of his risotto, too. With a restaurant just across Paco Park, Chef Chris continues to delight with his generous servings of hearty, deliciously down-to-earth fare. This seafood-based risotto is pleasantly light (good news: you have more room for his other tasty menu items). Salmon fillet and prawn tails are cooked with white truffle oil infused Parmesan risotto. What gives this dish its extra oomph are the veggies—crunchy broccoli, flavorful chunks of mushroom, and green asparagus offer an instant mélange of textures you'd be hard-pressed to find elsewhere.
My Kitchen by Chef Chris is at Belen Street, Paco, Manila.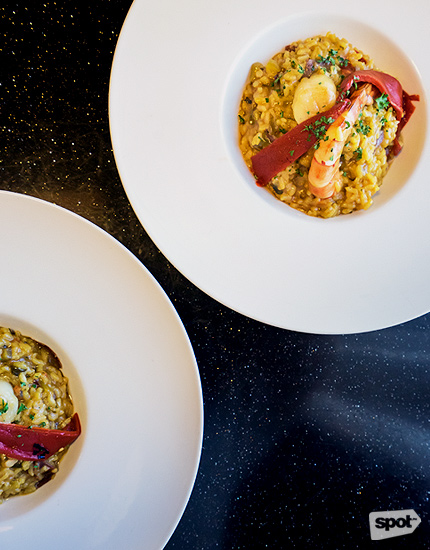 2. Capricho Español (P1,200/good for two) from Terry's Bistro
Terry's is known for its Spanish dishes, but its spin on the Italian classic is pretty impressive. While many risottos take it easy on the ingredients, this dish employs many flavors to create a beautifully balanced dish—the variety certainly helps keep you from being overwhelmed. Calasparra Bomba rice is cooked with jamón Ibérico, shrimp, scallops, Manchego cheese, Arteoliva Olive Oil, and La Guita Sherry. While the ham and the cheese do tend to give the dish a saltier flavor, as a whole, Chef Juan Carlos de Terry's signature dish is satisfying and perfectly crafted. Give this dish some time—it takes 20 to 30 minutes to prepare.
ADVERTISEMENT - CONTINUE READING BELOW
Terry's Bistro is at G/F BCS Prime Building, Chino Roces Avenue, Makati City.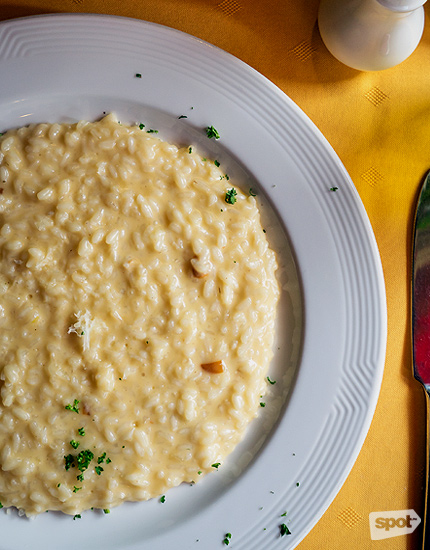 1. L'Opera's Risotto allo Champagne con Scamorza (P610)
This is risotto done absolutely right. L'Opera makes their risotto from scratch the old-fashioned way. (You know it's done the right way when your server tells you your order is going to take some time to prepare—we promise, it's worth the wait!). The long-standing Italian restaurant employs Acquerello rice to create a decadent dish that's best shared—just so you have someone to talk to about how good it is. Sensitive palates will taste a slight hint of bubbly along with a very distinct smoked mozzarella flavor. The dish offers a consistent texture with just enough playful gooeyness to make you weak in the knees. Supremely simple and sumptuous, this risotto will have you never looking at rice the same way again!
L'Opera is at The Fort Strip, 28th Street, Bonifacio Global City.
ADVERTISEMENT - CONTINUE READING BELOW
Photos by Toto Labrador
Share this story with your friends!
---
Help us make Spot.ph better!
Take the short survey
Load More Stories