New Restaurant Alert: Rice & Dough at McKinley Hill, Taguig
There's no shame in having carbs-on-carbs.
Rice & Dough
G/F Venice Grand Canal Mall, McKinley Hill, Taguig City
Contact: 656-9212
Open daily from 11 a.m. to 11 p.m.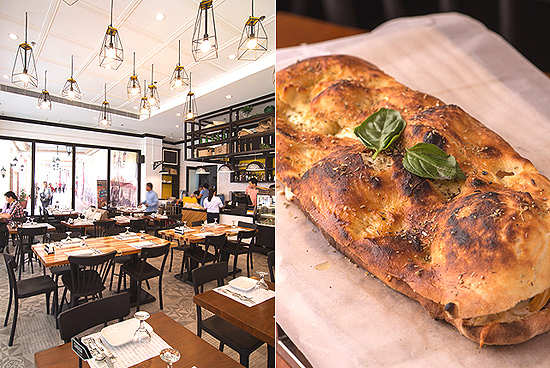 (SPOT.ph) Mike Chua is a trained sociologist, which is why we believe him when he says that sushi and pizza are perfect for each other. He knows that—based on human social habits—there is just that natural tendency to over-carb. Well, that's what we assume.
"I just really love sushi and pizza," the shy 28-year-old shares. "They're my comfort food." Rice & Dough Sushi and Pizza Bar is the second concept by his family, who also own Torch (the fusion house is on its way to a fourth branch, by the way). Although the pairing of these Japanese and Italian favorites seems outlandish (or an outright abomination) to some, to Mike, it makes perfect sense. "In fact, this concept isn't new. I've seen restaurants in New York doing this—successfully combining cuisines," he says.
ADVERTISEMENT - CONTINUE READING BELOW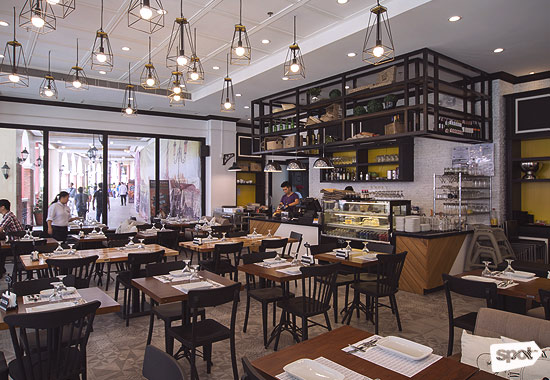 CONTINUE READING BELOW
Recommended Videos
The setting doesn't give the theme away.
Simple, you might say, but this concept was not something they just hastily threw together. They flew in an Italian pizza chef to make sure that they got the Neapolitan classic down pat. There were some blunders, of course. "The chef wanted to work with a brick oven, but we don't have one," Mike grimaces. "And by that time, we had already set up the kitchen. So, he had to make some adjustments to his recipe and work with what we had."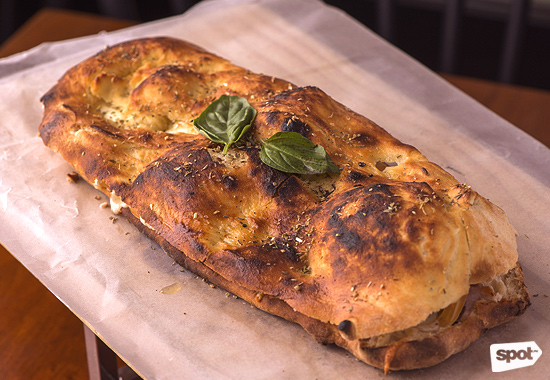 ADVERTISEMENT - CONTINUE READING BELOW
Prosciutto Focaccia
Their Italian consultant did just fine. Their most popular starter, the Prosciutto Focaccia (P349.95), features thickly sliced Italian ham, mozarella, and tomatoes sandwiched in crispy focaccia bread, the specialty of the house. Who needs a brick oven?
The pizzas don't miss the oven either. The crust is thin, crisp, but with that slight gumminess you find in proper pizza dough. The mozzarella, shiitake, and Gorgonzola in the classic Funghi (P479.95) holds up nicely, for example. Rice & Dough also succeeds at modern combinations, like the Cowabunga (P344.95), a cheeseburger-inspired number made extra fresh-tasting thanks to the lettuce and tomatoes.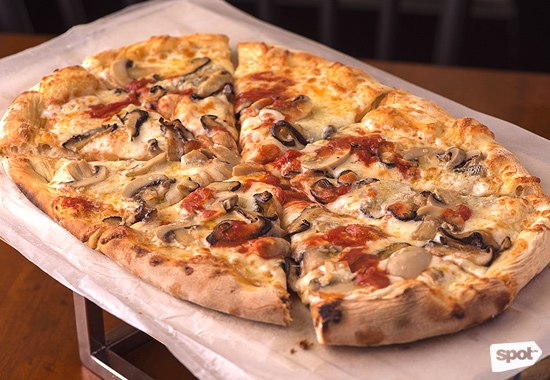 Funghi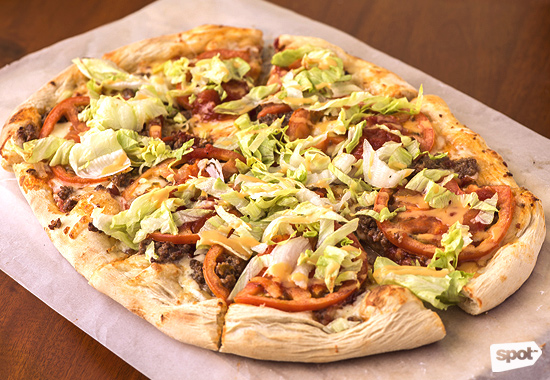 ADVERTISEMENT - CONTINUE READING BELOW
Cowabunga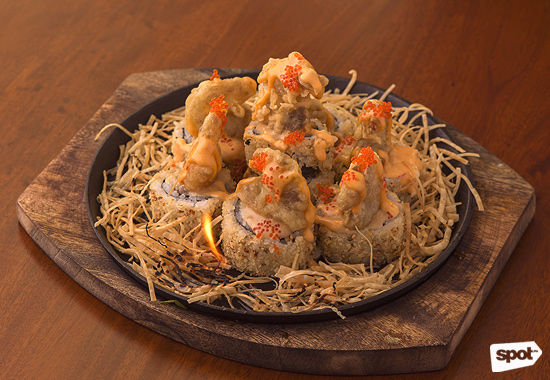 World War Roll
Japanese food purists might initially balk at their sushi menu, which is full of wittily named items like Perfect Catch and Inception Roll. But, these seemingly oddball combinations are legit, taste-wise. The World War Roll (P399.95) arrives partially engulfed in flames—more for stage presence than flavor, really. But, that combination of fried soft shell crab, kani, tamago, and tuna, topped with fried shrimp togarashi and a drizzling of unagi aioli, delivers a direct hit of flavor and texture.
What sets this restaurant apart, aside from their no-carbs-barred concept, is their DIY feature, available for both pizzas and sushi. For P495, you can play chef and put together your own flavor combinations. For our part, we christen our rolls the Hot Chinita (salmon, kani, mango, oborro, tobiko, spicy mayo, and sesame sauce) and Hansushi (tuna, salmon, tobiko, oboro, cucumber, alfalfa sprouts, and Japanese mayo). We won't take offense if you copy.
ADVERTISEMENT - CONTINUE READING BELOW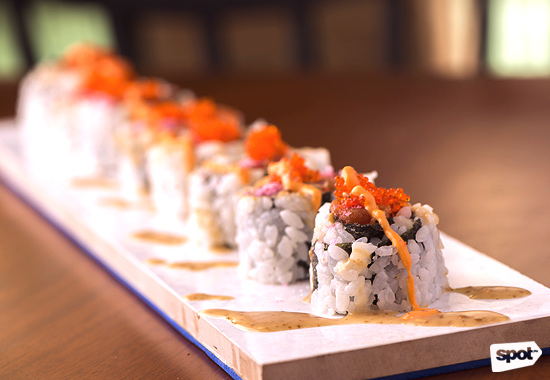 D.I.Y. Hot Chinita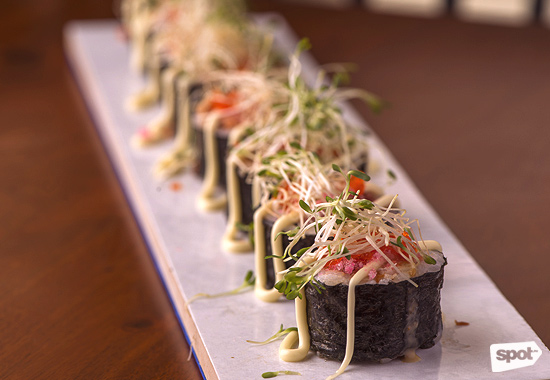 D.I.Y. Hansushi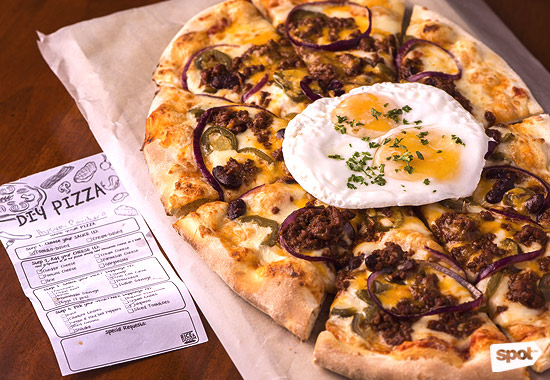 ADVERTISEMENT - CONTINUE READING BELOW
D.I.Y. pizza inspired after Huevos Rancheros
Inspired by previous hangovers, our pizza goes after the Texan morning-after classic Huevos Rancheros, a medley of chili con carne, jalapeño, onions, cheddar, topped with two runny eggs. Fragrant and spicy, we say this could be a permanent on the menu.
Some of your Torch favorites are also available for good measure. Settle into old habits like the Grilled Rib Eye (P879.95) and Seared Nori Chilean Seabass with Garlic Miso Butter (P799.95). As for sweet endings, they have a steady supply of baked goodies, like a Creme Brûlée Cake.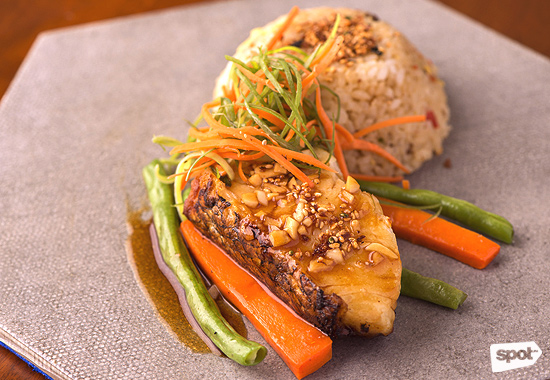 Seared Nori Chilean Seabass with Garlic Miso Butter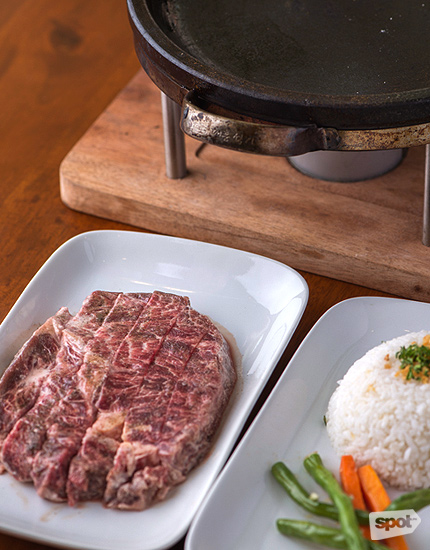 ADVERTISEMENT - CONTINUE READING BELOW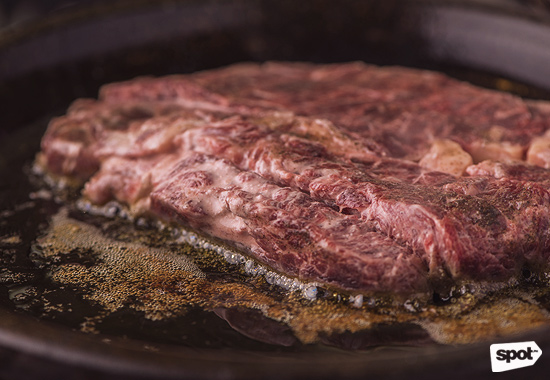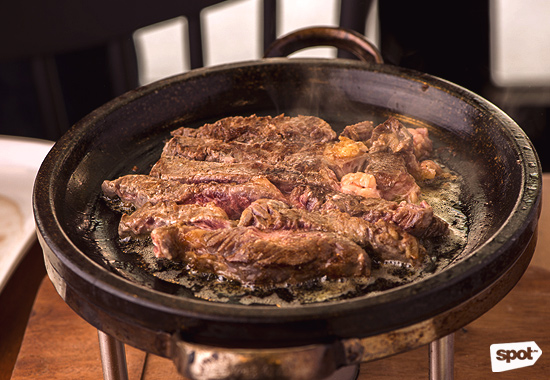 Grilled Rib Eye served tableside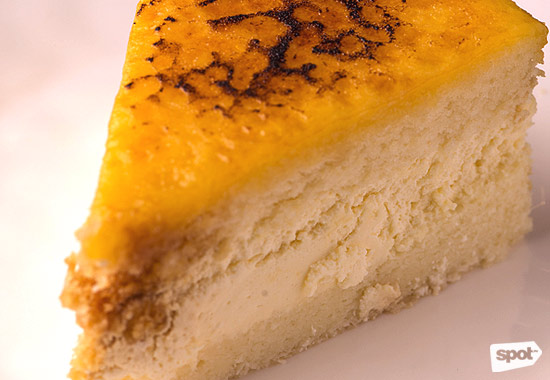 ADVERTISEMENT - CONTINUE READING BELOW
Creme Brûlée Cake
Rice & Dough has everything you need for a carb fix, whether you're jonesing for something old-school or up for something new. Either way, it's comfort food. And, who doesn't love that? "It's human nature," Mike says with a smile. May it be about sushi, pizza, or sociology—we believe what he says.
Photos by Hans Fausto
Share this story with your friends!
---
Help us make Spot.ph better!
Take the short survey
Load More Stories