New Restaurant Alert: Wagga Wagga at Meralco Avenue, Pasig
A restaurant that you probably pass every day, but have never actually seen.
Wagga Wagga Jerk Chicken
88 Meralco Avenue corner Julia Vargas Avenue, Ortigas Center, Pasig City
Contact: 0998-868-6110
Open from 11 a.m. to 9 p.m. (Monday to Thursday), 11 a.m. to 10 p.m. (Friday), and 6 p.m. to 12 a.m. (Saturday)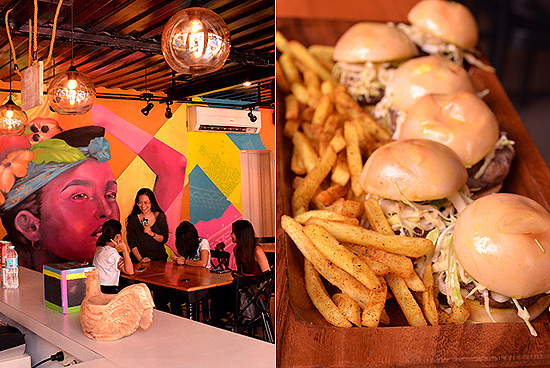 (SPOT.ph) The chef got bored with the food choices in the Metro so he decided to be a real jerk about it—at least when it comes to prepping chicken.
Wagga Wagga Jerk Chicken is one of the most unusually located eateries in town. You drive through Meralco Avenue, pondering structure after structure, thinking you've missed it—and you probably have. What you're looking for is the compound right beside popular Korean barbecue, Yedang, where a tiny "88" is announced by one of the more inmost shops. It's the kind of place you overlook, a trove of autoshops and Korean grocery stores that you notice only when you need to.
Wagga Wagga isn't there and you'll again wonder if you're in the right place. Take a right at the mysterious far end, where you'll be surprised to find a roomy extension—more car servicing centers, a few carinderias, then, finally, a bright yellow oasis meant to stand out against the chaos of metal and rust. Immediately, you understand that this is a place for hiding in plain sight.
ADVERTISEMENT - CONTINUE READING BELOW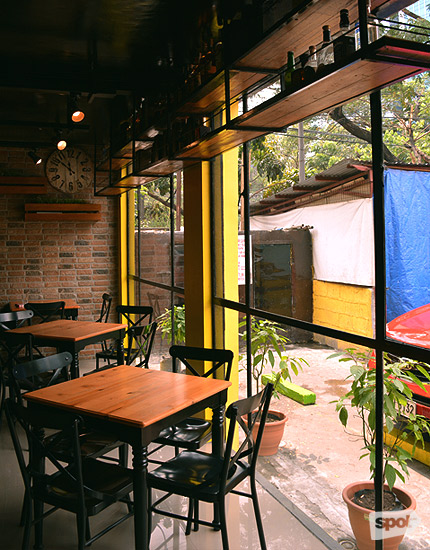 CONTINUE READING BELOW
Recommended Videos
Upcycled furniture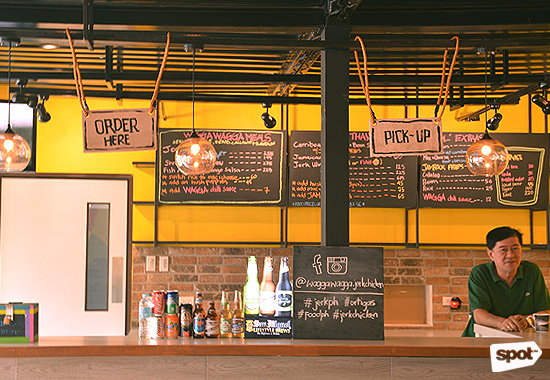 Family affair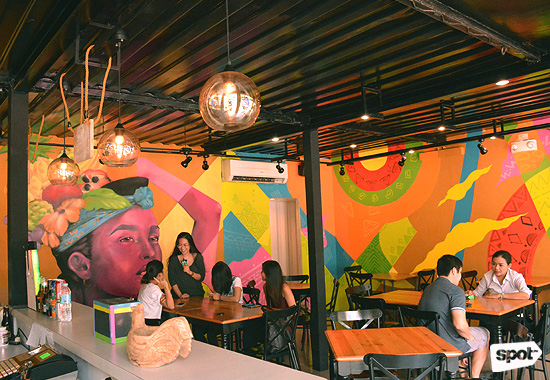 ADVERTISEMENT - CONTINUE READING BELOW
Jamaican pop
Artist Kookoo Ramos welcomes us inside. The restaurant is her masterpiece and the first thing you'll see is a large mural of a lady in a tutti frutti hat à la Carmen Miranda; colorful patterns fill the rest of the walls. The furniture is upcycled wood, signs are hand-painted. Kookoo points to a man behind the counter. "That's my dad, he owns this place." Jing Ramos, a man who looks astonishingly like Robert DeNiro, smiles and reiterates. "My daughter painted that. Magaling rin 'yan magluto!"
Wagga Wagga's kitchen, however, is run by Chef Justin David, a jovial Le Cordon Bleu Sydney-trained giant who definitely hits hard when it comes to flavor. The menu is a small set where Caribbean specialties mingle with gatecrashers like macaroni and cheese—unexpected, but definitely welcome.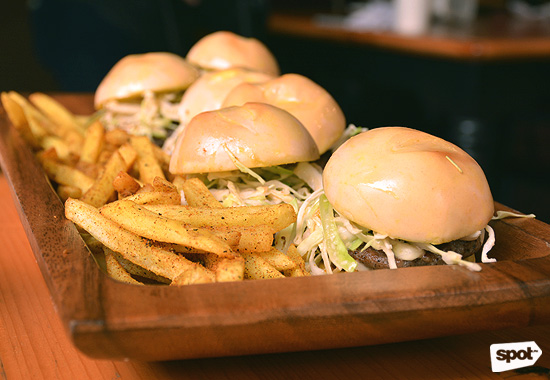 Caribbean Sausage and Bean Sliders plus JamRock Fries
Perhaps the most popular Jamaican dish—patties—features less prominently on the menu, where the immediate eye-catcher is a plate of Caribbean Sausage and Bean Sliders (P185/three pieces to P320/six pieces). Dense and slightly sweet buns sandwich a sausage filling so intensely spiced that you'd never expect it from such a delicate-looking assemblage. It comes with JamRock Fries (P65 a la carte) whose unique and fragrant seasoning tiptoe on your tongue.
ADVERTISEMENT - CONTINUE READING BELOW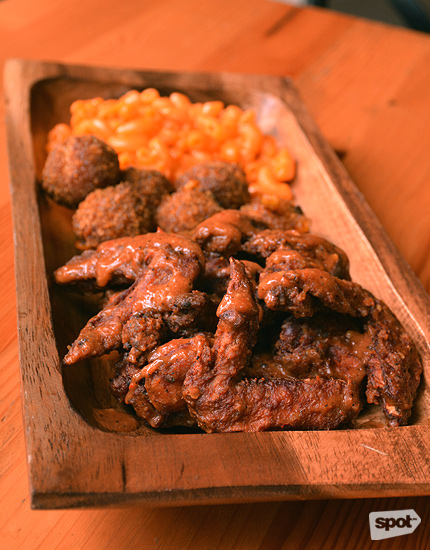 Jerk Wings, Hush Puppies, and Mac and Cheese
The cushy texture of the Jerk Wings (P125/half pound, P225/one pound, P615/three pounds) softens the fiery blow that will quickly defuse in your mouth once you take a big bite. Jerk flavors aren't all that common in Manila—yet—so the combination of allspice and peppers produce an interesting mingle of heat. Enjoy this with alternating bites of the Hush Puppies (P125) or cornbread donuts. The sweetness from the drizzle of honey will calm your taste buds, ultimately allowing you to gobble up more wings.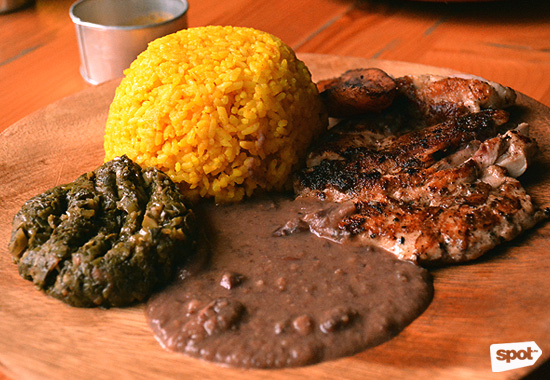 ADVERTISEMENT - CONTINUE READING BELOW
Jerk Chicken
Jerk flavors reappear in the prized Jerk Chicken (P195/single fillet, P255/double fillet): The beautifully glossy skin hints at the level you'll enjoy those spices, but you can get a better measure of the flavor as you observe the spice-rich, darker meat. Chicken is a naturally delicate medium, so you can double up on intensity with the multi-purpose signature sauce. The homemade sauce, best enjoyed freshly made, is both bright and hot, an unnecessary addition but one that, like a fresh coat of paint, changes the whole overall effect of the dish.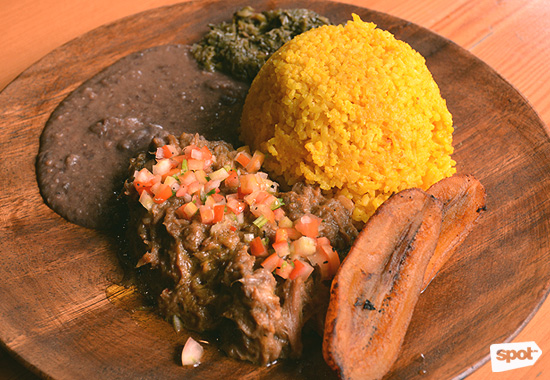 Shredded Oxtail Stew
The Shredded Oxtail Stew (P275), however, is exempt from any extra theatrics (though we won't stop you if you want to douse it with sauce). Like the Jerk Chicken, it comes with sweet and earthy mashed beans, callaloo (a spicy vegetable side that's like a soggier, more potent laing), and fried plantains, but the star is really that oxtail. Serving it in shreds not only emphasizes the tenderness of the slow-cooked meat, it also takes better to the allspice, thyme, and garlic that stick out with every spoonful.
ADVERTISEMENT - CONTINUE READING BELOW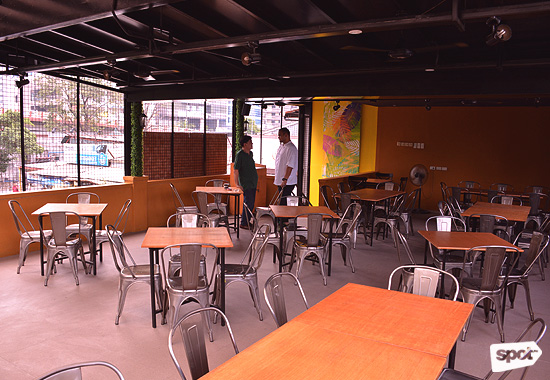 The upper deck is more of a barkada drinking place. They even have their own grill.
There are no desserts at the moment, but you can solve your sweet cravings with a swig on their mango-spiked iced tea (P30). Chef Justin has a lot of plans. He tells us about the underappreciated flavors of the Dominican Republic and other Caribbean countries. It's all very spicy, but we can tell his real mission is to make a wagga wagga—that means "fat man," by the way—out of everyone.
Photos by Jadrienne Ho
Share this story with your friends!
---
Help us make Spot.ph better!
Take the short survey
Load More Stories