New Restaurant Alert: Wing Up at Diliman, Quezon City
A secret wing shack right inside UP.
Wing Up
Laurel Street corner Balagtas Street, UP Diliman, Quezon City
Contact: wingupdiliman@gmail.com
Open from 11 a.m. to 9 p.m. (Monday to Friday)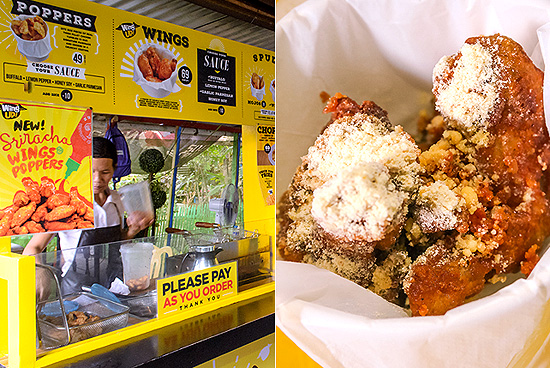 (SPOT.ph) At the end of UP Diliman's Laurel Street, right beside Area 2, is an eskinita. Walk farther in to find a small yard that's been converted to a mini food park. With only five concessionaires, communal seating, and an aluminum roof, it bears all the charm of something cleverly resourceful and homemade. What you're looking for is the bright yellow stall. That's Wing Up.
ADVERTISEMENT - CONTINUE READING BELOW
CONTINUE READING BELOW
Recommended Videos
The bright color of their location may be the lure, but it's the photographs of food that will solidify your decision—not to mention the mouthwatering smell of double deep-fried chicken. At Wing Up, every day is a "Fry Day." Coincidentally, that's our favorite day.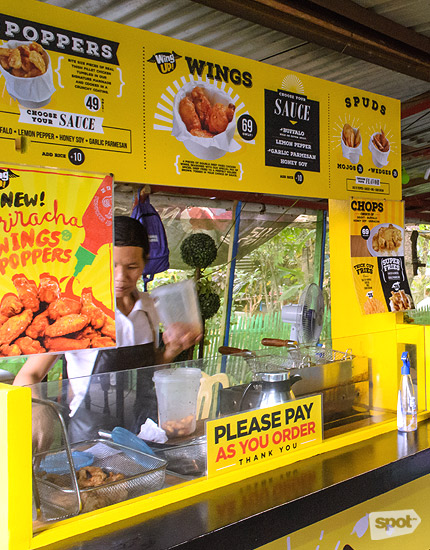 Yellow marks the spot.
Brothers Carlo and Ry Liwanag are the proud owners of this wing joint. Carlo is a chef who also sidelines as a caterer, while Ry is a graphic designer. The marriage of their talents creates an experience that's both visual and tasty. Plus, in an area full of students, anything fast, fried, and cheap is a recipe for success.
ADVERTISEMENT - CONTINUE READING BELOW
The talking points are the sauces—Garlic Parmesan, Buffalo, Honey Soy, Lemon Pepper, and Sriracha—which Chef Carlo himself makes from scratch. Whichever sauce you choose, it's evenly and generously coated on the wings, which have already been treated to a special seasoning mix. To develop that incredibly crispy texture, the wings are fried to a luxurious golden brown, frozen, then fried for a second time.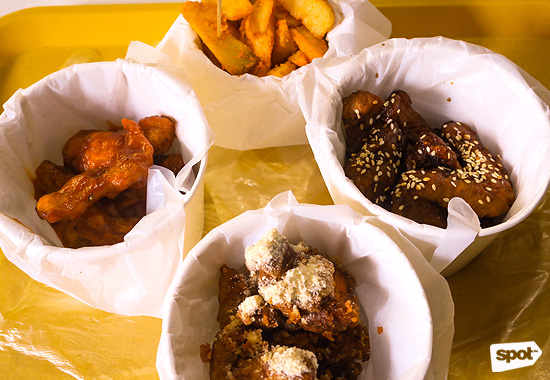 ADVERTISEMENT - CONTINUE READING BELOW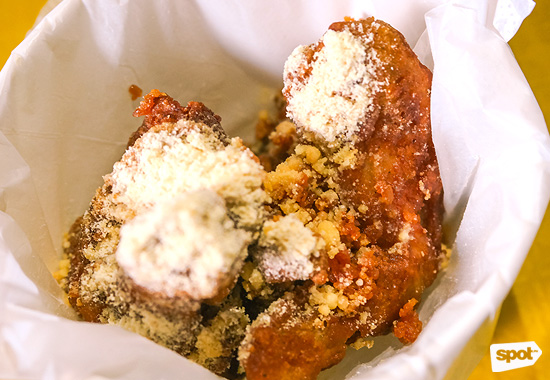 Garlic Parmesan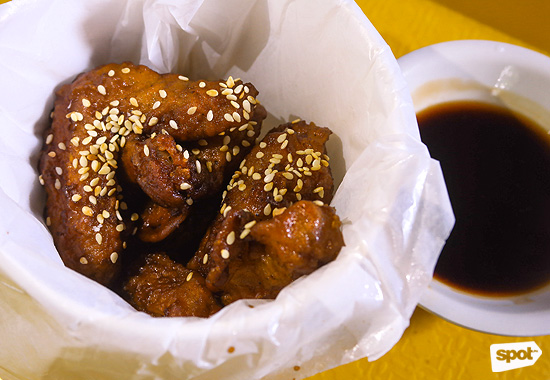 ADVERTISEMENT - CONTINUE READING BELOW
Honey Soy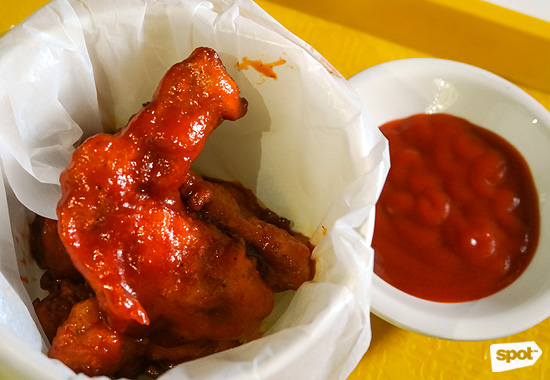 Buffalo
A bill of P69 will get you a bucket of four pieces while an extra P10 gets you rice (come on, make that splurge). The pieces are bony—the kind that you'll love gnawing on—with succulent, tender meat, while the batter is thick, chewy, and receptive to the sauce. They provide gloves if you don't want to get your hands dirty, but licking the excess oil and sauce from your fingers will stretch those tasty flavors further.
ADVERTISEMENT - CONTINUE READING BELOW
If you're not a bone lover, Wing Up also has Poppers (P49/bucket), which are bite-size pieces of real chicken thigh (the most flavorful part!), enveloped in their own signature marinade, then cooked in a crunchy coating. The sauces are your own choice, but try the Buffalo. You can even control the heat levels—from mild to extra spicy. Mild, by the way, isn't how "mild" is usually understood. You'll be clamoring for water right away.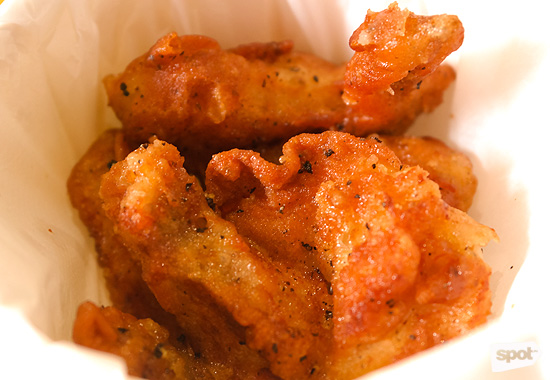 ADVERTISEMENT - CONTINUE READING BELOW
Poppers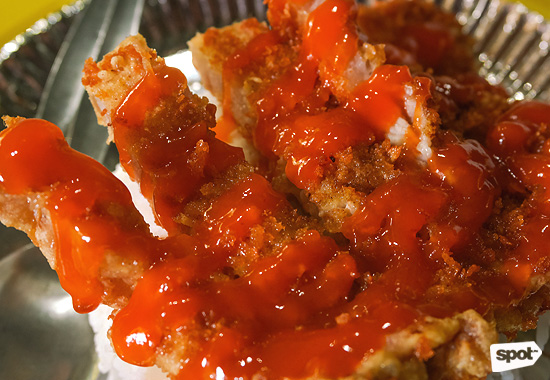 Chops
They also have Chops (P69/rice) a pork chop meal that you shouldn't insult by asking for a bottle of ketchup. Instead, they provide you with a choice of gravy, Buffalo, Honey Soy, or Sriracha sauce, which were designed to complement the flavors of the meat better. Go ahead and lather it all over your rice.
ADVERTISEMENT - CONTINUE READING BELOW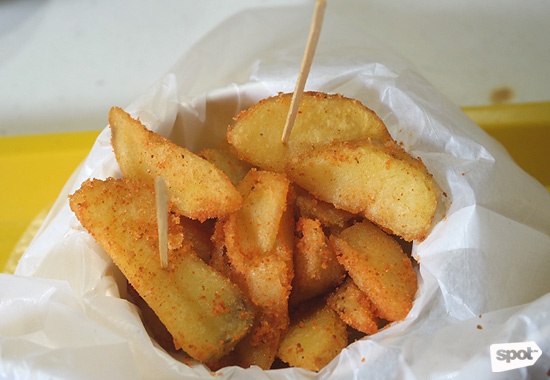 Wedges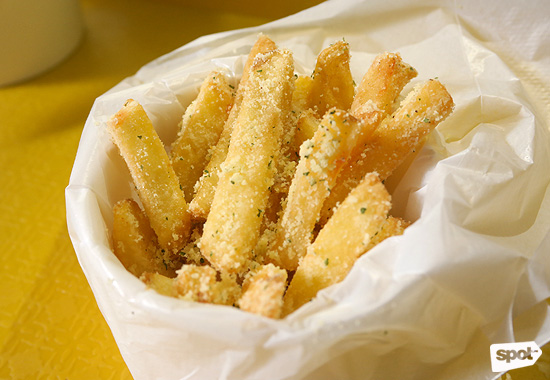 ADVERTISEMENT - CONTINUE READING BELOW
Fries
Wing Up shows off their flair for frying with their sides. For Spuds, they have Mojos (P35), Wedges (P35), Thick Cut Fries (P35), and Super Fries (P39). The potaotes are impressive, thick, fleshy, and juicy (yes, juicy), generously sprinkled with either salt and pepper, cheese, BBQ, or sour cream. Fries, on the other hand, become super with double servings of cheese. They come in either Cheese & Cheese or Garlic Parmesan.
There's no better joy than cleaning out wing after wing, bucket after bucket. Except maybe if it comes with a side of ice-cold beer, which isn't allowed on school grounds. Just get yourself another bucket of chicken, then.
Photos by Juan Sinag Cano
Load More Stories