New Restaurant Alert: Toyo Eatery at Chino Roces Extension, Makati
Chef Jordy Navarra fronts Filipino food that makes you think and appreciate.
Toyo Eatery
Karrivin Plaza, 2316 Chino Roces Extension, Makati City
Contact: 0917-720-8630
Open from 6 p.m. to 11:30 p.m. (Tuesday to Saturday)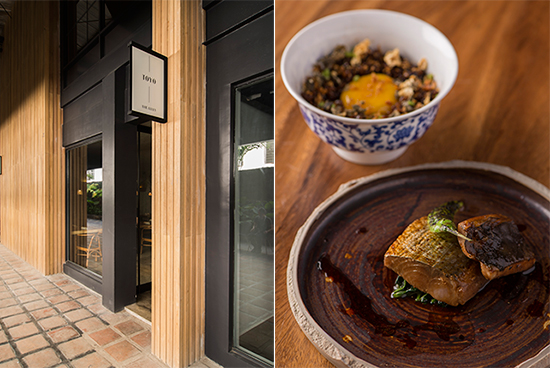 (SPOT.ph) It is Toyo's official opening night, March 29, and between the hurly-burly of pre-dinner preps, last-minute checks, and the requisite deep breaths, Chef Jordy Navarra plunks down a small, warm bowl of rice on our table where there's already a waiting plate of glossy brown pieces of milkfish loin and belly. Bangus—silog (P580), his version of it.
The fish is grilled to the most careful level, soft up to the point before the meat starts to flake. It's milkfish swimming in a puddle of sauce from its own juices, still earthy, still subtle, but also very different. It's as if the intriguingly melty texture allows you to focus more on the taste rather than how it feels in your mouth.
The bangus is a very tame complement to the rice, which lashes out so much flavor that it will make you dizzy. It calls to mind days of dousing soy sauce over rice—albeit notches more refined. The round, chewy grains crowned with a soft-boiled egg (similar to a common Japanese dish) and rewarded with bits of crispy bangus skin feel nostalgic but grown-up.
ADVERTISEMENT - CONTINUE READING BELOW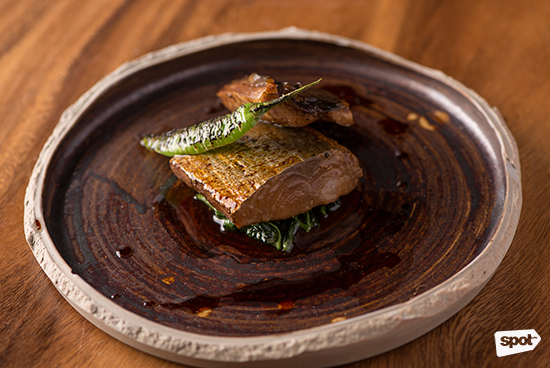 CONTINUE READING BELOW
Recommended Videos
Grilled Belly and Loin of Bangus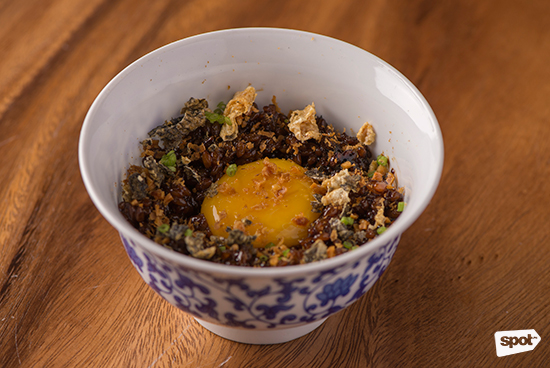 Toyo Eatery Silog (P250/a la carte)
What Chef Jordy is trying to do—or rather, is already doing—is pretty clear, though not always obvious. He tells us about the name, Toyo, which is an introduction to a more profound discussion on food. "We can relate to it. We like it. Soy sauce. It's an everyday Filipino condiment. Everyone knows what it is, everyone understands it," explains the chef. "But if you look at it deeply, it's a very complex ingredient. It takes a long time and a lot of knowledge and technique to make for something that appears really simple."
ADVERTISEMENT - CONTINUE READING BELOW
It's a metaphor for Toyo the eatery: Filipino by any other description, but not quite.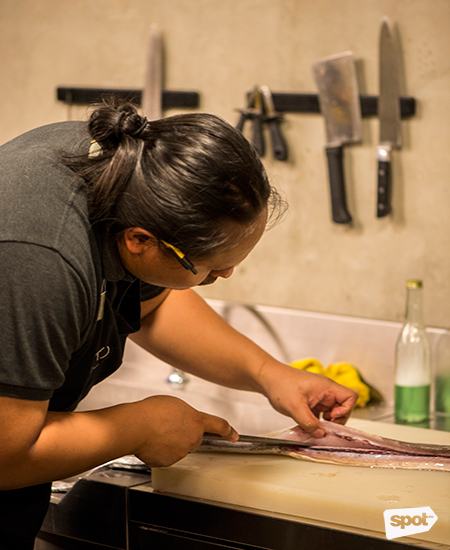 Chef Jordy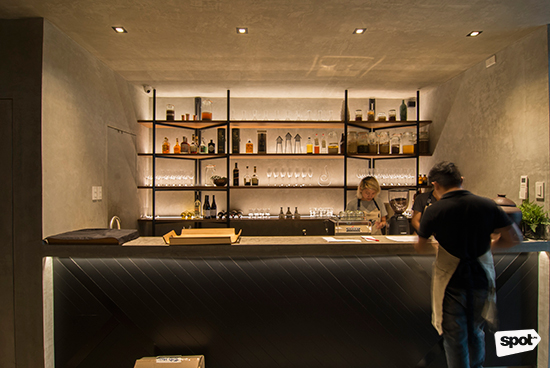 The bar helmed by David Ong
"We're don't serve home-style dishes. There's no version of sinigang. There's no version of kare-kare," he says. Chef Jordy shies away from culinary convolutions, focusing instead on more ways to amplify his flavors—which may or may not be best demonstrated through traditional cookery. The oysters (P380), for example, are as straightforward. They're served over a pile of corals, as if you're picking them up from the beach, and are given an incredible zing through a simple medley of basi (Ilokano sugar cane wine), lime, and cucumber.
ADVERTISEMENT - CONTINUE READING BELOW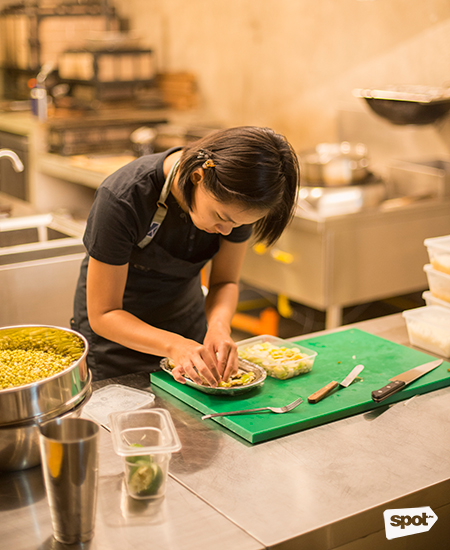 Careful finishing touches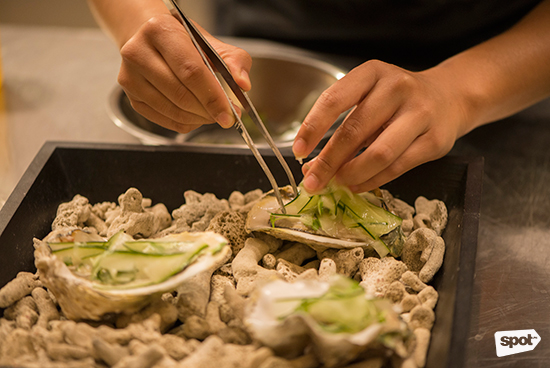 Oysters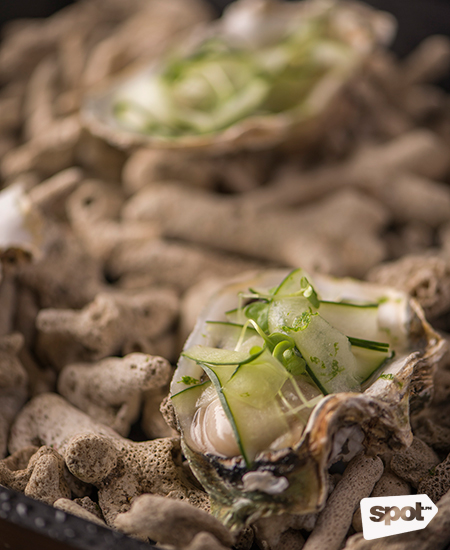 ADVERTISEMENT - CONTINUE READING BELOW
The final product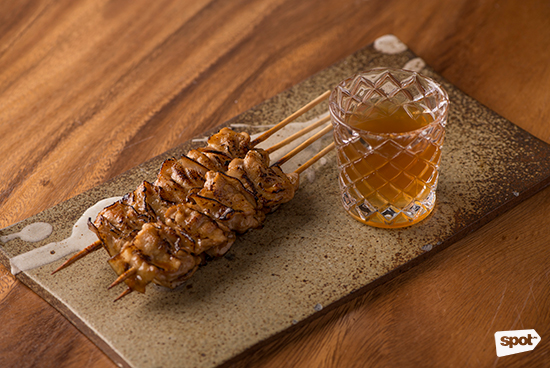 Pork BBQ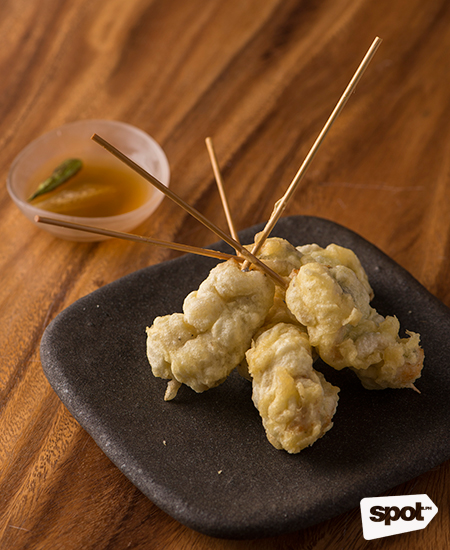 Espada
He points at the Pork BBQ (P380), which comes with its own tart-and-sweet sawsawan. "It's still pork barbecue!" he laughs. This dish's inconspicuous upgrade comes with the use of three cuts of pork that set a better stage to show off the meat's innate flavor. The soft nature of the Espada (P480) shines brighter with a dip into the guava and kamias broth.
ADVERTISEMENT - CONTINUE READING BELOW
"It may not be Filipino in terms of dishes," Chef Jordy says. "But we use the culture of Filipinos eating. It's Filipino in spirit." If anything, the chefs at Toyo try to carve a clearer path for the ingredients (which are mostly locally sourced) and the result is an understated but elegant showcase of food, simply presented but meticulously cerebral, like a Christopher Nolan film where the details are as relevant as the overall effect.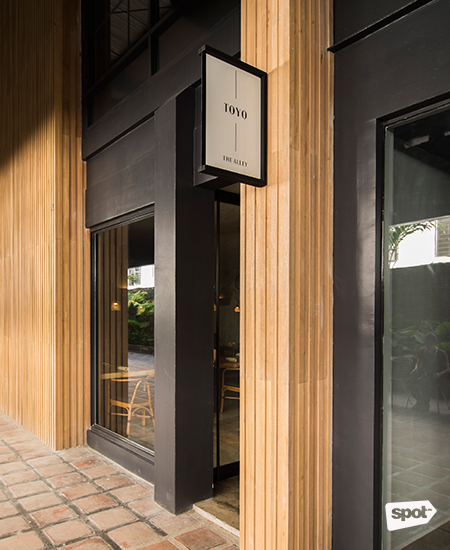 Newly revamped Karrivin Plaza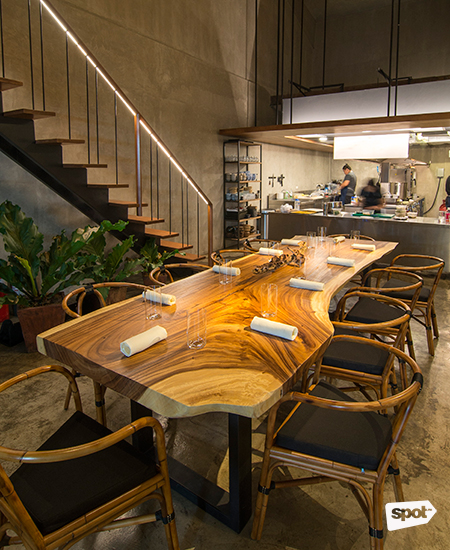 ADVERTISEMENT - CONTINUE READING BELOW
The detailing is stunning and the restaurant's style reflects the chef's personality.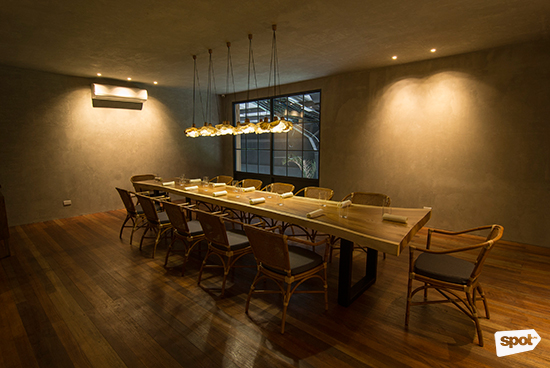 The private room
Hidden in a compound within a compound and right at the perimeter of Makati's busy center, Chef Jordy continues his mission for diners to look deeper. The exquisite setup of space, concrete, and wood may not exactly scream "nipa hut!", but the furniture is proudly Pinoy: rattan chairs from E. Murio, slabs from an acacia tree make up the tables. The open kitchen is truly open—with the finishing counter being the only divider and dessert area mingling with diners—because that's how it usually is in someone's house. It's like a home you wish you could live in, and, as if to convince you further that you're in a Pinoy house, a giant wooden spoon and fork hang on the wall.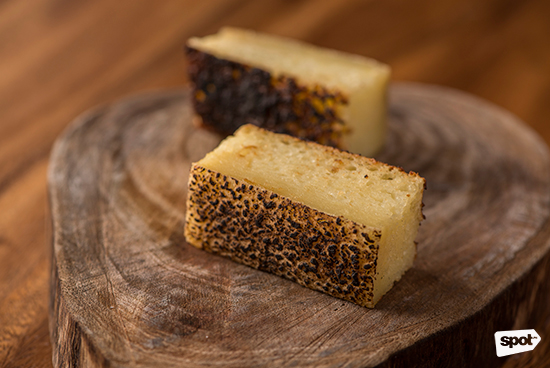 ADVERTISEMENT - CONTINUE READING BELOW
Cassava cake, which is one of the desserts available for the set menu
There's a curious bit on Toyo's menu that mentions why they prefer being called an eatery instead of a restaurant. "Restaurants tend to have more genres or definitions...We wanted to keep it simple and draw attention to what we really do, which is serve food to our guests and do all we can to make sure they leave happy and satisfied."
Toyo may rattle those looking for classic Filipino grub, but it's definitely hard to feel unhappy in a place where cassava cake is toasted to feel like very thick and dense marshmallows.
Toyo also has a three-course set menu (P1,000/head) and a seven-course tasting menu (P2,900/head).
Photos by Hans Fausto
Share this story with your friends!
---
Help us make Spot.ph better!
Take the short survey
Load More Stories