New Restaurant Alert: Sky Range Cafe at Solaire, Pasay
This place allows you to eat and shoot (James Bond style).
Sky Range Cafe
Level M, The Theatre at Solaire, Solaire Resort and Casino, Pasay City
Open daily from 11 a.m. to 7:30 p.m.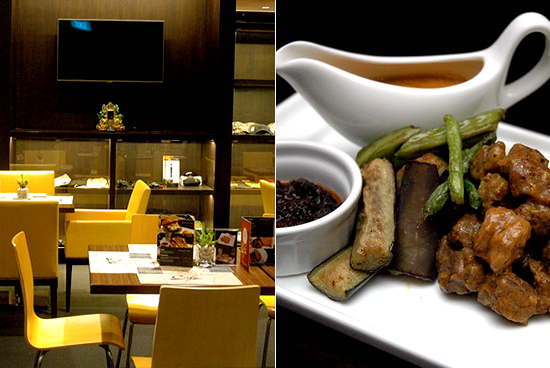 (SPOT.ph) This place looks more like a lounge at a swanky casino hotel—except that alcohol isn't served. Sorry, James Bond wannabes, there's no swirling of martinis here. You get a different kind of explosive buzz at Solaire's Sky Range. It's where the influential and powerful come to blow off some steam.
ADVERTISEMENT - CONTINUE READING BELOW
CONTINUE READING BELOW
Recommended Videos
The facilities are world-class. The 2,500 square-meter luxury shooting range is designed and outfitted by U.S.-based company Action Target Systems—and those in the know can tell you that's as good as it gets. The fine amenities of this club includes a cigar lounge, conference room, deluxe locker rooms, and of course, a cafe.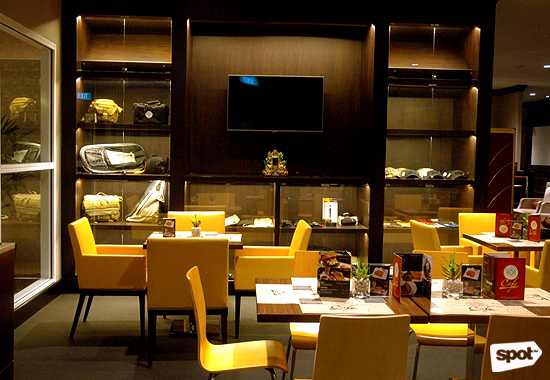 ADVERTISEMENT - CONTINUE READING BELOW
The lounge
After firing some major live ammunition, we discover that this adrenaline-pumping activity does work up an appetite. Chef Kat Diploma of Sky Range Cafe makes sure that the mostly gentlemen members of the club are well-fed and satisfied. Her menu is composed of Filipino classics prepared and styled with foreign guests in mind. "It's a good way to introduce our cuisine to foreigners," Chef Kat explains. "Since we get a lot of the casino's high rollers and hotel guests also who want to do something other than gambling."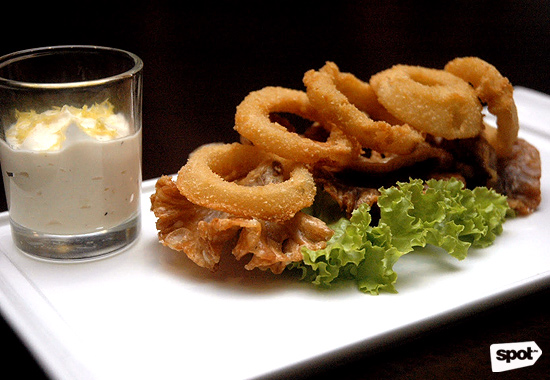 ADVERTISEMENT - CONTINUE READING BELOW
Fat Ruffled Buckshots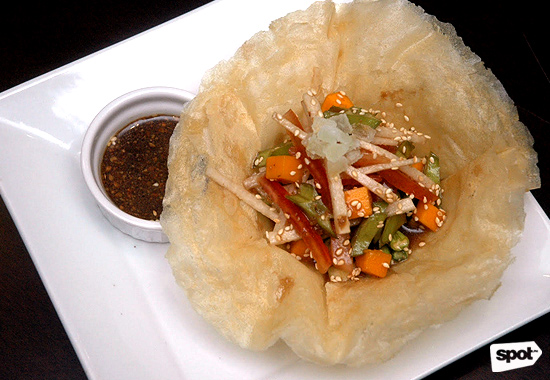 Bahay Kubo Torpedo Salad
With testosterone still coursing through our veins, we snacked happily on the Fat Ruffled Buckshots (P210) or chicharon bulaklak and onion rings served with spiced vinegar and aioli. For those watching their cholesterol, the Bahay Kubo Torpedo Salad (P260) is a lighter alternative to start you off. According to the chef, it's "composed of most of the vegetables in the song." The fried lumpia wrapper bowl gives it a tasty crunch.
ADVERTISEMENT - CONTINUE READING BELOW
If you must have a sandwich, opt for the Double Action Chorizo Burger (P540). The paprika-seasoned patty peeks through melted mozzarella and it's topped with crunchy onion rings. For something more filling, Sky Range boasts an excellent Ribeye Kare-kare. Cubes of tender prime-cut beef are quickly seared, tossed in the peanut sauce, smothered with more sauce, then eaten with vegetables and hot rice. So decadent yet homey, it makes you wonder why you've never had kare-kare this way.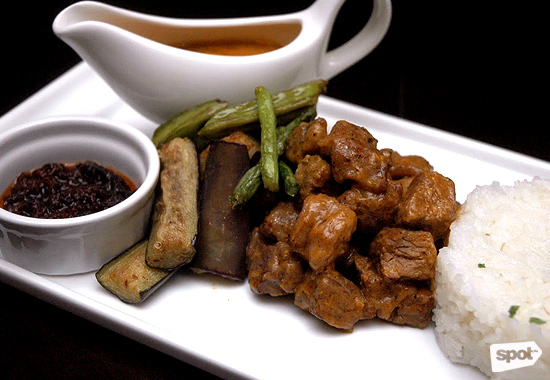 ADVERTISEMENT - CONTINUE READING BELOW
Ribeye Kare-kare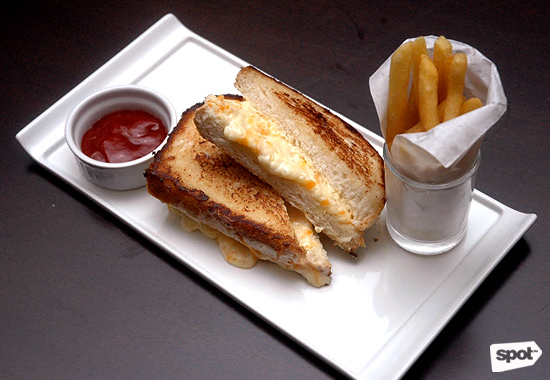 Grilled Cheese (P350)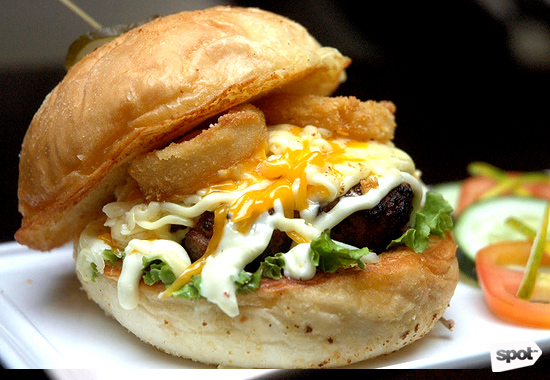 ADVERTISEMENT - CONTINUE READING BELOW
Double Action Chorizo Burger
End an action-packed meal with their turon-like dessert: the Double-Tap Halo-Halo Crunch (P200). It is essentially halo-halo in turon form, and it makes it easier to taste every element in this overloaded dish.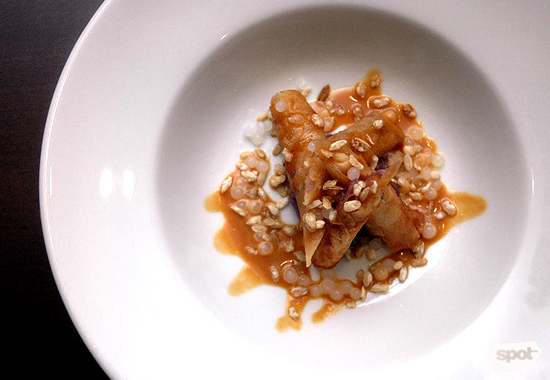 Double-Tap Halo-Halo Crunch
The kitchen was initially made for Sky Range's members, but the cafe in the lobby allows hotel guests and other walk-ins to order their food. It is a great alternative for Solaire's customers—especially those who are catching a show at the nearby theater—who just want a quick and casual meal. Sky Range Cafe offers affordable grub that are hearty, familiar, and quite deadly. But in a good way.
ADVERTISEMENT - CONTINUE READING BELOW
Photos by Gerry San Miguel
Load More Stories