New Restaurant Alert: Mosaic by the Creek at Major Dizon Street, Marikina
Come for the food and stay for the art.
Mosaic by the Creek Café + Art Workshop
22 Major Dizon Street, Marikina City
Contact: 508-4099
Open from 11:30 a.m. to 9:30 p.m. (Tuesday to Sunday)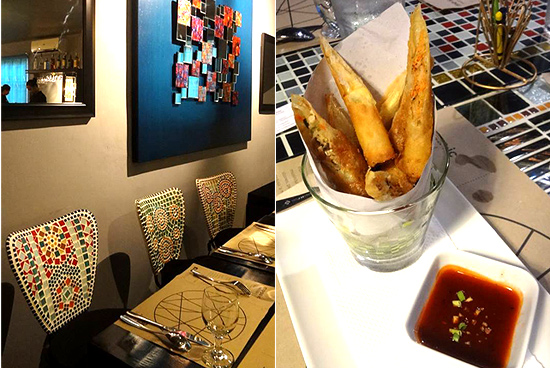 (SPOT.ph) As the saying goes, nothing beats mom's cooking. But as it turns out, Cherrie Araw's dishes can win over even other mothers. "There's this old lady who comes here for our mechado," shares Cherrie's son Carlo. After trying the meticulous 48-hour stew at Mosaic by The Creek, the lady refused even the versions cooked by her own children. "'Gusto ko 'yong mechado sa Mosaic,'" mimics Carlo.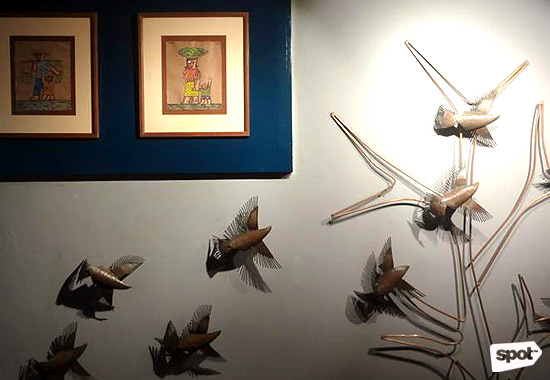 ADVERTISEMENT - CONTINUE READING BELOW
On the walls are birds that are seemingly in flight. A gift to Cherrie and her husband, all 25 of which was sculpted by Virginia Ty-Navarro, the same sculptor of The Shrine of Mary, Queen of Peace or EDSA Shrine.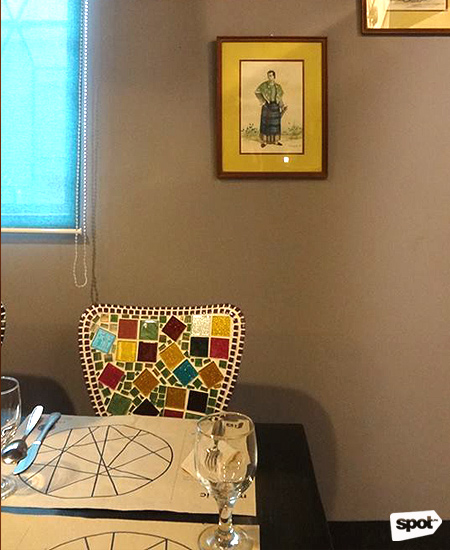 CONTINUE READING BELOW
Recommended Videos
The art on the walls are from Cherrie's personal collection.
Mosaic by The Creek Workshop + Café opened in February 2016 as a venue for the Araw siblings to showcase their version of comfort food. The menu features dishes by Cherrie and her best friend–who happens to have been the chef of the Malacañang Palace during President Cory Aquino's term. It's a mix of family favorites, Spanish colonial recipes handed down through generations, Cherrie's own concoctions, as well as her best friend's. "It's the food we grew up with," says Carlo. "All we had to do was to get these people to taste mom's food. We are so confident na one shot lang, they are going to love it."
ADVERTISEMENT - CONTINUE READING BELOW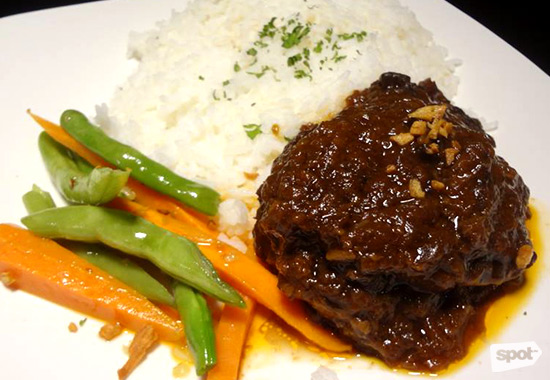 Mechado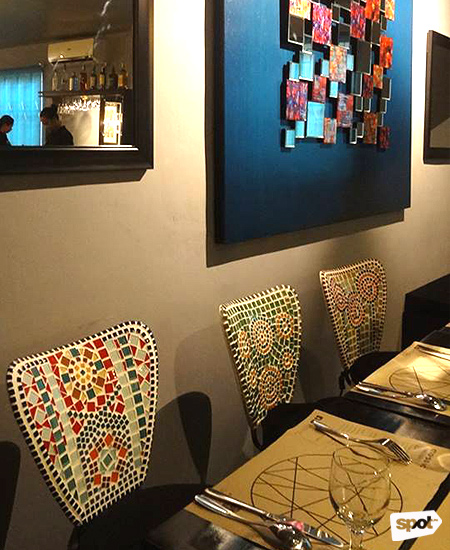 Cherrie thought of the interior design and a professional contractor fleshed it out.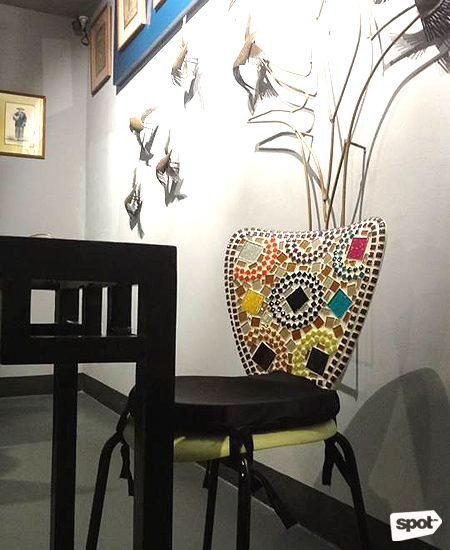 ADVERTISEMENT - CONTINUE READING BELOW
The theme is kept throughout the restaurant. Cherrie created all mosaic pieces in the café.
The food is enough of a lure. Mosaic has customers ordering more dishes halfway through a meal, while others would drive to this corner of Marikina from Alabang just for a bite.
There is, of course, that prized Mechado (P300), which is a time-tested recipe. It's slow-cooked for two days to create a melt-in-your-mouth beef stew that is so rich and wonderful in flavor, we might as well warn you that it might ruin other mechados for you in the future.
Mosaic's kitchen, however, is no one-trick pony. They have the Albert's Caesar Salad (P150) that cleverly replaces the bacon with beef bits; there's a Cream of Malunggay (P120) that you can use to tempt kids to eat and enjoy their vegetables; and there's the Spaghetti and Meatballs (P190), which is an Italian favorite served with a nod towards the Filipino palate.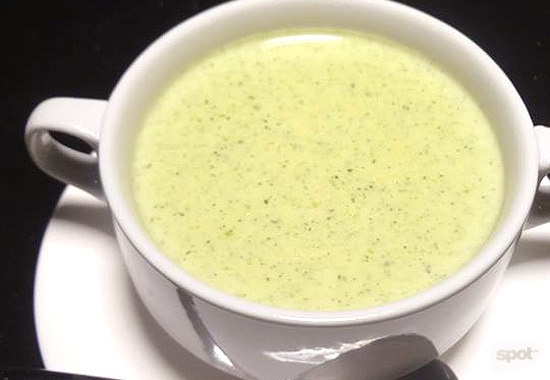 ADVERTISEMENT - CONTINUE READING BELOW
Cream of Malunggay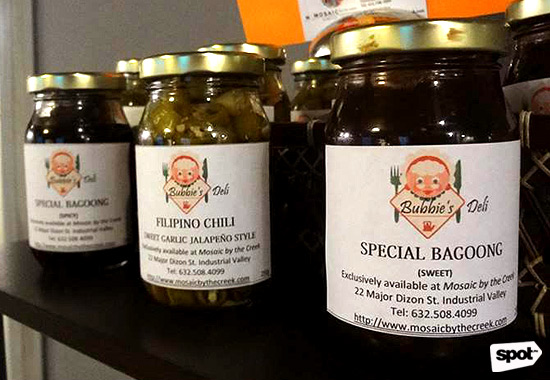 Condiments for sale
The Assorted Lumpiang Shanghai (P175) is a varied adventure of cheese, chicken, bangus, and vegetarian rolls. You can be full with one order, but you might want to make room for the Fil-Mex Fries (P175). These potato slivers are easy favorites—loaded with toppings like sour cream, crispy garlic beef bits, and shallots. Another must-try is the Angel Hair Negra (P200), which isn't your usual squid-ink pasta. The flavor is definitely pronounced, but it still ends up wonderfully light.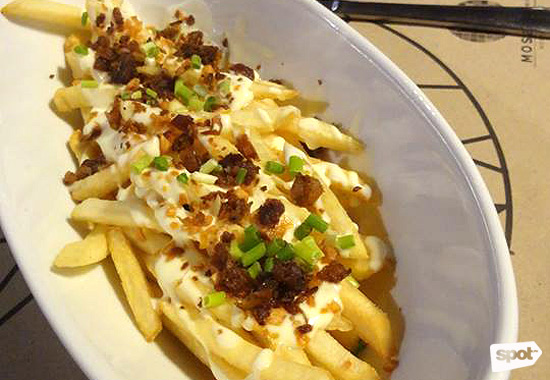 ADVERTISEMENT - CONTINUE READING BELOW
Fil-Mex Fries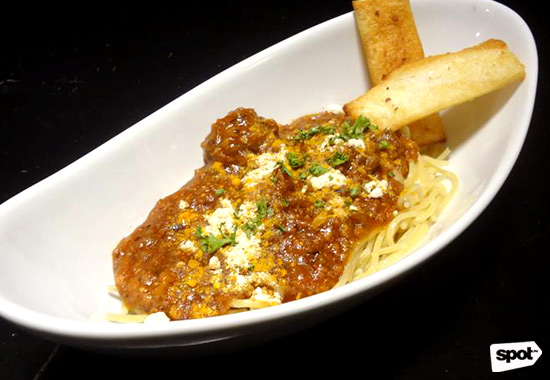 Spaghetti and Meatballs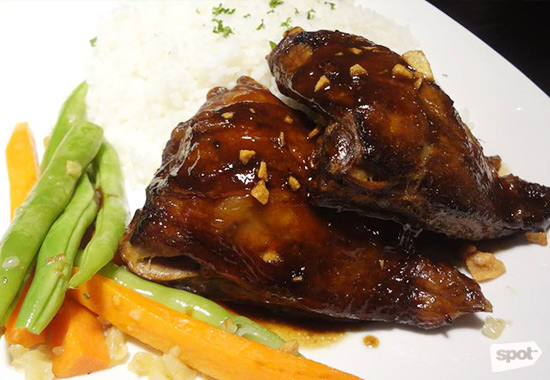 Carlo's Roast Chicken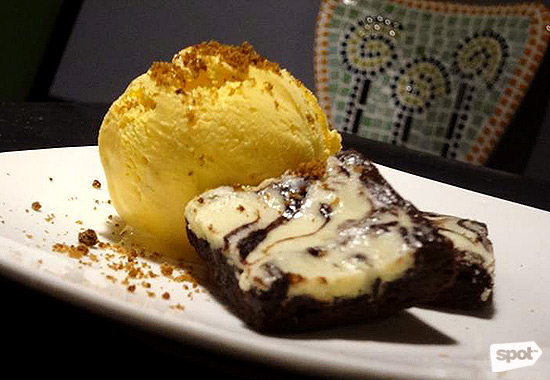 ADVERTISEMENT - CONTINUE READING BELOW
Cream Cheese Brownies
Carlo's Roasted Chicken (P275) is named after Carlo because it's his "most favorite food in the world." The golden-roasted poultry is served with original maple-calamansi sauce that paints just the right amount of zing in every bite. End the meal with simple Cream Cheese Brownies (P120) kissed with a scoop of Arce Dairy ice cream.
Apart from the food, the café also offers proper coffee and a superb wine list. Carlo, a coffee lover, was adamant about sourcing from the growers in Batangas for the best beans and serving the coffee in a French press at the café. The impressive wine list was edited by Ava, another Araw sibling and one of the few sommeliers in the Philippines. She studied in France to be a sommelier and now works as one for Lemuria and its wine marketing company, Brumms. Mosaic's wine list may not be extensive, but it offers good, premium wines that are affordable and not ridiculously priced.
These glorious food and drinks, however, are actually just a by-product of what Cherrie wanted to do in the first place, which was to put up a school.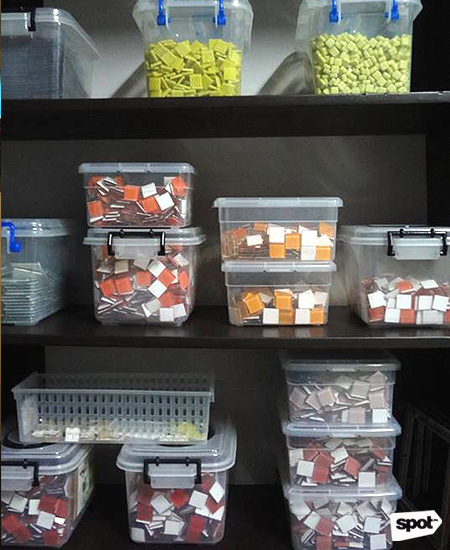 ADVERTISEMENT - CONTINUE READING BELOW
Workshop fee is P880. They also have starter kits that you can take home.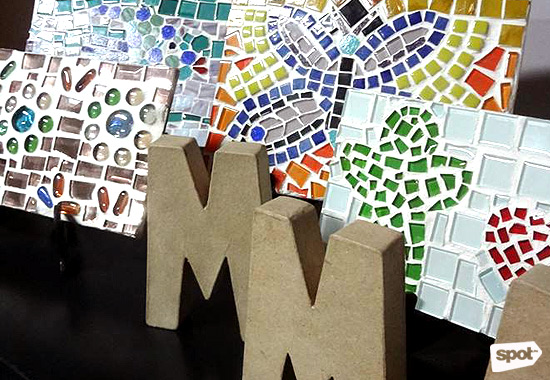 Beginners can choose between an easy design project or functional art.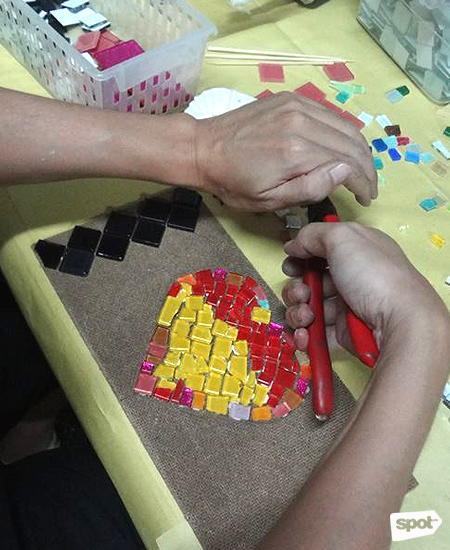 Mosaic Class Tile Cutting: With safety goggles on, each student gets a chance to cut their own tiles.
During one of her travels to Europe, she fell in love with making mosaics in Spain. Cherrie returned to Barcelona, enrolled in a course, and immersed herself in the art as much as she could. "I fell in love with it in Barcelona. I studied it. I pursued it. And now, I want to teach and share with others."
ADVERTISEMENT - CONTINUE READING BELOW
Other than being an art dating back to Mesopotamia, mosaic also happens to be quite the therapy for modern folks. For kids with ADHD, it helps maintain their attention and it encourages children to complete a project. For adults on the other hand, doing mosaic alleviates stress. "For two hours, wala kang iniisip but 'Oh, I love this color. I love this design.' For two, three hours you're free of stress. What a relief! Two hours is all you need to relax. Then ready ka na naman to face the world," explains Cherrie.
Mosaic closes at 9:30 p.m., but if you get carried away with your mosaic project or lovely conversations over wine, it's okay to linger after closing time. "We don't send people away here," explains Carlo. "We'll stay with you until 11."
Visit Mosaic by the Creek's website for workshop schedules.
Photos by Coni Tejada
Share this story with your friends!
---
Help us make Spot.ph better!
Take the short survey
Load More Stories