10 Stalls That Stood Out at the World Street Food Congress
Eating street food is the best!
(SPOT.ph) When truffle rice-stuffed lechon is the first stall you see, then you know this isn't your everyday street food fair. This is the World Street Food Congress, held for the first time in the Philippines—on Federacion Drive corner 9th Avenue (beside the building with Cafe Seol Hwa), Bonifacio Global City. Over 20 food hawkers from all around the world will be serving street eats until April 24.


The mouthwatering smell of spices will make you want to close your eyes and revel in the deliciousness. But someone will probably knock you over and wake you from your revelry. It's hot, crowded, and exciting. We'll help you go through it with our 10 standouts.
Also read: 10 Things You Need to Know Before Going to the World Street Food Congress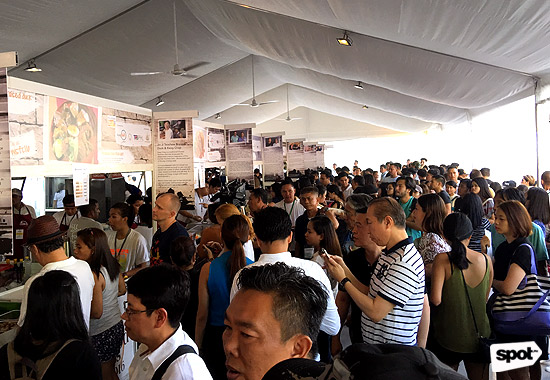 Hungry crowd!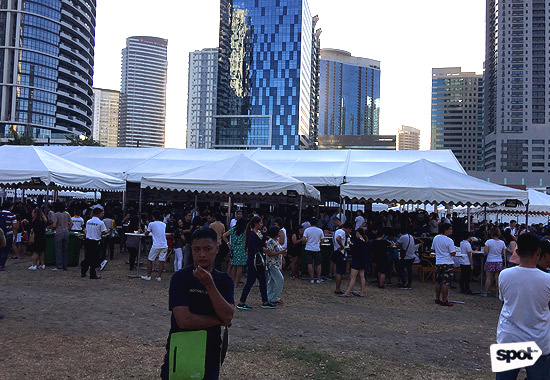 There are food demos, too!
The local showpiece: Truffle Lechon. You don't see this on the streets very often.
Grab your wallet, a few bottles of water (they do have beverage stalls though), your comfiest sneakers, a grocery bag, and make a beeline for this delicious congress. This is how they do it on the streets!
Also read: 10 Things You Need to Know Before Going to the World Street Food Congress
Hong Kong Street Old Chun Kee
This welcoming stall doesn't peddle your usual Hong Kong street food of eggettes and noodles. Instead, it's a bit Western with a Har Cheong Kai (P200) and a Har Cheong Kai Burger (P300). That's chicken seasoned with bagoong, by the way.
ADVERTISEMENT - CONTINUE READING BELOW
Chey Sua Carrot Cake
This stall only sells one thing—Carrot Cake, which we call Radish Cake in the Philippines. Even those who aren't huge fans of this dish would take a second look. Chey Sua smells incredible! They're daikon and rice flour cakes pan-fried with eggs. It's a Singaporean frittata!
Donald and Lily
It's beehon flourished with the tastiest sauce (sweet, spicy, sour all at once!). The noodles are then topped with shrimps, fish cakes, and eggs.
Jin Ji Teochew Braised Duck and Kway Chap
This booth probably has one of the longest lines in the whole Congress. Melvin Chew has taken over his father's 35-year-old hawker stand, and he stays true to its legacy. Here, he sells a Braised Duck Rice Set (P250) that utilizes nearly every part of the pig: mingling with the duck are pig offals, pork belly, and pig skin!