FIRST LOOK: Texas Roadhouse at Uptown Place Mall, Uptown Bonifacio
America's favorite steak stop is now in Manila.
Texas Roadhouse
Uptown Place Mall, 36th Street corner 9th Avenue, Uptown Bonifacio
Opens on April 28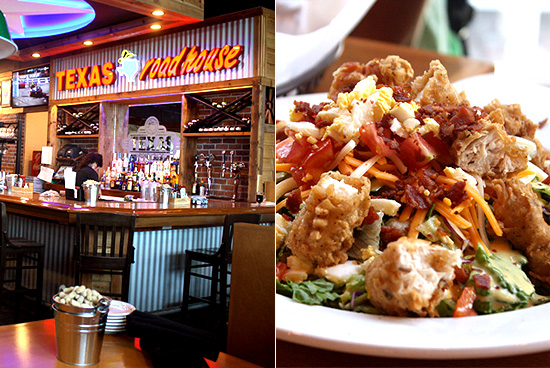 (SPOT.ph) You could divide steaks into two categories: the kind that requires candlelight, white linens, and manners, and the kind that lets you casually enjoy the beefiness of beef. Texas Roadhouse falls under the latter. It's one of the most popular steakhouses in the USA and it's opening right now in Metro Manila.
Texas Roadhouse was founded in 1993 by Kent Taylor. The restaurant nowadays is synonymous to hand-cut steaks and ribs, but Mr. Taylor's original intention was to offer a place that everybody could enjoy—here, that's translated to the wonderful gastronomy of the American South. It's easy to describe Texas Roadhouse's menu as comfort food, but the place itself is comfort. You can just sink back onto a booth and enjoy your food without thinking too much about it—the kitchen does all the thinking.
ADVERTISEMENT - CONTINUE READING BELOW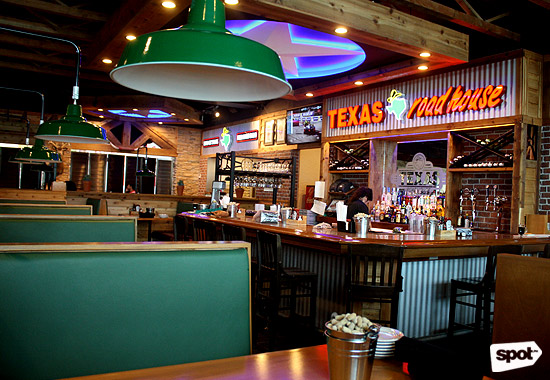 CONTINUE READING BELOW
Recommended Videos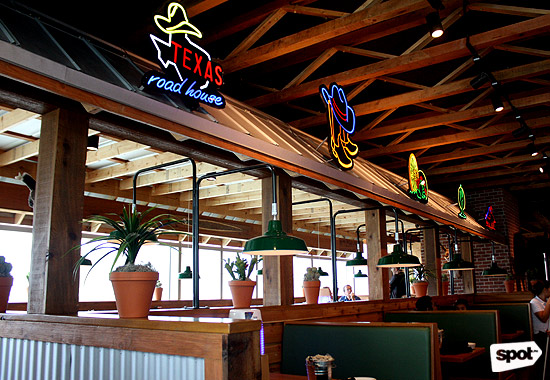 The huge space is divided into seating for all kinds of groups.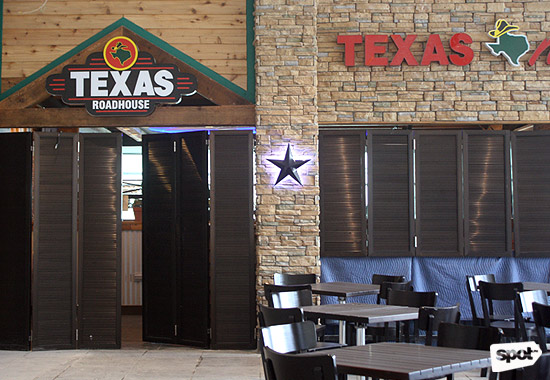 ADVERTISEMENT - CONTINUE READING BELOW
There are more seats outside the actual venue, but inside the mall; there's also an al fresco balcony.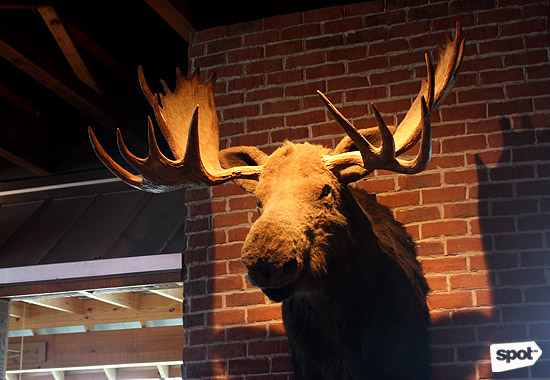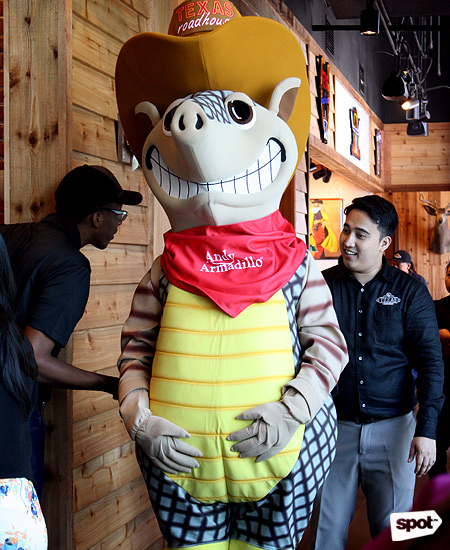 Andy the Armadillo
Texas Roadhouse at Uptown Place Mall is a huge 500-square-meter space that can seat about 280 people at once. The size, according to Texas Roadhouse Vice President for International Operations Hugh Caroll, is actually standard for the brand. We didn't expect any less. How else can the servers break into their trademark line-dancing?
ADVERTISEMENT - CONTINUE READING BELOW
Here's a mouthwatering preview of what you can expect starting April 28: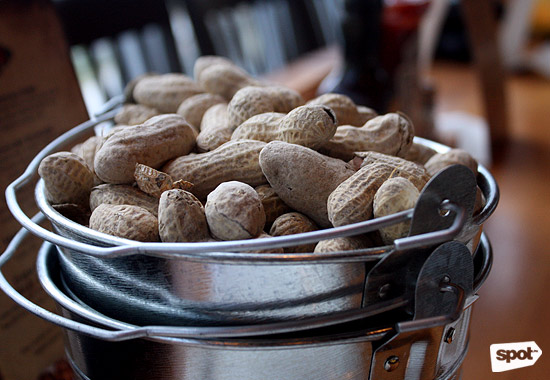 Gargantuan peanuts!
These free peanuts are a Texas Roadhouse signature. They're huge, about double the size of the local street-peddled variety. These peanuts are actually imported to fit the company's standard.
The bread is another Texas Roadhouse staple. They're baked every five minutes in house so you're guaranteed hot, fresh rolls with every refill. According to Mr. Caroll, each tray yields four baskets of bread and they bake three to eight batches every time.
The ingredients are from the U.S. and the finished product is so fluffy that you might finish them by the basket (Fun fact: In other countries, people actually just come for the bread and nothing else). There's a slightly sweet finish that works wonderfully against the incredible cottony texture. The honey cinnamon butter—also homemade—amps up that light sweetness further. The cinnamon note is quite distinct.
ADVERTISEMENT - CONTINUE READING BELOW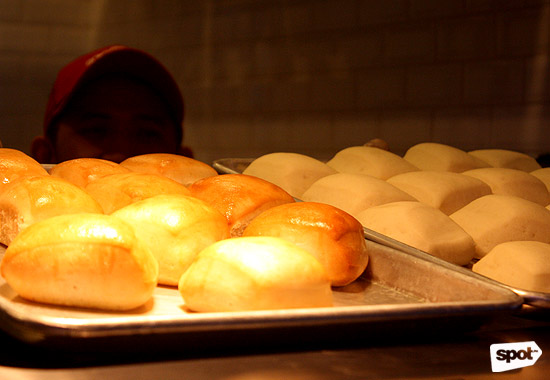 Pre-oven rolls and freshly baked rolls. Mr. Caroll tells us that they put out five million pieces of these in 10 years.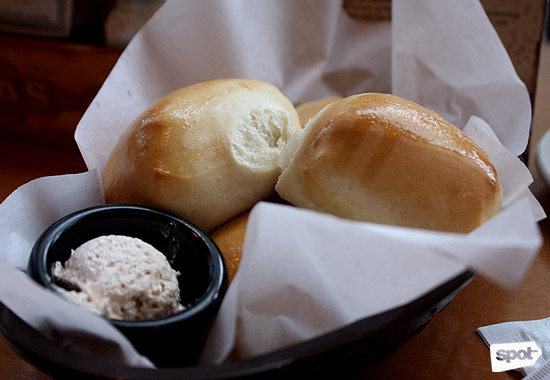 The Honey Cinnamon is a must.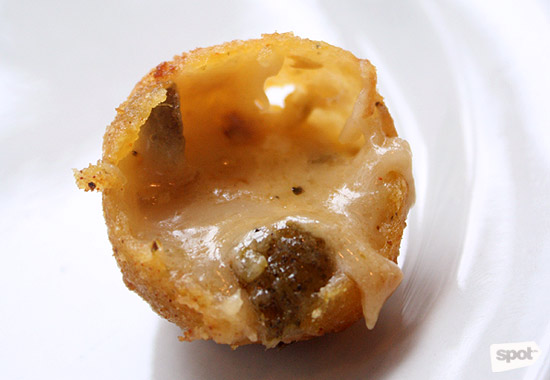 ADVERTISEMENT - CONTINUE READING BELOW
Rattlesnake Bites! Look at the ooze action and the large chunks of pepper!
The Rattlesnake Bites are definitely sneaky little suckers. They're cheese balls made with Monterey Jack and peppered with huge chunks of jalapeños. The crust is crisp, but it breaks open to reveal a creamy filling with a pleasant, biting heat. Don't ignore the ranch dressing on the side. It helps cut that fiery flavor without overshadowing it.
The Appetizer Combo will whet your appetite. It comes with Buffalo wings (bone-in or boneless), Rattlesnake Bites, and potato skins that look like little half-potato boats slathered with cheese and bacon bits. Or, go for the hefty Crispy Chicken Salad. It's a gorgeous pile of crispy chicken strips, cold greens, Monterey Jack and cheddar, chopped egg, diced tomatoes, and crunchy bacon.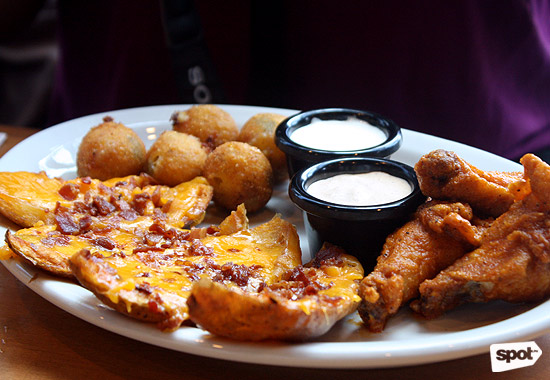 Appetizer Combo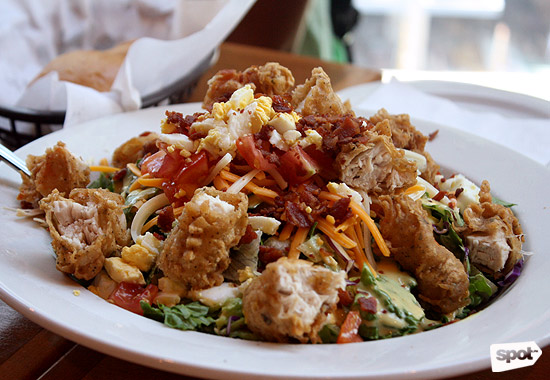 ADVERTISEMENT - CONTINUE READING BELOW
Crispy Chicken Salad
The six-ounce Sirloin is a thing of beauty. It's the smallest steak available—Texas Roadhouse features cuts from six ounces to 22 ounces. The sirloin is cooked upon order and it's perfect for a solo steak craving, especially since it's only P595. The slab is cooked with a light pinkness in the middle which guarantees tenderness and juiciness. The mashed potato is SPOT.ph-recommended, and you would do well to choose it with your steak. The potatoes are made every two hours while the gravy is prepped every four. Other favorites are the baked potato topped with Monterey Jack and cheddar (there's also a mashed potato version of this), Seasoned Rice, and the Loaded Potato.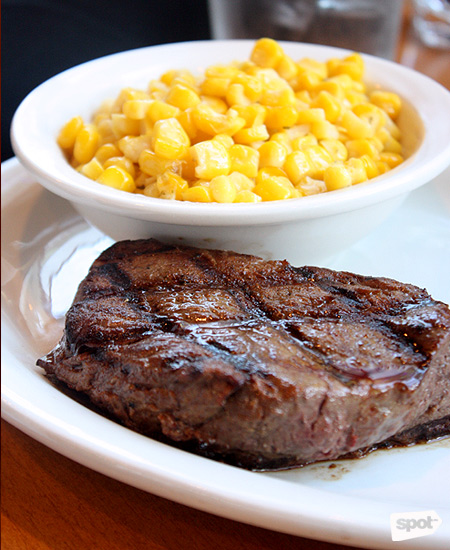 Sirloin with Fresh Corn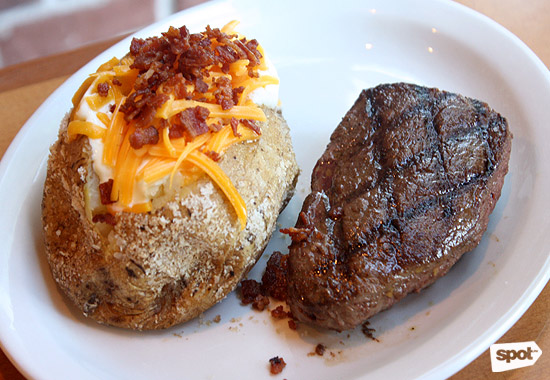 ADVERTISEMENT - CONTINUE READING BELOW
Sirloin with a Baked Potato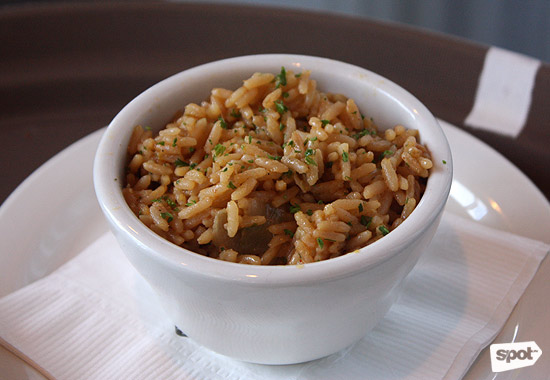 Seasoned Rice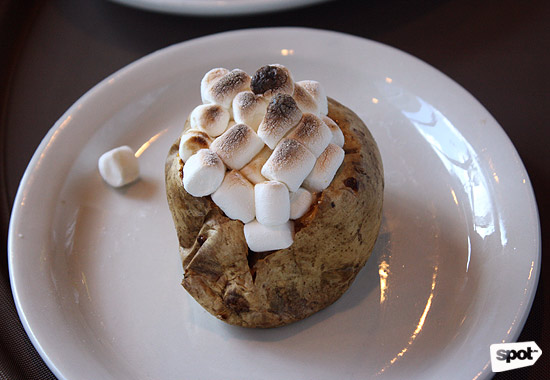 The Loaded Potato is a sweet potato with marshmallows and caramel—it's very Texas Thanksgiving.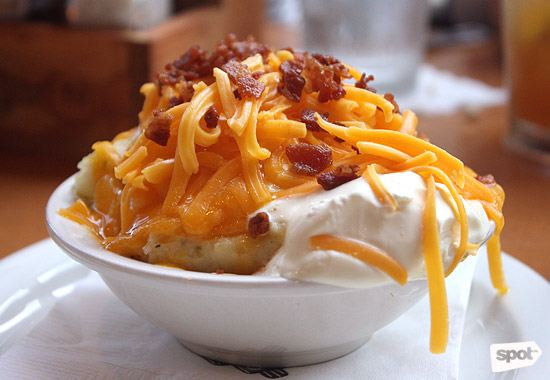 ADVERTISEMENT - CONTINUE READING BELOW
More potatoes!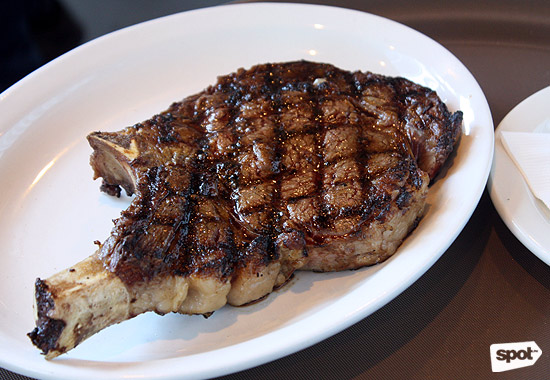 Rib Eye
Gorgeous pink and lovely marbling
Texas Roadhouse rightfully takes pride in their hand-cut steak. Mr. Caroll explains that with hand-cut steaks, the meat craftsmaster can detect just the right amount of fat in each piece, compared to an electric slicer. Their steaks are aged between 21 to 48 days and they're chilled— never frozen. Their showstopper is the 22-ounced Rib Eye, which arrives bone-in and full of flavor. For P2,725, it is an absolute steal. It's succulent and soft, but you still get that brawny bite you look for in steak. Mr. Caroll welcomes customers to gnaw at the bone, too, to really get into those salty, savory flavors. The fat bursts into the tastiest juices that double as the sauce.
ADVERTISEMENT - CONTINUE READING BELOW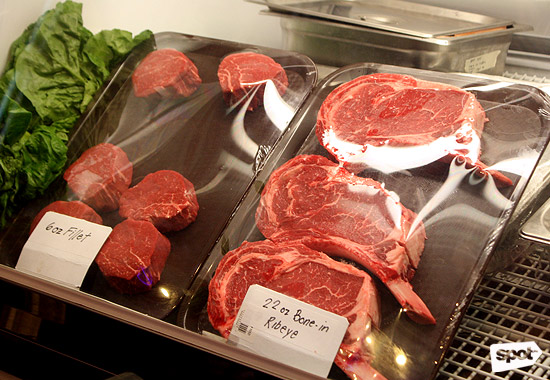 Never frozen
Then, there's the Smokehouse Burger, a perfect midday treat. It's humongous and loaded to the point that the filling spills out. It's a classic stack of cheese, lettuce, onions, and tomato (the pickle is placed outside, for preference). The patty is big and it crumbles in a delightful way that reminds you that this is pure beef. Bite through it and you'll notice slices of sautéed mushrooms that dabs on an extra level of flavor.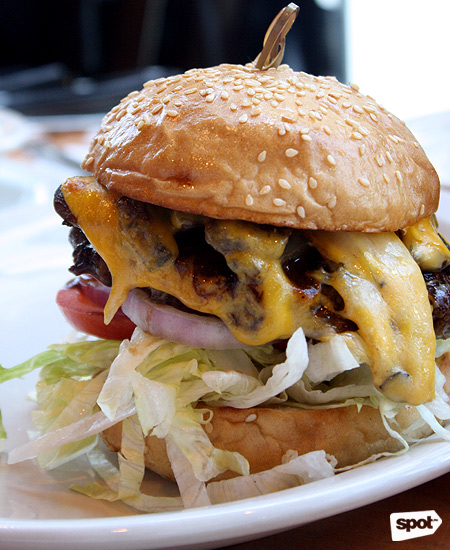 ADVERTISEMENT - CONTINUE READING BELOW
Smokehouse Burger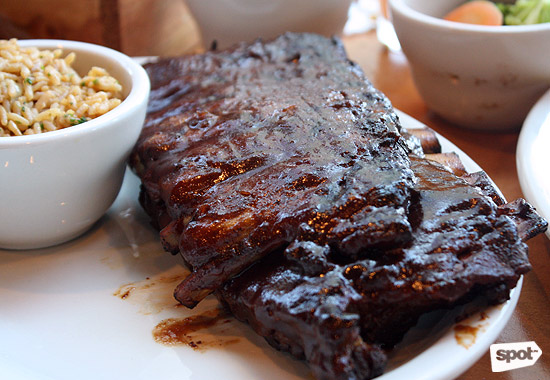 Award Winning Ribs
Another prized item is the Award Winning Ribs. These glossy babies are carefully slow-cooked until it develops to fall-off-the-bone, fork-tender goodness. The smokiness of the meat is the dominant flavor and the barbecue sauce paints only a very, very subtle coat of sweetness.
Another rather efficient offering is the Texas Sized Platter, which is available only in the Philippines. It's an all-in-one adventure of slow-roasted half chicken, grilled beef tips over mashed potatoes, and fall-off-the bone half slab ribs. It's perfect as a pica-pica setup over their margaritas or frozen sangrias.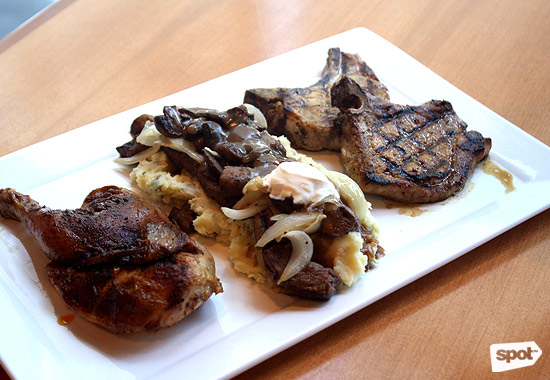 ADVERTISEMENT - CONTINUE READING BELOW
Texas Sized Platter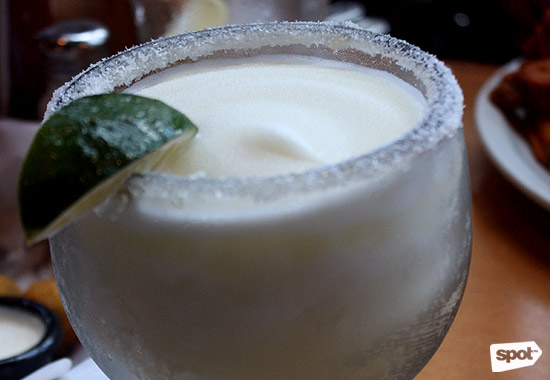 Margarita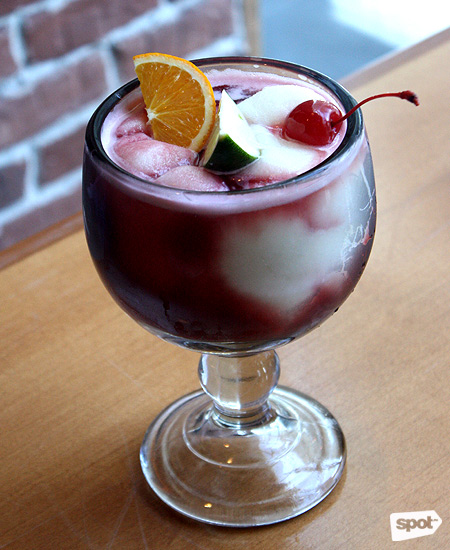 Frozen Sangria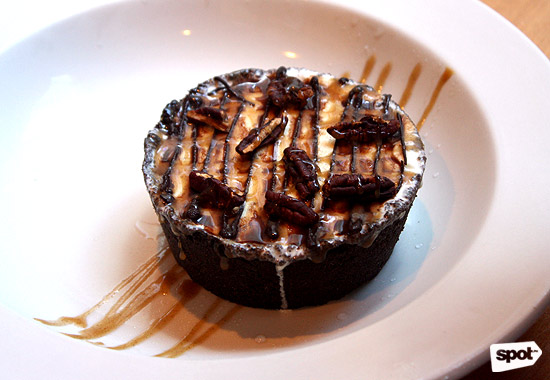 ADVERTISEMENT - CONTINUE READING BELOW
Frozen Turtle Pie
The Frozen Turtle Pie is another only-in-the-Philippines special. It's essentially a bowl made of crushed Oreo cookies. Inside, it's a light salted caramel ice cream stuffed with roasted pecans, chocolate, and toffee sauce—which adds that sweetness you crave after such a meat-oriented meal.
Texas Roadhouse may be an American favorite, but we have a feeling Filipinos will take a liking to it, too.
Share this story with your friends!
---
Help us make Spot.ph better!
Take the short survey
Load More Stories