New Restaurant Alert: Empingao! at P. Burgos Street, Makati
Sniff out this Latin American spot in Poblacion.
Empingao!
P. Burgos Street corner San Lucas Street, Barangay Poblacion, Makati City
Contact: 0915-725-7378
Open from 4 p.m. to 2 a.m. (Monday to Saturday)
Also read: Sneak Peek: Chef Kel Zaguirre's Empingao! at P. Burgos Street, Makati
(SPOT.ph) Chef Mikel Zaguirre points at his Elena Ruz sandwich and starts discussing its contents. "There's cream cheese, turkey ham, and strawberry jam, but it's like a grilled cheese," he says. "I was surprised by how well it turned out."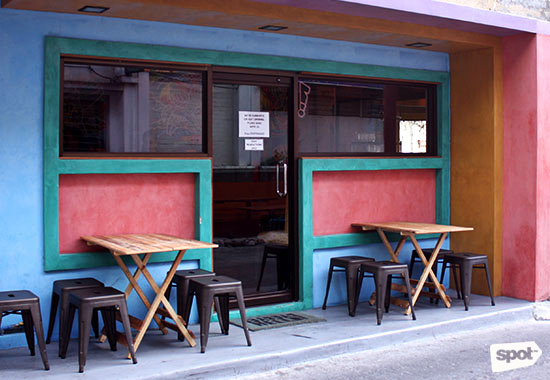 ADVERTISEMENT - CONTINUE READING BELOW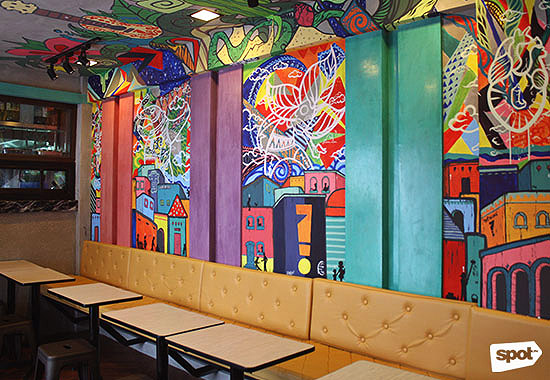 CONTINUE READING BELOW
Recommended Videos
We are at Empingao!, his latest project, a Latin-American joint he set up with his high school friends. It's situated right on the even more obscure side of P. Burgos, where you wouldn't want to stand outside too long and a missed turn means you have to circle the entire area and start all over again. There's no sign, only bright purple, red, and blue paint and an enormous exclamation point. You say the restaurant's name the same way you would say "amazing"—which is what the restaurant means—with much enthusiasm.
The Elena Ruz (P480) is a classic sandwich, nearly as famous as the Cubano or even the Elvis. Its most popular and most likely origin involves a Havana socialite named Elena Ruz who had such rigid sandwich specifications she eventually asked for it to be permanently included on a menu. Instead of a flattened roll, Chef Kel uses brioche slices that are toasted lightly enough to develop a very subtle crisp. A bite is thin, distinctive without overwhelming. He doesn't use a griddle, opting to flatten the sandwiches manually to really "feel them."
ADVERTISEMENT - CONTINUE READING BELOW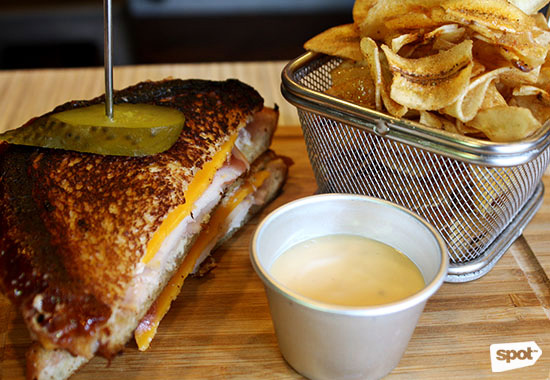 Elena Ruz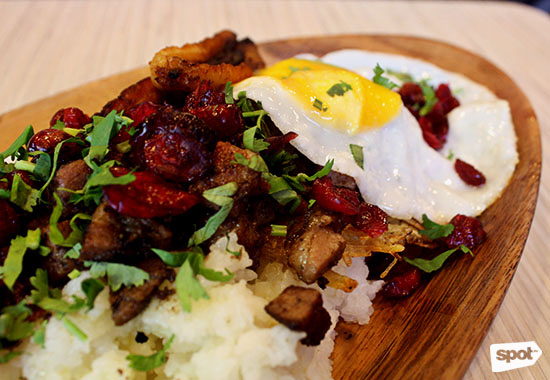 Arroz A La Cubano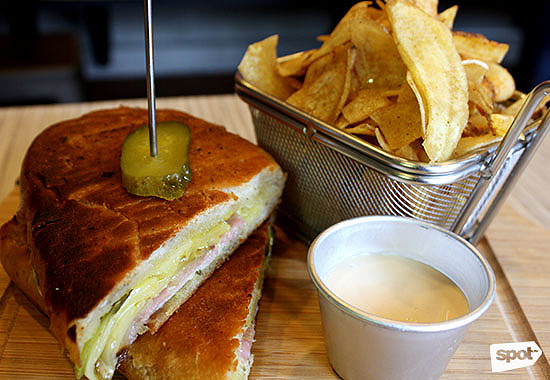 ADVERTISEMENT - CONTINUE READING BELOW
Cubano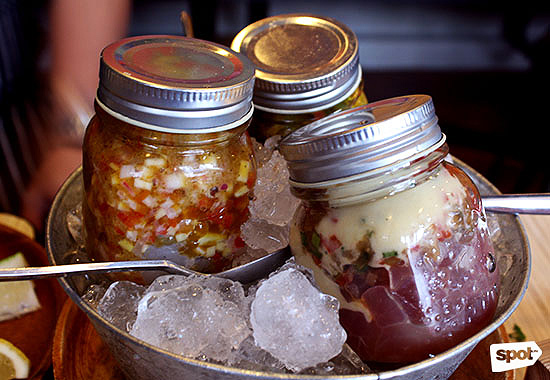 Shades of Locavore: Ceviche Mixto (P420)
Conversations with Chef Kel are always filled with "instead of" and "replaces with." Dried cranberries play raisins in his Arroz A la Cubano (P290). "I don't like pasas," he explains. The cranberries speckle a different kind of sweetness over soft buttered rice, which is sticky, reminiscent of the Japanese variety. Instead of the usual ground meat, he uses trimmings from pork shoulder—leftovers from his excellent Gruyere-embellished Cubano (P360)—and mojo sauce to plant a bolder flavor.
If you've been to any of Chef Kel's restaurants, Locavore or Taqueria 101, then you know how he thinks. "Very modern, a bit different," he says as he explains his menu. "Very you," we reply. He's always been a chef of intention rather than tradition. His dishes—or at least one aspect of each—are never always what they're supposed to be. Except that he always supposes them to be good.
ADVERTISEMENT - CONTINUE READING BELOW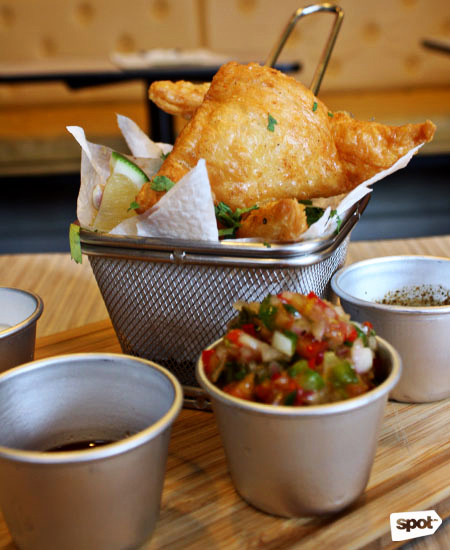 Ham and Cheese Empanadita (P290)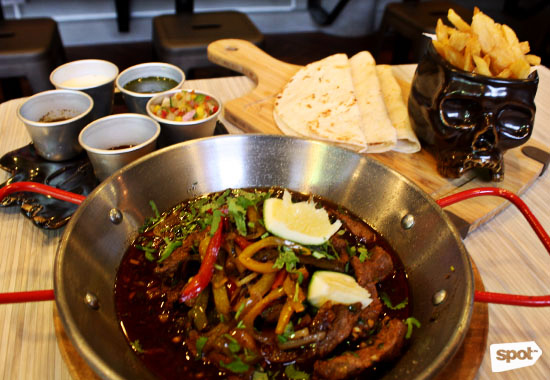 Lomo Saltado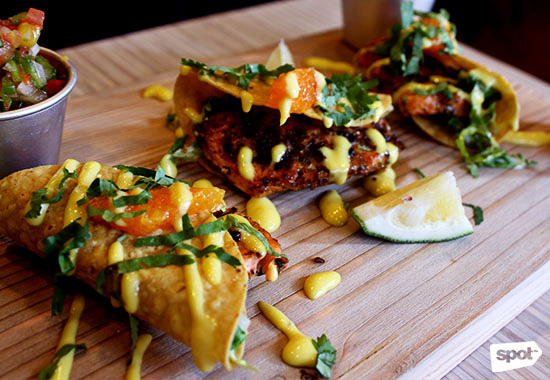 ADVERTISEMENT - CONTINUE READING BELOW
Salmon Tacos
It's certainly the case for Empingao!'s Salmon Tacos (P290). Chef Kel belongs to the hard shell camp, and he uses bite-sized crisp corn tortillas not only as a sturdy home for the grilled fish, but also to bring more texture to each bite. He tops each one with a tiny Mandarin orange wedge. It's hardly orthodox, but sometimes you compromise tradition to create uncompromising flavors. Even his choice to put Peru's Lomo Saltado (P540) in soft flour tortillas instead of the usual side of rice puts the spotlight on the beef tenderloin and grilled peppers.
For a restaurant that screams and shouts, Empingao! is impressively delicate when it comes to their desserts. The Tres Leches (P270), despite the pool of sweetened milk and drizzle of dulce de leche, is a light-footed finish. It comes in two slices that only require a few forkfuls to finish. The Dulce de Leche Cheesecake (P390) is an equally easy challenge. An alfojores crust and toasted almond slivers balance cake, which is rich but subtle.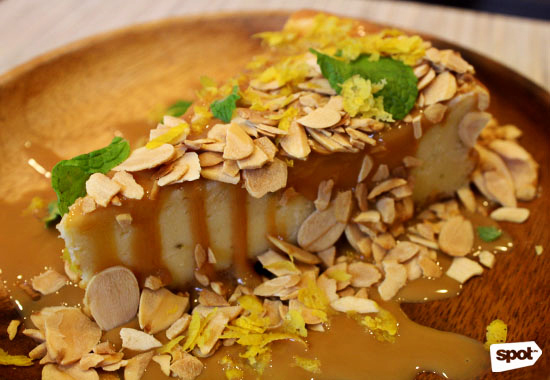 ADVERTISEMENT - CONTINUE READING BELOW
Dulce de Leche Cake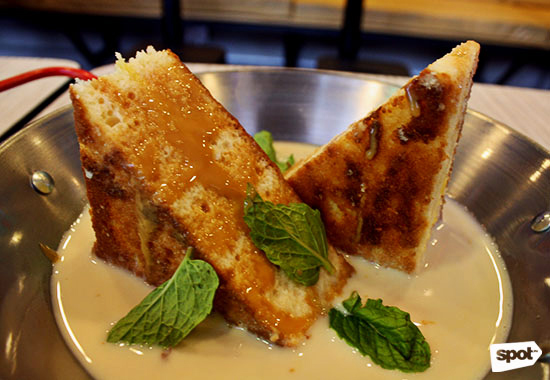 Tres Leches
Located slightly away from Poblacion's eating streets, Empingao! is certainly a destination. And despite the owners' efforts to keep it as one of those open secret restaurant types, we doubt it'll be kept under wraps for long. Their food is certainly yelling for some well-deserved attention.
Photos by Criselda Carreon
Share this story with your friends!
---
Help us make Spot.ph better!
Take the short survey
Load More Stories