New Restaurant Alert: Wowa Kitchen x Cafe at Bayani Road, Taguig
Good food tastes even better when you know it's cooked with love.
Wowa Kitchen x Cafe
Equator Complex, Bayani Road, Taguig City
Contact: 984-6695
Open from 11 a.m. to 10 p.m. (Monday to Saturday)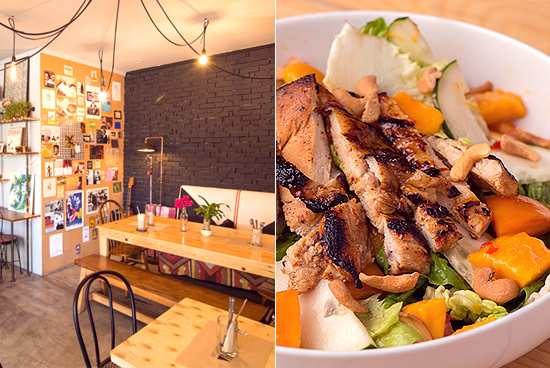 (SPOT.ph) Cyrus Cañares knows a good story when he sees one. He used to write telenovelas for a major TV station. "Not heavy drama," he explains. "I wrote feel-good ones, 'yong light lang. But, those are actually harder to write, since it's more difficult to give good character dimension." When he and his sister Joyce decided they wanted to open a restaurant, they saw the tiny spot—an old water-refilling station—in their neighborhood and knew it was the one.
Tucked behind a car wash, on an obscure, nameless street off Bayani road, Wowa Kitchen x Cafe is the kind of place you seek out. The Cañareses set up a homey and kooky little spot where every corner tells a story.
You see attention to detail in the interiors, small as this restaurant may be. Distressed wooden tables, upcycled lamps, and cork-board walls are decorated with Cyrus' collection of movie posters and CD covers. Wowa is a tribute to their beloved grandmother and her legendary cooking—she had a 30-year-old carinderia in Mandaluyong, which was a known institution in their area—and you can definitely feel the nostalgia in the air. It's the combination of old photos, the smell of old books, and Billie Holiday singing about a lost love in the background. "I think I'm an old soul," Cyrus says.
ADVERTISEMENT - CONTINUE READING BELOW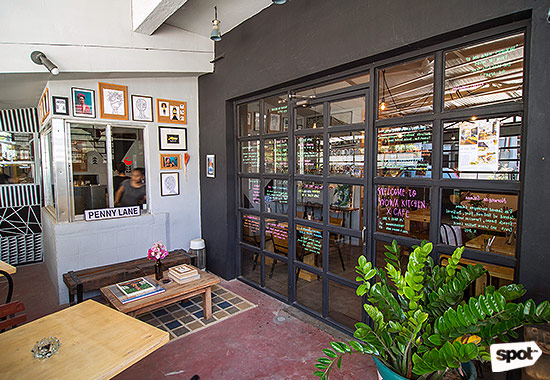 CONTINUE READING BELOW
Recommended Videos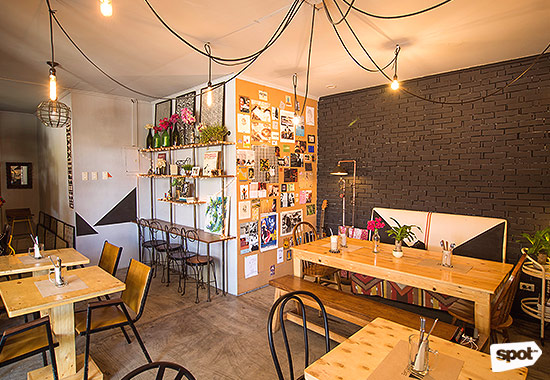 Just the right amount of kitsch and quirk
The food, aptly, is all about comfort. Chef PA Francisco, who used to be with the Raintree Group and one of the chefs who set up Unit 27, heads the kitchen. Joyce, also a trained chef, completes their tandem. "It's really just the two of them cooking," Cyrus says. "So, yeah, no vacations for them."
ADVERTISEMENT - CONTINUE READING BELOW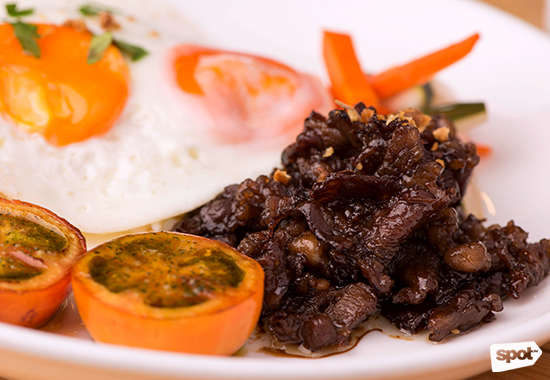 Angus Beef Tapa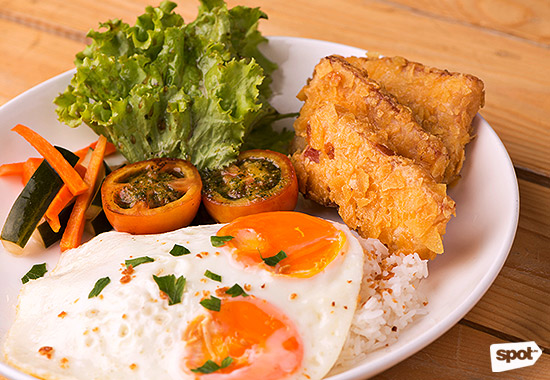 Potato Chips Crusted Double Smoked Bacon
You notice the chemistry between the two chefs (yes, they are together) with the harmonious menu. Brunch is a must here—the sweet, jerky-like Angus Beef Tapa (P295) is quite remarkable and merits praise. Served with two eggs and garlic rice, it might set you up until merienda. The Potato Chips Crusted Double Smoked Bacon (P295) is as decadent as it sounds—the thick slab of smoked pork belly is fatty and flavorful as it should be. Another twist on bacon and eggs is the Bacon Benedict Burger (P325). Make sure to ask for extra hollandaise sauce.
ADVERTISEMENT - CONTINUE READING BELOW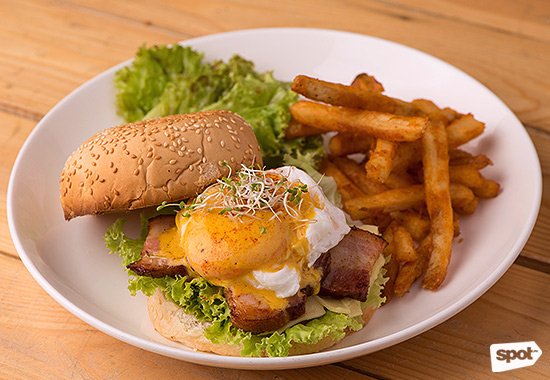 Bacon Benedict Burger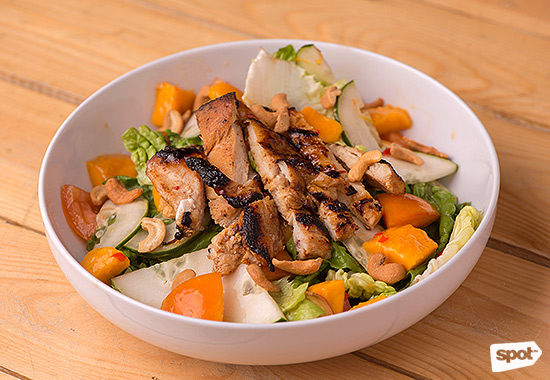 Grilled Chicken and Mango Salad
You could also start your meal with the French Onion Soup (P95). It is adorned simply with white toast and a slice of cheese because the pale broth is already surprisingly packed with the delightful sweetness of onions. The Grilled Chicken and Mango Salad (P325), on the other hand, gets great texture and flavor from cashews and a fragrant oriental dressing.
ADVERTISEMENT - CONTINUE READING BELOW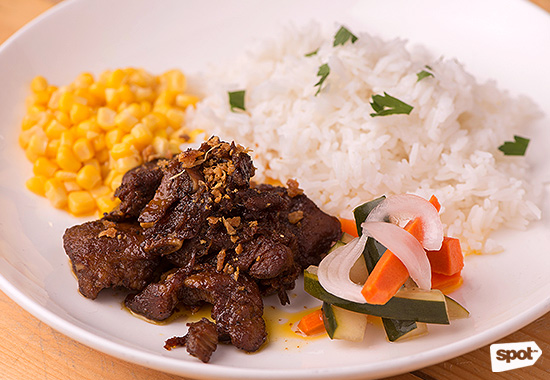 Garlic Spareribs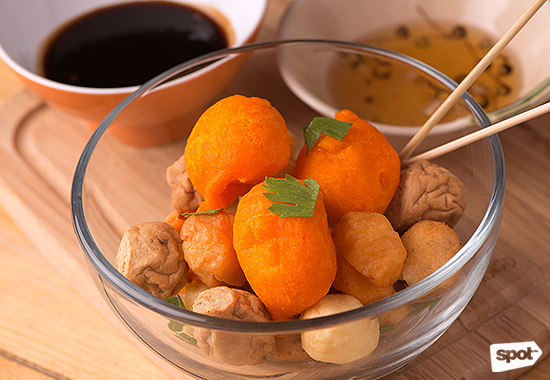 Street-Style Platter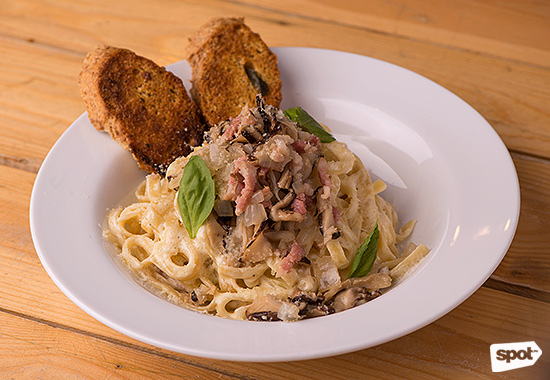 ADVERTISEMENT - CONTINUE READING BELOW
Truffled Mushroom Carbonara
If the nostalgia of the place is giving you the feels, then try the Garlic Spareribs (P215). "This is our lola's specialty," Cyrus explains. "She only served it a couple of days a week, but when it was available, it was always wiped out." It's easy to understand the appeal of the simple, sweetish, garlicky marinade with the tender pork. Paired with rice, it's straightforward and homey, the kind of a dish you got excited about when you saw it in your lunchbox in high school.
Seafood is not an afterthought at Wowa, and Chef PA teaches you to never underestimate properly cooked Norwegian Salmon (P395). He simply pan-sears it until it's medium, leaving the core moist and gorgeous with a deep coral hue. The sides of French beans and red rice keep it healthy. It is perfect in its simplicity.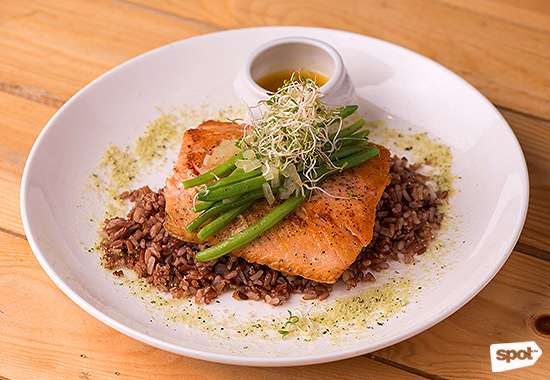 Norwegian Salmon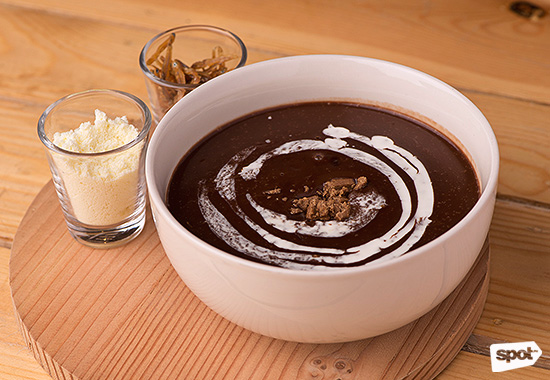 ADVERTISEMENT - CONTINUE READING BELOW
Organic Rice Champorado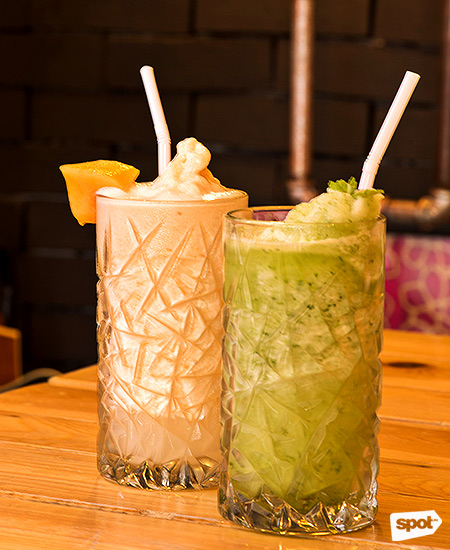 Peach Yakult and Mint Cucumber
For dessert, they serve ice cream, but customers have learned to improvise. According to Cyrus, they would order the Organic Rice Champorado (P125) to end their meals. We think it's brilliant. The flavor of the rich, chocolate rice porridge reminds us of Chocolait.
"We're still figuring out what we are, "Cyrus candidly shares. "Sometimes, I go to other establishments with a clear concept, and I panic." That shouldn't be a cause for concern, however. Wowa is doing their own thing, and that's making great comfort food for the people in their neighborhood. Lola would surely be proud.
Photos by Hans Fausto
Share this story with your friends!
---
Help us make Spot.ph better!
Take the short survey
Load More Stories