New Restaurant Alert: Ta Ke Ho Me Sushi at Sergeant Esguerra Avenue, Quezon City
Take-away sushi, your way.
Ta Ke Ho Me Sushi 
52 Sergeant Esguerra Avenue, South Triangle, Quezon City
Contact: 0977-85SUSHI (7-8744)
Open daily from 10 a.m. to 10 p.m.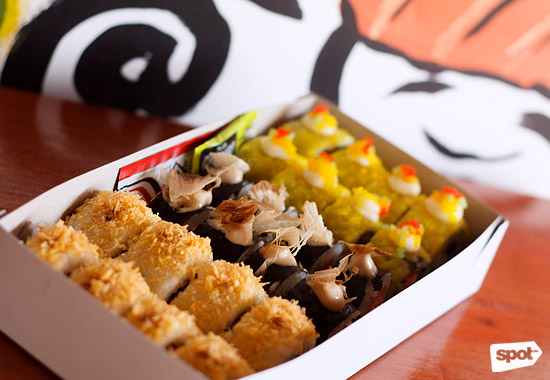 (SPOT.ph) Take-out sushi in Manila automatically summons images of large bilaos crammed with indeterminate bright rolls of California maki, tuna, and salmon. Mind you, despite the rough presentation, they're usually good and always a staple at potluck parties. Everybody loves their sushi, after all. 
Now, imagine a restaurant that takes this portability and reverence and treats it with considerable finesse. Plus, another bonus: an even more affordable price tag. This is the great reality of Ta Ke Ho Me Sushi. It might be overreaching to say that it's the best take-out sushi spot in Metro Manila, but this easy-to-miss stand definitely catches your attention with looks, taste, and quality.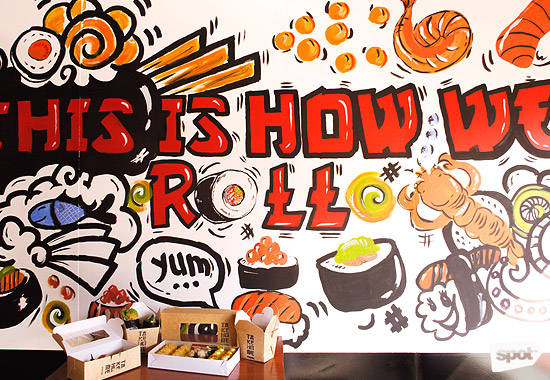 ADVERTISEMENT - CONTINUE READING BELOW
Sushi photo-op!
Ta Ke Ho Me Sushi—the pun is very much intended—seems like nothing extraordinary at first. It's dwarfed by a huge garage and car wash. When you walk in, you'll find a mural featuring happy-looking sushi illustrations and the statement "This is how we roll." It is adorably Instagram-ready. There are a few tables for those who want to enjoy their sushi at a more leisurely pace. 
Ta Ke Ho Me Sushi is the brainchild of young couple Kelly Parreño (the creative chef behind popular Kantori Yakitori along Aguirre Street) and Migo Librojo, a dentist. After the success of Fairground Organics, their first venture together, the couple impressively conceptualized and built Ta Ke Ho Me in a span of three months. While Kelly handles the menu concepts and kitchen operations, Migo works on the logistics and physical aspects of the business. Their partnership is reflected in their ability to execute things quickly, with great quality and attention to detail—much like the sushi they serve.
CONTINUE READING BELOW
Recommended Videos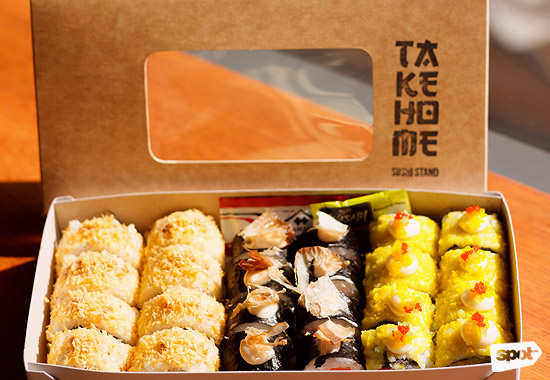 ADVERTISEMENT - CONTINUE READING BELOW
24 pieces of your chosen sushi
The sushi at Ta Ke Ho Me Sushi is served in sets of eight pieces (P99), 24 pieces (P299) and 40 pieces (P449). They're packaged in the cutest way—sturdy cardboard boxes with the logo stamped onto it (a far cry from your usual bilao covered in saran wrap). The best part? You can customize the sushi you want in your set.
The California Maki is your standard kani, mango, and ebiko, but it comes in festive colors of yellow, green, and orange. Different kinds of fish roe bring a new dimension to an old favorite. The TKHM Roll is a refreshing take on your usual Philly roll. It features smoked salmon, cream cheese, and bonito. The fish elements work together wonderfully, bringing a smoky, flavorful contrast to the creamy cheese. Even their take on Spicy Tuna is unique. The usual makimono with a great spicy tuna core is rolled in panko breadcrumbs for added texture.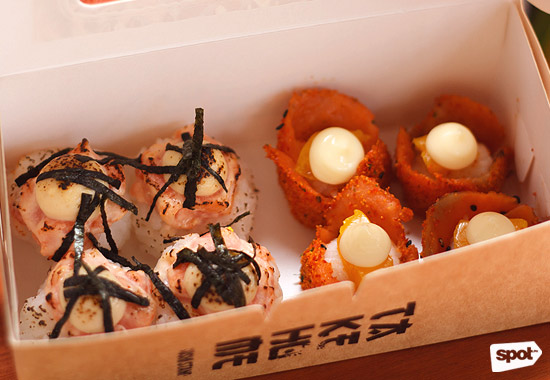 ADVERTISEMENT - CONTINUE READING BELOW
Migori and Dragon Ball
Some of the more novel offerings at Ta Ke Ho Me are the Migori—named after the spicy-food-loving owner—and the Dragon Ball. The Migori is a bite of torched salmon, miso mayo, and nori. The combination is reminiscent of aburi or torched sushi. It's slightly on the spicy side, but the heat can be washed down nicely with Ta Ke Ho Me's great selection of drinks. They have a good mix of Japanese beers and foreign sodas.
The Dragon Ball is unexpected. Chalk it up to years of watching cartoons, but this dish is surprising in its loveliness. Salmon wraps around the rice and mango to form a rose shape. There is a generous dollop of kewpie in the middle that balances the togarashi and gives it a fiery orange hue.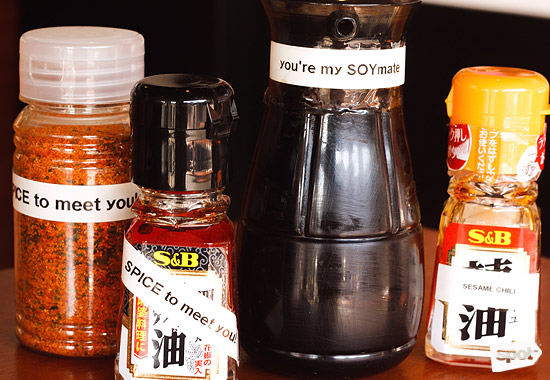 Conversational condiments
For those who aren't in the mood for sushi, Ta Ke Ho Me also offers rice balls and Sushiritos. The Rice Ball is stuffed with either shiitake mushrooms (P79), tuna (P99), or salmon (P149). Think Japanese onigiri, except that it's served warm instead of the traditional cooler temperature. Get either of the latter two—you'll find that the fish is tossed in miso mayo and cooked lightly from the heat of the rice. The ball is covered in nori flakes and furikake, and there's a generous amount of filling to matter up to the last bite. These same flavors reappear in the Sushirito—vegetarian (P159) loaded with shiitake mushrooms, tuna (P179), and salmon (P199). This marriage of sushi and burritos come stuffed with lettuce and guacamole and they're heavy enough to be a full meal.
ADVERTISEMENT - CONTINUE READING BELOW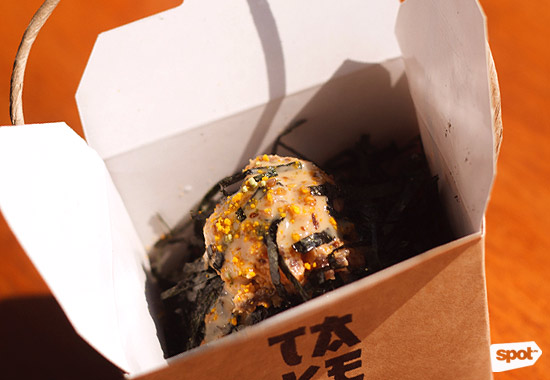 Rice Ball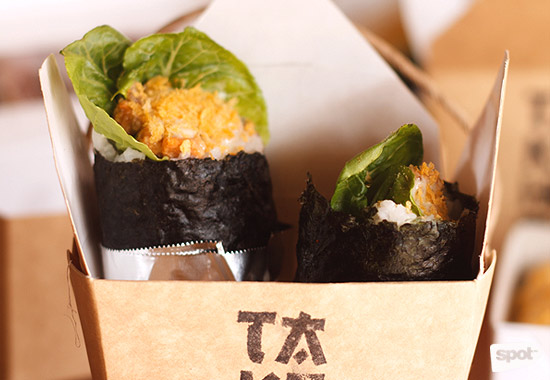 Sushirito
Ta Ke Ho Me sushi also offers quality frozen goods straight from Japan. They have Wagyu Cubes (P899/500 grams) and Smoked Salmon (P189/100 grams) that are great options to bring along with that sushi platter to your next party.
Ta Ke Ho Me Sushi is worth a visit, even if you don't have a potluck party to attend. It might just inspire you to throw one yourself.
ADVERTISEMENT - CONTINUE READING BELOW
Photos by Pia Babao Guballa
Share this story with your friends!
---
Help us make Spot.ph better!
Take the short survey
Load More Stories