New Restaurant Alert: Come Forth Kitchen at Jupiter Street, Makati
Brunch all day? We're so there.
Come Forth Kitchen
120 Jupiter Street, Bel-Air 2, Makati City
Contact: 463-7655
Open from 7 a.m. to 11 p.m. (Monday to Saturday)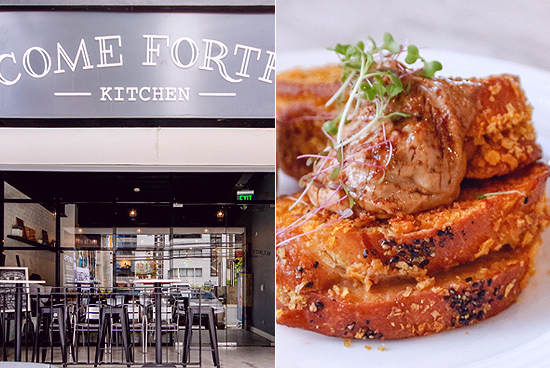 (SPOT.ph) Say it out loud and you'll get it.
"It's a play on the word 'comfort,'" explains co-owner Theresa Leung, in case we were slow to the draw. "At the same time, it's an invitation." Bel-Air Village eatery Come Forth Kitchen is indeed inviting—its interiors casual, bright, airy, and with a country feel. You could say it's shabby chic, but more chic than shabby.
ADVERTISEMENT - CONTINUE READING BELOW
CONTINUE READING BELOW
Recommended Videos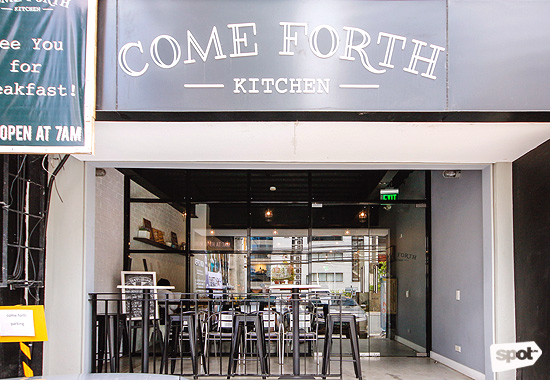 The sign to look for!
Married couple Rondelle and Tricia de Leon had always been keen on opening a restaurant. When they zeroed in on a concept based on their shared love for travel and comfort food, they called in Rondelle's cousin, San Francisco pastry chef Kat Pascual, and executive chef Gigi Almeda to put together a fitting menu. Tricia's sisters Claudine and Valerie soon joined in, and eventually Theresa, Claudine's childhood friend and business partner. The connections can get perplexing, but Come Forth keeps it truly a family and friends affair.
ADVERTISEMENT - CONTINUE READING BELOW
Unsurprisingly, the food is very personal. "Some are the chef's original recipes, but there are many which are truly our [personal] comfort food," Tricia shares. The Come Forth Pulpog (P250), for example, is inspired by their favorite dish during family trips to La Union. Their dad had to occasionally drive up north for business, and they would always eat in a restaurant that served pulpog, La Union's version of sisig. Come Forth's take is devoid of the usual liver and pig brain the original calls for, but it gets richness from the runny poached egg. Rice on the side is highly recommended.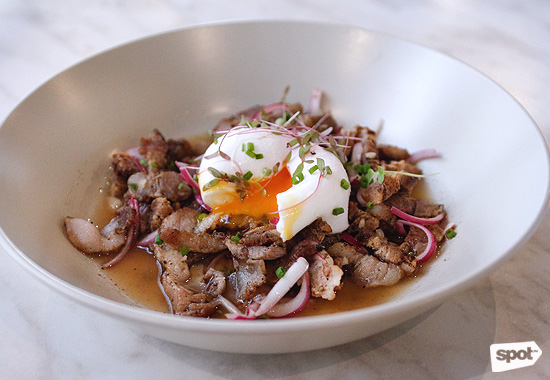 ADVERTISEMENT - CONTINUE READING BELOW
Pulpog
Rondelle's family, on the other hand, hails from Bulacan. What a treat it is to find garlicky Calumpit longganisa in the Sweet Potato Nachos (P250). The avocado cream has the dominant flavor of cumin, while the local sausage is fried crispy minus the casings. Sweet potato chips are usually tough, but Come Forth's is sliced tissue paper-thin to ensure easy munching.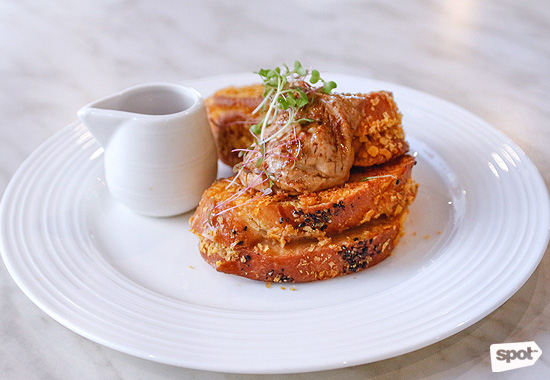 ADVERTISEMENT - CONTINUE READING BELOW
French Toast
It seems the owners recognize the comforting properties of a good brunch since they dedicate more than a dozen options to the beloved weekend tradition. Come Forth serves brunch every day, all day. "There are times I want to eat French Toast (P170) for dinner! I should be able to do that," Claudine says, only half-jokingly. Theirs is a solid version—coated in a crisp cereal crust that not only adds crunch, but also a sense of nostalgia from another breakfast favorite. Smothered in muscovado cream cheese and interspersed with guava jam, it's both indulgent and familiar.
If sweet beginnings aren't your thing, we also spied Eggs Benedict (P320) and a very promising Shrimp Roll (P250).
But enjoying sweets is inevitable at Come Forth. "When we make our desserts, we always keep those watching their blood sugar in mind," explains Theresa. "That's why our desserts are never too sweet." The Eton Mess (P125), an interpretation of the English meringue and cream concoction, is a well-balanced combination of mildly sugary and tangy flavors. Since imported strawberries come with premium prices, they opt for tropical fruits that are fairly cheaper and easier to source. Mangoes are preferred, and when in season, slices of kiwi. The pistachio and reduced balsamic vinegar add some welcome complexity.
ADVERTISEMENT - CONTINUE READING BELOW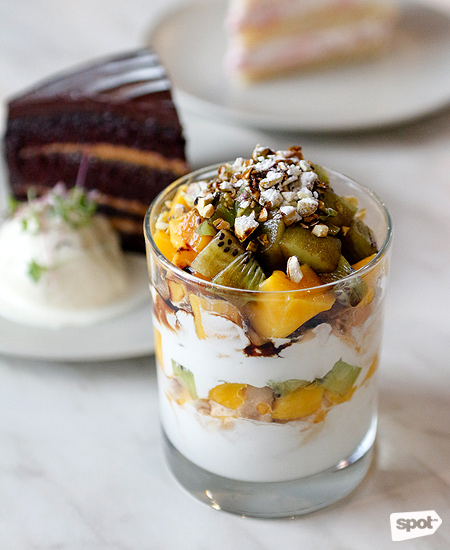 Eton Mess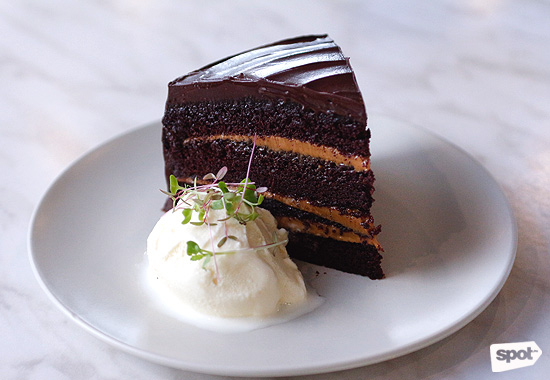 ADVERTISEMENT - CONTINUE READING BELOW
Dulce de Leche Chocolate Cake
The cakes by Chef Gigi are also more than enough reason to come for a visit. Do not be deceived by the generous layers of the Dulce de Leche Chocolate Cake (P185/slice, P1,200/whole). It's very flavorful without being overtly sweet. The must-try, however, is the Strawberry Brûlée (P200/slice, P1,500/whole), where soft layers of chiffon cake alternate with strawberry-flavored Chantilly cream; torched yema crowns the entire ensemble.
The great news is that, with a day's notice, you can take whole cakes home. Another tip: Make sure to have a cup of Americano with their Alfajores (P38/piece), shortbread cookies with a dulce de leche center. That, too, is a perfect experience. You're welcome.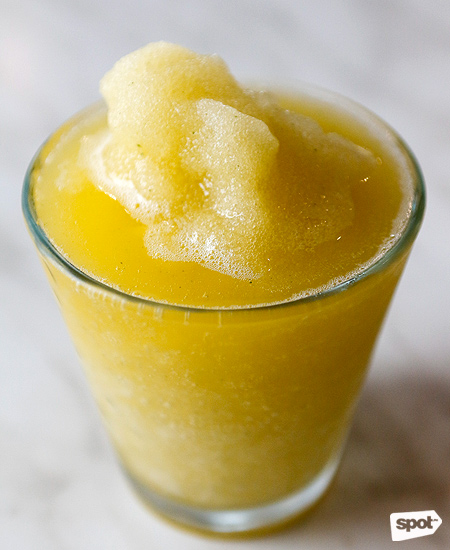 ADVERTISEMENT - CONTINUE READING BELOW
Fresh shake
As much as its positioning itself to be a neighborhood cafe (it's the perfect kaffeeklatsch for the area as it offers free coffee for Bel-Air residents), it also beckons the gym rats at Anytime Fitness upstairs. They serve juices by Sexy Beast, including a concoction called Fat Flusher (P180). Come Forth is definitely leaving you no option—how often are you made to indulge, then feel good about it?
Photos by Jericho San Miguel
Load More Stories