New Restaurant Alert: Warung Warung at Kapitolyo, Pasig
The Legazpi Market favorite is now a full-fledged restaurant.
Warung Warung
83 East Capitol Drive, Kapitolyo, Pasig City
Open from 6 p.m. to 9 p.m. (Monday to Saturday)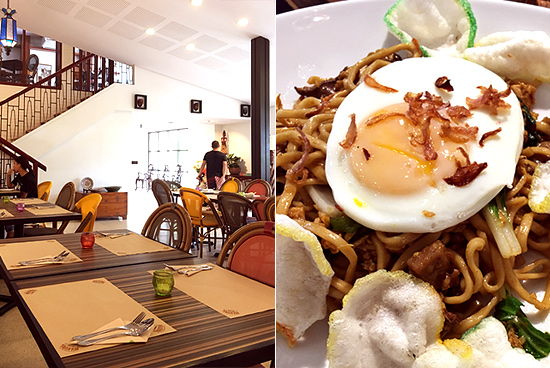 (SPOT.ph) The newly opened Warung Warung on East Capitol Drive looks like the house you've always wanted. It's big, airy, and spacious, with just enough accents to be thematic without feeling costume-y. The restaurant started out as a stall, Warung Warung, in Legazpi Sunday Market and it's amazing how it's grown into this intimate and cozy yet refined location just off the busier parts of Kapitolyo.
ADVERTISEMENT - CONTINUE READING BELOW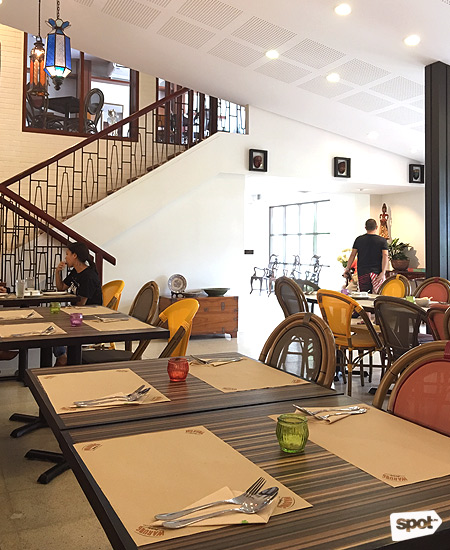 Welcome to Warung Warung!
The server hands out stapled sheets of bond paper; the words "Today's Menu" printed on top. It changes every day, he tells us, depending on what's fresh and available in the kitchen. The seemingly simple gesture drives deeper that homey atmosphere. That and the fact that the owners, Louh Decena and Tess Doctora, flit around tables ensuring that everything is okay. Warung Warung feels like dining at a friend's house—with a pair of very rapt and attentive titas who are only too happy to fill you up.
ADVERTISEMENT - CONTINUE READING BELOW
It's quite easy to go overboard with the complimentary crackers (that are very quickly, quietly, and consistently refilled as soon as you finish off the last crumb), but try to save some tummy space for the Mie Jawa (P195). These noodles have a whispery spice that encourages you to take bite after bite. It's heavy-handed with the crispy garlic and onions, but the restrained amount of toppings prove that you don't have to serve an entire cupboard of ingredients to make noodles taste good. The fried egg on top could be more gooey, but it's definitely rich enough.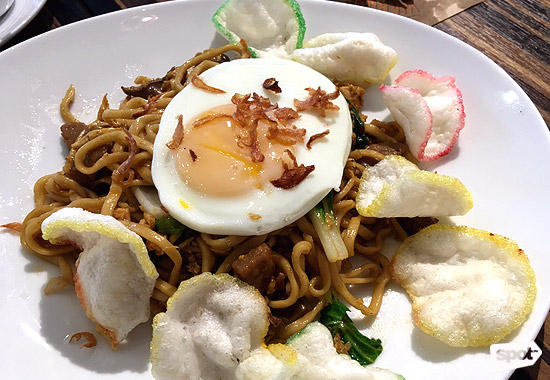 ADVERTISEMENT - CONTINUE READING BELOW
Mie Jawa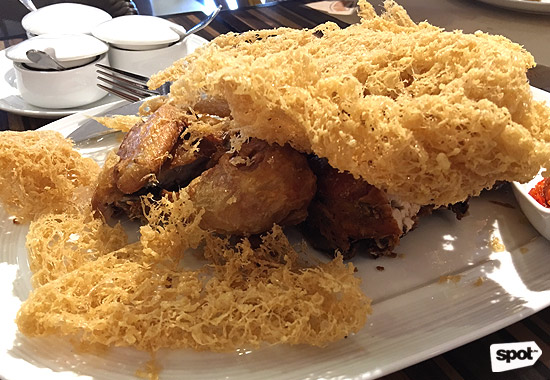 Ayam Goren Ibu Wiwiek
There's no reason not to love the fried chicken, or, according to the menu, Ayam Goren Ibu Wiwiek (P250/half, P450/whole). It's very close to Pinoy-style fried chicken—with skin as crisp as paper and a subtle flavor that opens itself up to sauce (the spicy one is a killer). The plate is generously topped with flakes (reminiscent of the catfish ones in Thai restaurants) made of the chicken's own marinade. It amplifies the crunch of each forkful. Seriously, this restaurant knows how to get you hooked on things. You'll be picking at the flakes long after the chicken is gone.
ADVERTISEMENT - CONTINUE READING BELOW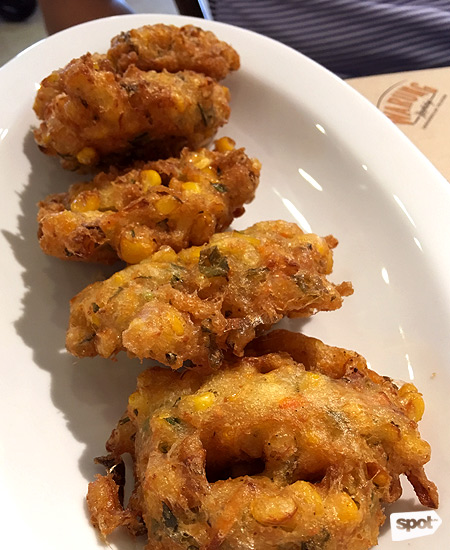 Jagung Perkedel
The Jagung Perkedel (P155) is delegated the job of an appetizer, but these palm-sized corn fritters are no featherweights. They're a close cousin of ukoy in terms of taste and texture, and the four globules on the plate can go a long way. If you intend to start your meal with these babies, you can probably split one piece between two people. Keep the focus on the actual mains.
ADVERTISEMENT - CONTINUE READING BELOW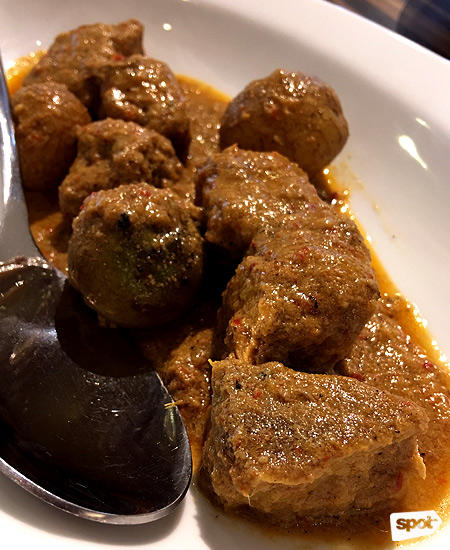 Beef Rendang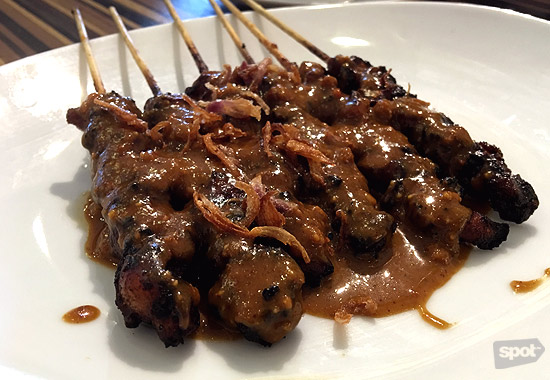 ADVERTISEMENT - CONTINUE READING BELOW
Sate Ayam
Rice must be ordered to enjoy the Beef Rendang (P375). The coconut milk gives the sauce silkiness, while the overall flavor is incredibly nuanced—generously spiced but careful not to overwhelm. If you want a bigger assault on your palate, the Sate Ayam (P175) comes in five intense skewers. The beef is already aggressively marinated, plus it bears a delicious charred flavor from being cooked over coals. The highlight is the peanut sauce, which is, once again, delicate but distinct. You'll be licking it off the plate in no time.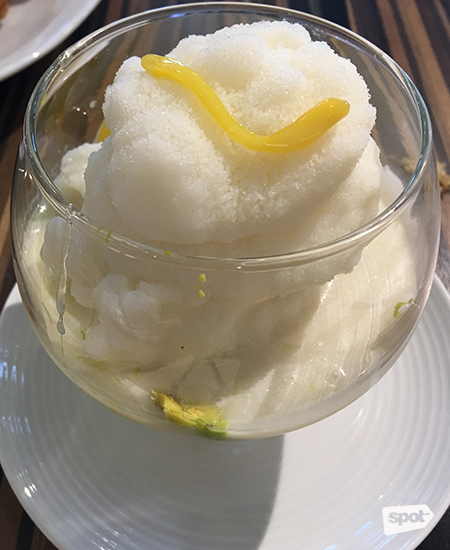 ADVERTISEMENT - CONTINUE READING BELOW
Es Teler
The Es Teler (P75/small, P145/big) is Indonesia's answer to shaved ice. Unlike halo-halo which could get a little grainy, the ice Warung Warung uses is so fine, it's almost creamy—very much like Korea's bingsu—which makes every spoonful much more delectable. You get a better mouthfeel of the other ingredients, like avocado, coconut strips, and jackfruit. Condensed milk provides the sweetness to make it feel like a dessert. 
Warung Warung. We're glad you've come up with the most beautiful way to let customers enjoy your food the way it's supposed to be—at home, or at least somewhere that feels like it. 
Photos by Jason Mariposa
Recommended Videos
Load More Stories